Today it is my pleasure to welcome New York Times bestselling author
Lori Foster
to HJ!

Hi Lori, welcome 🙂
If you were written about in the newspaper, on the front page what would the headline say? Why?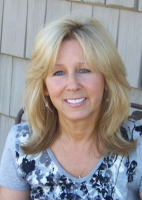 Local author enjoying life. 🙂 Because I AM. I love my job, I love my family, I love my friends and I love, love, love my readers.
Would you rather…have 3 wishes in 10 years or 1 wish today? Why?
Three wishes in 10 years, because you never know when tragedy might happen (I'm so happy that I keep thinking it can't last) and if suddenly one of my sons or grandsons needed that big wish…
Also, I'm very aware of the pain to others around me. I wouldn't want to use up my wishes only to wish later on that I still had one coming to help out someone in need. (Did that make sense?)
Let's talk about your newest release: Dash Of Peril
If you had to summarize the book for the readers here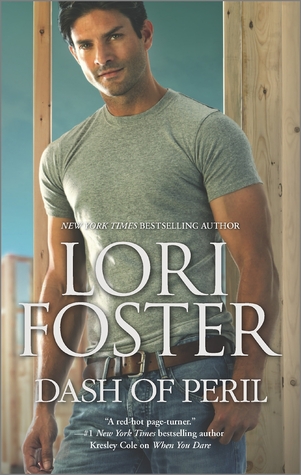 Oh wow, I'm terrible at this. I'd say that, as per the "Love Undercover" series idea, neither Dash nor Margo is as they seem on the surface. Dash is fun loving, but with a take-charge streak that surprises and pleases Margo. And Margo, while very capable as a police lieutenant, is also sexy -and vulnerable – in ways that will surprise readers – I hope.
Please tell us about the characters in your book?
I sort of just did. lol.
Dash is in construction, so he's naturally fit. Very Alpha (I always use a capital A for my alphas . lol) and very caring. He doesn't rile easily, is calm personified, but can take care of business – even physical confrontations – when need be.
Margaret/Margo is almost two people. The lieutenant she allows the world to see, and the woman hiding inside. She's unafraid, but intelligent about dangerous situations – unless the dangerous situation is Dash. 🙂 Then she's overly cautious, until Dash wins her over.
As you wrote your protagonist was there anything about them that surprised you?
My characters – all of them, good, bad and secondary – always surprise me. I'm a seat of my pants writer. I know the merest basics when I start a book and I write only what the characters reveal to me.
I had no ideas about Margo's background, about Dash's sexual tendencies, or about how my secondary characters (lead characters in their own books) would react to the growing intimacy between Dash and Margo, until I got to those scenes.
What scene did you most enjoy writing? Why?
Oooh, I loved the scene where Dash and Margo were sitting ducks to shooters, and he finally realizes how badly she's hurt.
He went to his knees beside her, impressed by her fortitude, worried about her lethargy, and exploding with protective instincts. "Keep your eyes closed." With tender care, he brushed the chunks of gravel-like glass out of her short dark hair and off the shoulders of her black wool coat before pressing the ice to her head.
Pain drew her brows together, but she said not a word.
He held it the pack in place and looked her over. "Are you hurt anywhere other than your head?"
With exaggerated effort she opened her eyes to look up at him. "Afraid so."
His heartbeat jumped. Dreading her answer, he asked, "Where?"
A slow, deep breath expanded her chest. Her colorless lips parted for faster breaths until she almost panted. "It's unfortunate, but my left elbow is dislocated."
What scene was the hardest to write? Why?
The endings are always the hardest and I'm not sure I should share an ending. Sorry. I love the beginnings of books, and even the middles are fun. But those last few pages are so incredibly elusive. I wish I could write "And they lived happily ever after" like we get in fairy tales. It would take away a lot of the stress!
Who would you cast in the role of your characters if your book was optioned for a movie?
Oooh, I'm terrible at this too! (The things I'm terrible at are adding up, I know.)
I watch a ton of movies, but I never remember names. I'm so disinterested in the reality of Hollywood that I never notice anything beyond how much the movie entertains me.
So I did some research…
Oliver Jackson-Cohen, from Faster and Dracula, could easily be Dash if he could lose the English accent. Love his "look" and he's an excellent actor. (I think Dracula would have been a hit if HE'D been Dracula instead of a secondary character.)
And Summer Glau, from Terminator and Serenity, because the girl knows how to move. She makes every fight scene believable.
If you could have given your characters one piece of advice before the opening pages of the book, what would it be and why?
I'd have warned Dash about Margo's family. They're different – and deceptive. What you see isn't always what you get – good or bad!
And I'd have warned Margo about underestimating Dash. It goes with the old, "Don't judge a book by its cover." 😉
Those two things seemed to be their biggest internal conflicts.
What are you currently working on? What other releases so you have planned for 2014?
I'm currently finishing up BACK TO BUCKHORN, a June "benefit book" digital book, meaning all proceeds go to benefit a local no-kill animal shelter. It's part of the Buckhorn Brothers series. http://lorifoster.com/connected-books/#buckhorn
I'm really excited about my upcoming Ultimate series. It starts with HARD KNOCKS, a digital prequel in August, and then NO LIMITS, a full length print and digital novel featuring Cannon from the previous series, out in Sept. The stories have MMA (Mixed Martial Arts) as a backdrop and being I'm such a big fan of the sport , I love writing around that world.
Also, I have to say, my NO LIMITS cover is *amazing.* My favorite cover ever. I'm madly in love with it.
Thanks for blogging at HJ!
Giveaway:
#1 US only: Lori Foster Giveaway!
A "Dash of Peril" hand fan.
A "Getting Rowdy" door hanger
A "Dash of Peril" T-shirt
3 backlist books, readers choice as long as I have the book to give.
# 2 US – Canada: Dash of Peril Release Day Giveaway (courtsey @HarlequinBooks)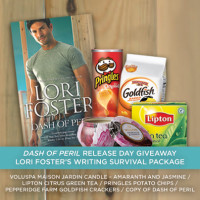 Lori Foster's Writing Survival Package
– Copy of Dash of Peril
– Voluspa Maison Jardin Candle – Amaranth and Jasmine
– Lipton Citrus Green Tea
– Pringles Potato Chips
– Pepperidge Farm Goldfish crackers
To enter Giveaway: Please complete the Rafflecopter form and Post a comment to this Q:

My favorite question of late – and if you follow me on Facebook, you know this. 🙂 Do you prefer your cover models with chest hair, or waxed smooth? Compare the When You Dare cover (or my No Limits cover if it's available when this interview is posted) to say… one of the Buckhorn covers, like Buckhorn Beginnings or Forever Buckhorn. Chest hair or no? why? I vote chest hair!
Excerpt
Her small bare feet left damp marks in the plush carpet as she moved ahead of him. "Where's Ollie?"
"Curled in his bed in your living room, sound asleep." Just as she'd said, the cat ate, cleaned himself, then snuggled down to sleep. "What about you? Are you hungry?"
"Not enough to stay awake."
Without his prodding, she went past the home office, the spare bedroom and into her own room to gingerly sit on the foot of the bed.
Dash gave a quick glance around—and didn't find a single surprise. Everything was as orderly as he'd expected it to be, her comforter a neutral cream color without the adornment of throw pillows, her nightstand and dresser clutter-free. He didn't see a single speck of dust or a shoe out of place.
With Logan being a cop, he recognized the quick-access safe in the corner of the room. Since Reese had taken her weapon in the alley, he wondered if she had other guns locked in that safe. It was big enough to hold a rifle or two…and more.
"I'm cold."
Dash took in her bare calves and feet, her narrow wrists, her slender throat. So fragile, but still so strong. "Does anything hurt besides your head and arm?"
"Pretty much everything. But it's not bad."
Or were complaints of any kind as taboo as medicine? Had she come from a family of stoic martyrs?
"Your legs? Shoulders?"
Damp lashes shadowed her big blue eyes. "Mostly my arm and head."
If she weren't drugged, Dash doubted she would admit that much to him. "Okay. I'm going to dry your hair first." Otherwise it'd just get her clothes wet. "Then we'll get you dressed and you can sleep."
"It's short, so it doesn't take long."
Feeling equal parts tender and horny, Dash set her clothes on the bed beside her. "I like your hair, Margo. A lot." He ran his fingers over her head. Her hair, in a Halle Berry sort of style, was curlier wet, but when dry it looked silky soft and feminine—a great contrast to her shark persona.
"Thank you. I like your hair, too. It's always a little messy, and a lot sexy."
Flirting? "Is that so?"
"You know how you look." Her gaze moved down to his waistband. "You know how women react to you."
Other women, sure. But Margo never made things easy. Despite her claims to the opposite, he already knew she was attracted to him. He felt her interest every time she looked at him. But she fought it.
She fought him.
Usually. Now…not so much.
But damn it, given her drugged state, he couldn't really do anything about it. Or could he?
Pretending it meant nothing at all, Dash pulled both the soiled thermal shirt and the ripped undershirt off over his head and dropped them to the floor. The waistband of his jeans had loosened from extended wear and they hung low on his hips.
Margo's lips parted. Breathing more deeply, she stared at the worn denim of his fly. Her pale throat worked as she swallowed. "What are you doing?"
"Don't want you to get messy again now that you're clean." More bare than not, he stepped right in front of her, cupped her head in one hand, and used the towel in the other to carefully rub over her hair.
The sweet scent of her shampoo mixed with the warmth of her skin. He breathed her in—and felt himself reacting.
That wouldn't do, so he concentrated on not getting hard as he continued to towel-dry her hair. "Tell me if I hurt you." Very carefully, he touched the soft terry towel around her stitches.
When she said nothing, he looked down at her and found her eyes on his abs, her cheeks flushed. He would love seeing her like this more often.
"Feel good?"
"Yes." She kept her injured arm, wrapped up in the half cast and Ace bandage, tucked up close to her body. With the other arm she balanced herself. Her toes curled into the carpet. "Dash?"
He mimicked her soft tone. "Hmm?"
"Have you ever been married?"
One brow lifted. "No." And then he wondered… "You?"
"No." She looked up at him. "Ever been in love?"
"I'm thirty."
"Me, too. So?"
How to answer her? "I've had a few more serious relationships where I thought I was in love, but it never worked out."
"Why not?"
Apparently a drugged Margo was not only more openly sensual, but also far more curious. "My mother says I'm too particular and too set in my ways."
Her cool fingers touched his ribs, drifted down to his abs, then hooked in the loose waistband of his jeans. "Particular how?"
He never should have started this ploy. It was difficult enough being near her, wanting to protect her, care for her, and then to have her looking at him with hunger…yeah, difficult.
But if she planned to touch him, too, he was screwed.
Or rather, not screwed, given she was definitely out-of-commission for that.
"Why don't we have this conversation tomorrow, after you've gotten some sleep?" Not giving her a chance to object, he dropped the towel and used his fingers to brush back her hair, moving it away from her stitches. Her short, soft waves glided through his fingers. "Better?"
Her eyes sank shut. "Mmmm…" She leaned toward him again. "You have an incredible body. I especially like this happy trail, how it disappears down here—"
"Margo?" Time for another battle. "Hold up, honey." He caught her wrist and lifted her hand to kiss her palm. "Even warriors wear out every now and then."
"I'm not a warrior."
"But you are too hurt for me to take advantage of you."
She snorted. "I wouldn't let you."
"You," he murmured, "are under the influence." He crouched down in front of her. "I'll help you get your clothes on, okay?"
She lifted her heavy eyelids to stare at his mouth. "No one has dressed me since I was three."
"I'm sure that's an exaggeration."
"No." She literally swayed. "My parents were strict about independence."
He didn't know her parents, but he liked them less by the minute. "Were they strict about other things?"
"About…everything really." She shifted, winced and went still again. "My family is all in law enforcement."
"Logan mentioned that once." Something about her being a fourth generation of cops. Her dad was some hotshot chief of police before he retired early with a medical problem or something.
"I was supposed to be a boy."
What did that mean? "I'm very glad you're not." He pushed back to his feet.
She gave a heavy sigh. "Me, too."
Needing a minute to get his head on straight, Dash said, "I'm going to go grab the flannel shirt Logan brought me. It's big enough to fit over your splint and it'll be easier to get on you than the T-shirt you chose."
"The only button-up shirts I have are starched dress shirts."
He tipped up her chin. "Sit tight. I'll be right back." With long strides he left the room to get the bag Logan had brought to him. The cat snored from his bed, oblivious to Dash's presence. Outside, a weak sun tried to penetrate heavy clouds rolling in. Great, just what they didn't need—more lousy weather. Work at the current job site would stall for a day or two. Not a big deal since they were right on schedule—a rare thing in the construction business.
After automatically double-checking that he'd secured the front door, he snagged up the bag and dug out the flannel shirt on his way back to Margo.
He found her sitting exactly where he'd left her. Going to his knees again in front of her, he braced himself for what he'd do. "Let's get you out of this robe first, okay?"
"I'll be naked."
Dash put his hands on her hips, his thumbs brushing her thighs through the soft cotton of her robe. "I'll be as fast as I can."
"You'll want me."
He searched her face and didn't see a single sign of modesty or timidity. "Already do, but right now I just want you to be comfortable." He untied the belt.
"If you tell Logan or Reese, I'll castrate you."
Not so drugged that she couldn't threaten him. For absurd reasons, that made him feel better. "You think I would?"
"I don't know. I'm not a great judge of men. Some men," she amended.
"You can trust me." He eased the robe off her right shoulder and down her arm until she slipped her hand free.
His blood thickened, and it sounded in his tone when he added, "Believe me, Margo. I would never say or do anything to embarrass you."
Goose bumps rose on her flesh.
"Are you cold?"
"No."
Was being cold also considered a complaint? "I'm sorry." Quicker now, Dash pushed back the material and, except for where the terry cloth draped one thigh and still covered her left arm, she was bare.
His gaze naturally went to her body. He was sympathetic, but not dead. Her uniforms and business suits did a great job of hiding her generous rack. Full, pale, with dusky mauve nipples. Only the bruises painted over her collarbone and shoulder kept him from touching her.
"Easy now." Breathing more deeply, he stood to gently free her left arm.
Margo said not a word, but her face tightened, her brows pinching together, her lips compressed.
"You can groan, you know." Dash hated seeing her suffer in silence. "You're allowed."
She gave one sharp shake of her head, composed to the bitter end.
To hell with that. "A groan or two won't make you less sexy, especially when I can see your nipples."
Nothing.
"They're very pretty."
She stiffened.
"And those dark curls between your legs—"
She jerked her head up to stare at him—and groaned in discomfort.
"That's it." The way she affected him was so strange, and so appealing. "No reason to hold it in."
Groaning again, deeper this time, she said, "Damn you."
The bite in her tone almost made him smile. "Be yourself with me, honey."
"I am!"
"No, you're manning up and it's stupid. You aren't a man, and you aren't impervious to pain." He picked up the flannel shirt but made no attempt to put it on her. He was a freaking saint, standing there before a gorgeous naked woman and still remembering his altruistic motives. "Or is that another family rule? No female attributes allowed?"
"It's a weakness and there's no point in advertising it."
"Huh. Well, if it makes you feel better, I would be groaning."
She shocked him by pushing to her feet and leaning into him, her splinted left arm caught between them, her right hand flattening on his chest, her fingers in his chest hair. "Kiss me."
Whoa. He hadn't expected such an aggressive assault, given her state. "I don't think so."
"It'll make me feel better."
But it'd kill him—since she couldn't do anything beyond a simple kiss. "Not a good idea."
"You don't want me?"
"You already know I do—" When her hand snaked down his body to cup him through his jeans, he froze.
"Yes," she said with purring satisfaction. "You do."
Book Info:
A no-nonsense female cop reluctantly teams up with the one man who makes her lose control in a deliciously hot, sensual new novel that continues the Love Undercover series.
To bring down a sleazy abduction ring, Lieutenant Margaret "Margo" Peterson has set herself up as bait. But recruiting Dashiel Riske as her unofficial partner is a whole other kind of danger. Dash is 6'4″ of laid-back masculine charm, a man who loves life—and women—to the limit. Until Margo is threatened, and he reveals a dark side that may just match her own…
Beneath Margo's tough facade is a slow-burning sexiness that drives Dash crazy. The only way to finish this case is to work together side by side…skin to skin. And as their mission takes a lethal turn, he'll have to prove he's all the man she needs—in all the ways that matter…
Harlequin · 978-0373778577
Book Links:
Author Bio
Since first publishing in January 1996, Lori Foster has become a Waldenbooks, Borders, USA Today, Publisher's Weekly and New York Times bestselling author. Lori has published through a variety of houses, including Kensington, St. Martin's, Berkley, Silhouette and Samhain. She is currently with Harlequin.
Lori believes it's important to give back to the community as much as possible, and for that reason she ran special contests in conjunction with a publisher, facilitating many first sales for new authors. She routinely organizes events among authors and readers to gather donations for various organizations.
Lori hosts a very special annual "Reader & Author" event in West Chester, Ohio. Proceeds from the event have benefited many worthy causes, including the Hamilton County YWCA Battered Women's Shelter, the Animal Adoption Foundation, The Conductive Learning Center for children with spina bifida and cerebral palsy, and The One Way Farm, Children's Home.
In 2007, Lori put together The Write Ingredients a cookbook of recipes donated by popular authors. Proceeds from the cookbook go toward Lori's ongoing "Troop project" of collecting and mailing fun, and sometimes necessary, items to our troops.
In 2008, Lori coordinated with other authors of her choosing, and through Berkley, arranged for the publication of The Power of Love, a special romance anthology of novellas about empowering women. All author and agent proceeds from the anthology go to the Hamilton Co YWCA Battered women's shelter.
In 2009, Tails of Love, another romance anthology with Lori and other contributing authors, was published through Berkley with all agent and author proceeds to benefit The Animal Adoption Foundation.
In 2010, The Gift of Love romance anthology, with Lori and other contributing authors, was published with proceeds to benefit The Conductive Learning Center, a school for children with cerebral palsy and spina bifida.
In 2011, The Promise of Love, a romance anthology with Lori and other contributing authors, will be published with proceeds to benefit the One Way Farm, a home for abused and abandoned children.
In 2012, Love Bites, a romance anthology with Lori and other contributing authors, was published with all agent and author proceeds to benefit The Animal Adoption Foundation.
In 2013, Animal Attraction, a romance anthology that goes with the "Buckhorn Brothers" series, with Lori and other contributing authors, was published with all agent and author proceeds to benefit The Animal Adoption Foundation.
Lori has received many prestigious awards, including:
Romantic Times "Career Achievement Award" for:
Series Romantic Fantasy
Contemporary Romance
Walendenbooks:
Say No To Joe – second "Bestselling Original Contemporary"
Borders Group Inc.:
The Secret Life of Bryan – "Bestselling Original Contemporary" romance title
Jude's Law – "Bestselling Romantic Comedy" romance title
Back in Black – "Bestselling Romantic Suspense" romance title
Lori Foster has been both a clue in the New York Times crossword puzzle and the USA Today Quick Cross puzzle.
Lori enjoys visiting with readers on her Facebook Fan page, Twitter, Goodreads, and Pinterest.
Click for a complete listing of her books, social networks, and special appearances and events.
Website | Facebook | Twitter |