Today it is my pleasure to Welcome author
Kimberly Kincaid
to HJ!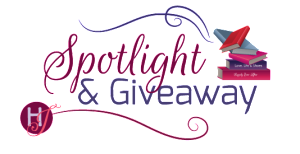 Hi Kimberly and welcome to HJ! We're so excited to chat with you about your new release, Deep Trouble!

Thanks for having me! You know I love to visit 🙂

Tell us about the book with this fun little challenge using the title of the book:
I'll go with the word "trouble", because it's really appropriate for this book!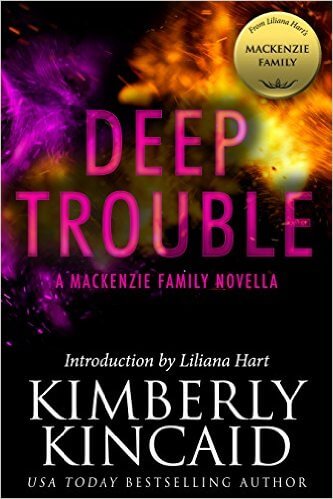 T is for the tension between Kylie and Devon (sexual tension of course…those two are hot, hot, hot!)
R is for the road trip they have to take to elude a brutal killer
O … you can use your imagination a little, right? (I told you, hot!)
U is for the understanding between Kylie and Devon–they share a lot of the same bonds, only in different ways
B is for the badass way Devon would do anything to keep Kylie safe from harm
L is for the loyalty that Army Ranger and security specialist Devon shows to his team *and* his woman
E is for ever-after…it is a romance, after all!
What's your favorite line(s) from the book?:
This is one of Kylie's first thoughts after her brother sends his Army buddy, Devon, to come help her out of a huge jam…I love it because it fits him to a T!
"His body was dangerous and graceful all at once, as if he was spring-loaded, just waiting to unleash that intensity onto something. Someone. Her."
Please tell us a little about the characters in your book. What first attracts your Hero to the Heroine and vice versa?
Hero Devon is an Army Ranger working stateside doing freelance security, and heroine Kylie is a bartender trying to work her way back to North Carolina to be close to her brother, who is her only family. They're thrown together by circumstance at first, but then…she's tough and feisty, and he's fierce and loyal, and they make a perfect match.
When you sat down to start this book, what was the biggest challenge you faced? What were you most excited about?
This book is part of Liliana Hart's MacKenzie Family series, so I got to set the story in her world of Surrender, Montana. I was a little nervous because those are some big shoes to fill, but excited too, because I got to write so much suspense and edgy romance. It turned out to be a blast!
What, in your mind, makes this book stand out?
It's got everything–suspense, action, edgy romance…and it's the lead-in story to my Station Seventeen series, which will be out later this year, so the characters will come back again and again.
The First Kiss…
The first kiss in this story is an interesting one! Kylie and Devon have just escaped from the bad guy who's after Kylie because she witnessed him commit a murder. They're hiding out in a car in a scrapyard, using the cover of night to stay undetected.
"Something about the way Devon said her name made her open her eyes, recognizing all at once how his body pressed against hers, his chest to her chest, his mouth not even an inch away. Heat roared through Kylie's belly, quickly turning to slick wetness in her panties, and even though it was insane, she lifted her chin to close the space between them.

Devon exhaled against her mouth, but whether it was shock or something deeper, Kylie couldn't be sure. Want like she'd never, ever felt flared to life in her blood, driving her to search, to take.

And she did."
If your book was optioned for a movie, what scene would you use for the audition of the main characters and why?
Without a doubt, the scene where they meet. Kylie's had a hell of a night, and she doesn't know Devon is coming to help her out, so she's a little defensive at first…
"Don't fucking move."

The purposely roughed-up voice came from behind, accompanied by a steely nudge that told Devon he had his work cut out for him. God damn it, now he was going to have to break someone's kneecaps before the sun even came up.

Bright side was, at least he'd get a workout.

"All right," Devon said, lifting his hands to feign submission. "Take it easy. I'm just looking for a friend."

"A friend." The voice dripped with sarcasm, but there was something weird about the disguised tone, something Devon couldn't quite place. The figure came into view in the reflection of the windshield for just a split second, but it was all he needed to gain the advantage. Spinning around, he wound his arm over the guy's above the elbow, capturing both his arm and his weapon in one decisive move as he pulled the guy forward…

And realized he wasn't a guy at all.

"Ow! Oh my God, get off of me." The woman's chest, which was now all sorts of up close and personal with Devon's, expanded with a brewing scream, and he reached out to clap his free palm over her mouth before she woke the dead.

"Kylie?"
If your hero had a sexy-times play list, what song(s) would have to be on it?
Sam Smith's "Stay With Me" was on a lot while I wrote 🙂 Just saying!
What do you want people to take away from reading this book?
There are lots of strong bonds in this book–family bonds between brothers and sisters, military bonds between Army Rangers, and of course, the bonds of love that Kylie and Devon discover over the course of the book. The biggest thing that held the book together for me was that these bonds can make us or break us–and sometimes, we're in charge of which way that goes and we've got to fight for it.
What are you currently working on? What other releases do you have planned for 2016?
I'm currently finishing up the first book in my brand new Cross Creek series, CROSSING HEARTS (February 2017, from Montlake). I'm also writing the first full length book in the Station Seventeen firefighter series (yes! Kylie's brother Kellan gets a book in September 2016!) titled SKIN DEEP. I can't wait to share them both with readers!

Thanks for blogging at HJ!
Giveaway:

A $5 Amazon GC
To enter Giveaway: Please complete the Rafflecopter form and Post a comment to this Q:

In order to keep Kylie calm when the bad guys get close, Devon asks Kylie to focus on her favorite dinner. Tell me what you'd pick!
Excerpt from Deep Trouble:
Devon Randolph rolled over in the darkness, cursing up a blue streak at his cell phone. More accurately, he was cursing whoever was on the other end of his cell phone, making the fucking thing ring loud enough and long enough to yank him out of the first REM sleep he'd managed to snag in weeks.

There had better be grave goddamn danger attached to this call, otherwise he was going to kick someone's ass halfway to China.

"Randolph," he grated, his mind and body both on full alert by the time he'd finished the exhale. Zero-two-thirty. SIG Sauer P229 under his pillow. Graphite-bladed KA-BAR on the night stand. Empty motel room, empty bed.

Business as usual.

"Hey, Dev. It's Walker. Sorry to wake you, but I've got a situation on my hands, and I need your help."

Devon read the seriousness between the lines of his fellow Ranger's words, digesting them in a blink. Kellan Walker was a friend, a brother. If the guy needed backup, Devon was in, no questions asked.

"You straight at the fire house?" he asked. Kellan had channeled his adrenaline into fighting fires after they'd gotten out of the Army three years ago. Funny, really, that Devon put out fires, too—just that the heat he dealt with while freelancing private security jobs was a lot more figurative than literal.

"Yeah. This is actually a family thing. Not about me. Well, not directly, anyway."
Devon took in the intel, keeping his surprise to himself. "Copy that. What's going on?"
"Please tell me you're still out there in BFE." Kellan's voice stretched thin, barely covering the words.

"I'm crashing in Montana, not outer Mongolia," Devon said for the sake of clarity. After all, he and Kellan had done no less than a dozen ops in places more remote than Surrender, Montana, and Devon couldn't help it that his sister Cat had ended up marrying the town doc here. There were worse corners of the world to kill time between jobs with MacKenzie Security, and he and Kellan had been to most of them. "But if that's what you mean, then yeah, I'm still in the zip code."

His buddy exhaled a hard breath. "Thank fucking God. You remember my sister Kylie, right?"

"Yeah. Of course." Probably five years had passed since Devon had met her when he'd hung with Kellan on R and R, but between her smart mouth and her tough-girl demeanor, Kylie would be difficult to forget. Especially since she and her brother were tight, to boot.

"I just got a phone call from her. She's been working at some dive bar in Grant's Pass for the last six months."

Devon's mind spun in calculated thought. "I passed through the town on my way here a few weeks ago. It's about an hour from Surrender." Not much to write home about, if he remembered right. And he always did.

"Well, that puts you a hell of a lot closer than me." Kellan paused. "She's jammed up pretty bad, Dev."

Shit. "How bad?"

"Bad enough to call me and ask for help for the first time in our lives."
Excerpts. © Reprinted by permission. All rights reserved.
Book Info:
Bartender Kylie Walker went into the basement of The Corner Tavern for a box of cocktail napkins, but what she got was an eyeful of murder. Now she's on the run from a killer with connections, and one wrong step could be her last. Desperate to stay safe, Kylie calls the only person she trusts—her ex-Army Ranger brother. The only problem? He's two thousand miles away, and trouble is right outside her door.
Security specialist Devon Randolph might be rough and gruff, but he'll never turn down a friend in need, especially when that friend is the fellow Ranger who once saved his life. Devon may have secrets, but he's nearby, and he's got the skills to keep his buddy's sister safe…even if one look at brash, beautiful, Kylie makes him want to break all the rules.
Forced on the run, Kylie and Devon dodge bullets and bad guys, but they cannot fight the attraction burning between them. Yet the closer they grow, the higher the stakes become. Will they be able to outrun a brutal killer? Or will Devon's secrets tear them apart first?
Book Links:


Meet the Author: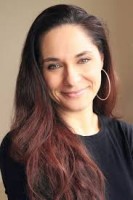 Kimberly Kincaid writes contemporary romance that splits the difference between sexy and sweet. When she's not sitting cross-legged in an ancient desk chair known as "The Pleather Bomber", she can be found practicing obscene amounts of yoga, whipping up anything from enchiladas to éclairs in her kitchen, or curled up with her nose in a book. Kimberly is a USA Today best-selling author and a 2015 RWA RITA® finalist who lives (and writes!) by the mantra that food is love. Kimberly resides in Virginia with her wildly patient husband and their three daughters. Visit her any time at www.kimberlykincaid.com or come check her out on Facebook (www.facebook.com/kimberly.kincaid1) and Twitter (@kimberlykincaid).
Website | Facebook | Twitter |