Today it is my pleasure to Welcome author
Tami Lund
to HJ!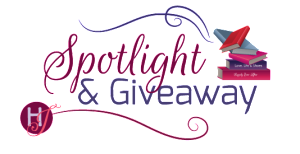 Hi Tami and welcome to HJ! We're so excited to chat with you about your new release, Delicious Deception!
Please summarize the book for the readers here: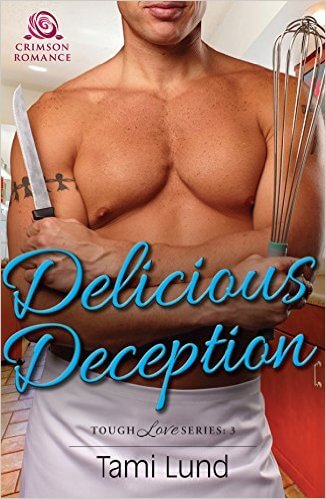 Connor Rikeland is a chef without a restaurant. Emily Kate is a restaurant owner without a chef. It's a match made in pastry heaven, especially when Connor sweet talks Emily Kate into letting him share her bed. Except Connor has secrets, dangerous secrets, and Emily Kate has a brother who's an FBI agent. He's also a tad overprotective, and he's none too thrilled to learn the suspicious chef is sleeping with his sister. It's fun, it's sexy, and it's an absolutely delicious read!

Please share the opening lines of this book:
Connor forced himself not to panic as he made his way through the crowded Lucky Belle Casino, twisting his body to slide between two elderly ladies who were discussing which machine was more likely to have a bigger payout.
They're all rigged, ladies. You came to the wrong place if you're thinking to grow your kids' inheritance.
Please share a few Fun facts about this book…
My husband is a fantastic chef. Despite his Midwestern roots, he makes amazing Cajun food. And my reaction to his molten chocolate cake was exactly the same as Emily Kate's in this book.
The dishes described in this book came from this fantastic Cajun cookbook I bought years ago in Shreveport, Louisiana, Cookin' Country Cajun.
The restaurant in this book is an actual restaurant I visited in 2012. It's called Uncertain General Store & Grill. We put our boat in at the same launch where Connor steals his boat and docked in front of the restaurant, just like Connor does. Except our boat wasn't stolen ☺.
Connor was originally from Chicago, not Detroit. But I had released a paranormal book a few months prior to this one, and in it, the heroine is a chef working in Chicago. It seemed weird to have two chefs in two subsequent books, both from Chicago, even if they were completely unrelated series. But because the characters tend to pop up in other books in this series (Tough Love), I didn't want Connor to be from someplace too far away from Detroit, which is where the characters from Undercover Heat are from. So, during edits, I changed his home base and made him from Detroit instead.
If your book was optioned for a movie, what scene would you use for the audition of the main characters and why?
Sex sells, and what's better than sex mixed with food? I would totally use the molten chocolate cake scene, if this book were optioned for a movie. Here's the beginning:
Connor stood in front of the shiny aluminum countertop on which they'd almost had sex last night. Half a stick of butter, a smattering of chocolate chips, and two cookie sheets with rows of small, white ceramic ramekin bowls sat on the counter. He stirred a concoction in a large stainless steel bowl, and as she watched, he paused, dipped his finger, and then sucked what looked like melted chocolate into his mouth. Her eyes widened, and her ovaries gave a little jump. He lifted his gaze, caught her watching, and grinned.
"Hey. Come try this." He grabbed a spoon and dipped it into the bowl, then held it up in invitation. Emily Kate automatically walked across the kitchen, unable to resist a man clearly in his element, utterly happy with life and his place in it. Why couldn't he stay so they could share this experience every day, every night?
Before she could ask the question out loud, he raised the spoon to her lips. She sucked the bowl of the spoon into her mouth and the sweet taste of melted chocolate unlike anything she had ever tasted before exploded on her tongue.
"Oh my goodness," she said when he pulled the spoon away. She could hear the breathiness in her own voice. Thoughts of demanding they talk about his impending trip flew from her mind. All she could think about was Connor. And chocolate.
"Good, huh?" He grinned, clearly pleased with himself.
"Orgasmic," she responded before she could catch herself.
He glanced at the chocolate concoction in the bowl. "Really?"
"Really. What is it? Can I have more?"
"It's called chocolate molten cake, and hell yes, you can have more." He dipped his finger into the chocolate and lifted it to her mouth. She sucked it in, hard. His eyes widened, and her knees wobbled.
"Holy hell," he whispered. He dipped his finger into the bowl again, but instead of letting her have another taste, he smeared the chocolate onto her chest, above the neckline of her dress.
"Hey," she protested.
He grinned, that adorable, crooked grin that had hooked her in the first place, before dipping his head and licking. "Mmm. Southern girls taste even better when they're covered in chocolate."
She giggled and braced her hands on the counter while he licked every savory drop and then thrust his tongue into her cleavage before pulling away. Even under his chef's coat, she could see the bulge in his pants.
"Stay there," he ordered, and then he quickly and efficiently cleaned the mess on the counter, putting away everything except the bowl of chocolate. The last thing he did was cover it with aluminum foil. "Okay, let's go." He grabbed the bowl, snagged her hand, and tugged her toward the door.
When they reached her house, he ushered her up the stairs before him, and goosed her backside more than once by the time they reached the deck surrounding the living area of the house. She was at the top before she realized they hadn't had to exercise any special care climbing the steps, because Connor had replaced all the rotting boards. She should make it a point to thank him again.
Blanco greeted them as they tumbled into the house, glaring and swishing his tail, clearly unhappy that it had taken so long to get home and feed him.
"Can't have this," Connor said, holding the bowl to the side as if he expected the cat to take it out of his hands.
What do you want people to take away from reading this book?
I hope the book makes them laugh, but honestly, I hope readers realize their own dreams are important, although sometimes those dreams aren't exactly what you thought they were in the first place.
What are you currently working on? What other releases do you have planned for 2015?
I have a short story that is part of an anthology releasing on October first. The anthology is called Bewitching Desires, and it's a bunch of interrelated stories about witches who are all part of the same coven. I'm excited about it. It took some work to make sure all the stories meshed together. My story is called All's Fair: Love & Warlocks.
I'm also working on reworking a short story I released in an anthology last year, which I hope to have available in November. It's a contemporary called The Perfect Christmas and is about a girl who's in love with her estranged brother-in-law and the choices they both have to make to find their happily ever afters.
Other than that, I have three different series out (Tough Love, Lightbearer, and Twisted Fate), and I'm working on the next books in each of those series but not sure if I'll get any of them done before the end of 2015. I'll definitely have something available for readers by early 2016, though!

Thanks for blogging at HJ!
Giveaway:

2 Digital copies of Delicious Deception by Tami Lund
To enter Giveaway: Please complete the Rafflecopter form and Post a comment to this Q:

Do you like Cajun food? What's your favorite dish?
Excerpt from Delicious Deception:
So the below scene didn't make it into the book. I cut it before I ever even sent it to Crimson Romance for consideration. But I loved it, because it pulls some of my favorite characters together into one room, and I couldn't bring myself to delete it permanently. And now I get to share it with you! In case you haven't read the first two books in the series, here's a little set up:

Cullen and Jack are FBI agents, partners, and they work out of the New Orleans office. The opening scene of the first book in the series, Naked Truth, is of Cullen's wedding, and that's where Jack meets Kennedy, who he's married to by Delicious Deception. Court and Quinn both work out of the Detroit FBI office, and Undercover Heat (#2 in the series) is Quinn and Kyra's story. Court? Well, he's getting his own story… soon! Anyway, here's the excerpt, from the editing room floor:

"Hey y'all, thanks for suffering the heat to help us."
"As if we had a choice," Court muttered as he dropped onto the bench seat and slid toward the wall so Quinn could sit next to him. The four men had already done the obligatory handshake/one-armed hug. They were ready to get down to business.
"So it's true you stole one of the agents from the Dallas office and transplanted her to Detroit, huh?" Cullen asked, looking at Quinn.
"Kyra Sanders. Married her and everything."
"Kyra, I remember her. She was smok—Ow," Jack said, tossing at glare in Cullen's direction before amending his comment. "She's a damn good agent."
Quinn glared at him before saying, "Yeah, she is. A damn good agent. And she's hot as hell."
"How come y'all didn't do the big blowout wedding?" Cullen inquired.
Quinn leaned back against the booth and shrugged. "Her choice. I didn't care one way or the other. She figured it would be too complicated, because she didn't want to do it in Dallas, but most of the guests would have been from there. So we went to this resort over on Lake Michigan, with just a handful of friends—"
"I was there," Court interrupted.
"Anyway, it was perfect." Quinn shrugged again.
"Well, congrats anyway, even if we couldn't be there to harass the shit out of you," Cullen said.
"They have a kid now, too," Court interjected.
"No shit?" Cullen said.
Quinn immediately tapped the code into his phone so he could pull up pictures, and Court guffawed. "Check this guy out. Two years ago, he swore he'd never get married and have kids. Now he's upgrading his phone because he has too damn many pictures of his wife and baby." He shook his head, clearly mystified.
Quinn let the comments roll off his back. "You better watch out, Cullen. She just came back to work after having the baby, and Nico's given her a bunch of cold cases. She's already solved three. Pretty soon, she's going to claim "The Closer" title over you."
Cullen rolled his eyes and pointed at each man in turn. "You all gave me that title. I didn't ask for it. And if she takes it, good for the Feebies. That means we're putting more criminals behind bars, and I don't see how that's a bad thing."
The waitress appeared and offered drinks all around. Jack scowled at her back.
"What the hell did Becca ever do to you?" Cullen asked his partner.
"Nothing. It's my sister. I'm sure she's seeing someone, but I can't figure out who it is."
Court arched his eyebrows. "Why is it so important you know who your sister's seeing?"
"She's my sister," Jack replied, as if that answer alone was enough.
Cullen snorted. "Jack's number one goal when it comes to his sister: scare away every guy who might remotely express interest in her."
"Not every guy," Jack qualified. "Just the assholes. I liked that IT guy. Remember him?"
Becca returned with their drinks, took their food orders, and left again. Cullen laughed so hard, he could hardly get his order out.
"Yeah, I remember him. Emily Kate told me he's dating some guy named Raul now."
Jack's eyes widened. "What?"
Cullen continued to laugh. "No wonder you liked him so much. He never had any interest in getting under your sister's skirt."
"Son of a bitch."
"Guess this explains why she's keeping the latest one a secret," Quinn commented.
Jack shook his head. "Something doesn't feel right about the situation."
"I noticed Emily Kate had a big shit-eating grin on her face earlier," Cullen remarked. Jack slugged him in the arm.
"Shut the hell up. I know what you're implying. Emily Kate's not sleeping with this mystery guy. She'd better not be."
"If you're like this with your sister, I hope to hell you and Kennedy never have kids. Or at least not girls," Cullen said.
Jack leaned against the back of the booth and folded his arms over his chest. "Look, I was one of those guys, okay? So were you," he said, pointing at Quinn. "And you," he added, pointing at Cullen. "And I don't know you well enough, Court, but—"
Court cut him off. "I'm not one of those guys. Want me to date your sister? She's hot as hell."
"If you touch my sister, I'll rip your arm off."
"At least he won't rip another part of your body off," Quinn said.
"And then I'll use your arm to rip off that part of your body."
The other three men winced in unison, and then Court shook his head. "Relax. She's too young for me, anyway. Not to mention, she lives here and I live in Detroit, and I'm comfortable with my bachelorhood."
"It's pretty damn nice getting laid on a regular basis," Quinn stated. "You should try it. Might make you a little easier to be around."
"You know, I don't need this shit. I can go back to Detroit. The only reason I'm here is because you dragged me into that fucked up casino case, and Nico thought our experience might be able to help Cullen and Jack with theirs. But I can call Nico and tell him you all don't need me," Court warned.
Excerpt. © Reprinted by permission. All rights reserved.

Book Info:
Emily Kate Boudreaux runs a restaurant located on a bayou in Texas, because it's what her family expects of her. She'd rather pursue her living as an artist. Then sexy chef Connor Rikeland walks into her life and turns it upside down. Soon, Emily Kate's restaurant is a roaring success, she has time to paint to her heart's content, there's a hunky guy warming her bed, and she's having visions of happily ever after.
Connor Rikeland is used to women throwing themselves at him, and he's been known to use relationships as a bargaining chip in his climb up the ladder. He wants a culinary career in the spotlight – and Cajun cooking isn't his ticket to fame even if Emily Kate is unlike anyone he's ever met.
Not to mention Connor has a few secrets that have put him on the wrong side of her brother's FBI case. When the pieces of just why Connor is hanging out in a backwoods town begin to surface, Emily Kate must decide what's real, what's a lie, and what's worth risking her heart over. Because deception or not, life with Connor is delicious.
Sensuality Level: Sensual
Book Links:

Meet the Author: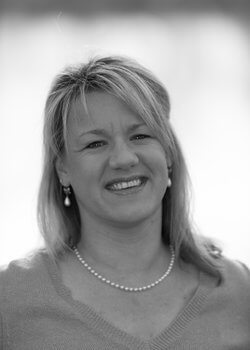 Tami Lund likes to live, love, and laugh, and does her best to ensure the characters in her books do the same. After they've overcome a few seemingly insurmountable obstacles first, of course.
Tami is multi-published, both self and with a few publishers, including Crimson Romance, Liquid Silver Books, and Soul Mates Publishing. Chances are, there is a new book coming out soon. Be sure to stalk her on social media, so you know when.
And most important, if you enjoyed one of Tami's books, please let other readers know by leaving a review on the site from which you bought it, or on Goodreads. Otherwise, how will they know which book to read next?
Shoot me an email anytime:tami@tamilund.com. Or check out my website at tamilund.com. There's a free (and really good!) short story there that isn't available anywhere else.
Tami's Facebook Page: https://www.facebook.com/AuthorTamiLund?ref=hl
I've started a Facebook group, which highlights a different author each month and is designed to give readers a chance to get to know authors, not just get the "hard sell." https://www.facebook.com/groups/WineWithTami/
Follow me on Twitter: https://twitter.com/TamiLundAuthor
Enjoy the visual inspiration on Pinterest: https://www.pinterest.com/TamiLundAuthor/
And if you want to keep up with the latest and greatest, signup for my monthly newsletter: http://eepurl.com/baCo4j
If you follow my Amazon author page, you'll get an email when a new book releases: http://www.amazon.com/Tami-Lund/e/B00AXJH5MY/ref=sr_ntt_srch_lnk_1?qid=1434888658&sr=8-1
And, yes, I'm on Goodreads, too: https://www.goodreads.com/author/show/5169798.Tami_Lund
Website (there's a free read available only here. Oh, and I blog here, too!): http://tamilund.com
TSU: http://www.tsu.co/TamiLundAuthor