Today it is my pleasure to Welcome author
Lisa Kleypas
to HJ!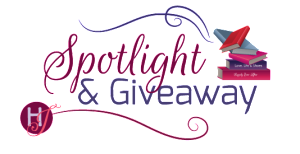 Hi Lisa and welcome to HJ! We're so excited to chat with you about your new release, Devil In Spring!

Hello my friends!

Tell us about the book with this fun little challenge using the title of the book: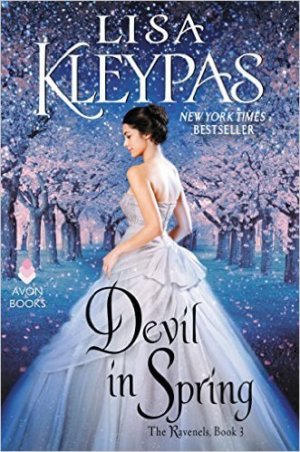 D is for Devil
E is for encounter (in a summerhouse)
V is for vegetable (there's one in particular that Gabriel absolutely hates)
I is for imagination (Pandora has a vivid one)
L is for legal rights (of which Victorian Women had very few)
I is for Isle of Wight (English island just off the coast of Hampshire
N for nausea (which happens to Pandora whenever she waltzes)
S is for stuck (Pandora's unfortunate encounter with a settee)
P is for passion
R is for runcible spoons (one of Pandora's favorite things)
I is for inventor
N is for notebook
G is for Gabriel, Lord St. Vincent
What's your favorite line(s) from the book?:
Gabriel's father Sebastian, the original Devil, reminisces:
"Dangerous creatures, wallflowers. Approach them with the utmost caution. They sit quietly in corners, appearing abandoned and forlorn, when in truth they're sirens who lure men to their downfall. You won't even notice the moment she steals the heart right out of your body—and then it's hers for good. A wallflower never gives your heart back."
Please tell us a little about the characters in your book. What first attracts your Hero to the Heroine and vice versa?
Lady Pandora Ravenel isn't at all the kind of woman Gabriel, Lord St. Vincent expected to fall in love with. She is impulsive awkward, creative, outspoken, and determined to create an independent life for herself. However, her spirit, humor and vitality are irresistible, and Gabriel is determined to win her heart.
Gabriel is the ultimate insider–accomplished, socially connected, handsome, wealthy and aristocratic. He's the man every young woman wants to marry–but Pandora has different plans. Her dream is to start her own board game company and become self-supporting. If she marries, however, she will lost most of her legal rights, and will never be able to have her own business.
When you sat down to start this book, what was the biggest challenge you faced? What were you most excited about?
Since I'd never written a romance featuring the son of a former hero, I was excited by the prospect, but I mistakenly thought it would be easy. Instead, it turned out to be more challenging than my usual books, because the hero, Gabriel, has been raised in a loving family and didn't have the usual kind of emotional baggage. However, I eventually realized that growing up as the handsome, privileged son of a well-known family would bring its own pressures, rather like JFK Jr. faced. Having to maintain the appearance of perfection, and struggling to maintain his privacy has made it difficult for Gabriel to relax and let down his guard. Until he meets the free-spirited Pandora!
The First Kiss…
Pandora tensed as his mouth came to hers, as light as a brush of silk or a zephyr breeze. He was almost tentative at first, making no demands, only feeling the contours of her mouth with his. Softly, softly . . . his lips moved over hers in sensuous touches that quieted the usual chaos of her brain. Mesmerized, she answered with hesitant pressure, and he shaped her response, played with her, until she began to dissolve in the slow, endless teasing. There was no interference of thought or time, no past or future. There was only this moment, the two of them standing together in a sun-drenched path of flowering vines and sweet dry grass.
If your book was optioned for a movie, what scene would you use for the audition of the main characters and why?
"You don't have to make small talk with me," Pandora said. "I don't like it, and I'm not very good at it."

They paused in the shade of the portico, beside a sweet-scented bower of roses. Casually Lord St. Vincent leaned a shoulder against a cream-painted column. A lazy smile curved his lips as he looked down at her. "Didn't Lady Berwick teach you?"

"She tried. But I hate trying to make conversation about weather. Who cares what the temperature is? I want to talk about things like . . . like . . . "

"Yes?" he prompted as she hesitated.

"Darwin. Women's suffrage. Workhouses, war, why we're alive, if you believe in séances or spirits, if music has ever made you cry, or what vegetable you hate most . . ." Pandora shrugged and glanced up at him, expecting the familiar frozen expression of a man who was about to run for his life. Instead she found herself caught by his arrested stare, while the silence seemed to wrap around them.

After a moment, Lord St. Vincent said softly, "Carrots."

Bemused, Pandora tried to gather her wits. "That's the vegetable you hate most? Do you mean cooked ones?"

"Any kind of carrots."

"Out of all vegetables?" At his nod, she persisted, "What about carrot cake?"

"No."

"But it's cake."

A smile flickered across his lips. "Still carrots."
What do you want people to take away from reading this book?
I hope my readers will enjoy the humor and playfulness of Gabriel and Pandora's relationship, and hopefully be as fascinated as I was to learn what it was like to be an independent-minded young woman in the Victorian era. For example, Pandora asks if the word "obey" could be removed from her wedding vows–I'll leave you to discover whether or not it was legally possible for her to marry without saying it!
I also hope everyone will have fun discovering what Sebastian and Evie's life together is like after all these years of marriage.
What are you currently working on? What other releases do you have planned for 2017?
I'm working on the fourth book in the Ravenels series. The heroine is Dr. Garrett Gibson, the only certified female surgeon in England. (She also happens to be an expert in the Victorian art of cane-fighting!) She made appearances in Marrying Winterborne and Devil In Spring, and is such a strong, exciting character that only a very special hero will be able to handle her!

Thanks for blogging at HJ!
Giveaway:

An autographed copy of Devil In Spring
To enter Giveaway: Please complete the Rafflecopter form and Post a comment to this Q:

If you could choose any of the offspring from either the Wallflower or Hathaways series to make an appearance in the Ravenels, who would it be? For example, one of Cam and Amelia's children? One of Westcliff and Lillian's boisterous brood, or maybe one of Simon and Annabelle's sons or daughters? I'm open to any suggestions!
Excerpt from Devil In Spring:
Laughing, Pandora turned and found Gabriel's intent gaze on her. He seemed fascinated by . . . something . . . although she couldn't imagine what he would find so interesting about her. Self-consciously she brushed at her cheeks with her fingers, wondering if there were a smudge on her face.

Gabriel smiled absently and gave a slight shake of his head. "Am I staring? Forgive me. It's only that I adore the way you laugh."

Pandora blushed up to her hairline. She went to the nearest archery target and began to jerk out arrows. "Please don't compliment me."

Gabriel went to the next target. "You don't like compliments?"

"No, they make me feel awkward. They never seem true."

"Perhaps they don't seem true to you, but that doesn't mean they're not." After sliding his arrows into a leather quiver, Gabriel came to help collect hers.

"In this case," Pandora said, "it's definitely not true. My laugh sounds like a serenading tree frog swinging on a rusty gate."

Gabriel smiled. "Like silver wind chimes in a summer breeze."

"That's not at all how it sounds," Pandora scoffed.

"But that's how it makes me feel." The intimate note in his voice seemed to vibrate along the network of fine, taut nerves strung all through her.
Excerpts. © Reprinted by permission. All rights reserved.
Book Info:
An eccentric wallflower . . .
Most debutantes dream of finding a husband. Lady Pandora Ravenel has different plans. The ambitious young beauty would much rather stay at home and plot out her new board game business than take part in the London Season. But one night at a glittering society ball, she's ensnared in a scandal with a wickedly handsome stranger.
A cynical rake . . .
After years of evading marital traps with ease, Gabriel, Lord St. Vincent, has finally been caught by a rebellious girl who couldn't be less suitable. In fact, she wants nothing to do with him. But Gabriel finds the high-spirited Pandora irresistible. He'll do whatever it takes to possess her, even if their marriage of convenience turns out to be the devil's own bargain.
A perilous plot . . .
After succumbing to Gabriel's skilled and sensuous persuasion, Pandora agrees to become his bride. But soon she discovers that her entrepreneurial endeavors have accidentally involved her in a dangerous conspiracy—and only her husband can keep her safe. As Gabriel protects her from their unknown adversaries, they realize their devil's bargain may just turn out to be a match made in heaven . . .
Book Links:

Meet the Author: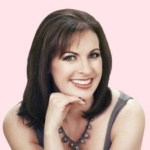 Lisa Kleypas is a New York Times bestselling author of both historical and contemporary romance. Her thirty-nine novels and four novellas have been published in twenty-four languages and are bestsellers around the world. After graduating from Wellesley College with a political science degree, Lisa sold her first book and made a full-time career of writing the kinds of romances she has always loved to read. Lisa is living her own happily-ever-after in Washington State with her husband Greg and their two children.
Website | Facebook | Twitter |