Today, HJ is pleased to share with you

Amber Bardan's 

new release: 

Didn't I Warn You.

Not everything dangerous is bad.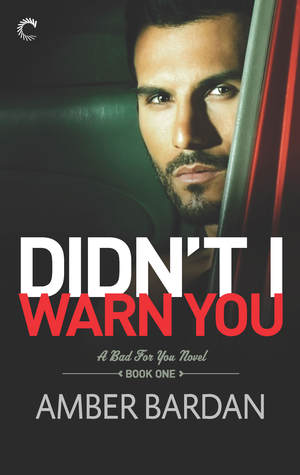 From the moment Angelina laid eyes on him, she fell into a fantasy. Mysterious, foreign, gorgeous, Haithem offered her what she needed most—a chance to feel again.

But Haithem is much more than he appears to be. He lives in a world of danger where everything comes at a price.

For Angelina, that price is her future.

He's ensured the life she's left behind is in tatters. Made her family believe she's dead. He talks about protecting her, about keeping her safe, but she can't distinguish his truth from his lies. She can't separate her pleasure from his betrayal.

Haithem warned her. He told her he'd make her heart race, her body come alive, and her most primal needs rush to the surface. His for the taking.

He didn't say she'd come to love the devil who's destroying her, even as he keeps her prisoner.

Enjoy an exclusive excerpt from Didn't I Warn You: 
"My name is Haithem," he whispered. His beautiful accent thickened. "But of course you can call me sir." The look he gave me dripped with sin. I was in serious, serious trouble.
I swallowed hard. His hand rested on my arm. Its warmth seeped into my skin. The atmosphere charged, but I wasn't sure if it was with danger or something sweeter. His gaze devoured my eyes, my mouth, my lips, as if he memorized the angles of my face. I said nothing. I held his gaze, not able to—or wanting to—pull away. I'd never been looked at that way before.
Kiss me…
His lips met mine, spreading my mouth open. My heartbeat paused. His kiss consumed me. My pulse rushed back into a shuddering rhythm, thunking its way through my chest to send trembling blood through my body. He took possession. Of my mouth, my pulse, of the bend in my spine with the tilt of our heads. He opened his mouth over mine and pushed his tongue between my lips. My veins exploded with rushing blood. I pressed myself against him and kissed him back.
I melted—lost my bones. His jacket dropped to the floor, and he ran his hands down my shoulders. He surrounded me, pulling me closer to him, shutting out the world. A hungry touch glided over my backside, running down my leg and back up my thigh, then delving underneath my skirt. Shivers ran deep inside my core. His other hand slid into my hair, deepening our kiss, if such a kiss could get deeper. He filled me, his tongue, the masculine taste of him, the intoxicating tang of his cologne. He enveloped me. I could burst. He gripped my ass. Brutal hardness dug into my belly.
Icy realization hit. What am I doing? I pulled back, but the grip in my hair locked me in place. My limbs stiffened.
His hold on my hair loosened, and he leaned back, peering down at me through lowered lashes and warm, breathtaking eyes. His lips glistened softer and pinker. He rubbed his thumb lightly on my cheek.
Why was I panicking again?
"This is Building Management. Is everything all right in there? Emergency stop seems to have been activated." The voice echoed through the elevator from the speaker underneath the stop button.
Haithem's touch left my face, but the hold on my behind remained. A devilish smile played on his mouth. "My apologies. I seem to have accidentally knocked the button."
There was a pause. "Kindly depress the button, please, sir."
Haithem sighed, and he released my backside to reach for the button. The elevator sprang to life, dropping suddenly.
Within moments the doors opened, and without another thought I slipped under his arm and out of the lift. I rushed through the empty lobby, my heart screaming a warning siren in my ears, to where a security guard waited at the doors. I glanced back. Haithem started after me but stopped when the security guard moved my way.
"Is everything okay?" he asked, gaze darting from me to Haithem.
"Fine, I'm just leaving," I said.
He opened the door and I rushed into the crisp outside air and ran to the corner, then froze
Once again what was I doing? I needed him. Hadn't even managed to get a last name from him. What was wrong with me? I peered around the corner at the lobby doors. Emma warned me about this. That there was a chance my reproductive system would eventually turn on me. Sex brain. Or as I fondly referred to it—horny-stupid.
The door flew open.
The massive length of him emerged. I sank my back to the wall. My heart hadn't slowed down, not for a second. My lips were still bruised. Desire still rained a plague of tingles in my fun area. I could fix this entire issue. Take care of both sex-brain and exposé at once. I just had to step out of hiding and call his name…
Excerpt. ©Amber Bardan. Posted by arrangement with the publisher. All rights reserved.
Giveaway:

Ebook: DIDN'T I WARN YOU by Amber Bardan (Gifted via Amazon)
To enter Giveaway: Please complete the Rafflecopter form and post a comment to this Q:

What did you think of the excerpt spotlighted here? Leave a comment with your thoughts on the book…
Book Info: 
Didn't I Warn You?
Bad for You #1
By: Amber A. Bardan
Releasing April 18, 2016
Carina Press
Buy Links:  Amazon | B & N | Google Play | iTunes | Kobo


Meet the Author:
After spending years imagining fictional adventures, Amber Bardan finally found a way to turn daydreaming into a productive habit. She now spends her time in a coffee-fueled adrenaline haze, writing romance with a thriller edge.
She lives with her husband and children in semi-rural Australia, where if she peers outside at the right moment she might just see a kangaroo bounce by.
Amber is an award winning writer, Amazon Bestselling Author, and member of Romance Writers of Australia, Melbourne Romance Writers Guild, and Writers Victoria.
Author Links: Website | Facebook | Twitter | GoodReads