Today it is my pleasure to welcome New York Times bestselling author 

Jaime Rush

to HJ


Hi Jamie, Welcome to HJ
A pleasure to be here!
What would you say are the defining characteristic of your novels?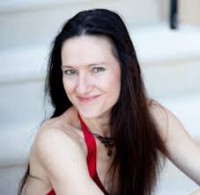 I try to imbue my characters with the kinds of flaws and insecurities we all have, so the reader gets a sense of hope that all things can be surmounted. I also love lots of action and juicy conflict and romance.
Let's talk about your newest release: DRAGON AWAKENED
If you had to summarize DRAGON AWAKENED for the readers here…
Ruby witnesses her uncle's murder by a supernatural weapon. On his dying breath, he utters the name of the man who must have sent it. But Cyntag is far more than a mere man. Dangerous, sexy, and Dragon, he's the only one who can keep her alive in a hidden world of dark magick, deadly power, and hot passion.
Please tell us about the characters in your book?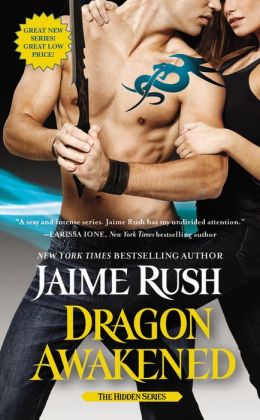 Ruby is a tough, guarded woman who has always felt a burning emptiness in her soul. An orphan, she runs the restoration yard that her mother once cherished. She tends to take in strays, both people and cats.
Cyn is a jaded former member of the Guard, the force that polices the hidden supernatural population in Miami. He has lost his passion for life over his two hundred and sixty years. Though he finds a modicum of fulfillment running his dojo to help Dragon shifters like himself learn to protect themselves, he lives under the shadow of one sanctioned hit many years ago … Ruby's parents.
What scene did you most enjoy writing? Why?
The scene that really inspired the whole book is when Ruby confronts Cyn about murdering her uncle. I saw that scene in my mind long before I knew anything about the plot and characters. They had such fantastic chemistry, and Cyn came off as such a cool bad-ass that I was instantly in love with him.
"Moncrief finally sent you to me then?" Cyntag glanced around. "He didn't come with you?"
"He's dead." Which you know, considering you killed him. The words burned up Ruby's throat and singed her tongue. The rage, she could hardly hold it back. Cool and calm, calm and cool.
His eyebrows, shaped like sleek raven's wings, settled into a furrow. "Moncrief is dead? How?"
"You sent an orb, some kind of lightning thing, to kill him. Don't play dumb with me." The words boiled out. So much for cool and calm. "He said your name. I asked him who had done it, and on his dying breath, he said your name." Now she'd accused him. He would have to act, defend…or kill her. She pulled the gun from her back and leveled it at him, because the latter option was most likely.
An odd expression flickered across his face. "Ruby, what are you doing?"
Losing her mind, that's what. She grabbed his phone and thumb-dialed her number. After her outgoing message, she shoved it toward him. "Say your name and admit you had him killed."
He was eerily cool, the way she should have been. "I didn't kill Moncrief."
"He said you did."
"I don't think he said that, Ruby." God, the way he said her name, slow and smooth, like thick honey. "You obviously saw an orb kill him. You were upset, scared. Like you are now."
She pushed the gun closer. "I'm not scared. I'm pissed. I know how to use this. I hit the center of the target nine times out of ten."
"Impressive. Are you shaking like this while you're aiming?" In a flash, he turned her around, shoved her arm aside, and tightened his grip on her wrist. His arms encircled her, his bare skin brushing against her arms.
A sharp click, then another, and the magazine dropped to the floor. "I suggest you release the weapon, and we'll continue this conversation in a more civilized fashion."
What scene was the hardest to write? Why?
It was probably the scene where Cyn tells Ruby that he was the one who terminated her parents. He has tried so hard not to get emotionally involved with Ruby, but she has opened up her guarded heart, and he must hold onto the last scrap of his honor by telling her the truth.
"It was me, Ruby." He met her gaze. "I was the one ordered to assassinate your parents."
The words settled in like spikes, making her drop her hand and clutch her chest. "You…"
"I was the Vega they tapped because they knew I was ruthless. They didn't tell me there was a little girl on the yacht, only that all the people onboard were to be terminated. I knew nothing about the targets—"
"'Targets. Targets? They were my parents!"
"They were targets to me. When you take these kinds of assignments, you can't make it personal."
She felt as though she'd been dunked in ice, the air leaving her lungs in a painful whoosh. She stalked into the living room and got dressed. The buttons on her shirt were missing so she held it together with one hand. He'd followed her out, but she spoke before he could say anything. "But it was personal. They were people. Son, daughter, parents to a girl who needed them." Heartache crushed her chest. She faced him, trying not to see the man whose face she'd just tenderly touched. Making herself see a cold killer. "Tell me. Tell me all of it."
"You're sure you want to—"
"Yes." The word came out brittle and harsh.
What made it hard was that I'd been living with these characters for so long, and I had watched Ruby finally open her heart to someone, knowing she would be completely crushed when she found out the truth.
As you wrote your hero and heroine was there anything about them that surprised you?
The way they interacted so easily and with such sparks. I love it when characters come alive and spark off each other, and Ruby and Cyn were the most fun people I've written.
Who would you cast in the role of your characters if your book was optioned for a movie?
I ran across a picture of actress Alicja Bachleda and "knew" she was Ruby. The man who inspired Cyn is a firefighter named Carlos who posed for one of those charity calendars. I'd choose him if he could act!
If you could have given your Characters one piece of advice before the opening pages of the book, what would it be?
Brace yourself.
What are you currently working on? What other releases do you have planned in 2014?
I have my back-to-back Hidden trilogy, which I'm super excited about. I've had such fun dabbling with Dragons, angels and magic. MAGIC POSSESSED comes out in January, and ANGEL SEDUCED in February. I am also bringing my original writing name back with a brand new romantic suspense series called The Justiss Alliance. I wrote eighteen books under Tina Wainscott, then created Jaime for my paranormal romantic suspenses. I love being able to bounce back and forth between the supernatural and the gun-toting Navy SEALs who live in the normal world. WILD HEARTS is a short intro that comes out in January, followed by WILD ON YOU in February.
And yes, it was an extremely busy 2013!
Where can readers get in touch with you?
For information on my books, my contest, and other goodies, my website is the best place: www.jaimerush.com.
For social interaction, Facebook: http://www.facebook.com/JaimeRushBooks
Twitter: http://www.twitter.com/jaimerush
GoodReads http://www.goodreads.com/author/show/2168689.Jaime_Rush
And for my Tina books, my website: www.tinawainscott.com
Thanks for blogging at HJ!
GIVEAWAY:

2 print copies of  DRAGON AWAKENED
To enter Giveaway: Please complete the Rafflecopter form and post a comment to this Q: 

If you had a choice of being a Dragon shifter, a sorcerer, or half fallen angel, which would you be? Why?
Excerpt
He nodded to the gun on the floor. "You came to take me down for killing your uncle. Because he uttered my name on his dying breath." Amusement glittered in his eyes. "You, a mere girl, would take me down."
"I'm not a girl, and don't underestimate me."
"I admire your bravado. You'll need that. Still, you must never walk into the enemy's den without knowing anything about him."
"To be clear, I came here to snoop, because that was the only way I could find out more about you. The gun was for protection, just in case. You were supposed to be busy teaching your class." How had he known she was there?
"To be clear, if I was your enemy, you would be dead now. Moncrief wasn't naming his murderer. He was trying to send you to me because, as his life ebbed, he knew I was your only chance of surviving." In a voice under his breath, he added, "I'm sure he loved that." He picked up the letter opener from his desk and ran his finger down the edge. "You want his murderer to face justice, do you not?"
"With every cell in my body."
"Good." He held the letter opener out to her handle first. "Take it."
She did, feeling the warmed metal against her palm and the curves of the dragon.
He raised his arms out to his sides. "If you're sure I killed him, go ahead then. Take your revenge."
She squeezed the handle and stared at a chest that looked so hard she wasn't sure the tip would penetrate. He was taunting her. Daring her. She pressed the tip to the molded pec over his heart, just below the Dragon's mouth.
"Could you do it, Ruby? As tough as you like to appear, could you sink a sharp object into someone's flesh? It's harder than you think. Physically and psychologically, even when you feel justified. Could you handle the feel of warm blood gushing between your fingers and down your arm?"
Every bit of the rage she felt since seeing the bolt piercing her uncle's chest rushed in around her. "Yes."
"Good." He paused, staring into her eyes in a way that twisted her stomach. But nothing like his next words did. "You've felt it, haven't you, a rage so hot and fierce that you believe you could take someone's life? Even though that sane and civilized part of you abhors that ferocity, a darker part craves it." Her denial withered on her tongue. He didn't press her because he seemed to know she had. "Have you ever killed someone?"
She wanted to say one or two but somehow she knew he'd spot her lie. "I threatened someone. And I would have gone through with it too if he hadn't paid for the merchandise." She could hardly push the words out of her dry throat.
Her business partner hadn't bothered to check the slip of paper the hulk of a man waved in his face, and off the restored motorcycle went—without getting paid for. When she'd hunted the man down, he dismissed her as a mere girl. She threatened the creep with bodily harm—oddly, not with shooting him but tearing out his throat. He must have sensed her suppressed violence, because he paid on the spot.
"Killing is not easy to do," Cyntag said. "And should never be done out of rage."
"Are you speaking from experience?" It sure sounded like it.
His mouth twitched ever so slightly. "I don't think we should go there just now."
Which meant they'd go there later. And that she was right.
Cyntag smelled of earth and fire and—where in the hell were these thoughts coming from? His energy and heat pulled at her. Were his eyes glowing? She swore something flickered in them, just for a second.
He nodded to the point of the letter opener. "Why are you hesitating?"
She took a step back. "Because I can't be sure you did it." He was right. If he was Mon's murderer, she'd be dead.
"Very good. You put logic over your anger. As opposed to when you pulled the gun on me or tried to crush my balls. Never let your emotions drive you."
"I'm not a rash and emotional person. Then again, I don't usually watch someone I love die or get chased by a supernatural ball of fire."
About the book
They are the Hidden.
Not quite human. Far from normal.
And never, ever safe . . .
PLAYING WITH FIRE
Ruby Salazaar wants answers . . . and revenge. Her uncle has just been murdered before her eyes and the name he utters with his final breath – Cyntag – leads Ruby into a world beyond her wildest imaginings. She soon learns that the dark, sexy Cyntag Valeron knows more about her than she does herself.
BURNED BY LOVE
Ruby changed Cyn's life before she even knew who he was. Now she charges into his life, a beautiful woman full of fire and questions. Cyn knew this day would come, yet he couldn't foresee the danger – and desires – Ruby would bring with her. He can teach her how to harness her newly awakened powers. But there is one force neither of them can control . . .
Buy Links for Dragon Awakened: Amazon | B&N | IndieBound | Bookish
Buy Links for Dragon Rising: Amazon | B&N | iTunes | Bookish
Buy Links for Dragon Mine: Amazon | B&N | iTunes | Bookish
Author Bio:
Things that go bump in the night have always fascinated Jaime Rush. Sometimes those things are human; other times, not so much. Now she has twisted them all together in the Hidden, a trilogy about humans with the essence of gods who walk the knife's edge between the glamour of Miami and a place filled with dark magick and dangerous beauty.
Jaime is the author of the Offspring series and also writes under the name Tina Wainscott. She is the bestselling author of eighteen romance novels. She lives in Southwest Florida with her husband, daughter, and cat.