Today it is my pleasure to welcome USA Today Bestselling author 

Kathy Lyons

to HJ!
That AWKWARD Hotel Moment – By Kathy Lyons
You know how sometimes you check into a hotel and there's a really hot guy in the room next door and you go to sleep and share an erotic dream with him? That always happens, right? Then what do you say when you see him in the morning? "I know what you were doing in my dreams last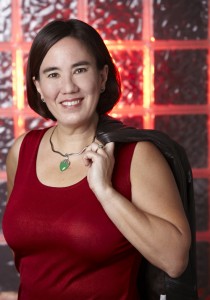 night!" And what if you got it wrong and you were actually sharing a dream with the guy on the other side? Talk about AWKWARD!
What? That never happens to you? Oh. Me neither, but what if it did?
Yes, truly, that is exactly how Dream Nights with the CEO started. Hot guy. Hotel room next to mine. I started thinking (you might say wishing) and then my imagination took hold. I created Miranda's Place B&B where strangers share something very intimate in their dreams.
But what made this book so special was something completely unexpected. I gave the hero a comic book obsession and suddenly the dreams took on a comic book feel. Sure I knew they would be sexy, but I had no idea they would be funny too. Seriously, split your side funny because, frankly, in a comic-themed dream anything can happen.
I let my imagination fly. No restraints, no holding back. Wow! It turns out when I have fun, the page just explodes with cool stuff. So when I was asked to list my 5 top scenes in the book, I really had to list the dream sequences. Problem is, they make no sense without the context of the book. And honestly, timing is everything in comedy. So I recommend an except. But if you can't wait, try this:
Top 5 Scenes in Dream Nights with the CEO by Kathy Lyons
5. The second dream sequence in the book has our heroine walking through a park at night. She knows this is a nightmare because she looks down and sees blonde hair (she's a brunette) over massively bouncy boobs (she is not that well endowed). She realizes, oh crap – I'm the blonde bimbo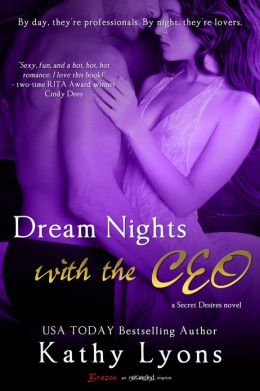 and I'm going to die.
And then it gets worse. Yes, she's attacked by a horror film classic: dark Jell-O….er, I mean The Blob. And what happens with this horrible villain? Naturally, he eats off all her clothes before being vanquished. Yeah, reading it like this sounds kinda lame, but the commentary track is pretty funny.
4. You know that time when you're in a MOOD. Everything has gone crappy and you're sitting in a cave made of Ben&Jerry's Rocky Road? Can any hero penetrate your hard candy shell? Why yes, he can. But he might have to go to extreme measures.
3. Dream Sex vs. Real Sex – How do you choose, and how do you know the difference? If you go to bed in separate rooms, then dream about trains, planes, and dark caves, where are you going to wake up? And will you alone? Of course not! It's a sex comedy romance!
2. The Unmasking of the Hero. The best part of these dreams are the comic book theme. And what's more fun than the unmasking of the hero? Especially if you are the villainess and get to do all the stripping away.
1. Kathy and Johnny Depp hanging out, drinking wine, and talking art. And then…well, making it! (And no, that has nothing to do with the book. It's just my favorite scene…)
Giveaway: 2 copies of DREAM NIGHTS WITH THE CEO (e-book)
To enter Giveaway: Complete the Rafflecopter form and post a comment to this Q:
Have you ever had a dream make you think?  I don't mean, wow, I dreamed about fried chicken and there's a KFC right there!  No, I mean, I dreamed that I was writing a book or that I could dance. Or I dreamed I was a maid in this horrible castle.  I had a dream once where I was painting a wall mural in elaborate colors and design. I've never gotten it out of my head, and yes, since then I've tried to draw. I'm terrible at it, but I'll never forget the feeling of just painting freehand and having amazing colors appear. Now that I think about it, the concept of dreams influencing reality might have grown from that moment. What do we dream at night while asleep that ends up effecting the day and perhaps our entire lives?
Dream Nights with the CEO
Hotel chain CEO and millionaire Wyatt Monroe is a stick in the mud. Sure, he's hot as sin, even with the tie, but free-spirited assistant Megan Bradford refuses to jeopardize their perfect working relationship. Why mess that up with sex? She knows he's the love 'em and leave 'em type, and she's determined to find a family man.
Wyatt would never cross the line between boss and employee with Megan, no matter how hard it might be to resist the temptation. But when they visit a mysterious B&B in a bid to acquire the property, he starts having erotic dreams about the sexy brunette that make it hard to resist her in daylight.
Soon the line between reality and dreams further blurs when they learn they were sharing the same erotic dreams…
Title: Dream Nights with the CEO
Author: Kathy Lyons
Genre: Contemporary Romance
Release Date: May 2013
Imprint: Brazen
Kathy Lyons Bio (aka Jade Lee):
A USA Today Bestseller, JADE LEE has been scripting love stories since she first picked up a set of paper dolls. Ball gowns and rakish lords caught her attention early (thank you Georgette Heyer), and her fascination with the Regency began. And as a Taurus, she lives to pit a headstrong woman against a tortured hero just to watch them butt heads on the way to true love. Flesh wounds are rare, but the healing and laughter are real.
Now an author of more than 30 romance novels, she finally gets to set these couples in the best girl-heaven of all: a Bridal Salon! This way she gets to live out all her wedding fantasies, one by one. (Let's be honest, what girl has only one idea for her dream wedding?)
And don't forget Jade's other name, KATHY LYONS. That's Jade's lighter, contemporary side she's writing for Entangled Publishing and what Dream Nights is all about!  For more on Kathy visit her on her website, Facebook, or Twitter.