Today it is my pleasure to Welcome author
Susan Bishop Crispell
to HJ!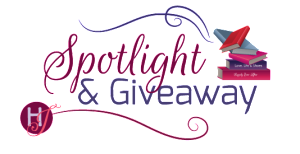 Hi Susan and welcome to HJ! We're so excited to chat with you about your new release, Dreaming in Chocolate!
Please summarize the book for the readers here: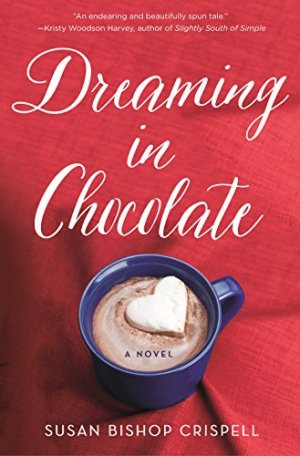 Dreaming in Chocolate is a story of first love and second chances. When single-mom Penelope Dalton's ex comes back to town—and immediately makes it to the top of her daughter's bucket list—she must choose between Ella's happiness or protecting both of their hearts. But if she gives into her fate, maybe they'll all end right where they're supposed to be.

Please share the opening lines of this book:
If there was one thing Penelope Dalton knew for certain, it was that every day offered up at least one magical moment. A taste of sheer happiness that was sweeter than her favorite dark chocolate caramels. Too many moments had slipped through her fingers before she'd known to look for them, but over the past month, she'd made it her mission not to miss any more.
Please share a few Fun facts about this book…
Ella has a brain tumor because the year I began writing the book I had brain surgery to remove a cluster of blood vessels that had started leaking in my brain and caused seizures.
The apothecary table in the book is based on the non-magical apothecary table that was in my parents' house growing up. When my mom let me have it, it sparked the idea of magical chocolates in the book.
Penelope is a huge music fan. So, I included some of my favorite bands throughout the story to give a nod to the music that inspired me while I was writing.
Please tell us a little about the characters in your book. As you wrote your protagonist was there anything about them that surprised you?
The main characters in Dreaming in Chocolate are Penelope, a chocolatier with a magic-gifting apothecary table; her eight-year-old daughter Ella, who has been diagnosed with a brain tumor; and Noah, Penelope's ex—and unbeknownst to him, Ella's father. Penelope's more than a little gun-shy when it comes to Noah after he proved her true love hot chocolate wrong when they were younger. Ella on the other hand, sets her heart on making Noah her dad. And Noah must find a way to make amends for his past if he hopes to have any chance at winning back Penelope's trust. And hopefully her heart.
The thing that surprised me most about Penelope was how fiercely she believed in the magic, except when it came to her own life. She's a stubborn one, that's for sure!
If your book was optioned for a movie, what scene would you use for the audition of the main characters and why?
One of my favorite scenes is the first scene where Penelope and Noah run into each other once he's back in town. Penelope is so prickly—guarded—and Noah is so, well, Noah. Unflappable and hopeful and charming in his way. Throw in two adoring eight-year-old girls and it would be such a fun scene to see play out.
Snippet:
"Tucker said y'all opened some kind of crack-den-like chocolate shop that my niece is obsessed with."
"Crack den?" she asked. She clenched her jaw to keep from calling him an asshole on elementary school grounds.

He shrugged, the leather on his well-worn jacket swishing with the movement. "Yeah, you know, because your chocolates are addictive or give you hallucinations or something. Maybe he just didn't explain it well."

She shook her head and cut her eyes toward the school entrance. She crossed her arms over her chest and dug her nails into her biceps.

"Let me try that again." He stepped around her so they faced each other. "What I meant was that I heard your chocolates are amazing and that people can't seem to get enough of them. Though I'm fairly certain that part about the hallucinations was true too."

If only he'd believed in the magic years ago.
What do you want people to take away from reading this book?
If people want to hug the book when they're finished, my job is done. Despite some of the heavier topics, at its heart Dreaming in Chocolate is a book about hope and finding love and believing in magic. And I want readers to feel all of that when they get to the last page.
What are you currently working on? What other releases do you have planned for 2017?
I'm writing a new magical women's fiction novel about half-sisters who want nothing to do with each other, so, of course, they're forced into each other's lives. There's bourbon pound cake that will erase love from people's lives, a charming barrier island off the NC coast with a run-down lighthouse at the center of a revitalization effort, a couple of swoony men who hope to win the sisters' hearts.

Thanks for blogging at HJ!
Giveaway:

Print copy of Dreaming in Chocolate by Susan Bishop Crispell
To enter Giveaway: Please complete the Rafflecopter form and Post a comment to this Q:

If you could drink a cup of hot chocolate and dream of your future, would you drink it, or would you want to keep your fate a mystery?
Excerpt from Dreaming in Chocolate:
If there was one thing Penelope Dalton knew for certain, it was that every day offered up at least one magical moment. A taste of sheer happiness that was sweeter than her favorite dark chocolate caramels. Too many moments had slipped through her fingers before she'd known to look for them, but over the past month, she'd made it her mission not to miss any more.
This was today's—knees-down in the snow, shivering from the cold and wet that soaked her cotton leggings and the hem of her dress, building a snowman while her daughter chatted nonstop about her day at school.
Penelope had thrown on just enough outer layers as she left work to keep her comfortable on the ten-minute walk to and from Malarkey Elementary. But when she and Ella had approached the park in the middle of downtown, all white and winter-wonderlandy, she could practically hear it begging for them to be the first to leave their mark.
And since memories didn't make themselves, they'd walked hand in hand into the fresh snow, inadequate attire be damned.
"What was the best thing that happened at school today?" Penelope asked. She shoveled an armful of snow into a pile and began molding it around the ball Ella had formed.
"Besides the snow?"
Snow wasn't unusual in the northwest corner of North Carolina, but this early in the season they rarely got more than a smattering of flakes at a time. The couple inches that had fallen since lunch were a delightful surprise.
"Yes, besides that."
"At recess I got to play tag with the other kids," Ella said, her gaptoothed smile taking over her face. She skimmed her fingers over the cat ears sewn into the top of her knit hat, then continued. "At first Mrs. Shutters said she wasn't sure if I should play because she didn't want me to get hurt, but then one of the other teachers said it was just tag and running around would probably do me some good after being sick. So Mrs. Shutters said okay. And then, guess what happened? I got to be It, Mama!"
Penelope locked her eyes on her daughter, her smile freezing into place and breath catching in her throat, a vain attempt to hold on to the moment. But not even Ella's excitement about playing the position in the game no one ever wanted could keep reality from rushing back in at the word "sick."
Exhaling, Penelope relaxed her face. Ella had gotten to play at recess like a normal third grader. That in itself was a reason to be happy. For now, she would make it be enough. "That's great, sweetie. Did you get to tag someone?"
"Yep. This girl in my class. Her name is River. She's really good at tag. She almost never gets caught," Ella said. She scooped her mittened hands into the snow then dumped it right back out. "Hey, wait! We can't make our snow family without Grams. Let's go get her so she can help."
"It's going to be a little tough for her to make snowmen while she's working."
"She can take a break. She'll be sad if we make them without her."
"You know she can't take a break without closing the shop. Somebody has to help customers when they come in, and since I'm here with you, Grams is there by herself."
Ella set a hand on Penelope's to stop her from packing another handful of snow onto the lopsided sphere sitting on the ground between them. "I know. But can't she just come for an hour? Please? I'll make a note for the front door so anyone who wants some hot chocolate will know when to come back."
Penelope hesitated. She had never been one of those moms to give in to her kid's every demand. But lately the word "no" had abandoned her, and she couldn't bring herself to go looking for it. Making Ella smile, hearing her laugh with delight—that's what mattered now. Guilt from all of the no's over the years—and all of the experiences Ella never had because of Penelope's decisions—burned at the back of her throat. Giving in to it, she said, "You're right. Grams wouldn't want to miss this."
"Yes! Okay, let's go." In her haste to get a move on, Ella chucked the handfuls of snow she had collected into the air, showering Penelope's face with a flurry of snow as she stood.
Startled by the shock of cold on her cheeks, Penelope lost her balance and went sprawling backward in the snow.
"Sorry, Mama!"
"It's okay," she said, still staring up at the gray-blue sky. Maybe, she thought, on days when you really need it, you can steal a second perfect moment. Then she crooked a gloved finger at Ella. "Come here, kid."
When Ella leaned over her, Penelope wrapped her arms around her daughter's too-skinny waist and pulled Ella down on top of her. A chorus of giggles burst out of Ella at the sudden shift from standing to being draped across her mom's torso. Penelope kissed Ella's temple, where a wisp of light-brown hair had escaped the hat. She twisted to the side, careful to cradle Ella's head with one of her hands, then laid her daughter next to her.
"Since we're both down here, we might as well have a little fun," she said.
Penelope scooted a few feet away and dropped to her back again. Turning her head toward Ella, she matched her daughter's grin with one of her own. On the count of three, they both spread their arms and legs wide and made angels in the snow.
Excerpt. © Reprinted by permission. All rights reserved.


Book Info:
With an endless supply of magical gifts and recipes from the hot chocolate café Penelope Dalton runs alongside her mother, she is able to give her daughter almost everything she wants. The one sticking point is Ella's latest request: get a dad. And not just any dad. Ella has her sights set on Noah Gregory, her biological father who's back in town for a few months – and as charming as ever.
Noah broke Penelope's heart years ago, but now part of her wonders if she made the right decision to keep the truth of their daughter from him. The other, more practical part, is determined to protect Ella from the same heartbreak. Now Penelope must give in to her fate or face a future of regrets.
Dreaming in Chocolate by Susan Bishop Crispell is a heartwarming story of love, hot chocolate, and one little girl's wish for her mother.
Buy links: http://us.macmillan.com/books/9781250089076


Meet the Author: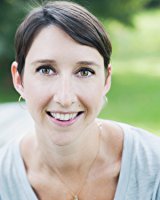 SUSAN BISHOP CRISPELL earned a BFA in creative writing from the University of North Carolina—Wilmington. Susan lives and writes near Wilmington, NC with her husband and their two literary-named cats. She is the author of The Secret Ingredient of Wishes.
Facebook: /AuthorSusanBishopCrispell
Twitter: @sbcrispell
Author website susanbishopcrispell.com