Today it is my pleasure to Welcome author
Melia Alexander
to HJ!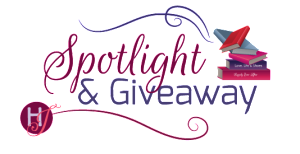 Hi Melia and welcome to HJ! We're so excited to chat with you about your new release, Driven to Temptation!
Tell us about the book with this fun little challenge using the title of the book: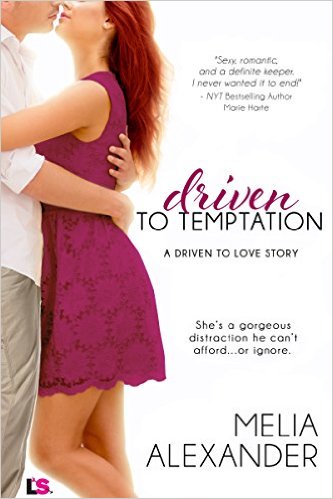 I love a fun challenge! So when you wanted me to tell you about my newest romantic comedy, DRIVEN TO TEMPTATION, using each of the letters in the title as the first word in the sentence, I thought, "Oh, sh—ure!" <grin>
Ready? Here we go!
D is for Delaney Harper – The feisty, redheaded heroine of the story.
R is for Restless – What the Aidan feels when he's around Delaney.
I is for Impossible – What Aidan thinks when he tries to buy a condom!
V is for Very Right – What making love was like!
E is for Engineer – Both Aidan and Delaney are engineers.
N is for Not Enough Food – Delaney's always snacking!
T is for Tempting Fate – What happens when they're stuck in a room together.
O is for Orgasm – 'Nuff said!
T is for Totally Hawt! – Which is exactly what Delaney thinks of Aidan!
E is for Everyone Has to Compromise – Or sleep in the truck.
M is for Magnetic – The pull that happens between them.
P is for Parents – Delaney has to prove to them she can make it in a man's world.
T is for Totally Hot! – Which is exactly what Aidan thinks of Delaney!
A is for Aidan Ross – The sexy engineer who Delaney can't resist!
T is for Time – Delaney has three months to land a major project or go home.
I is for Intelligent – Aidan's smart enough to recognize that Delaney's his HEA.
O is for Outfit – The sacrificial kind…And that's all I'm saying about that!
N is for Never Underestimate the Power of Love! – Because it truly is powerful!

Please share the opening lines of this book:
He was the Mad Hatter trapped in a bad production of Alice in Wonderland. No doubt about it.
Aidan Ross drummed his fingers on the steering wheel and stared straight ahead.
Please share a few Fun facts about this book…
Although I've had a few questions from readers about the Aunt Molly's potato chips featured in the book, I have to admit that it doesn't exist! At least, not that I'm aware of, but if it exists in your part of the world, please let me know.
Milestone, Oregon, where the story starts, was inspired by the gorgeous central Oregon city of Bend. And even though it's not geographically accurate in the story, the fictitious town of Spear Lake Junction was inspired by Sisters, Oregon (about a half hour drive from Bend).
Meredith Clark, my critique partner, laughed when she first read the scenes of Delaney eating copious amounts of junk food. Why? Because I make it a point not to eat that stuff! Must've been something subconscious on my part since it turned out that I lived vicariously through Delaney while writing this book. Every corn chip, potato chip, cookie, candy, I was right there, living the experience with her. And I didn't regret a second of it, either. Bonus!
There's a scene where Delaney changes clothes on the shoulder of the freeway. Can I just say I know it can be done?
Aidan was inspired by someone I personally know. And, yeah, I'll never reveal his secret identity! Well, okay, maybe for the right price I might…
Was there a scene in this book that was harder to write than others?
I'd have to admit, it's the scene where Aidan has to get to a hotel "pleasure pack." I wanted it to be something he had trouble removing from where it's stored in the hotel room. Here's how that scene reads:
"I'm not going anywhere." Delaney scooted up to the top of the bed, grabbing a pillow to prop behind her. She settled in, enjoyed the view of Aidan's backside as he bent to study the mini-Fort Knox-style bar.
"Damn it," he muttered.
"What's wrong?"
"Sorry. Didn't mean to say that out loud," he shot over one shoulder. He grunted. "I can't get this thing open."
She couldn't help it. She giggled. "Your engineering prowess doesn't seem to extend to the minibar."
"Give me a sec."
"Want me to try?"
"No. There's got to be a latch, a cord, a thumbprint detector, something that looks like a way into this stupid…"
A whir sounded through the room. "Got it."
Excerpt. © Reprinted by permission. All rights reserved.

What do you want people to take away from reading this book?
In much the same way that Delaney did in the story, I want every reader to know that her passion is worth pursuing. Be brave and go after it, ladies. You owe it to yourself, and you deserve it!
Thanks for blogging at HJ!
Giveaway:

E-copy of Merger of the Heart (Glenwood Falls) by Melia Alexander
To enter Giveaway: Please complete the Rafflecopter form and Post a comment to this Q:

What one, fun thing do you take with you when you go on a road trip?
Book Info:
Aidan Ross might be an engineering genius, but people skills? Not this soldier's forte. Thankfully, a trusted friend is accompanying him to a make-or-break tradeshow…but then a bubbly redhead hops into his truck, claiming to be his new road trip buddy. She's a gorgeous distraction he can't afford. Or ignore.
Delaney Harper comes from a family of engineers—male engineers. With several impressive projects under her belt, she's on a mission to prove she can hang with the big boys, too. But cracking the sexy, closed-off CEO is tougher than she expects…and hotter than she could have imagined.
With the tempting woman disrupting his carefully planned schedule, Aidan can't focus on the road, much less their upcoming presentation. The future of his company is riding on this trip, and if they're to land a huge account, he has to keep his head—and his heart—in the game…


Meet the Author: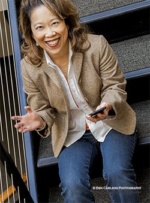 Melia Alexander is the author of sassy, sexy, fun contemporary romances, but is also fortunate to spend her week days at The Male Observation Lab (a.k.a. her job at a construction company) where she gets to observe guys in their natural habitat. Though they often behave like typical alpha males, in many instances she's seen through their personas to the heart of who they really are – the heroes of their own stories. A native of Guam, Melia traded in warm, tropical breezes for the rainy Pacific Northwest. She's an avid reader who also loves romantic comedies – preferably with a glass of CabSauv and a box of chocolates nearby. In her free time, she's busy conquering her CrossFit fears: ring dips, muscle snatches, and the dreaded 800 meter run. Her family appreciates her attempts at cooking and cleaning, although she spends it mostly daydreaming about her characters, which sometimes results in a burnt meal and a half-cleaned house.
Subscribe to Melia's newsletter for her latest writing news, as well as a chance to win fabulous giveaways! Sign-up here.
Find Melia on Facebook, Twitter, and Instagram, and check out her website, too!