Today it is my pleasure to welcome author

Hanna Martine

to HJ!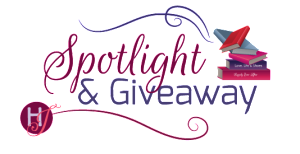 Hi Hanna, Welcome 🙂
Thanks so much for having me! I really like how you've decorated the place. This couch is comfy. ☺
If someone wrote a biography about you, what do you think the title of the book should be? Why?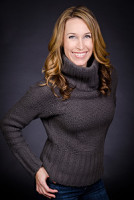 "A Study in Contradiction" — I seem to be made of opposites. I adore fashion and live for dressing up and buying fine shoes…on the flip side, I can't live without camping and I can easily going three, four, five days without showering and wearing the same clothes while cooking my food over a fire in the woods. I love the solitary/living-in-my-own-head-and-world nature of writing, but I am not, by any means, an introvert. I crave human interaction and can hang with pretty much anyone. I can flip-flop between worlds with no problems.
Would you rather…be invisible or be able to read minds? Why?
Invisible. No question. I may have a slight voyeurism problem. In all seriousness, I think everyone struggles with their thoughts and how to reconcile them with their situation and behavior. We may think one thing and then spend a great deal of time to try to correct a bad thought. I think it's how one acts that truly defines character, and that's what I'd prefer to witness.
Let's talk about your newest release: Drowning in Fire
If you had to summarize the book for the readers here…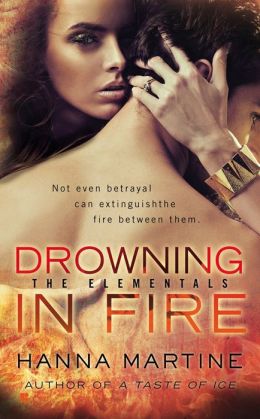 This is an enemies to lovers … and then back to enemies … and back to lovers story. 🙂
Hidden in the Hawaiian islands, there is magic pure enough to heal a broken heart…
Three years ago, Griffin and Keko's forbidden affair ended in a storm of fire and ice. Now Griffin leads the water elementals, while Keko has been stripped of her coveted high status among the flame wielders. To restore her name, she embarks on a suicide mission. As Griffin tracks his former lover through the untamed Hawaiian wilderness, Keko leads him straight to the source of all fire magic. But will the intense power they discover draw them back together or destroy them both?
Please tell us a little about the characters in your book.
I loooove "opposites attract" in romance. The concept of falling in love beyond your control, with someone totally unexpected, is incredibly appealing to me. Keko and Griffin are opposites in many ways, not the least of which being that Keko commands fire, and Griffin wields water.
They are both profoundly devoted to their respective races, and they both see themselves as a leader. This power struggle is central to the book's plot, because they want to stand at the head of their people as much as they want each other, and they know they can't have both.
Griffin is noble and selfless and quietly passionate. Keko is headstrong and sexual and brash. I love them together. I love what they create together.
As you wrote your protagonist was there anything about them that surprised you or went in a different direction than you originally thought?
Almost everything about Keko surprised me. When she makes her first appearance in the second Elementals book, A TASTE OF ICE, she is so bad-ass: pissed off and in your face and dangerous. So when I was plotting out DROWNING IN FIRE, the level of vulnerability she had to reveal really shocked me. How much she changes—particularly in her desires and what she wants out of life—over the course of the book was not something I'd originally imagined, but in the end her evolution made a world of sense, and enabled her to embrace her relationship with Griffin.
What scene did you most enjoy writing? Why? 
I loved writing the waterfall sex scene. It's their first physical encounter after three years apart, they've just survived a battle in which they've reluctantly had to join forces, and it all narrows down to the moment. Their tortured past is in play (He betrayed her! No, she betrayed him!). Their elemental magic weaves together.
She turned, sinking shoulder deep into the water and resting her back against the rock. Taking a Chimeran breath, she stoked her inner fire and released all of it through her skin. The water instantly warmed, but she had to keep feeding it heat because of the waterfall.
She lifted her face up to Griffin. "Bath's ready. You don't want to touch me though, unless you want to get burned."
"Maybe I do."
But as he stepped down into the pool, he gave her a wide berth. To remain true to her word not to look, she gave him her back and set her forearms and elbows on top of the rock.
She wouldn't look, but she would listen. And she would imagine.
The sound of him moving through the water, the rasp of his hands over his skin and the stubble on his face, the trickle of his element through his hair, made her desperately want to be Ofarian. To give up her fire just for a minute. She would swirl all around him, tease him, taste him in new ways.
Maybe that was exactly what he was doing to her now, because the easy touch of the water surrounding her body suddenly felt different. Controlled. Absolutely sensual. She closed her eyes and gave herself up to it, imagining that it was actually Griffin's liquid fingers slowly coiling like rope around her ankles and calves. Moving up, up, up to the parts of her thighs that made her quiver with want. Running back and forth across her clit. It was Griffin's liquid hips that lapped against her ass. It was Griffin's liquid hands that slid around her ribcage and stretched for her nipples.
The water promptly stilled, as no churning pool of water below a fall ever should. The seductive ebb and flow over her body receded, and she bit back a small sound of anguish in the wake of its absence. The mist still shifted and shimmered overhead, but it was the complete silence, punctuated only by Griffin's harsh, ragged breathing, that had her spinning around in the water.
He was a hard statue made of bronze and dripping with the element he owned. Any tease or denial had vanished from his eyes. His mouth was set with clear intent.
"Turn off your fire," he growled. "I'm coming for you."
What scene was the hardest to write? Why?
There's a scene in the middle of the book where Keko discovers what she believes to be Griffin's deception and goes, well, pretty much apeshit. (Can I say that?) I had to convey her love for him, while at the same time weaving in the cultural reactions she'd been bred to portray. She has misunderstood Griffin and overreacts, but I also had to make her sympathetic and sad. It was very difficult to get right, but hopefully the reader will understand that her reactions stem from the way she was brought up.
"Talk," she said. "And don't fucking lie to me. You've already been caught. They sent you, didn't they. They sent you and you've been lying to my face this whole time."
"No." He came for her, arms raised as if to touch her face, his expression a fake seriousness that did nothing but mock her. "That's not what—"
"No more lies!" she screamed, the fire leaping from her hand. She snapped it back before it could hit the bed and do any damage, but her control was weak under the pressure of growing rage, and the odor of singed polyester clung to the air.
"Fine." He was the Ofarian leader now, all glower, his body set like a statue. "No more lies. Let me explain."
"Explain that the Senatus ordered you to stop me from going for the Source? Explain that you fucking lied to me about it? Over and over again? Explain that all this"—she waved her unlit arm at the bed, the sheets rumpled and twisted from the writhing of their bodies—"was to get me to turn away and satisfy them?"
"That's not true."
She laughed bitterly. "Which part?"
"The last part."
She wasn't dumb enough to fall again for the emotion in his eyes. "Bullshit!" He turned his face away from the blast of heat her word threw at him. When the heat died his eyelids flipped up, and there was such torture dancing across his brown irises.
Who would you cast in the role of your characters if your book were optioned for a movie?
You know, I've been saying for the longest time that Colin Egglesfield should be Griffin (because of the eyebrows, of course), and then apparently he just got arrested last week or something? I saw his mug shot on eonline.com. So I guess my selfless, do-gooder, image-conscious hero has a bit of a drunken, naughty side, eh?
Funny story about Keko: My editor asked me for visual inspiration for Keko and I sent her this photo of Kelly Hu (a native Hawaiian with Asian ancestry, who played the long-fingernailed chick in X-Men 2) wearing very little clothing. And I had to say: "This is Keko. Only without her boobs hanging out."
If you could have given your characters one piece of advice before the opening pages of the book, what would it be and why?
To Keko: "Everything you've been told in life is merely a suggestion. They are not rules. Be your own person, and find your own path."
To Griffin: "Do not, under any circumstances, let her walk away. She needs you…and you need her."
What are you currently working on? What other releases do you have planned for 2014?
I have two full-length books coming out in 2014.
1. I'm currently working on a paranormal/time-travel romance titled THE ISIS KNOT, to be released late this summer (specific date TBD). It's a departure from my Elementals world, and this is officially my first announcement of the project! It's got a disgraced former sailor in the Napoleonic-era English Royal Navy, and a reformed thief from modern-day Las Vegas, set against the backdrop of the virgin, savage Australian convict colony. It's very different, and I'm alternately nervous/excited about its release. (My six-year-old daughter would call that "nervicited.")
2. My next contemporary romance, THE GOOD CHASE, releases December 2014 from Berkley Sensation. It's the second book in my Highland Games series (the first, LONG SHOT, came out last October), and it features the country's preeminent whisky expert carving out her stance in a man's world, and Wall Street high-roller-during-the-week/rugby-bruiser-on-the-weekend who challenges her in all the best ways.
What's the best place for readers to get in touch with you?
In order of my preference, and where I post the most:
Twitter: https://twitter.com/Hanna_Martine
Goodreads: https://www.goodreads.com/author/show/5335920.Hanna_Martine
Newsletter subscription: http://hannamartine.com/contact.php#mailing-list
Tumblr: http://hannamartine.tumblr.com
Facebook: https://www.facebook.com/HannaMartineBooks
Pinterest: http://www.pinterest.com/hannamartine/
Thanks for blogging at HJ!
GIVEAWAY:

2 print copies of DROWNING IN FIRE
To enter Giveaway: Please complete the Rafflecopter form and post a comment to this Q:

**What story is your HELL-NO…WAIT—HELL-YES! romantic experience? Meaning: what did you read that you went into with some seriously raised eyebrows ("I am NEVER going to like this") and had you finishing the last page with a wicked grin and a rave review? Why?



[Mine is "Smooth-Talking Stranger" by Lisa Kleypas. I don't like baby story lines at all, but in the end Kleypas won me over.]
Excerpt:
From the prologue in DROWNING IN FIRE:
Leaving her sweatshirt unzipped, she went to the vending machines and popped change into the slots, pulling out a bottle of Coke and potato chips. She'd eaten half the bag when a deep voice sounded behind her.
"You must be my ride."
Turning around, she screwed off the Coke cap with a hiss. The guy who stood halfway between her and the car wore jeans and boots and a fitted black coat with all sorts of zippers and pockets. His hair was very short and nearly as dark as hers. Thick, straight, low-set eyebrows were the most prominent feature on his face and made him seem intense and serious.
She glanced around the otherwise empty garage corner. "Don't think I am."
He nudged his chin toward her car. "2E," he said. "Where I'm supposed to meet you. You must be Kekona."
To trust him or not? He wasn't anything like the pampered, self-important Ofarian she'd pictured. Not this militaristic-looking guy who couldn't be more than a few years older than she.
The man stood impossibly straight, as though someone had shoved a pole up his ass. "You're Secondary and I'm Griffin Aames." There was absolutely no intonation to his voice.
Oh, this guy was going to be a bag of fun.
"And what brings you to the lovely state of Utah?" she asked.
He had a really good check on his emotions. Only a slight shift of his feet gave away his frustration. "For the Senatus gathering. Was there a secret code somewhere I missed?"
And just like that, the first spark of attraction lit an unexpected flame inside her. To be fair, it didn't take much for her. For him though, there was nothing. Just a patient stare as he waited to be chauffeured to his fancy feather bed.
"No code. You just have to get past me." She lifted the Coke to her lips and took a swig, never taking her eyes off his.
A gust of wind barreled through the garage, opening one side of her sweatshirt and folding it back from her body.
Bingo. Griffin's brown eyes—lighter than a Chimeran's but still pretty dark—flicked to her chest. Flicked. Nothing more. She never wore one of those bra things—no Chimeran woman did—and she knew very well how she looked. The thin white tank top stretched over brown skin and even darker nipples. There wasn't much of her to be left to the imagination, and modesty had never been one of her strong suits.
It had been a long time. For her, at least. Maybe a month since she'd had any sort of physical contact, let alone full-on sex. And right then she was looking at the most wonderful sort of challenge, wrapped up in an olive-skinned package: the guy she'd been tasked with shadowing for the next seven days. The Ofarian with the one-note expression whose business-only walls were so thick not even hard nipples could noticeably break through them. The very opposite of who she was. The water to her fire.
He was not Chimeran. He was kapu. Forbidden.