Today it is my pleasure to Welcome author
Elizabeth Boyce
to HJ!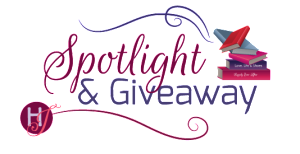 Hi Elizabeth and welcome to HJ! We're so excited to chat with you about your new release, Duty Before Desire!
Please summarize the book for the readers here: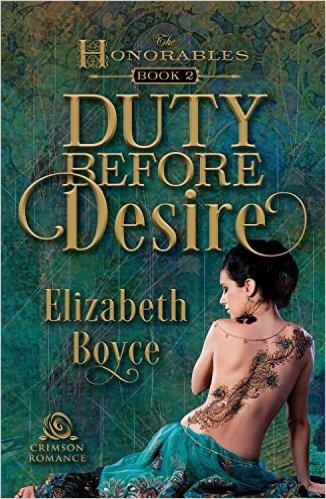 Duty Before Desire is a story about being lost in the world, and how love can help us find our place and purpose. Lord Sheridan Zouche is an inveterate rake whose happy days of womanizing are brought to an end by a jealous husband's bullet, and by his family threatening to disown him for the bad influence he's become on his young nephews. Miss Arcadia Parks is an Englishwoman born and raised in India, who is sent to England after her parents' deaths to live with relatives who expect her to get along in Society and make a good marriage.
Sheri and Arcadia's meeting during a mugging in Hyde Park leads to an unlikely alliance, as they learn each is being pressured into marriage by family. They scheme to outwit everyone with a marriage of convenience and subsequent separation, after which they will return to their own lives. While Sheri wrestles with what to make of his life and Arcadia struggles to find her footing in a strange new land, they discover unexpected friendship and passion together.

Please share the opening lines of this book:
Lord Sheridan Zouche was having trouble with his linen. A thin, damp fog wreaked havoc with his cravat, to say nothing of the sorry state of his collar. Grimacing, he plucked at the wilting material.
Please share a few Fun facts about this book…
The heroine, Arcadia, practices yoga. I had a lot of fun researching the history of yoga, developing a period-appropriate practice, and bringing it to Regency England.
Sheri is a clothes horse and sometimes talks to his hosiery.
When I named my hero, I'd intended to make mention of how a woman's mouth might pucker just kissably so while pronouncing "Zouche," but I never found a place where it seemed to fit. But now you know.
If your book was optioned for a movie, what scene would you use for the audition of the main characters and why?
I think the scene during which Sheri proposes the marriage scheme would be a great choice for an audition. It demonstrates the cultural divide between these two characters, as well as their emerging attraction, and the fun banter they toss back and forth.
Snippet:

A determined gleam shone in his eyes. He shook his head once. "Not madness. It's perfect. Marry me."
Pressing a hand to her temple, Arcadia tried to clear her head. How had her plea for assistance in finding Poorvaja turned into … whatever this was. "Why are you saying this?"
"Because I wish to engage you in a contract of matrimony. Marry me are words we English typically associate with the concept."
"I know that!" she snapped, annoyance blowing the cobwebs out of her skull better than a brisk cup of tea. "What I don't understand is why you would ask me. Is this a poor demonstration of British humor?"
He pressed a hand to his chest, affecting a wounded expression. "On the contrary, I am entirely sincere. My family requires that I marry, as yours does you. Our union is the solution to both of our problems. Straightforward enough."
Somewhere in the last two minutes, the man had taken leave of his senses. It was the only explanation.
What do you want people to take away from reading this book?
First and foremost, I hope readers will reach The End with a happy sigh, having enjoyed the emotional and entertaining journey of these characters. In this series, The Honorables, I strive to give readers a glimpse of the Regency they might not find in other Regency romance novels. In Duty Before Desire, I touch on the experience of the Raj—the British ruling class in colonial India. Arcadia Parks is a fictionalized depiction of a very real historical phenomenon: English children born in India and raised by Indian caregivers, until they were sent to England for schooling and "deprogramming" of any undesirable ideas or behaviors they may have picked up in India. I hope readers will find this aspect of history as interesting as I do!
What are you currently working on? What other releases do you have planned for 2016?
Right now, I'm working on the next installment of The Honorables series, a novella called Valor Under Siege. Look for it to hit the shelves this summer! After that, I'll be wrapping up the series with a novel titled Love Beyond Measure, which is slated for a late 2016 / early 2017 release.

Thanks for blogging at HJ!
Giveaway:

2 Ebook copies of Duty Before Desire (The Honorables) by Elizabeth Boyce
To enter Giveaway: Please complete the Rafflecopter form and Post a comment to this Q:

Romance novels might be fiction, but they're also chock full of interesting real-world history, settings, occupations, etc. What are some of the nifty things you've learned from reading romance novels of any genre?
Excerpt from Duty Before Desire:
"Mrs. De Vere," Sheri said once they were all outside, "would you mind giving Miss Parks and I a moment to decide our next course of action?"
Claudia cast a sidelong glance at Sheri, then a knowing smile at Arcadia. "I'll be at Gunter's, having an ice. Order for you two, as well, shall I? Don't be long."
As the young matron strolled off in the direction of Berkeley Square, Sheri drew Arcadia into an alleyway between buildings.
"My lord?" Arcadia asked in confusion.
He pushed her back to the wall and cupped her cheek in his hand, tipping her face. The shadows of the buildings on either side gave his face a cool, bluish cast, but his eyes flashed hot beneath the brim of his tall beaver hat.
He lowered his mouth to hers, kissing her once, twice. Pulling back slightly, he hovered but an inch away, a hum filling the tiny space between their faces. The sound came from her, she realized, as if she'd just enjoyed a delicious morning stretch.
"There," he said, lifting his head further. "It's deuced difficult to contrive to kiss my own fiancée. I've been telling myself for days that your lips couldn't possibly be as soft as I remember, but they are." He slanted a smile. "Astonishing."
"Is that …" Arcadia's heart pounded in her throat. She wanted him to kiss her again, but she didn't know how to ask, or whether he'd like her to. Even though he claimed to like kissing her, Sheri wasn't left breathless by the experience as Arcadia was. Maybe this was just part of his Make them believe campaign, to play the part of a doting suitor.
"Is that what, peahen?"
Arcadia swallowed her nerves. "Is that all?"
His eyes flicked down, perhaps in thought, perhaps to where her breasts were slowly smooshing against his chest. Arcadia couldn't help herself. He was so solid, like a heavenly body with his own gravitational pull. And as he did not rebuff her entrance into his orbit, she carried on slowly crashing into him until her cheek rested against his chest.
His chin tucked alongside her temple. Eyes drifting closed, her body attuned itself to the steady beat of his heart. That regular thump-thump was a point of meditative focus stronger than her own breath, so vital and alive.
"No," his breathed against her temple, his hands slipping over the globes of her bottom and tugging her snug against him, "no, by God, that's not all."
Excerpt. © Reprinted by permission. All rights reserved.

Book Info:
Consummate rake Lord Sheridan Zouche is no stranger to scandal. But when his family banishes him as a bad influence until he vows to marry, he inexplicably chooses the one woman he cannot seduce: an Englishwoman born and raised in India, who has been sent home against her will to find a husband.
Arcadia Parks wants nothing more than to return to the peaceful hills of Hyderabad, far from the contrivances and strange moral strictures of the ton. But her aunt is insisting she wed, so she can't turn down Sheri's unexpected proposal of convenience. They'll marry for one year – and consummate the union just once to make it official – after which time he'll help her return to India.
Alas, the best-laid plans sometimes go awry. Will Sheridan be able to give up the woman staking claim on his heart? And will Arcadia see through to the sensitive heart lurking beneath his glib facade?


Meet the Author: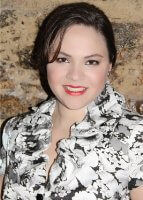 Elizabeth Boyce had a lifelong dream: to be an astronaut. She has recently made peace with the fact that this dream is unlikely to come to fruition. Good thing, then, she had another dream: to be an author. This dream comes true every single day, and she couldn't be more grateful.
Ms. Boyce lives in South Carolina with her husband, children, and her personal
assistant / cat.
She loves hearing from readers, so keep in touch!
Email: bluestockingball@gmail.com
Facebook: https://www.facebook.com/AuthorElizabethBoyce/
Twitter: @EBoyceRomance