Today, HJ is pleased to share with you

Marci Jefferson's

new release 

ENCHANTRESS OF PARIS

Fraught with conspiracy and passion, the Sun King's opulent court is brought to vivid life in this captivating tale about a woman whose love was more powerful than magic.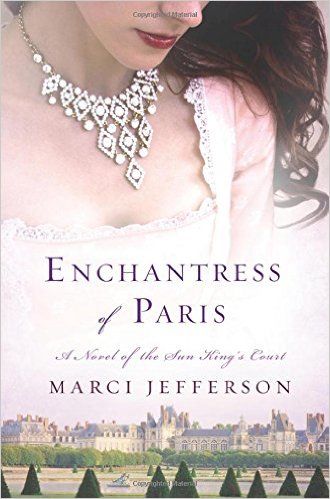 The alignment of the stars at Marie Mancini's birth warned that although she would be gifted at divination, she was destined to disgrace her family. Ignoring the dark warnings of his sister and astrologers, Cardinal Mazarin brings his niece to the French court, where the forbidden occult arts thrive in secret. In France, Marie learns her uncle has become the power behind the throne by using her sister Olympia to hold the Sun King, Louis XIV, in thrall.

Desperate to avoid her mother's dying wish that she spend her life in a convent, Marie burns her grimoire, trading Italian superstitions for polite sophistication. But as her star rises, King Louis becomes enchanted by Marie's charm. Sensing a chance to grasp even greater glory, Cardinal Mazarin pits the sisters against each other, showering Marie with diamonds and silks in exchange for bending King Louis to his will.

Disgusted by Mazarin's ruthlessness, Marie rebels. She sacrifices everything, but exposing Mazarin's deepest secret threatens to tear France apart. When even King Louis's love fails to protect Marie, she must summon her forbidden powers of divination to shield her family, protect France, and help the Sun King fulfill his destiny.


Fun Facts about the book:
In the seventeenth century, Parisians actually considered double chins and thin lips beautiful! Though we would consider Marie Mancini's full lips and slender neck attractive today, her contemporaries complained she wasn't pretty enough for a king.
Marie Mancini had other qualities, such as intelligence and a high standard of honor, that made her enchanting.
French aristocrats sought out witches for potions and poisons to secure their places at the Parisian court, but the arts of divination were passed to Marie Mancini from her own family. Her father practiced necromancy and astrology, and Marie knew how to use both.
Marie Mancini was never actually accused of witchcraft, but two of her sisters were.
Marie Mancini's uncle, Cardinal Mazarin, was her greatest enemy. He became the most powerful, wealthy man in Europe by corrupt means we'd recognize today: loan sharking, embezzling, and insider trading.
Here's  an exclusive excerpt from Enchantress of Paris:
This excerpt is taken from the middle of the novel, when Marie has taken the bold step of defying her uncle, and she's on the cusp of winning the heart of the king…
We dined late, dancing to Lully's violins between courses. We sat by the fireplace beneath frescos of ancient mythological scenes and consumed enough wine to embarrass Bacchus himself. The queen mother and her women retired, and we called for still more wine. The courtiers drank until they could no longer dance in time with the music, and watching them caused fits of laughter.
The king leaned from his armchair and muttered into my neck, "Let me come to your bed."
It wasn't what I expected. "That is your command?" I thudded my wine glass on the table, angry at how careless he sounded. How could the king respect me and all my future plans if I gave myself to him too easily?
He seemed stunned. "I could never command your favors."
"I've no wish to flop on my back and give you favors. I will give myself to you when you have the right to command me. When I am your lawful wife and queen."
He stared, dumbfounded. Then he kissed my hand.
I took it back. "Are you too drunk to understand?"
"You know my feelings."
"Lust isn't love." I stood. "You wanted to discuss my uncle's plan? He will march through Savoy to seize Naples and cut Condé's supply of men so Spain will surrender, leaving you the freedom to choose your queen. Make me your choice, then you can make such commands." I rushed from the Salle de Bal upstairs, turning the corner into my bedchamber.
No candles were lit. The windows stood open, letting light from the full moon spill in. "Moréna, where are you?" A shadowy motion caught my attention. She huddled over something. I went to her, peeked over her shoulder, and gasped at the sight on the floor. She had taken my lock of the king's hair, twined it with a darker lock, and splattered it with blood. A dead toad lay beside it, splayed open. Moréna dug into the toad with a knife, ripping and breaking. Finally she held a tiny, bloody bone in the light.
I knew what it was for. "Make no incantations. I want nothing to do with this."
"It's done. Take this, for you are under chase."
"Never." I grabbed my curls. When had she cut my hair? "I've put this practice behind me."
"Touch this bone to the king's skin, and he'll soon become your husband."
"I'll win him by my own merit, not lust or enchantment, and certainly not because you killed some—"
She grabbed my hands and forced the little bone into them. "I said you're under chase—your uncle comes down from the front even now. He'll trap you in his schemes and set you up for the kill."
I knew she was right. Mazarin was planning something underhanded. I needed more than the king to shield me. I stared at the bone in my palm. I ran to the window and hurled it with all my might. "It will be the king's choice. Now clean up this mess."
✷
Next morning there was no trace of blood on my floor. No frog, no bones. Moréna drew me a bath, and I combed through my hair until I found one lock snipped close to the scalp. I scowled. She showed no remorse. After the midday meal, a summons arrived from King Louis.
His young page entered my antechamber clutching his hands behind his back. "His majesty requests your attendance at a picnic."
"Requests," I said. "See Moréna? My way wins respect."
It was exactly what I'd been waiting for. I donned a rose colored damask riding gown with the overskirt bustled up in back. My liveried page walked before me and I presented myself in the bright Francois Gallery.
King Louis was leaning against the carved walnut wainscoting beneath the stucco framed fresco of a nude goddess Diana. Mademoiselle, her ladies, and my sisters surrounded the king, and courtiers lined the walls. Everyone turned when I entered.
He strode to my side. "Mademoiselle Mancini. At last." He took my hand, kissed it in front everyone. He whispered, "Forgive me."
Excerpt. ©Marci Jefferson. Posted by arrangement with the publisher. All rights reserved.
Giveaway:

Print copy of ENCHANTRESS OF PARIS by Marci Jefferson
To enter Giveaway: Please complete the Rafflecopter form and post a comment to this Q:

If you had the power to make a king love you, would you do it? Why?
Meet the Author: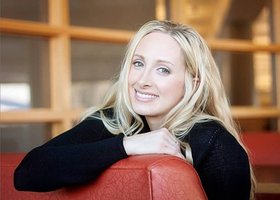 Growing up in an Air Force family took Marci around the world, but her passion for history sparked while living in Yorktown, Virginia, where locals still share Revolutionary War tales. Years after graduating from Virginia Commonwealth University, immersing herself in a Quality Assurance nursing career, and then having children, she realized she'd neglected her love of writing. She now pens novels about historical women who dared to defy powerful men. She resides in the Midwest with her husband and two young children in a house full of books and toys.