Today it is my pleasure to Welcome author
Liz Flaherty
to HJ!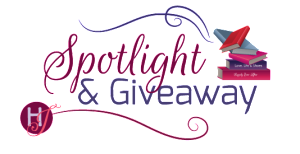 Hi Liz and welcome to HJ! We're so excited to chat with you about your new release, Every Time We Say Goodbye!

Hello. Thanks to HJ for having me here and thank you for stopping by!

Tell us about the book with this fun little challenge using the title of the book:
Every Time We Say Goodbye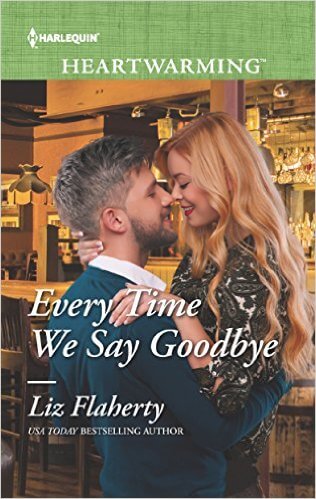 Every – Every time Arlie thinks life is settled, something happens to show her it's…well…not.
Time – It's been 16 years since the accident that changed their lives irrevocably–what makes Arlie and Jack thinks things will be different this time?
We – They each thought their life was going to be lives as an "I"–and they'd gotten pretty good at it!–but then Jack came back to town.
Say – Oh, good grief, why couldn't he just say what he felt for once!
Goodbye – Did they have to say it this time? Again?
What's your favorite line(s) from the book?:
This line came at the end of a flashback that was unbelievably hard to write, and it allowed the scene to fall into a place that everyone could understand.
"He read Goodnight Moon to her even though she was a big girl of five and she'd heard it so often she knew the words by heart."
Please tell us a little about the characters in your book. What first attracts your Hero to the Heroine and vice versa?
They were high school girlfriend and boyfriend. I think what attracted Jack as much as anything then was that she had a loving and "normal" family life and he didn't. Her parents and sister welcomed him and he loved being part of the Gallaghers.
Arlie, on the other hand, loved that Jack read as much as she did. Even though he was a jock, they spent a lot of dates in a used book store.
When you sat down to start this book, what was the biggest challenge you faced? What were you most excited about?
The biggest challenge was naming things. It was as if my mind went blank every time I tried to name a place or a person or even pets. So it ended up that Facebook friends named the cat and dog and the then-mayor of Peru, Indiana named the community, because even though "names have been changed to protect…" the setting is very, very regional. And that is what I was–and am–so excited about. Cole Porter grew up near here, and I used his song titles all over the place. His cousin even helped me with some of them.
What, in your mind, makes this book stand out?
I'm just going to address Harlequin Heartwarming as a whole here. I love this line! It is "sweet," as in no sex scenes and no swearing, but it doesn't hold back on "going deep." Each Heartwarming is a lovely emotional roller coaster through a relationship–my favorite thing to read!
The First Kiss…
But they did have now. He lowered his mouth to hers, keeping the kiss light and fresh, almost friendly. But more. He held her face between his hands and lengthened and deepened the kiss, giving it every shred of tenderness he had in him and taking what she gave in return.
For now, sitting in front of the flickering fire with the lights from the tree dancing silent and soft across their faces, it was enough. It was well with their souls.
If your book was optioned for a movie, what scene would you use for the audition of the main characters and why?
I think I would use what is basically the setup scene, because it's pretty emotional and because it tells, at the end of this snippet, what they have to get past: the blame.
"You were the only person who ever blamed you for the accident, Jack. Your father was driving the limo, not you, and he died, too. It wasn't like your family didn't suffer loss."
She knew as soon as the words were out of her mouth that they were wrong. She set the coffee carafe back on its heating unit and came to lean her elbows on the bar between them. "One person blamed you, that is," she said quietly, holding his gaze, "but I didn't blame you for the accident. I blamed you for leaving me."
If your hero had a sexy-times play list, what song(s) would have to be on it?
Oh, good heavens, this is hard to answer because I haven't really liked all that much music since the 1960s–just kidding! But the only song that kept playing in my head–and in the book, actually–was "Dancing Queen." It didn't have to do with sexy times, but with who Arlie Gallagher is.
What do you want people to take away from reading this book?
That no matter what happens in your past, it's up to you whether or not you let it define your future.
What are you currently working on? What other releases do you have planned for 2016?
Right now I'm writing a novella for the A HEARTWARMING HOLIDAY boxed set, a sequel to the USA Today bestselling A HEARTWARMING CHRISTMAS, that will be out later this year. (How's that for a plug?) I'm also waiting to hear from my editor about the next story in the Miniagua series.

Thanks for blogging at HJ!
Giveaway:

I'll be giving away a copy of EVERY TIME WE SAY GOODBYE (paper or electronic–your choice) and a new journal (I love journals!) to a commenter who answers the song question. Open internationally for the e-copy only–sorry!
To enter Giveaway: Please complete the Rafflecopter form and Post a comment to this Q:

Since a songwriter had so much to do with this book, as did the song "Dancing Queen," I'd like to know what song has touched you particularly relationship-wise. Whether it's "your song" or just one you remember playing at the skating rink when you were dating, what one stands out?
Excerpt from Every Time We Say Goodbye:
She delivered the gifts, exchanging Christmas wishes with the club manager, then headed home. She drove slowly. The curvy road hadn't straightened any since the night of the accident, though it was wider than it had been then. Her gaze flicked involuntarily to the two small crosses that stood silent sentinel where her father and Linda Saylors had died. As usual, there were flowers around the markers, most of them poinsettias. At prom time, the sheer number of corsages and boutonnieres left there covered the crosses altogether so that the site looked like an eclectic flower bed.
Every few years, someone replaced the crosses. It looked as though it had been done recently. She pulled into the driveway adjacent to the little memorial—the people who lived there were gone for the winter and would never know.
"I'll be right back, Wally." The wind was fierce when she got out of the Mini Cooper and walked over to look down at the crosses. Rather than pieces of two-by-two-inch lumber cut and nailed together, the new crosses had been carved from walnut wood and assembled with mortise and tenon. They were stained instead of painted.
Arlie knelt, wiping away clinging snowflakes and squinting to read the small letters etched on the cross bars. The inscription on the smaller, more delicate cross, was Linda Saylors's name and, beside it, a tiara had been carved with rhinestones carefully imbedded in the wood—she had been a prom princess.
The words on the larger cross were Dave Gallagher—Dancing King.
"Oh, Daddy." Tears blinded her and her hands shook when she aimed the viewfinder on her phone. She took several shots and texted them to Gianna and Holly. The wind rocked her with its strength, and snow stung her face, but she stayed where she was.
What would he tell her to do if he were here? He'd always been the stern parent when he and Gianna played good cop, bad cop with her and Holly, but he'd been fun, too. When they and their friends had performed the cancan for a fund-raiser variety show, he'd been the dancer on the end. The Sunday morning the girls had been baptized, he'd wept with Gianna. He'd been Sonny Bono in a skit when Arlie had deepened her voice and sang "I got you, Babe."
"We miss you so much, Superdad." The tears fell, tumbling to the scarf that hugged her chin. "What was it like for you after Glennis left? How did you fall in love again after you'd been hurt? Were you able to jump into the great life we had without looking back and being afraid it would all happen again?"
It had been a great life. Dave and Gianna had loved each other and both girls so much and so well that pain from the past had seldom even been a player on the stage of their lives together.
Her phone dinged that she had a text, and she looked at the screen.

THEY'RE BEAUTIFUL. BLESS JACK'S HEART.

Jack. Of course it had been Jack. She tapped in Gianna's number. "Mama?"
"Are you okay?" Gianna sounded concerned.
Arlie took a second to calm her voice. "If you had it to do again, knowing Daddy was going to be gone so soon, would you have married us anyway or would you have taken Holly and gotten out of Dodge?"
Gianna laughed, and the sound settled over her so warmly Arlie thought the snow should have melted away. "I wouldn't give up a minute with you and your dad for anything. We had ten years that we were all together, Arlie. Ten years! There are people who never have ten minutes of that kind of happiness. So yes, you bet, if I had it to do again, I'd do it in a heartbeat."
After she'd hung up and responded to Holly's BEAUTIFUL! text, Arlie took another picture of the crosses and tapped in THANK YOU! on the phone's miniature screen. She located Jack's number and hit Send.
Excerpts. © Reprinted by permission. All rights reserved.
Book Info:
He had her at "hello again…"
After the prom night accident that had stolen the innocence of his small lakeside hometown, Jack Llewellyn had run. The guilt—especially facing his high school sweetheart, Arlie Gallagher—had been too much. Now he had no choice. He was back in town, and on Arlie's radar.
Arlie couldn't believe that after all these years, she still had him under her skin. He was such a changed man…a responsible business owner, a single parent. Would he understand the changes she'd gone through, the secrets she lived with? She was ready to forgive him but was he ready to forgive himself? And did they have to say goodbye this time?
Book Links:

Meet the Author: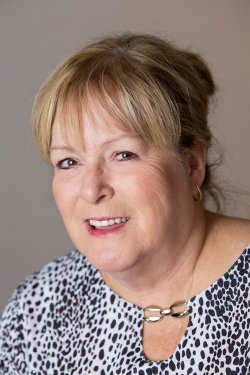 Liz Flaherty thinks one of the things that keeps you young when you quite obviously aren't anymore is the constant chances you have to reinvent yourself. Her latest professional incarnation is as a Harlequin Heartwarming author and she is enjoying every minute! She'd love to hear from you at lizkflaherty@gmail.com
Website | Facebook | Twitter |