Today it is my pleasure to spotlight the release of 

FALLING DEEP 

by Diana Gardin

Reed Hopewell is a lot of things to a lot of people . . .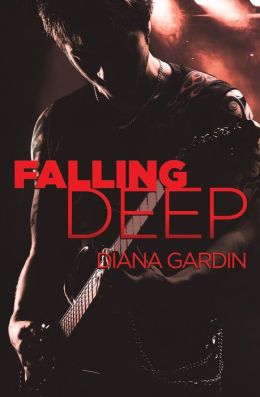 To his parents, he's the son who needs to get serious. To his friends, he's the player they all want to be. And to his fans, he's the hottest rocker in Charleston. But never has Reed been anyone's hero-until the night he finds Hope.

Hope Dawson can count the number of men she trusts on one hand. Definitely not the guys she goes out with or the stepfather who treats her like property. She'd be out of his house tomorrow if not for the need to protect her little sister.

But when things at home go from bad to worse, Hope has to act fast-and Reed is the only person she can turn to . . .

Read an exclusive excerpt from Falling Deep:
"He kissed me, Morrow." Her tone was incredulous, her hazel eyes a perfect blend of green and brown today. She stared at Morrow in open bewilderment, as if she couldn't imagine why Reed Hopewell had done such a thing.
A few days before her birthday, the story about Tyler and Reed had finally spilled out. Hope had begged Morrow not to retaliate against Frank for not protecting her better, and he'd reluctantly listened. He'd been livid about Tyler, but more than curious about Reed. When she'd been unable to answer his questions, thus limiting the information he could gather about Reed, he ultimately dropped the subject.
Morrow whistled low. "And you liked it, apparently."
"Dammit! I knew he was going to, I could see it in his eyes. And in my head, I was going to stop him. I was! I don't know what the hell happened. It's those smoky eyes of his, all deepest-blue and expressive."
She hung her head in her hands while sitting in her office at the Center, the Monday immediately after her birthday night out the Charleston business-owner banquet. Her desk was clear; she kept it impeccably neat and organized, and she had a nice clean space to lay her head.
"Um…maybe you were thinking that you like the dude? He's a good guy because he might have saved your life? Maybe you wanted to kiss him?"
And then she was sobbing. She cried like a blubbering baby, and embarrassed didn't even begin to cover how she felt about it.
Morrow wrapped his arms around her from behind and pressed his chin into the top of her head. Her body was wracked with heaves she was unable to control, and he held her steady.
She looked at her friend with wide, wet eyes. "What the hell am I going to do?"
Frank carried a strict no boyfriend rule for all of the girls he employed in his club. The clients wouldn't like seeing the girls around town with an actual boyfriend. The club members paid a very high price for single ladies in which to date. Not to mention the fact that an actual boyfriend would probably raise hell when he found out what exactly it was his significant other did to bring home the bacon after a night at work.
She had seriously considered what Reed had been offering the other night. What was wrong with her? She'd never entertained the idea of having a boyfriend before. With everything going on in her life, drama with a man was the very last thing she needed. She had a younger sister to take care of, a very demanding day job, and an even more demanding night gig. Her life was full to the brim in every respect, and Reed Hopewell didn't fit into any of it.
Not to mention the fact that that man was going places. The way he sang, it was just a matter of time until he was on to bigger and better things outside of Charleston. What would she do, hope to the stars every night that he would take her and Violet with him? She wasn't the hopeful kind of girl. She made her own way.
So, Reed and everything he had to offer her was out of the question. Thinking about a relationship with him was beyond premature, in any case. It was a pure, animal, chemical attraction that drew them together. She didn't know him. She certainly couldn't ever love him. She had no prospect at ever loving him, or anyone else for that matter.
So, that was that.
And she was going to forget all about him. Him and his sexy, muscular body, and those burning blue eyes with the curling lashes, and the plush mouth that had claimed hers so completely. If she was wondering what other parts of her those lips could completely envelope, she wasn't admitting it.


Excerpt © Reprinted by permission. All rights reserved.

Giveaway: 

2 Digital copies of FALLING DEEP by Diana Gardin
To enter Giveaway: Please complete the Rafflecopter form and Post a comment to this Q: 

 What did you think of the excerpt spotlighted here?  
About Diana Gardin:
Diana Gardin is a wife of one and a mom of two. Writing is her second full time job to that, and she loves it! Diana writes contemporary romance in the Young Adult and New Adult categories. She's also a former Elementary school teacher. She loves steak, sugar cookies, and Coke and hates working out.
Buy Links: