Today it is my pleasure to Welcome romance author
Andrea Laurence
to HJ!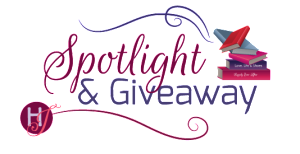 Hi Andrea and welcome to HJ! We're so excited to chat with you about your new release, Feeding the Fire!

Hi, Sara.

Tell us about the book with this fun little challenge using the title of the book:
This is hard because I have a lot of the same letters, but here we go…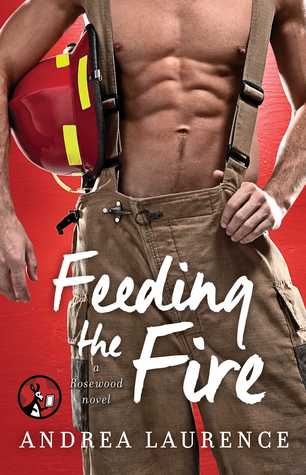 F is for Fireman
E is for Elusive
E is for Eyes
D is for Drink in the lap
I is for Illegitimate,
N is for Night Shift
G is for Gossip.

T is for Tacky
H is for Hairdresser
E is for Electrical Problems.

F is for Foil Highlights
 I is for Intimacy
R is for Renovation
E is for Explosive.

Please share the opening lines of this book:
"You know, there are days when I'd consider setting my house on fire if I thought that sexy thing would show up and save me," Vera Reynolds declared as she eyed the passing fire truck filled with gorgeous firefighters.

Pepper heard a lot of things working at Curls, the only hair salon in Rosewood, Alabama. As in any small southern town, the beauty parlor was one of the best places to get the pulse on the local happenings.
Please share a few Fun facts about this book…
There's a scene in the book where at an accident site, the hero hits his head, gets woozy and is later injured in an explosion. In the original draft of the book, the hero gets startled by the sight of a bloody circus clown (which he's terrified of), hits his head and nearly knocks himself unconscious. My editor didn't think that was sexy.
After Cheryl's less than ideal dating experience in Facing the Music, I wanted to make it up for her. That's why she won the sexy fire chief at the bachelor auction.
The Love Martinis served at the bachelor auction are based on drinks they serve at the Melting Pot restaurant. Like in the book, they float a heart-shaped strawberry in it.
The First Kiss…
His words were silenced with her mouth. Her lips met his with a ferocity unmatched. This was no easy kiss. No hesitant kiss. It was as though the last few months had never happened and they were right back in his apartment.

She was set on devouring him and he would gladly be destroyed. Her hands grasped each side of his face, holding him still. His fingertips pressed into the juicy curves of her ass as Pepper's tongue slipped into his mouth.

She tasted like spicy cinnamon gum, leaving a fresh flavor behind that made his tongue burn when he touched her. That was appropriate. Every other part of him burned when he touched her. The cold tile of the floor at his back did little to soothe the fire racing through his veins. The more he touched her, the more desperate he was to keep touching her. But this wasn't enough. He wanted her bare skin pressed against his own.
If your hero had a sexy-times play list, what song(s) would have to be on it?
Some Like it Hot – Robert Palmer & Power Station
Blurred Lines – Robin Thicke
Set Fire to the Rain – Adele
What do you want people to take away from reading this book?
Persistence can pay off. Pepper worked hard to save up and buy her house, then turn it into the home she'd always dreamed of. Grant wanted Pepper and he was determined to convince her they would be great together. He knew she felt the same way, she was just holding back. His persistence helped him win the girl in the end.
What are you currently working on? What other releases do you have planned for 2015?
I've been very busy. I recently turned in the third book in the Brides & Belles series – One Week with the Best Man. I'm currently finishing up the last book in the series – A White Wedding Christmas. Surprise – it's out in December! Those are my sixth and seventh full-length books for 2015. Also, the third Rosewood book – Stirring Up Trouble – will be out this fall.

Thanks for blogging at HJ!
Giveaway:

Prize #1 – Alabama charm necklace and a digital copy of Feeding the Fire (US Only). Prize #2 – a digital copy of Feeding the Fire (worldwide)
To enter Giveaway: Please complete the Rafflecopter form and Post a comment to this Q:

Grant is the bad boy in town that all the girls want. Are you usually drawn to the good guy or the bad boy?
Excerpt from Feeding the Fire:
"Hey there, hot stuff."

Pepper was walking out of the hardware store when she heard the familiar man's voice. She turned and found Grant on the sidewalk heading in her direction. He was wearing one of his obnoxiously tight Rosewood Fire & Rescue T-shirts with a pair of well-pressed khakis that highlighted his muscular thighs and his arrogant strut. She allowed her gaze to flick over him for only a moment, but when her gaze met his, she knew it was still too long. There was a twinkle of amusement in his baby-blue eyes that matched the smug grin on his face.

"Afternoon, Grant," she said before turning on her heel and heading toward her SUV that was still parked outside of Curls. She made it to the other side of First Avenue before Grant fell into step alongside her.

"I heard you had a run-in with the peeper last night."

"Yes," she sighed. "That's why I'm carrying mini-blinds out of the hardware store."

Sometimes Pepper hated living in a small town; nothing was private. Simon had probably told him, which made Pepper wonder how much his brother knew about their short-lived relationship. Grant had been sworn to silence, but she knew he wasn't big on lying. If someone asked him a question flat out, even about their one-night stand, he'd likely spill. She found it both noble and annoying.

"Smart choice. May I carry that for you?"

Pepper considered his offer for a moment before dumping the large paper sack into his arms. "Yep, thanks."

"Do you need help putting those blinds up? I could come over and do it for you."

Pepper had no idea how hard it would be to hang mini-blinds, but she was certain she would figure it out without his assistance. "I would say that was sweet of you to offer, but I know better, so no thanks. Even if hanging them up was akin to building a nuclear warhead, I still wouldn't call you for help."

Grant shifted the bag into his left arm and placed a hand dramatically over his chest. "You wound me, Pepper, you really do. I'm only trying to be nice. Just because there's a chance we might get naked when we're finished hanging the blinds doesn't mean it isn't an altruistic offer."
Book Info:
Pepper has no interest in Grant Chamberlain…until she accidentally wins him at a school auction and finds the mega-hot firefighter impossible to ignore. Find out what happens next in the second playful and sexy ebook romance in the Rosewood series!
Living in the small town of Rosewood, Alabama, hairdresser Pepper Anthony has one rule—never date a Chamberlain. She's always said, "the only thing worse than being ignored by a Chamberlain is being dumped by one." But Grant Chamberlain, town fireman, isn't used to rejection, and Pepper has consistently turned him down since high school. She isn't intimidated by his family; she's one of the few who refuses to take their crap.
When Grant volunteers at the charity bachelor auction, to his surprise, Pepper buys him. She hadn't meant to, but Adelia Chamberlain dropped a cold drink in her lap, sending her leaping into the air at precisely the wrong moment. Suddenly she had a massive bill to the town and Grant at her disposal. Since the money has to come from her "restore the house" fund, she decides to use Grant for manual labor instead of romantic dinners. Grant is happy to help, sweaty and shirtless, because one way or another, he's going to get Pepper to admit she's attracted to him. All it takes is a small spark, and soon they'll be fanning the flames.
Book Links:

Meet the Author: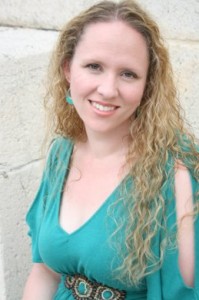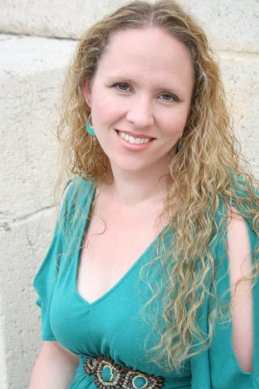 Andrea Laurence is an award winning author of contemporary and paranormal romance. She has been a lover of reading and writing stories since she learned to read at a young age. She always dreamed of seeing her work in print and is thrilled to share her special blend of sensuality and dry, sarcastic humor with the world. A dedicated West Coast girl transplanted into the Deep South, she's working on her own "happily ever after" with her boyfriend and their collection of animals including a Siberian Husky that sheds like nobody's business.
Website | Facebook | Twitter |