Today it is my pleasure to welcome New York Times & USA Today bestselling author

Catherine Bybee

to HJ!
Hi Catherine, Welcome to HJ!
If you gave one of your characters an opportunity to speak for themselves, what would they say about you?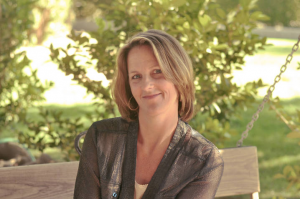 I think Eliza, who is the heroine of Married by Monday, would have the most to say about me. Probably because we both seem to have very little filter on our words. Eliza would probably say I make her laugh and that when we get together for a bottle of wine it ends up being two and someone else needs to drive us home.
What are you currently working on? What other releases so you have planned for 2013?
I've just agreed to two more contemporary romances with my publisher. My bride series will now have five books and my Not Quite series has four books. Though there may be more… I'm actually currently working on the fifth book in my time travel series, Amber's story. As for the rest of 2013… Not Quite Enough will be released in October. I can't wait!
Where can readers get in touch with you?
I am all over the net. Seriously… just google my name and you'll have a dozen places to get a hold of me.
My website: catherinebybee.com
Facebook: Catherine Bybee Romance Author
Twitter: Catherine Bybee
Goodreads: Catherine Bybee
Please summarize your latest release Fiance by Friday for the readers here ….
Book three in the Weekday Bride Series:
Gwen Harrison:
The beautiful, high-born daughter of an English duke came to America to take over her sister-in-law's matchmaking business. But just because she's the boss doesn't mean she can't fantasize about making her own perfect match with bodyguard Neil MacBain. Will the enigmatic man who haunts her dreams cost her more than she bargained for?
Neil MacBain:
The retired Marine can't deny the effect blue-blooded Gwen has on his troubled soul or his battle-hardened body. But as a client, Gwen is off-limits—until a threat from Neil's past returns…and Gwen is caught in the crossfire. Now to keep her safe he will risk it all: his career, his life…and his heart.
Character Q & A
Please introduce your character

Neil MacBain

from your novel

Fiance by Friday

to HJ readers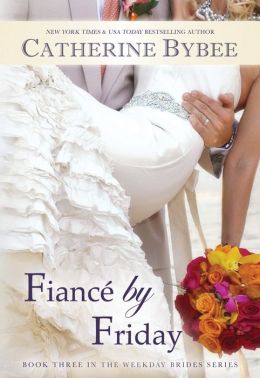 Neil is a slightly damaged retired marine who doesn't think he'd good enough for his heroine, Gwen. My readers will know him as Blake's bodyguard who Gwen has a serious thing for.
How would you describe your Character in one sentence?
He's thick, stoic and sexy as hell.
What do you like best about your character? Least? Admire most? Least?
His loyalty is probably his most admirable characteristic.
What I like least about him is his reluctance to give Gwen a chance in the beginning of the book…but I fix that!
What does your character do for a living?
He's a personal bodyguard and security expert for Blake Harrison.
Is your character ruled by emotion or logic or some combination thereof?
LOGIC… almost always. He doesn't like emotion ruling his brain.
Who is your character's Love interest in the book?
Lady Gwen Harrison – This would be Blake's sister
Was it love at first sight for your character? If not what was the pivotal moment of change?
Gwen has had an eye on Neil for quite some time. Readers will remember some of the sparks from Married by Monday. I think the attraction is first in the reality that Neil is the exact opposite of the kind of man she would normally date. She likes the slightly dark, mysterious edge to the man.
What is your character most proud of about in his / her life?
She's finally, after nearly 30 years, taking control of her own life. A life of being Lady Gwen under the direction of her mother and deceased father has taken its toll on her and she's ready to move forward.
How your character feel about life right now? What, if anything, would he/she like to change?
Gwen loves her life right now and would like to dig deeper into Neil…if only he'd let her.
How did your character spend the week just before the story starts?
Good question! She was helping Samantha pack for her extended trip to the estate outside of London. She and Karen would have had a lunch date management meeting about their list of current clients they are seeking temporary wives for…and coming up with a plan to acquire more marital women. At the same time, Gwen was secretly suggesting that Neil stay behind in the States instead of joining her brother on his security team in Europe.
Thank you for stopping by HJ!
Giveaway:
 2 Signed print copies ARC of Fiancé by Friday
To enter GIVEAWAY: Please complete the Rafflecopter form and post a comment to this Q:
If money were no object… where in the world would you plan a wedding?Why?
Excerpt:
Eliza flagged down a waitress and ordered a martini. "I see not a lot has changed," she said after the waitress left.
"What do you mean?" Gwen asked.
"We're sitting in a bar and your giant shadow is lurking in the back of the building." Eliza tossed a peanut in her mouth.
"My shadow?"
Eliza looked to the right of the bar. "Yeah. The man who acts like you're a job but can't seem to leave you alone. If it was anyone other than Neil I'd be afraid he was a stalker."
Gwen twisted around in her chair. Sure enough, perched at the edge of a seat on the far side of the bar, sat Neil.
"What's he doing here?"
His eyes found hers for a brief moment before she looked away.
"I think that's obvious."
Her back teeth started to grind. "I don't need a babysitter."
"I don't know, Gwen. The last time we sat in a bar I remember a certain someone getting drunk and a couple other someones getting into a fight."
She'd never live that down. Gwen and Eliza went to blow off steam in a Texas bar. The cowboys were full of "yes, ma'am" and "howdy, darlin'." They danced and carried on…and yes, she drank a little too much. When one of the cowboys mistakenly took her smile as an invitation for intimacy, Neil erupted from the bar to teach the cowboy the meaning of the word no.
It was the first time Neil had defended her honor, and though she hated to admit it, she got a kick out of how ticked off he became when another man looked at her. "That was last year."
"What's changed since then?"
Nothing! It didn't matter how much she flirted with the man, or how obvious she was about her attraction. Neil didn't bite.
"Everything." Gwen stood, ready to put Neil in his place. "If you'll both excuse me for a minute."
She pushed her way through the crowd as if on a collision course with Neil. He kept his lips in a thin line as she approached and gripped the longneck bottle at his side.
Slipping between the woman on the stool next to him and Neil's massive frame, Gwen slapped her hand on her hip and growled. "What are you doing here?"
He blinked, once, and picked up his beer. "Having a drink."
She wanted to scream. "Having a drink," she repeated.
He tilted the bottle back, took a swig.
"I know what you're doing, Neil. And I don't like it. I don't want or need a bodyguard."
"That's debatable."
If stomping her foot would knock some sense into him, she'd stomp better than a farm girl in a vineyard.
Poking a finger into his chest, she moved closer. "Do you have any idea how difficult it is to have a love life with a two-hundred-thirty-pound bodybuilder standing in my way?"
A muscle in his jaw tightened. "Two hundred and fifty."
"Ahhh!" She did scream now.
He lifted his beer again, but before he could take a swig, Gwen grabbed it from his fingers and tilted it back herself.
In a move that would make Eliza and Karen proud, she pushed the empty beer bottle back into his hand and slid between his thighs.
His jaw twitched again.
The strong musky scent that was pure Neil invaded her senses. She dropped one hand to his thigh and left it there. "This is how I see it, Neil. You have two choices. Either back off or step up."
Gwen squeezed his thigh before vacating his personal space and marching back to the girls.
A satisfied smile stretched over her face.
Publisher: Montlake Romance; Unabridged edition (August 13, 2013)
ISBN-10: 1611099528
ISBN-13: 978-1611099522