Today it is my pleasure to Welcome romance author

Desiree Holt 

to HJ! 

Hi Desiree and welcome to HJ! We're so excited to chat with you about your new release, Finding Julia!
Can a moment of passion outlast years of secrets and misery?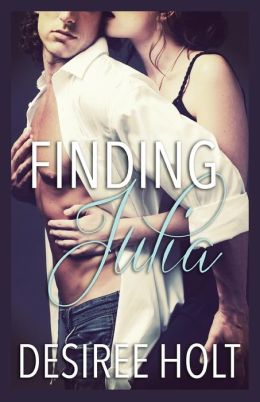 For Julia Patterson, meeting Luke Buchanan awakens within her a passion she's never dared dream possible. He claims her body and and helps her remember what it means to be a woman. But Fate has a twisted sense of humor. Just when Julia is ready to step over the threshold into a wonderful new life, her almost-ex-husband is diagnosed with a heart condition that puts her divorce on hold. Turning her back on Luke is the most difficult thing she's ever done. But Julia has a secret, one that Charles discovers and uses against her.
Years later, when Luke walks back into Julia's life, the passion between them is just as explosive. But Charles is still controlling her from the grave, and the secret Julia has hidden for fourteen years could destroy their dreams forever
Random facts about the book:
• Julia is based on a real person who loves the book and is living a very happy life now.
• I grew up in New England and basing Luke in Boston brought back a lot of happy memories for me.
• I gave huge thanks for my external hard drive backup when I lost the manuscript halfway through writing it. (No, I did not kill myself but I was inches away from the kitchen knife.)
• My little black cat sat on my desk and watched me the entire time I was writing the book. She actually wanted to be listed as a co-author.
• I asked my younger daughter to help me name the characters. I wanted Micah for the hero and she wanted Lucas so I let her win. What do you think? Which one do you like better?
Excerpt from FINDING JULIA:
Her fingers fumbled so much with the key card Luke finally took it from her and swiped it through the slot. As soon as they entered her room, she began to tremble, and he drew her into his arms. Sheltering her. Reassuring her.
"Are you scared to make love, Julia? Does it frighten you?" He brushed his mouth against hers and pressed his warm palm against her back. "What kind of life do you have where sex is such an enemy?"
They hadn't turned on the lights, but illumination from the outside slanted in through the partially open drapes. The darkness made her feel more secure, insulated, but still her mouth couldn't form any words to answer him. She was conscious of his maleness, of the feel of his body against hers, of the unfamiliar heat of desire rushing through her. Feelings she'd never known before gripped her and held her. She stood there, wanting his touch more strongly than she could admit.
"I'm going to kiss you," he said. "We'll take it from there."
Slowly, Luke enfolded her in his arms again and began to stroke her back, to kiss the edges of her ear, the side of her neck, the line of her jaw. They were soft kisses, undemanding, and they eased the edge of her nervousness. His hands were warm; wherever he touched, little sparks of fire burned on her skin. He moved his mouth across her cheek to her lips and touched his mouth to hers in a gentle caress. His lips were strong and soft at the same time.
But gentleness quickly flew out the window. In moments, he was urging her mouth open, tasting her with his tongue, coaxing her to do the same to him. He tasted of whiskey and maleness, an earthy combination that teased her senses. A jolt of electricity sparked as he probed the hot, dark recesses, seeking every inch of it. His tongue moved over every surface, traced a line across the roof of her mouth, rasped against her own small tongue. This was another kind of dance, a more sensual one capable of fanning her senses to life. She was shaking with a kind of need she'd never experienced, and he was doing nothing more than kissing her.
The kiss went on and on. He explored the inner recesses of her mouth, licked at it, his lips moving against hers as he slanted his mouth first one way and then another. His large hands, with their long fingers, cupped her head with a touch was both gentle and commanding. She could feel the imprint of each finger against her skull. His seduction on the dance floor was nothing compared to the impact of this kiss. Now Julia knew what it meant to be kissed breathless.
With a mind of their own, her arms crept up his back, pulling him closer, sliding her hands against the soft fabric of his shirt. She was in unfamiliar territory here, operating purely on instinct. Her breasts ached even more, silently begging to be touched and held. Her nipples tingled, fire built between her legs, and she didn't know what to do with it. This was so new to her.
Without releasing her mouth, Luke slid his hands under her sweater, caressing the soft flesh with feather-light touches on her ribs and her spine, tracing lines and drawing patterns as he learned the curves and angles of her body. His fingers branded her every place he touched her. With an easy deftness, he slipped the hooks on her lacy bra, releasing her breasts and cupping them at last in his hands.
At last! She nearly groaned with relief.
When his thumbs rasped against her nipples, she felt them harden—a delicious shiver ran through her body.
The entire time his hands roamed over her upper body, his mouth never left hers. He kept her welded to him as he fed on her taste, stealing her breath. He tasted pleasantly of whiskey and male, a heady combination, an aphrodisiac making her head spin and her senses riot.
He drew patterns on her with light touches of his fingers, caressing each bump and space. Pausing for a moment to skim the upper swell of her ass, he shifted his hand to trace a line up her ribs to her breasts.
Aroused by Luke's stimulating touch and desperate to feel his naked skin, she brought her hands around to open the buttons on his shirt. Yanking the tails from his trousers, she frantically pushed the garment from his shoulders and down his arms until it fell to the floor. She ran her hands over him, exploring his upper body, wanting to touch him everywhere at once. She skimmed his chest with her fingertips, relishing in the feel of the crisp hair curling on his chest and the hard buttons of his nipples.
The thickness of his cock pressed against her stomach, increasing her own heat. Her legs were suddenly weak and shaky, and she clung to his lean body for balance. His hands dropped to her waist and slowly unfastened the button on her slacks. The rasp of the zipper was loud in the room. As he pushed her slacks down her hips and thighs, he lifted his mouth from hers at last. Lowering his head, he closed his mouth over one taut nipple.
"Ohhh." The tiny cry of pleasure rippled from her throat as his lips tugged and pulled on the hardened flesh.
His warm hands moved to cup the fullness of her breasts, his fingers kneading the soft flesh, his thumbs abrading the pebbled nipples.
In a frenzy of arousal, Julia unfastened his slacks and shoved at them, but she was clumsy in her efforts. She made small sounds of frustration as she pushed at the clothing.
Luke finally lifted his head from her breasts, pulling one last, erotic time on a nipple and stepped back to rid himself of his clothes. Kicking his shoes off and yanking away his socks, he knelt in front of her. With careful attention, he tugged her slacks and panties down to her ankles, lifting each foot to step out of them. He pulled off her shoes; then he placed his hands on her hips to hold her steady and pressed his head against her mound, inhaling her scent.
"Ohhh." The pleasure of the sensation spiraled through her.
When he opened the lips of her cunt and licked the sensitive tip of her clit, she thought she would melt to the floor. Only her hands braced on Luke's shoulders kept her upright. Again and again he flicked his tongue over the swollen knot, each stroke making her insides quake and her nerves fire. She felt dampness on the inside of her thighs as Luke's wicked tongue did its work. Inside her, the manacles locking her down released with agonizing slowness and her body unfolded, one delightful burst at a time. Luke moved his tongue lower, tracing the length of her slit with the tip of his tongue. She cried out with pleasure at the sensations whirling through her body. It was too much. It wasn't enough. Stop! No, she wanted more.
She clutched at his shoulders, digging her nails into the skin as he took her higher and higher. When her climax exploded, every muscle spasmed in response. The walls of her pussy clenched over and over again, and her body shook so hard she didn't know if she could remain upright. She collapsed forward, leaning into Luke, held in place by his strong hands. His warm mouth whispered kisses over the softness of her belly as she tried to regain some sense of balance.
"Remarkable." His voice was so deep and sensual. "You are the most responsive woman I have ever known."
She was breathless, unable to answer him.
Thanks for blogging at HJ!
Giveaway: 

A Digital copy of FINDING JULIA (Winner's ebook retailer of choice)
To enter Giveaway: Please complete the Rafflecopter form and 

leave a comment for Desiree on your thoughts about the book. 
About Desiree Holt: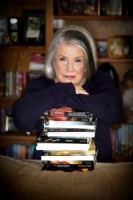 • I am an obsessed football nut. I mean, really. Which is probably why I'm writing a football series next.
• I once had a career managing rock bands and country western singers.
• I live in Texas and the droolworthy alpha males surrounding me inspire my heroes.
• I watch reruns of Walker Texas Ranger while I write. (What can I say? I'm a Texas addict!)
• When I'm not reading romances I'm reading thrillers. I am a true thriller junkie.