Today, HJ is pleased to share with you
Christine Feehan's
new release:

Fire Bound

The #1 New York Times bestselling author of the Sea Haven novels returns to the circle of the six sisters of the heart, bound by the elements—and to one who possesses the power to inflame the most dangerous passions of all.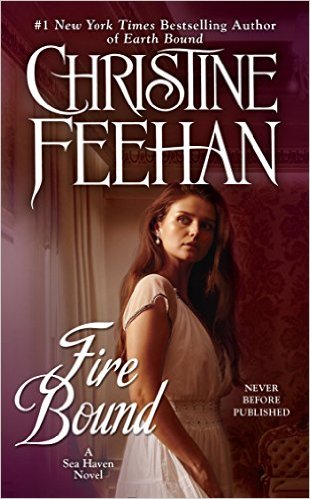 Flame-haired Lissa Piner is a skilled glass blower whose delicate gift conceals a burning inner strength that can destroy as exquisitely as it can create. Commissioned to design chandeliers for a string of luxury hotels, her remarkable skills have taken her to Italy. But Lissa's real mission there is a secret. For her entire life has been a lie, leading to a chance to avenge a terrible wrong.

Enlisted as her bodyguard is Casmir Prakenskii, a trained assassin living off the grid. In Lissa, he sees a kindred spirit—something unexpected and wicked, mysterious and sensual.

But more than desire is about to bring them together: because both of their pasts cry out for revenge. And for two people with this many secrets, this much passion, and this many enemies, someone is bound to get burned.

Enjoy an exclusive excerpt from Fire Bound: 
Lissa's heart pounded so hard she felt the beat of it pulsing in her slick, hot, feminine core. Pulsing. Pounding. Demanding. She was in such trouble. Tomasso's voice was pitched low. So low it was only the fact that his mouth was against her ear when he spoke that she could hear him. She felt his breath stirring tendrils of hair. His lips brushed her skin intimately. Teeth slid down the curve of her ear and then tugged on her lobe. A million butterflies took wing. There was a definite spasm in her sex. Very definite. Strong. Maybe a quake more than a spasm.
He'd issued the threat so casually. Matter-of-factly. That frightened her more than anything else. He wasn't making an empty threat. He was capable of killing every one of her uncle's bodyguards and even Luigi himself.
"You wouldn't do that." She needed air. Needed to breathe. Because she believed he would. She absolutely believed that this man was capable of killing them all in a fight, and more, she knew the Prakenskii brothers. Each and every one of them, when cornered, would be capable of killing and walking away without a backward glance.
"I wouldn't have a choice, and you know me. You know exactly what I am. Don't play games and get someone hurt because you're afraid. You know I won't hurt you. You came into my bedroom at night. In the dark. Alone. You forgot to change your perfume, but I'd know both scents anywhere."
She closed her eyes and allowed her head to fall back against the door. It was him. She'd been right all along. He had saved her life tonight. She owed him thanks, but the words just refused to come. He was too close, his body too hot. The air still pulsated with danger, and suddenly she wasn't altogether sure why she'd come to his room alone at night. She had told herself she wanted a confrontation, that she intended to lay down the law to him, but she didn't need to do that in his bedroom.
Lissa had suppressed her own passionate nature for so long she hardly recognized the well deep inside that was already waking. Coming back to life. There was no stopping it now. For so long she refused to operate on any level but calm and peaceful, with little or no emotion, and she'd almost convinced herself that that was who she was. Now, the real Lissa was back with a vengeance. One couldn't have hair the color of hers without having the passion to go with it.
"Tell me your name," she whispered.
His tongue touched the soft skin behind her ear. His lips followed. The touch was light. Barely there. But she was branded. That soft stroke sank deep into her bone, sent little darts of fire streaking through her bloodstream.
Excerpt. ©Christine Feehan. Posted by arrangement with the publisher. All rights reserved.
Giveaway:

Print copy: Fire Bound (Sea Haven-Sisters of the Heart) by Christine Feehan
To enter Giveaway: Please complete the Rafflecopter form and post a comment to this Q:

What did you think of the excerpt spotlighted here? Leave a comment with your thoughts on the book…
Meet the Author:
Christine Feehan is a #1 New York Times bestselling author multiple times over with her portfolio including over 40 published novels, including five series; Leopard Series, Dark Series, Ghostwalker Series, Drake Sisters Series, & the Sisters of the Heart Series. All five series hit the #1 spot on the New York Times bestselling list as well. Her debut novel Dark Prince received 3 of the 9 Paranormal Excellence Awards in Romantic Literature (PEARL) in 1999. Since then she has been published by various publishing houses including Leisure Books, Pocket Books, and currently is writing for Berkley/Jove. She also has earned 7 more PEARL awards since Dark Prince.
In addition to the #1 New York Times bestsellers list and the PEARL awards, Christine is honored to have made the bestsellers list for Amazon, B. Daltons, Barnes and Nobles, Bookscan, Borders, Ingrams, Publishers Weekly, Rhapsody Book Club, USA Today, Waldenbooks, Walmart, and the Washington Post. Other honors that she has received include being a nominee for the Romance Writers of America's RITA award, receiving the Career Achievement Award for Contemporary New Reality from Romantic Times Magazine in 2003 and in 2008 the Borders Lifetime Achievement Award.
She has been published in multiple languages and in many formats, including audio book, e-book, hardcover and large print. In October of 2007 her first manga comic, Dark Hunger was released in stores. This was the first ever manga comic released by Berkley Publishing and it made #11 on Publisher's Weekly Bestseller's List. Her ground-breaking book trailer commercials have been shown on TV and in the movie theaters. She has been featured on local TV, appeared on the The Montel Williams Show, and her book Dark Legend was featured on the cover of Romantic Times Magazine.