Today it is my pleasure to Welcome romance author
Kimberly Kincaid
to HJ!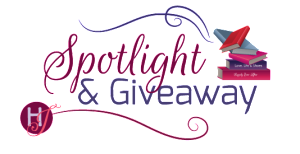 Hi Kimberly Kincaid and welcome to HJ! We're so excited to chat with you about your new release, Fire Me Up

!
Please summarize the book for the readers here: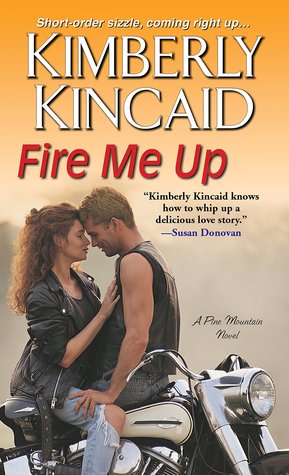 What happens when a hot chef trying to save a local bar and grill teams up with the pub owner's daughter–who's a hot mess of a cook? Sparks fly in the kitchen…and the bedroom. But can they overcome his dark past and her risky future, or will their sizzle end up burning them both?

Please share the opening lines of this book:
"Adrian Holt got three steps past the back door at La Dolce Vita before the dangerous combination of fear and anger cemented him to the kitchen tile. He fisted the keys to the building in his palm, hard enough to feel the metal bite into his callused skin.

Someone was in the kitchen."
Please share a few Random facts about this book…
I always knew Adrian would have a book, and that his heroine would have to be feisty as hell in order to be a good match for him. The first time Teagan hit the page in Turn Up The Heat (book one in the Pine Mountain series), I knew she'd end up with Adrian. And I had to sit on it for three whole books, haha!
Nick Brennan, who plays a fairly large secondary role in this book (and whose book, All Wrapped Up, will close out the series in October) was originally supposed to be Teagan's brother. But then I realized that in order for Teagan's bond with her father to be extra special, she had to be an only child. So Nick got his own family even though he's part of the Double Shot crew.
Please tell us a little about the characters in your book. As you wrote your protagonist was there anything about them that surprised you?
These two are about as far from opposites attract as it gets! Adrian and Teagan are both headstrong, tough, call-it-like-they-see-it characters. They're both incredibly driven, but also incredibly vulnerable beneath their armor. While I'd always had a clear picture of their backstories, Adrian's fierceness for Teagan kind of floored me a few times as I wrote. He's really intense. But the shoe fits ☺

What, in your mind, distinguishes this book from other books out there in the same genre?
Rather than going to one extreme or the other, I try really hard to blend sexy and sweet into the same book. In my stories, both coexist and build as the relationships build. I also make sure the books aren't just about the hero and heroine falling in love (the hard way), but that they each have a journey that puts them in a different, better place than when the book started, independently of the relationship

The First kiss…
The first kiss in this book happens under some pretty crazy circumstances. I'll let you read to discover what they are. But I felt like it really suited the moment.

Did any scene have you crying or laughing (or blushing) while writing it?
Adrian has a line or two toward the end of the book that made my cheeks get a little warm (hint: look for him and Teagan in her office at the bar), and these two made me laugh a bunch because they're both really dry-witted as a defense mechanism. And the scene where Adrian reveals his past to Teagan (I can't share or I'll spoil it!) makes me tear up every. Single. Time.

If your book was optioned for a movie, what scene would you use for the audition of the main characters?
Ohhhh, this is a good one. I'd probably use the scene in the ambulance, at the beginning of the story, or the scene where Adrian offers to help Teagan with her father's bar and grill. The interaction between them is great in both scenes. And Adrian and Teagan are definitely all about playing off of each other. Chemistry, chemistry, chemistry!

If you could have given your characters one piece of advice before the opening pages of the book, what would it be and why?
I'd tell them both to buckle up…their ride is a bit of a doozy. But the tougher they are, the harder they fall. And these two fall hard!

What are you currently working on? What other releases so you have planned for 2015?
I've got a few burners going right now. I'm writing a firefighter series for Kensington, set to start releasing in February of 2016 (it's a spinoff from the last Pine Mountain book, All Wrapped Up). I'm also writing an Indie novella series loosely related to the Line Collection. My 2015 releases are: the Indie Get Lucky anthology, featuring my novella, Something Borrowed, in March 2015, Just One Taste, a digital Pine Mountain novella (Jesse's story) in June 2015, and All Wrapped Up (Brennan's story), which will be the last Pine Mountain book, in October 2015.

Thanks for blogging at HJ!
Giveaway:

2 Print copies of Fire Me Up
To enter Giveaway: Please complete the Rafflecopter form and Post a comment to this Q:

In Fire Me Up, Teagan puts her own spin on a classic grilled cheese sandwich as her go-to comfort food. What's your favorite comfort food?
Excerpt
"My name is Teagan O'Malley, and I'm a paramedic with Pine Mountain Fire and Rescue," she said, her hands a flurry of movement as she geared up to do a rapid trauma assessment. "Can you tell me your name?"

The guy lifted a pierced eyebrow toward his spiky platinum hairline and speared her with a stare caught somewhere between hazel and cold gray. God, how did she know him?

"I'm fine," he ground out, his voice pure gravel and aggravation. "Which I already told that jarhead, but he wouldn't let me leave."

Yeah. It was going to take a little more than a bad attitude and some uncut testosterone to get her to back down. "That jarhead, as you so eloquently put it, might've saved your life by keeping you here until you can be medically cleared. While I doubt there's a gift registry for that kind of thing, a simple thank you might be nice. Just to be on the safe side."

Her would-be patient took a step back, his stare going from cutting to calculating in the span of a breath. "I don't need to be medically cleared," he said, although it didn't escape her notice that he caught the cop's attention to toss him a tight nod.

Teagan bit back the temptation to point out that, from the looks of things, he was a walking, talking version of the game Operation with that arm bent up like it was. "Okay. Why don't you let me give you a quick once-over to be sure?"

"No." The word fell between them without subtlety, and she drew back with a frown. The tough guy routine was cute really, but nobody was indestructible.

"Look, I know this isn't fun, but it's necessary, so—"

"If you think I'm getting in that ambulance, then you don't know a damn thing."

Jeff locked eyes on her in a nonverbal communication of say the word, but Teagan gave a quick shake of her head. She'd handled enough tough guys to fill a stadium, and this one was no different.

She craned her neck and stepped close enough to see the numerous abrasions peppered in with the guy's dark stubble, meeting his stare head-on even though it sent an involuntary shiver down the plumb line of her spine.

"Let me tell you what I do know." She dropped her voice to just a notch above a whisper and threw on a smile as thick and sweet as store-bought frosting. "I know your arm is broken, and I think you know it, too. I know you don't want me to look at it even though it hurts like a bitch. And I also know that's not an option, because it's possible that broken arm is the least of your worries. So here it is. You can either cooperate with me and we'll do this the easy way, or I can sedate you and work you over so thoroughly, I'll be on a first-name basis with every last part of you. Are we clear?"

A muscle tightened in the hard line of his jaw, drawing out the silence for a beat, then two before he turned toward her ever so slightly, as if waiting for her to get on with it.

Good enough, she thought as she lifted her hands to start checking him out.

But before Teagan could even start on his pulse, the guy's free hand had turned to form an ironclad circle around her wrist.
Book Info:
If You Can't Stand The Heat…
Teagan O'Malley can handle a crisis. She's a paramedic, it's her job. But she never expected to land in the kitchen of her father's pub, with no notice, no cash, and no room for error. The kitchen is not her favorite place. Lucky for her, she just scraped a bad-boy chef off the pavement after a motorcycle accident—and something about him says he can turn up the heat in more ways than one.
Adrian Holt has had a rough few years, and he's not eager to get tangled up in anything more complicated than a good risotto. But with a broken arm and a head full of bad memories, he needs a challenge to keep him sane. Teagan's dare-me attitude and smoldering mess of a bar are just what the doctor ordered. And the two of them together might cook up some even better medicine…
Meet the Author: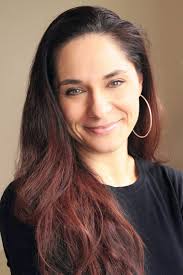 Kimberly Kincaid writes contemporary romance that splits the difference between sexy and sweet. When she's not sitting cross-legged in an ancient desk chair known as "The Pleather Bomber", she can be found practicing obscene amounts of yoga, whipping up anything from enchiladas to éclairs in her kitchen, or curled up with her nose in a book. Kimberly is a 2011 RWA Golden Heart® finalist who lives (and writes!) by the mantra that food is love. She is thrilled to have collaborated on a Christmas anthology with Donna Kauffman and Kate Angell, titled The Sugar Cookie Sweetheart Swap, to kick off her Pine Mountain foodie series with Kensington this October. Her first full-length novel, Turn Up the Heat, will follow in February 2014. Kimberly resides in northern Virginia with her wildly patient husband and their three daughters.
I love hearing from readers! I'm at www.kimberlykincaid.com, on Facebook at both www.facebook.com/kimberly.kincaid1 and www.facebook.com/authorkimberlykincaid, on Twitter @kimberlykincaid and on Pinterest at www.pinterest.com/kimkincaidbooks
Website | Facebook | Twitter |