Today it is my pleasure to welcome New York Times and USA Today bestselling author

Susanna Kearsley

to HJ!
Hi Susanna, Welcome to HJ!
Thanks, Sara, for inviting me here.
For all of our readers who may not be familiar with your work, could you tell us a bit about yourself and your books?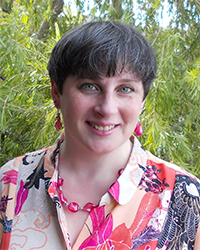 I write what the industry now likes to call "modern gothics"—a blend of romance, suspense and historical adventure, with modern-day characters dealing with mysteries that come from the past, all while falling in love with each other, and usually with some paranormal element binding the past and present storylines together. In other words, I'm a marketer's nightmare, because I don't fit neatly into any section of the bookstore, although personally I think the romance in my books is the strongest thread.
I've been writing for a living now for over twenty years. My career got a big kick-start in 1993 when my novel Mariana won the Catherine Cookson Fiction Prize in Britain, and since then I've been honored to have my books win two RT Reviewers' Choice Awards and a National Readers' Choice Award, and final for both the RITAs and the UK's Romantic Novel of the Year Award.
In your opinion, what ingredients are needed to make up a good love story?
For me at least, I think there needs to be a sense that these two people really belong together, like two halves of a whole, and that they bring out the best in each other. I like watching them become aware of that and seeing them connect on ever deeper levels. My own favorite moments in love stories tend to be quiet ones, often without any words, little gestures that transcend the physical. Harrison Ford and Melanie Griffith sharing that piece of toast while getting ready for the day in the movie Working Girl. Bond holding Vesper in the shower in Casino Royale. Alan Rickman's Colonel Brandon trailing his hand along the paneling of the wall that divides him from the fever-stricken Marianne in Sense and Sensibility. Those little moments are what make a love story beautiful, to me. They make it feel real.
Tell us a little about your process. Do you start with an idea? A character? What is the easiest part of writing for you? What's the hardest?
My process is never fixed in stone; it changes with each book. But because my books are often built around mysteries that come from the past, my starting point is usually some little throwaway line in a history book that I run across that makes me think, 'Huh. I didn't know that.' An overlooked person or incident I've never heard about. And that will just lodge in my mind and ideas start growing around it. The characters, past and present, will begin to take shape—the past ones from the historical letters and documents I'm reading for my research, and the present ones from my imagining what kind of people would be involved with trying to solve a historical mystery like the one I'm going to give them. At the beginning of any book I know the first sentence, about half the characters, some of the historical facts, and the primary setting. That's it. All the rest will develop itself as I write, once the characters get on the page and begin interacting.
The easiest part of writing for me is usually the dialogue, because once the characters are fully formed in my imagination they begin to move around in my mind like actors in a movie, and at that point it's simply a matter of writing down what I "hear" them saying—sort of like taking dictation.
The hardest part of writing is editing down that dialogue in second draft so it serves the purpose of the story.
One book you read in the last 6 months that has left a lasting impression and why?
You're giving me an impossible choice here, because in the last 6 months I've read two very, very good books by friends of mine—Lauren Willig's The Ashford Affair and Deanna Raybourn's A Spear of Summer Grass—and they've both left a lasting impression. I'll actually have to flip a coin, here… Deanna always calls "Heads", and it's heads, so I'll just say in her novel she managed to pull off the literary equivalent of the first five minutes of the Pixar movie UP, and told the entire love story of a couple in two and a half pages, in such a moving way I couldn't even read it out loud to my mother on the phone because I got choked up so badly. It was a beautiful, masterful scene, and I love Deanna for writing it, but it shattered my heart and I haven't forgiven her.
Let's talk about your newest release: The Firebird
If you had to summarize THE FIREBIRD for the readers here ….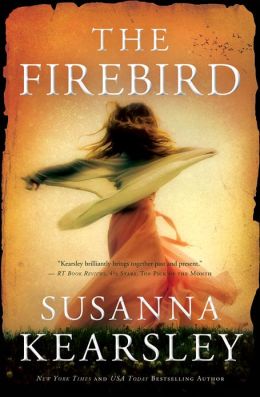 It's the story of two women in two different times whose lives are bound together by a little wooden carving called "The Firebird". The modern-day heroine, Nicola Marter, has the ability to see glimpses of an object's past when she holds it, and is determined to help a client of the gallery where she works prove that the Firebird carving did in fact come from Peter the Great's widow, the Russian Empress Catherine. To do this, she enlists the help of an ex-boyfriend, Rob McMorran, and together they start to retrace the steps of an earlier owner of the carving—a young woman named Anna Moray—with the book alternating between Rob and Nicola's adventures in the present day and Anna's more dangerous ones in the past, during the Jacobite intrigues of the early 18th century.
Please tell us about the characters in your book.
Nicola's always been taught to conceal her psychic abilities, so she's very uncomfortable using them. Not like Rob (who some readers may remember meeting as an eight-year-old in my earlier book The Shadowy Horses), who was born and raised in a small town in the Scottish Borders where his having "the Sight" was accepted. Still in love with Nicola, he takes on the challenge of teaching her to accept her own gifts—and him—for what they are.
The heroine of the past story, Anna Moray, has inherited the temperament and loyalties of the father she never knew—a Jacobite soldier in service to Scotland's exiled King James VIII. If her childhood taught her anything, it was that no one can be trusted and she must rely on her own wits and courage to protect the ones she loves. But when she meets Edmund O'Connor, a man who seems determined to provoke and challenge her on every level, she finds her guard slipping—which might have disastrous effects.
What scene did you have most fun writing? Why?
There were so many scenes in The Firebird that were fun to write, it's hard to pick just one. But I did love the scenes between Anna and Edmund, because their dialogue would just take off on its own and I loved the back-and-forth between them. Like in this scene, in which Anna takes Edmund to task for being polite to a man who's been sent to spy on them in Russia:
'So then you liked him,' Anna said.
'You'd twist my words. I did not say I liked the man, I only said that, had I met Deane as I did, at Trescott's tavern, without being warned about his character, I would have liked him well enough, that's all I said.'
'I think you do feel sorry for him.'
'Why would I do that?'
She said, 'Because he has a reputation that does go before him, as does yours, and you feel moved by that to grant him all the benefit of doubt that you are oftentimes denied.'
'Of all the…woman, you exhaust me, do you know that? Yes, you're right, you have exposed me. I do feel a sense of kinship with the man.'
'You see? I knew it.'
'One day,' Edmund warned, 'I'm going to fall down dead, stone dead, right in the middle of the street, and when I meet St. Peter at the Gates he'll ask me, Edmund, what became of you? And I'll say, I did walk with Anna Jamieson a mile too far, that's what.'
She told him, calmly, 'You're assuming it's St. Peter you'll be meeting.'
'Up or down,' he said, 'the sympathy will no doubt be the same.'
Who would who cast in the role of your characters if your book was optioned for a movie?
My thirteen year old daughter is convinced that Leon Ockenden should play the role of Rob ☺ Other than that, I'm not sure. Maybe Emma Watson as Anna?
What are you currently working on? What other releases so you have planned for 2013?
I write Incredibly Slowly, so I don't have any other new releases coming out this year, although Sourcebooks will be bringing out my book The Splendour Falls in the US, where it's never been published before (it was published in the UK and Canada in 1995, but never in the States), so I guess that counts as a partly-new release. And my British publishers will be re-issuing my book Named of the Dragon over there and in Canada later this month.
At the moment I'm writing a new book, called A Desperate Fortune, another dual-time story that combines modern-day codebreakers, Jacobite ciphers, a road trip, a sharpshooting Highlander bodyguard, Paris and Rome. Right now it's scheduled for publication in early 2015.
Where can readers get in touch with you?
I love hearing from readers, who can find me on Facebook (https://www.facebook.com/AuthorSusannaKearsley) or Twitter (https://twitter.com/SusannaKearsley) or at my web site (http://www.susannakearsley.com)
Thank you for stopping by HJ!
It's been a pleasure, Sara, thanks for having me.
Giveaway:

print copy of THE FIREBIRD
To enter Giveaway: Please complete the Rafflecopter form and post a comment to this Q:

If you could "see" the history of any one object you own just by touching it, what object would you choose and why?