Today it is my pleasure to Welcome author
Gwyn Cready
to HJ!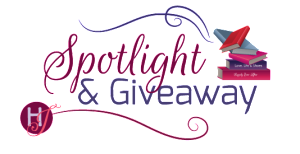 From the "master of time travel romance": RITA award-winning author Gwyn Cready continues her steamy Sirens of the Scottish Borderlands series
Please summarize the book for the readers here: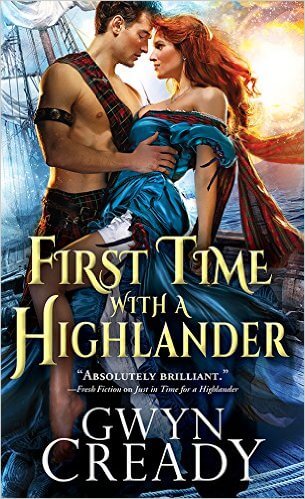 Two questions inspired me to write this series—first, why are women always the ones traveling to the past in time travel romances? In the Sirens of the Scottish Borderlands series, the women are the ones with their feet planted firmly in familiar territory. And, second, what happens to powerful, successful men who get thrown back into a time when the skills that have made them successful in the twenty-first century have little value? Can they re-invent themselves in a way that allows them to survive and win the heart of the heroine? In First Time with a Highlander (which, curiously enough, is the second book in the series—Maybe we'll rethink that for the reprint), Serafina Fallon has inherited a shipping concern from her father, but her blackguard of an ex-fiancé has run the business into the ground. He's ruined her socially and financially, but Serafina is not one to take things lying down. She uses herbs she's, ahem, "borrowed" from a famed spell-caster to summon a man to help her claim the cargo from the ship's final voyage before her fiancé can get his hands on it. She only needs a man for one night and…well, you can imagine what that leads to in the hands of an inexperienced spell user. But Serafina is willing to pay the price—in fact, she's quite willing to once the smart, dashing Gerard Innes, a playboy ad man from the twenty-first century appears. Gerard finds the eighteenth century—and Serafina Fallon—to be fertile grounds for his incisive brand of marketing.

Please share the opening lines of this book:
"What if one could piece together a perfect man the way Abby's dressmaker has pieced together the perfect gown?" mused Serafina Fallon, gazing appreciatively on the neatly pinned amethyst silk with soon-to-be-beaded sleeves her friend Abby Kerr modeled before the mirror. Serafina remembered a time when she had not regarded the possibilities of the masculine sex with quite so much cynicism. If her former fiancé, Edward, had been a gown, he would have been a cheap printed cotton, finished to look like Oriental satin—very much like the gowns Serafina's reduced circumstances forced her wear—but betraying its inferiority within the first few wearings.
Please share a few Random facts about this book…
The villain first appeared in my sixth book, Timeless Desire.
I named the heroine after a restaurant in New York City.
There are glass-bottomed pools in New York, though I've never swum in one.
One can drink whiskey that's quite, quite old. A bottle sold recently that was over 160 years old.
But my random fact about this book is that in order to understand how the nave and offices of St. Giles were set up, I had to write to the church's curator, who happily replied back, giving me all the details I needed, including the fact there used to be a hole in the floor at the top of its iconic open spire allowing people to see all the way down into the nave.
Please tell us a little about the characters in your book. As you wrote your protagonist was there anything about them that surprised you?
Serafina is smart but has a hard time trusting people—no surprise given her background. Gerard has always had it easy, but he rebelled against his wealthy family and has always admired people who can pull themselves up by their own bootstraps like Serafina. I guess what surprised me was the depth of her feeling for her ex-fiancé's family, even though they'd shunned her after her liaison with her fiancé. So I thought I'd reward that by having at least a couple of them still like and admire her.
Did any scene have you crying or laughing (or blushing) while writing it?
Now that I've bragged about the humor of my characters, I guess I need to ante up something. Try this scene in a carriage, when Serafina and Gerard are talking about the man who commissioned a dress from a tailor and may be involved in some nefarious business with Edward, her ex-fiancé:
"Is that the state of spycraft in the eighteenth century?" Gerard said. "Messages hidden inside women's clothes and names like Lord Hiscock?"
Serafina frowned. "'Tis not a fake name."
"'Lord, his cock' isn't fake?"
He looked at her in such surprise, she nearly laughed. "No, it's not. Crispin Hiscock is one of the wealthiest men in Edinburgh—and a baron as well."
"Crispin Hiscock? My God, it just keeps getting better. Crispin Hiscock and his sons, Aaron and Holden."
Serafina snorted.
"And the daughter? Sharon, perhaps?"
"I have no doubt," Serafina said, trying to hold back the laughter. "I believe it's a prerequisite when you're being courted by Edward."
"Though perhaps the gown is for the lord's wife, Preston."
Serafina laughed—long, gasping peals that filled the coach box and drew looks from the people walking the Royal Mile. "If you only knew what Lady Hiscock looked like," she said between paroxysms. "Pressed on at the start. Pressed flat to finish."
Gerard fell back against the back of the bench, clutching his belly. A moment later, he bolted upright, still gasping. "Oh my God!"
"What?"
"His name… The man's title is…Baron Hiscock."
The carriage was nearly to St. Giles again before decorum settled over them.
If your book was optioned for a movie, what scene would you use for the audition of the main characters?
Of course it would be the scene in which the characters meet. That's the most important scene they share. It sets the stage for everything that follows. This takes place after Gerard has fallen asleep with a woman from an agency party and woken up to what he thinks is the living room of his hotel suite but is actually the sitting room of an inn in the eighteenth century in which he runs into the Scot he thinks is his bedpartner's boyfriend:
Gerard raced back into the bedroom, threw the lock, and bounded to the bed. "Your ship came in," he said, shaking the arm clutching the pillow. "Unfortunately, it's the Titanic. You have about five seconds to get your lifeboat in the bathroom and lock the door."
"Mmphf," came the voice, muzzy with sleep.
"Serafina, are you in there?" the Scot demanded, rattling the knob.
"Och." The arm twitched. "Who is making all that bloody noise?"
"Don't tell me you haven't been introduced to Paul MacBunyon?" Gerard yanked the covers off the bed.
He froze. The woman was not plump, blond, or Cinderella. She was a flaming redhead with pale legs that, in his foggy eyes, stretched out like two glorious lengths of beach beneath the azure sky of his Ermenegildo Zegna shirt.
And he had never seen her before.
The woman swallowed a screech, banked herself against the headboard, and whispered fiercely, "Who the hell are you?"
"I could ask you the same thing," he said. "This is my bed."
Her chin dropped. "It is not!"
"Serafina!" The knob jiggled harder.
"You may keep the shirt," Gerard said, "but if you could assist in the return of the rest of my clothes before Sasquatch breaks down the door, I'd be very grateful." He tossed the covers aside.
She flung her hands across her eyes. "Mother naked, ye are!"
"Pot, kettle: black, black." He scrabbled across the bed and peered over the side, catching another inspiring whiff of that juniper-rosemary combo. A heap of gray filled his heart with joy and he fished his trousers off the floor.
"Get out!" she demanded.
"That's a fine thank-you." He jumped up and jerked the trousers on.
The door rattled harder. The man was using his shoulder now.
"What exactly would I be thanking ye for?"
"Last night." He gave her a look that would translate even into her overwrought Robert Burns Scottish.
She braced her shoulders. "I did not!"
He brought his hand before her nose. "That's your perfume, is it not?"
She gasped.
He shrugged. "I'm rarely wrong when it comes to that kind of thing."
"What a repellent quality."
"Look, I don't know what brand of crazy you and your boyfriend have going on, but you probably should keep the weird cosplay to yourselves." The next crash nearly brought the door off its hinges. "Do what you like, but I'm adjourning to the bathroom to hop on the phone to the concierge. I'll tell you what else: they are not going to like the TripAdvisor review coming out of this."
She drew herself even farther into the headboard. "Are you mad?"
"Mad. Blind. Shirtless. You name it. And definitely off whiskey." He reached for the bathroom door but found only wall. "What the…?"
A splintering explosion of wood, and MacBunyon burst into the room. "You," he said, pointing to the woman, an eerie calmness about him. "Out here."
Gerard heaved a heavy sigh and moved between MacBunyon and the bed. The time for finesse was over. He lifted his fists. "Why don't you start with me, big guy?"
If you could have given your characters one piece of advice before the opening pages of the book, what would it be and why?
Have fun with it. It's going to turn out a lot better than you think.

What are you currently working on? What other releases do you have planned for 2015?
I a veeeeerrrrrrrrrryyyy slow writer, so I definitely don't have anything more coming out in 2015. The third book in the Sirens of the Borderlands series comes out next July. It's called Every Time with a Highlander. (Are you noticing the theme?) Next up for me is a proposal for the next book or next set of books. I have a couple of great ideas. (I mean, I think they're great, but then again I think every idea I have is great. Ask my husband.) One involves a bracelet whose effects on the wearer ripple through time and one involves a sort-of reform school for Scots soldiers who've misbehaved, and both involve lots of time travel, romance, humor and sexual tension.

Thanks for blogging at HJ!
Giveaway:

Print copy of First Time with a Highlander (Sirens of the Scottish Borderlands) by Gwyn Cready
To enter Giveaway: Please complete the Rafflecopter form and Post a comment to this Q: Next up for me is a proposal for the next book or next set of books. I have a couple of great ideas. (I mean, I think they're great, but then again I think every idea I have is great. Ask my husband.) One involves a bracelet whose effects on the wearer ripple through time and one involves a sort-of reform school for Scots soldiers who've misbehaved, and both involve lots of time travel, romance, humor and sexual tension.
Which series sounds more interesting to you?
Book Info:
She needs a man-but only for a night
What do you get when you imbibe centuries-old whiskey-besides a hangover the size of the Highlands? If you're twenty-first century ad exec Gerard Innes, you get swept back to 18th-century Edinburgh and into the bed of a gorgeous, fiery redhead. Gerard has only a foggy idea what he and the lady have been up to…but what he does remember draws him into the most dangerous and exhilarating campaign of his life.
Be careful what you wish for…
Serafina Seonag Fallon's scoundrel of a fiancé has left her with nothing, and she's determined to turn the tables. If she can come up with a ringer, she can claim the cargo he stole from her. But the dashing man she summons from the future demands more than a night, and Serafina finds it easier to command the seas under her feet than the crashing waves he unleashes in her heart.
Buy Links:
Amazon: http://amzn.to/1Od18Lg
Apple: http://apple.co/1UTdm01
BAM: http://bit.ly/1LfkTjF
B&N: http://bit.ly/1KdVz9j
Chapters: http://bit.ly/1OVBKXF
Indiebound: http://bit.ly/1Lfl8eq
Kobo: http://bit.ly/1LwEJ5N


Meet the Author: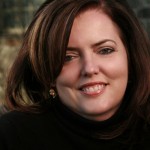 Gwyn Cready is a writer of contemporary, Scottish, and time travel romance. She's been called "the master of time travel romance" and is the winner of the RITA Award, the most prestigious award given in romance writing. She has been profiled in Real Simple and USA Today, among others. Before becoming a novelist, she spent 25 years in brand management. She has two grown children and lives with her husband on a hill overlooking the magical kingdom of Pittsburgh.
You can reach me at cready.com, @GwynCready on Twitter, and Gwyn Cready, Romance Writer on Facebook.