Today it is my pleasure to welcome USA Today bestselling author Ruthie Knox to HJ!
RuthieWelcome to HJ!
Thank you! I'm happy to be here.
If you are ready, lets get started…5 things readers should know about you?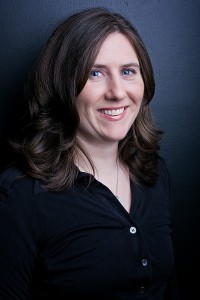 (1) I write sexy contemporary romance that's funny and angsty. Funny-angsty. It's totally a thing.
(2) My debut romance features a couple who ride all the way across the United States by bicycle. Because I'm committed to mixing things up a little. 🙂
(3) Witness: my latest release, whose hero is a geek (he's in the computer security field, but he made his way there by being a hacker). Also, he stutters. And he's sexy. It works, I swear!
(4) I live in Green Bay, Wisconsin, and I like to tell stories about fairly ordinary Midwestern types.
(5) I'm addicted to Twitter, so if you're on there, say hi to me @ruthieknox!
What would you say are the defining characteristic of your Novels?
I've been told that I write "realistic romance," which is an odd sort of niche to be in, since I'm also all about providing the fantasy escape. With some tears in there, too, because tears are always good. So I try to walk that tightrope: realistic fantasy funny books, with some crying in them and also scenes that make your girl parts tingle.
5 best things about being a writer?
(1) I basically never have to leave the house.
(2) Or talk to anyone.
(3) Romance writers are the most interesting, fun, fascinating colleages I've ever had.
(4) Romance readers are awesome and enthusiastic, and they buy books in copious volume. (I love this about you guys. So much.)
(5) I don't have to edit footnotes anymore.
What romance book character you most identify with & Why?
I identify with all of my heroines in one way or another. I write all my best bits into my novels, and all of my worst bits, but none of them are me. I identify very strongly with Katie, the heroine of Flirting with Disaster, who's learning that her talent for being empathetic is not, in fact, a flaw, but a strength—despite the fact that the world doesn't particularly value it.
What are you currently reading?
I'm partway through Tamara Morgan's The Rebound Girl, which is an interesting book because people seem to either love or hate the heroine. I've written one of those myself (the heroine of Along Came Trouble, Ellen, inspires very mixed reactions), so it's fascinating to track my own reactions to this heroine, and to think about what people would say about her if she were the hero, instead. I haven't decided whether I like her or not yet, but I do like the book, and it's definitely an interesting read!
If you had to summarize Flirting with Disaster for the readers here ….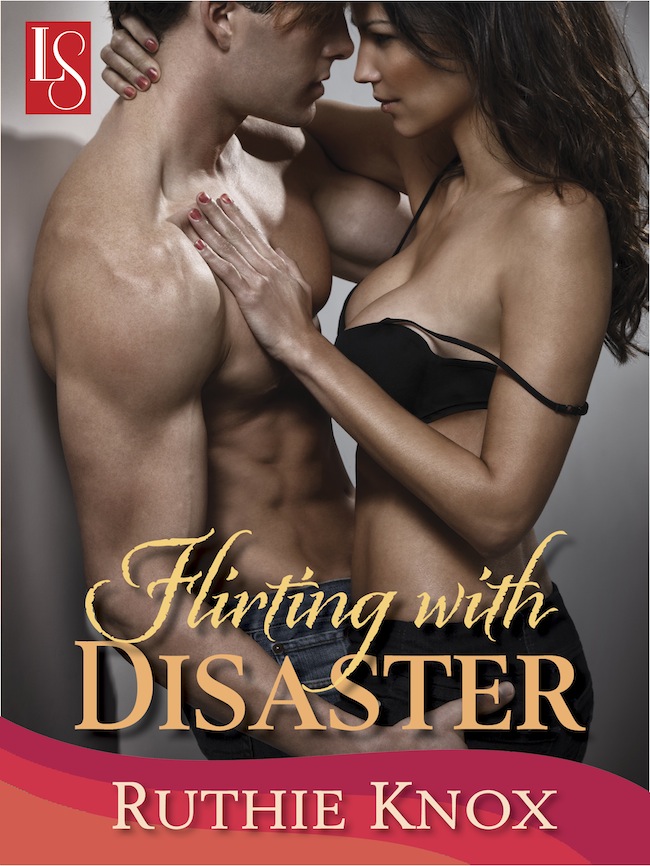 I'd say it's a "one that got away" romance about the geeky guy who sat behind the heroine in high school math. He's long since turned into a computer hacking rich Californian, but rather than deal with any of the bad stuff in his past, he just shoved it all under the rug. Unfortunately, his mother has died, and oops, the rug's still sitting on her living room floor. So now he's got to deal with a lifetime's worth of unresolved issues with his now-dead mother, his enduring crush on this girl from high school who still just wrecks him, and oh, also the debilitating stutter that he thought he'd gotten past? Yeah. That's back, too.
Flirting with Disaster is the third book in my Camelot series, which follows the romantic lives of Amber, Caleb, and Katie Clark – siblings from sleepy Camelot, Ohio.
Please tell us about the characters in your book
Okay, well, obviously that up there was Sean, the hero. The heroine's name is Katie, and she's moved home after her worse-than-disastrous first marriage ended in divorce. Convinced that the whole debacle was her fault, she's determined to reform her entire personality. Also, it would be nice if she could have sex. It's been a while.
Neither of these things goes well.
In addition, there's a closeted singer-songwriter named Judah, a stalker, and assorted friends and family members.
What scene did you have most fun writing? why?
This is going to sound cruel, but my favorites are the ones where Sean gets so flustered by Katie and her insistence on asking him difficult questions that dig deep into his Well of Unexplored Feelings that he starts stuttering like Elmer Fudd. This one is a particular favorite. We're in Sean's point of view, looking at a wall of his photographs and awards his mother hung up:
Looking at the shrine made his stomach ache with the memory of how heavy her expectations had felt when he was ten, eleven, twelve years old. The way she'd checked out biographies of great scientists from the library, quizzing him after he read them. The way she'd tell any stranger who expressed the smallest spark of interest that Sean had a 4.0 in school, and he was in the gifted and talented track, but really the teachers just weren't smart enough to keep him on his toes.
Thank goodness he has me, she would say with a laugh. He'd never reach his full potential on his own.
The memories sat on his shoulders, and the claws bit in so deep that he sank to the floor in the doorway, dropping Katie's jeans in a damp pile beside him.
"I had her for English, you know," Katie said, walking farther into the room to look at his middle-school science fair ribbons. "She talked about you sometimes in class. Some of the kids would get her to do it on purpose, you know, to keep from having to do any work? Because you were the one subject it was easy to distract her with. And I would think, 'How could she possibly be this clueless? She teaches high school. She has to know she's making her kid's life hell. How can she not know?'"
She turned and gave him a look full of sympathy. "Didn't she know?"
"I d-d-d-don't think sso. Sh-she wuh-wasn't completely . . . well."
Backing away from the wall, Katie examined the shrine again from a distance. "How did she get everything to line up like that? It must have been really hard."
"Yeah." He turned his face away, unwilling to look at it any longer.
"You hate it."
He nodded.
"Why don't you pack it up? Get it out of your sight?"
Rubbing his temples with his thumb and forefingers, he tried to formulate a response to that question. Nothing clever or funny occurred to him. His shoulders burned, and his throat felt swollen and stuck, a gate with rusted hinges that he had to shove the words past. "I t-t-tried." He pointed toward the far corner of the room, where a box sat empty. "I g-g-got out a b-b-box, and I c-c-c-came in here, b-b-b-but I c-c-couldn't sssseem t-t-to d-d-d—"
Sean slammed the back of his head into the doorjamb hard enough that he saw white spears at the edges of his vision. "Fuck!"
Katie crossed the room in an instant, and he knew what was coming. Her pity would be polite, full of empathy. Knowing it was coming only made him hate himself more for being weak enough to let her see him this way.
But all she said was "I'm hungry." She leaned way down, picked his palms up off the floor, and tugged, trying to pull him to his feet. "Why don't you feed me, and after that you can show me this work of genius you've constructed."
Sean was in no condition to be coaxed. He couldn't seem to lock down the churning, helpless guilt in his gut and he needed to. He had to do something to prevent the unraveling that loomed just over the horizon, because it was impossible to explain how he felt, even to himself.
Like he was coming apart.
Mike had been right. He should have stayed away. He should have asked somebody else to do this.
Sean yanked hard on Katie's hands, pulling her to her knees between his legs, and kissed her.
Who would who cast in the role of hero and heroine if your book was optioned for a movie?


Is this fantasy casting, where the people can be any age I want? Because, if so, I would cast Sean Bean, circa 20 years ago, and then for Katie, this person I found on Pinterest named Megan Ewing, who is a model and doesn't even act.
What are you currently working on? What other releases so you have planned for 2013?
I'm currently working on a book under contract with Random House, but the deal hasn't been announced yet so I don't think I'm allowed to say anything about it.
Next up in 2013, I have the final Clark family Camelot book, Making It Last, which revisits Amber and Tony Mazzara – the couple from the first Camelot book. In How To Misbehave, Amber and Tony are just meeting and getting together. Thirteen years later, they're married with three kids, and their relationship is on the rocks. It's a novel about finding your feet again in marriage, remembering how to communicate and reset priorities when your kids have pulled you away from each other and you start forgetting who you are.
Then, at the end of the year, I have the first half of a serial called Roman Holiday beginning in November. This is a fun road-trip story that begins with the heroine chaining herself to a palm tree to keep a slick Miami developer from knocking down the condos she calls home. It gets progressively zanier from there.
Where can readers get in touch with you?
I have a website (www.ruthieknox.com) where I blog twice a week with reading recommendations (Wednesdays) and a giveaway (Fridays). I also frequently post on Facebook (www.facebook.com/ruthieknox), and I'm on Twitter constantly (@ruthieknox). I'm not hard to find!
Thank you for stopping by HJ!
Thank you for having me!
Giveaway: ebook copy of Flirting with Disaster
To enter Giveaway: Please complete the Rafflecopter form and post a comment to this Q: How do you feel about geekier heroes – are you game, or do you like your heroes to hew closer to the Manliness Ideal?
About the Book
Flirting with Disaster by Ruthie Knox
Camelot series, book 3
Releases June 10, 2013
In the latest eBook original novel in Ruthie Knox's scorching-hot Camelot series, a no-strings fling looks an awful lot like falling in love—or flirting with disaster.
Fresh out of a fiasco of a marriage, Katie Clark has retreated to her hometown to start over. The new Katie is sophisticated, cavalier, and hell-bent on kicking butt at her job in her brother's security firm. But on her first assignment—digging up the truth about the stalker threatening a world-famous singer-songwriter—Katie must endure the silent treatment from a stern but sexy partner who doesn't want her help . . . or her company.
Sean Owens knows that if he opens his mouth around Katie, she'll instantly remember him as the geeky kid who sat behind her in high school. Silence is golden, but he can't keep quiet forever, not with Katie stampeding through their investigation. It's time for Sean to step up and take control of the case, and his decade-old crush. If he can break through Katie's newfound independence, they just might find they make a perfect team—on the road, on the job, and in bed.
E-book. 342 pp. ISBN: 978-0-345-54170-3.
Read more about Flirting with Disaster on Ruthie's website  |  View the Random House page for Flirting with Disaster | Shelve or find out more on Goodreads
Buy the book from Amazon (US) | Barnes & Noble | iTunes Bookstore | Amazon (UK) | Amazon (Canada) | Other buy links via Random House
About Ruthie
USA Today bestselling author Ruthie Knox writes contemporary romance that's sexy, witty, and angsty—sometimes all three at once. After training to be a British historian, she became an academic editor instead. Then she got really deeply into knitting, as one does, followed by motherhood and romance novel writing. Her debut novel, Ride with Me, is probably the only existing cross-country bicycling love story. She followed it up with About Last Night, a London-set romance whose hero has the unlikely name of Neville, and then Room at the Inn, a Christmas novella—both of which were finalists for the Romance Writers of America's RITA Award. Her four-book series about the Clark family of Camelot, Ohio, has won accolades for its fresh, funny portrayal of small-town Midwestern life. Ruthie moonlights as a mother, Tweets incessantly, and bakes a mean focaccia. She'd love to hear from you, so visit her website at www.ruthieknox.com and drop her a line.