Today it is my pleasure to Welcome author
Joanne Rock
to HJ!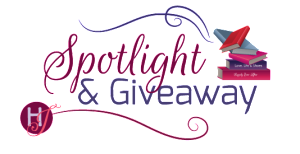 Hi Joanne and welcome to HJ! We're so excited to chat with you about your new release, For the Sake of His Heir!

Happy Valentine's Day! Thank you so much for having me back to talk about my new McNeill Magnates story! I'm wishing you all a happy, romancey kind of day :-).

Please summarize the book for the readers here: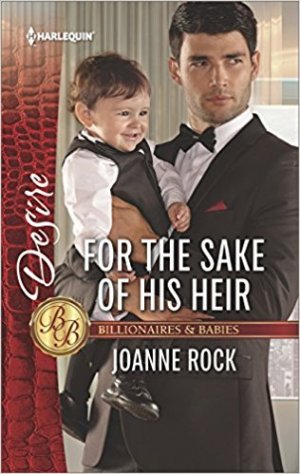 This is Gabe McNeill's story, and he's been burned by love before after his marriage to an ambitious singer fell apart. Now, he's done with romance and committed to raising his ten month old son on his own… except that his grandfather's will makes stipulations for all McNeill heirs– that they are married for at least one year. Gabe doesn't need the inheritance, but it burns him up that his son misses out on the legacy. So when his good friend– landscape designer Brianne– finds herself in a jam of her own, needing to get to NYC and a way to provide medical care to her ailing grandparent in a hurry, Gabe proposes an arrangement to help them both. A marriage would give Brianne the resources she needs while providing Gabe's son with the means to inherit. It's just good business… until it's much more!

Please share the opening lines of this book:
Brianne Hanson's crush on her boss had died a swift and brutal death when he'd walked down the aisle with another woman. And she hadn't even dreamed of resurrecting it after his extremely unhappy divorce. She would never want to be that rebound fling a man lived to regret.
Please share a few Fun facts about this book…
Brianne Hanson was born in NYC, but her grandmother shipped her off to Martinique, to be raised by a good friend, when Brianne experienced some family troubles as a pre-teen. The book opens on a beautiful resort in this lush Caribbean island.
Brianne's grandmother, Rose, is a fun character who begins a romance of her own by the end of the story.
We meet more McNeills! The series continues with a Wyoming branch of the family.
Please tell us a little about the characters in your book. As you wrote your protagonist was there anything about them that surprised you?
Brianne surprised me with her innate sweetness despite an outwardly tough exterior. She seems like she can handle anything, but there was a tenderness within that comes out in how she relates to the hero's infant son.
The hero was a fun surprise in the midst of all the McNeill men since he's more of a hands-on kind of guy. He loves woodworking and restoring old homes, and could have been content living the life of a craftsman, but as a McNeill, he feels honor-bound to help the bigger family goals. Gabe gives readers of a glimpse of the more independent minded McNeills to come in my next trilogy, when we meet the ranching branch of the family.
If your book was optioned for a movie, what scene would you use for the audition of the main characters and why?
There is a good conversation between the characters in the hot tub after a snowball fight…
The curtain of hazy snow and steam around them gave the sense that they were all alone in the world, a veil of cold mist separating them from everything but one another.
Or maybe the wine was going to her head. She felt a sweet happiness all over to be with Gabe. It was dangerous, perhaps, to feel that way. But she'd never been with a man like him, someone strong and noble, kind and warmhearted.
And so very sexy.
Her eyes dipped to the top of his chest above the water as he drained his glass and set it aside, his triceps flexing in a way that made her want to take a bite.
"I certainly didn't expect a wedding gift." He shook his head, a wry smile kicking up one side of his mouth. "We'll have to make our own rules for this marriage since the regular conventions aren't going to apply."
"Like tonight, for example." She hadn't meant to say it out loud, but there it was, floating on the cold breeze before she could take it back. Drawing a steadying breath, she explained herself. "I don't need to worry about your expectations because—"
"Because there are none." He cupped her shoulders with his hands, a warm weight that anchored her in the swirling water. "I thought we deserved this time together to get to know each other as more than friends, but I will be glad just to talk to you tonight. To learn how to make you happy."
"I know that." She wanted to close her eyes and concentrate on how his hands felt on her. To soak up all the sensations of being with him. "You never made me feel like you brought me here for more than that, but still…it's a wedding night. I can't deny I've been thinking about the possibilities of what that means."
His thumbs skated a slow circle over the tops of her shoulders, a subtle touch that set the rest of her on fire.
"I've been doing plenty of thinking of my own," he admitted. "But that doesn't mean we have to act on it."
If he kept touching her, though, the possibility of her launching across the hot tub to kiss him was very real.
"When I said I wasn't all that experienced, I didn't mean to suggest I've never been with a guy. Of course I have." Though she had kept her virginity longer than any of her friends, haunted by her stepmother's taunts long after they should have lost their power to hurt her. "I just don't feel like I ever got high marks. You know?"
"Sex shouldn't be a graded assignment." He said it with one-hundred-percent seriousness.
But she laughed anyway, because it was a strange conversation for a wedding night. "Right. I get that." She flipped a damp piece of hair out of her eyes as she warmed to the discussion. "But when I decided to lose my virginity, I think I was probably…too determined. I did some research and felt well-prepared, but in the end—epic fail." She shook her head, remembering the expression on her boyfriend's face afterward. It hadn't been blissful pleasure.
More like being shell-shocked, maybe.
"The thought of you researching to the point of being overprepared is going to animate some very good dreams for me." He never stopped touching her. His thumbs trailed down the satin straps of her bra in the back. Then in the front. Over and over. "It's my turn to be intrigued."
"I think I was studying techniques that were too advanced for a beginner." She shrugged, the water around her splashing with the movement. "But I don't like looking foolish, and I'd waited so long to give sex a try that I put a lot of pressure on myself not to make it obvious that I was a first-timer."
"What about afterward?" Gabe's knee grazed hers under the water and she didn't skitter away because it felt too good. "Didn't things get better once the first time was out of the way?"
"I wasn't keen to repeat the experiment at the time." She retrieved her wineglass and took another small sip. "But now, I think maybe I'd like to."
What do you want people to take away from reading this book?
With every story I write, I want readers to feel like they were transported for a little while! With this one, I hope they feel like they've seen a glimpse of beautiful Martinique, that they've jetted around the US to New York and Cheyenne. Mostly, I hope they feel optimistic about love and the way hard work in a relationship can pay off.
What are you currently working on? What other releases do you have planned for 2017?
I'm just diving into a new book that will be in the Texas Cattleman's Club: Bachelor Auction, but it won't be out until January of 2019. Before that, I've got four other Harlequin Desire stories:
Expecting a Scandal, Texas Cattleman's Club:Impostor, April 2018
The Forbidden Brother, McNeill Magnates, July 2018
Wild Wyoming Nights, McNeill Magnates, August 2018
One Night Scandal, McNeill Magnates, September 2018.

Thanks for blogging at HJ!
Giveaway:

I have two giveaways! For US readers, I'm giving away a copy of His Pregnant Secretary, plus His Accidental Heir and a bonus read by Anna DePaolo, Hollywood Baby Affair, plus book swag, love notes and a note book. For INTL readers, I've got a download of His Pregnant Secretary.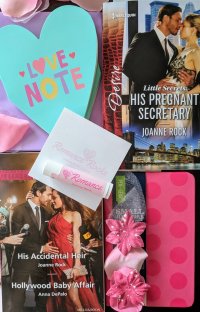 To enter Giveaway: Please complete the Rafflecopter form and Post a comment to this Q:

Did you make any valentines this year? Send out a card to a loved one or give a gift? Share with me what you do to show a loved one you care on Valentine's Day!
Excerpt from For the Sake of His Heir:
"Brianne." He slid his thumbs over the insides of her palms, stroking light circles there before he met her dark gaze again. "I want you to marry me."
*
Breathless, Brianne felt mesmerized by the man and the moment. The proposal was so ludicrous, so impossible, it was like one of those delicious dreams where she knew she was dreaming but didn't want to wake up. Because in a dream, a woman could explore forbidden things like a sexy attraction to her wealthy, gorgeous boss. In that moment between waking and sleeping, there was no harm in feeling that tingle of hot awareness down both thighs. Along the lower spine.
In her breasts.
The simple stroke of Gabe's hands had that same effect on her. But unfortunately, Brianne was not dreaming. She needed to wake up and put a stop to all this right now before things ventured into even more forbidden territory.
She needed her job, now more than ever. Too much to risk a misstep with Gabe, no matter how much she wanted to run her lips along his whisker-rough jaw and inhale the woodsy cedar scent of him.
"Very funny." She tugged her hands out from between his, tucking them between her knees. That way, she wouldn't be tempted to touch him back. "I can see where marrying your gardener would be a nice, in-your-face gesture to your megarich grandfather, but I'm sure you'll come up with something better than that."
"I'm not joking." Gabe's voice was even, his expression grave. "My back's against a wall with Malcolm's will, and a marriage is the simplest way to ensure my son's future."
In that moment, she realized he hadn't been joking. Which made the proposition all the more unsettling.
"So marry. Fine. I get it." She knew how much value he placed on giving his son every advantage in life. She admired that about him, but she couldn't possibly help him. "But you have to know I can't take part in a scheme like that. There's far too much for me to lose."
His gaze narrowed slightly. "You haven't let me outline the full extent of the plan or what you stand to gain." He seemed to shift gears, appealing to her on a business level. "Half the reason I want to do this would be for your benefit. If you help me with the marriage, I will extend to you every advantage that comes from being a McNeill in return. That means no more worrying about your grandmother or where she'll live. As my wife, you'll have access to the best doctors and round-the-clock nurse aides, if you need help caring for her."
The possibilities spun in front of her eyes, as she contemplated the way Gabe could wave the wand of his wealth and power over her life and fix things—just like that. It brought into sharp focus what he was offering.
Not just to her. To Nana.
"I couldn't marry someone for the sake of money." What kind of person did that make her? She shook her head. "It's too…bloodless. Not that I have any great romantic plans for my future, but I also never pictured myself heading to the altar for the sake of a hospital bill."
Shifting positions, she straightened in her seat and placed her feet back on the floor. No more cozy intimacies with this man. It was too risky. Too tempting.
"There are worse reasons to marry, I promise you." The dark resentment in his voice reminded Brianne of how devastating marrying for love could be. "And the reason I thought of you, Brianne, is not just because this marriage would benefit you. But also because I trust you."
Her gaze snapped up to meet his.
"Yes," he said, answering her wordless question. "It's true. This marriage would place a tremendous amount of power in a woman's hands for the next year. It also gives my wife access to my family, which means more to me than anything. I can't think of anyone else I would trust the way I trust you."
"Why?" She shook her head, not understanding. "We only just work together. I mean, we share a few laughs and things, but—"
"Two reasons. One, you're good with Jason. I see how gentle you are with him. How your eyes smile when you look at him. You can't fake that kind of warmth or enjoyment of kids."
She opened her mouth, but snapped it shut again; she wasn't sure what to say. "Everyone loves babies."
"That's not true. Not even close," he said with unmistakable bitterness. "But the second reason I trust you is this." He took her hand again and held it. Firmly. "There was a spark between us from the moment we met."
"No."
"Don't deny it. We both ignored it and that was good. That was the right thing to do." He squeezed her fingers gently and that warmth trickled through her veins again, like an injection of adrenaline. "Not many women would have ignored that spark. At the risk of being immodest, Brianne, the McNeill wealth attracts way too much feminine attention, and I haven't always done a good job of appreciating the women who wanted me for my own sake versus the ones who wanted to get close to the lifestyle our world affords."
She'd never thought about that before, but knowing what she did of human nature, she wasn't surprised, either. Had Theresa been one of those women? She didn't dare to ask; she was too overwhelmed by this shocking outpouring from Gabe.
"You, on the other hand—" he tipped up her chin to see into her eyes, and the warmth of his touch there made her mouth go dry "—you respected my marriage and my family, right through the day it all went up in flames and long afterward. That's how I know I can trust you."
"Gabe." She couldn't find the right words, was still stunned by his admission. He'd known about the attraction all along and hadn't said a word. Hadn't acted on it. "If what you're saying is true, that there is a…spark—"
"Do you doubt it?" He loomed closer.
Her heart beat faster.
"Just, let's say that there is an attraction." The word scraped her throat. "It would be playing with fire to get married and play house. I can't throw away my job—my future—for the sake of one year. I wouldn't be able to work for you anymore."
The fact that she'd tossed out an excuse rather than outright saying "hell, no" made her realize she was actually considering it in some corner of her mind. She guessed that he sensed as much since he leaned forward, a glint in his eyes that she recognized from when she'd seen him close a deal. He spotted an advantage.
"We'll have a prenuptial agreement. You can name your terms for a settlement so you don't need to concern yourself with work."
"I like my job." It was more than just a paycheck. She lived at the Birdsong. The gardens were a work in progress she hoped to develop for years to come. "I had plans to make the grounds an attraction people would visit there just to see."
"So we'll add in job security as part of the settlement." He shrugged like it was such a small concern.
The plane dipped on a patch of turbulence and her belly pitched along with it. Gabe's arm went around her shoulders automatically, steadying her.
She didn't even realize that she'd grabbed him—his thigh, to be exact—until the plane was sailing smoothly again. Releasing him, she peered up into his eyes and tried to regain her equilibrium.
The heat glittering in his gaze didn't come close to helping.
"We'd have to keep ignoring it." The words slipped from her lips before she had time to think them over, making her realize she was already mulling over how this crazy idea might work.
Excerpt. © Reprinted by permission. All rights reserved.


Book Info:
When a marriage of convenience is the only answer…things get inconvenient
Gabe McNeill is done being manipulated. By everyone from his ex-wife who abandoned him and their baby to the grandfather forcing him to remarry. Now the only way Gabe can ensure his son's inheritance is if Brianne Hanson agrees to be his bride. They've always kept things strictly business and this is no different…until she falls into his bed and all bets are off!
Book Links: Amazon | B&N | iTunes | kobo | BAM |


Meet the Author: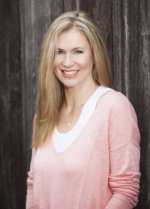 Four-time RITA nominee Joanne Rock has never met a romance sub-genre she didn't like. The author of over eighty books enjoys writing a wide range of stories, most recently focusing on sexy contemporaries and small-town family sagas.
An optimist by nature and perpetual seeker of silver linings, Joanne finds romance fits her life outlook perfectly–love is worth fighting for. A frequent speaker at regional and national writing conferences she enjoys giving back to the writing community that nurtured and inspired her early career.
She has a Masters degree in Literature from the University of Louisville but credits her fiction writing skills to her intensive study with friend and fellow author Catherine Mann. When she's not writing, Joanne enjoys travel, especially to see her favorite sports teams play and to gather new ideas.
Website | Facebook | Twitter | Instagram | GoodReads |