Today it is my pleasure to host Forever's first ever Historical Hookup!

Dashing dukes, ravishing rakes, enticing earls—Forever is bringing them all to you in our first ever Historical Hookup!
We asked Elizabeth Hoyt, Eileen Dreyer, Jennifer Delamere, Anne Barton, and Lily Dalton to tell us what their Hero's would do if they were transported to 2013, here are their answers:
"If your hero were transported to 2013, what job would he have? What would he drive? Where would he live?"
Elizabeth Hoyt, DUKE OF MIDNIGHT:
Maximus is a member of parliament so I suppose he should be a politician…but I think he'd be a high-powered CEO with a driver for the weekdays and a BMW for the weekends. He'd live in a really expensive penthouse in New York with an old family house in Nantucket that he never gets away to.
Eileen Dreyer, ONCE A RAKE:
Just like Ian, he would be a soldier. More likely, he would be some kind of special ops. And no question. Since he can, he would live in the Highlands.
Jennifer Delamere, A LADY MOST LOVELY:
Tom Poole worked his way to wealth by hard physical labor, and now he owns his own business. He's got a rough-and-tumble past, and he's been both a working man and an executive. In today's world, he'd probably be a successful building contractor out west and drive a very nice pickup truck or SUV. He'd have a home in the country and in his free time his ride of choice would be his horse.
Anne Barton, ONCE SHE WAS TEMPTED:
In 2013, Ben would make a great Navy Seal turned CEO. He'd probably drive a Jaguar F-type and commute to New York City from a huge, luxurious cabin in nestled in the woods.
Lily Dalton, NEVER DESIRE A DUKE:
If Claxton was transported to 2013, I think he'd still be involved with international diplomacy somehow. He isn't a politician, but more of an ambassador or behind the scenes kind of guy. He wouldn't want to run for office, but he'd be exactly the type of person we'd want to do so. He'd drive a new, black Chevrolet Suburban and live on a somewhat secluded property outside the city, surrounded by rolling hills and trees.
Giveaway:  

One lucky winner will win all five print books—Duke of Midnight + Once a Rake +  A Lady Most Lovely + Once She Was Tempted + Never Desire a Duke
To enter Giveaway: Please complete the Rafflecopter form and post a comment to this Q:
We had the authors answer what their hero's would be if they were transported to 2013…. So tell me If you were transported back in time Regency orVictorian, Where would you live?  What job would you have? Let the creativity loose 😉
a Rafflecopter giveaway

A LADY MOST LOVELY by Jennifer Delamere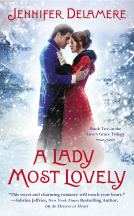 September 24, 2013; Forever/ Mass Market; $8.00; 978-1-4555-1896-8
Socialite Margaret Vaughn agrees to marry a rich man to save her family's estate, but then her fiancé turns out to be just another poor social climber. Even after amassing a fortune, Tom Poole hasn't forgotten his humble beginnings. Taken with Margaret's beauty and grace, Tom offers her financial assistance—but his interest is not strictly business. Can he convince the proper, refined lady that they despite their social differences, they are a match made in heaven?
NEVER DESIRE A DUKE by Lily Dalton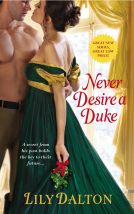 September 24, 2013; Forever/ Mass Market; $6.00; 978-1-4555-2401-3
Lady Sophia has long been estranged from her husband, the Duke of Claxton, who has never forgiven himself for the youthful mistake that ruined their marriage. After nearly a year abroad, the reformed rogue vows to win back the only woman he's ever truly loved. He'll do whatever it takes to prove he can be the honorable husband she deserves—and the passionate lover she desires. Can they rekindle the flame that burned so bright and find a new path to forever?
ONCE SHE WAS TEMPTED by Anne Barton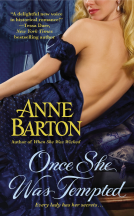 October 29, 2013; Forever/Mass Market; $8.00; 978-1-4555-1330-7
In desperate need of money for her sick mother, Daphne Honeycote had posed for two scandalous portraits. Now she must hide her secret to save the Honeycote family name. Benjamin Elliot recognizes the stunning beauty from the beauty the instant he meets her. His possession of the painting makes him an insufferable thorn in her side—and yet he may be her best chance at finding the canvas's companion. As she becomes drawn to the dark-tempered earl, can Daphne risk laying bare the secrets of her heart?
DUKE OF MIDNIGHT by Elizabeth Hoyt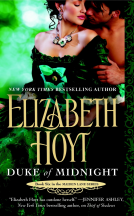 October 15, 2013; GCP/Mass Market; $8.00; 978-1-4555-0834-1
By day Maximus Batten is the Duke of Wakefield, a powerful member of Parliament. But by night he is the Ghost of St. Giles, prowling the grim alleys of St. Giles, ever on the hunt for the man who brutally murdered his parents twenty years ago. When he rescues Artemis Greaves and her cousin, the fiery young woman discovers his secret and threatens to expose Maximus unless he uses his influence to free her imprisoned brother. But blackmailing a powerful duke isn't without risks. Now that she has the tiger by the tail, can she withstand his ire—or the temptation of his embrace?
ONCE A RAKE by Eileen Dreyer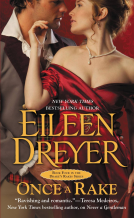 October 29, 2013; Forever/Mass Market; $8.00; 978-1-4555-1932-3
Accused of trying to kill the Duke of Wellington, Colonel Ian Ferguson is now a fugitive—from the law, the army, and the cunning assassin who hunts him. Wounded and miles from his allies, Ian finds himself at the mercy of an impoverished country wife. Lady Sarah Clarke knows she should turn him in, but a single, delirious kiss shatters her resolve…and awakens a passion that neither of them can escape.