Today it is my pleasure to Welcome romance author
Ellie Darkins
to HJ!

Hi Ellie and welcome to HJ! We're so excited to chat with you about your DEBUT release, Frozen Heart, Melting Kiss!
Tell us a about yourself and your journey to being a romance author??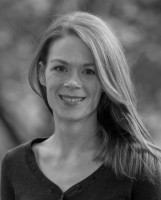 I'm a book editor and a writer, which means that I get to spend my working days immersed in the world of romantic fiction. I started writing when I was very young, about nine I think, but for years didn't have the confidence to share my work with anyone. When I heard about the National Novel Writing Month challenge in 2009 (to write 50,000 words of a novel in the month of November) I decided to give it a go. Thirty days later I hit 50,001 and was hooked!
Tell us about the 'CALL 'and how has your life changed since then?
My call story is actually more like an epic saga, or it certainly felt like that at the time! The first time I told Harlequin anything about my story was for a pitch competition. I was thrilled to be a runner up, and to hear that the editors wanted to read my partial manuscript. Then with their notes from the first three chapters I redrafted the rest of the manuscript and send it off for them to read. They liked it, but it needed work to make it fit the Harlequin Romance line, so work I did. It went back to the editors a couple of times, and each time they helped me draw out a little bit more from my characters, make the heartbreak deeper, raise the stakes, and make the emotional highs richer.
By the time it went to them for the last time, we were at the 'tweaks' stage, and my editor had emailed asking if I had a few minutes to talk. So I was quietly confident when the phone rang. And then my air of sophisticated calm flew out the window with the words 'two-book deal'!
It was the culmination of so many months of hard work, and a dream that I'd had since I was a little girl, so I'm still not sure that it's really sunk in!
If you had to summarize the book for the readers here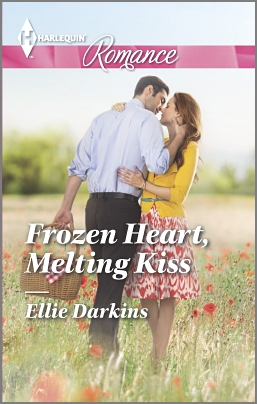 Passionate chef and cookery teacher Maya Hartney is stuck with Will, a cool-headed 'food-is-fuel' client, for a week-long one-on-one cookery course. The chemistry sparks between them from their first meeting, but Will fights it, because he's not keeping just Maya out of his heart. Memories of a painful past, grief and loss threaten to sneak through the cracks she's making, and he can never, ever allow that to happen.
Please tell us about the characters in your book?
I loved creating Maya. She's so bright and positive and full of energy, and in my mind she was always this big blur of colours and movement. But she's vulnerable too—she judges herself on how she thinks others judge her, the quality of her food, and has no idea the light that she can bring to someone's life.
Once I had Maya clear in my mind, I set about hand-crafting a partner for her, someone who would challenge and surprise her, who would help her face her vulnerabilities and find some inner strength. Someone she could come to love with no reservations.
Will's the strong, silent type, but there are layers to his silence, and the pain it conceals. It was the biggest challenge, and biggest pleasure, of the book to find the extent of his anguish, and for him and Maya to talk and trust until they could move past it.
What scene did you have most enjoy writing? why?
There's a scene early on with a kitchen disaster that leads to the first proper physical contact between Will and Maya. Each time I revisited the scene, I tried to put in a little more pull between them, a little more sizzle, tried to drag out the anticipation that little bit longer. By the time I was finished I wanted to clap my hands I was so happy (and also bang Will and Maya's heads together in frustration—just KISS already!).
Here's a little taster:
She looked up at him and forgot everything she had told herself about not letting him close. Lost every self-protective instinct she had nurtured since stepping into his office. He just walked straight through every barrier she'd erected, every promise she'd made to herself since they'd met. Instead of getting away, she wondered how she'd not noticed before how tall he was—another inch closer and he'd be able to rest his chin on her head—and explored the structure of his face from this new, sharper angle.

His eyes didn't leave her face, though they darted between her eyes and her mouth as he reached across and turned off the tap. His forehead wrinkled and his eyes were serious as he wrapped gauze around her finger, applying pressure as he pulled her hand between them, and then reached for a paper towel. He scrutinised the cut, watching the red beads bloom from her skin, and then clamped the gauze down. Maya gave a little gasp of discomfort.
What scene was the hardest to write? Why?
Without a doubt this was the black moment—that point in the story when all has been going well, and then suddenly it isn't. The characters' worst fears come true, and hearts break. I put off writing and editing this scene as long as I could, as I just didn't want to experience the depths of despair I knew I was going to have to put these two through. It was only knowing that they would get their HEA eventually (and that they would be so much happier after I'd done it) that got me through.
Here's a little of what they had to suffer:
'But you're going?' She forced the words out. The case by the door told her everything that she needed to know.

'I have to.'

She opened her mouth to protest, but couldn't find words as she realised that he was going to break her. It was so much worse than she had imagined it would be. She had let him into her heart and now he would tear his way out. It burnt like acid, radiating from her chest to every atom of her body. She couldn't have spoken even if she'd been able to think; she choked on her grief.

If you could have given your characters one piece of advice before the opening pages of the book, what would it be and why?

Just TALK to each other! Ultimately this story is about learning to open up and trust one another. If they'd been able to speak honestly in the first scene, they could have saved each other a whole load of heartache.
Who would you cast in the role of your characters if your book was optioned for a movie?
Maya's a tricky one. She needs someone bright and quirky to capture her energy and joie de vivre, and I have such a clear picture of her in my mind it's hard to make anyone else fit. I think Emma Stone is the closest I could get.
For Will my mood and inspiration boards are all dark and brooding: In my head he looks a lot like Matt Bomer.
What are you currently working on? What other releases so you have planned for 2014?
At the moment I'm doing edits on my second Harlequin Romance. It involves a one-night stand, a beach in Dorset and a HUGE surprise for my hero and heroine (and, of course, plenty of kissing)! It'll be out in the first half of next year. After that, I'll be trying to sort through all the story ideas currently fighting for my attention!
Thanks for blogging at HJ!
Giveaway:

Three print copies of FROZEN HEART, MELTING KISS are available for readers in the US, UK, and Canada.
To enter Giveaway: Please complete the Rafflecopter form and Post a comment to this Q:

Maya and Will are thrown together because of her love of food, and Will's need for a chef. What's the most romantic meal you've ever shared?
Excerpt:
Finally Maya came to the door. Back in the office he hadn't let himself really notice her appearance. But there it had been easier to stop himself, to pull his eyes back to his smartphone or the safe grey of the walls. Now he truly opened his eyes to appreciate her. The first thing he noticed, of course, were the colours. She was wearing all of them. He was far from an expert in these things, but was it normal to wear orange and pink together? Did one normally add yellow to that mix?

There was more to see than colour, though. His eyes followed the curves of her body, noticing the way her skirt spilt over her generous hips, swinging gently as she shifted her weight to one leg and waited for his gaze to reach her eyes. He knew that he should be looking away, shouldn't be indulging himself, allowing his guard to slip. But she fascinated him. Her very presence brought light and heat and energy. And, as much as he wanted those sensations gone, he couldn't help but pander to his curiosity.

When his gaze reached her face she raised an eyebrow. His appraisal hadn't gone unnoticed. And it seemed that the attention was not appreciated. Good. He dragged his mind back to his work , back to Julia House. This was business and nothing else. There was no way that he could let Cuthbert pull his project. He had given his word that he would secure funding without fail, and if that meant persuading an errant chef to get back onside, regardless of the unsettling effect that she had on him, then that was what he would do.

He firmed his stance and squared his shoulders. He would make this right.

Maya opened the door wide, and as soon as she clocked him her face dropped into a scowl. Her hands rested on her hips, one of them wrapped tight around a wooden spoon. She was not expecting his visit, and he wasn't a welcome surprise. Well, good. He wasn't exactly thrilled to be here either.

Will braced himself. He had the horrible feeling that this was going to get messy. And he didn't do messy. Ever. He did cold and rational and detached, and he did it better than anyone else in the city.
Author Bio
Ellie Darkins spent her formative years as a committed bookworm devouring romance novels. After completing her English degree (which had Mills & Boon on the syllabus!) she decided to make a living from her love of books. As a writer and freelance editor her work now entails dreaming up romantic proposals, hot dates with alpha males and trips to the past with dashing heroes. When she's not working she can usually be found manning the desk or sampling the coffee at her local library, or out for a run – listening to an audiobook, of course.
http://elliedarkins.blogspot.co.uk | https://www.facebook.com/EllieDarkins | http://twitter.com/EllieDarkins