Today it is my pleasure to Welcome romance author
C.J. Carmichael
to HJ!

Hi CJ, welcome 🙂
What would you say is your motto or maxim as a writer?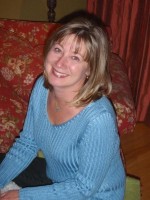 I like to ask myself, "Is this interesting? Is it heartfelt?" That's the way I know I'm moving in the right direction.
Would you rather… visit the world 100 years into the past or 100 years into the future? Why?
Oh, I would go back because I'm afraid to go forward. Though I think of myself as an optimistic person, I'm actually terrified that in the future, either the human race will have consumed itself into extinction or we'll be taking orders from a computer.
Let's talk about your newest release: Good Together
If you had to summarize the book for the readers here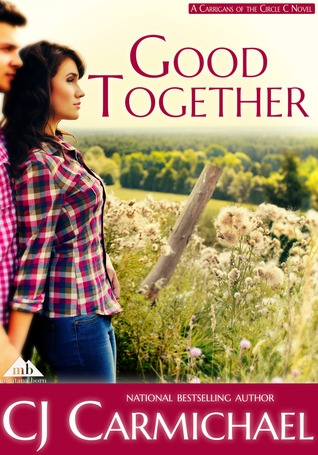 Good Together is not only a love story. It's also a falling-out-of-love story. I wrote this for women who've lived through divorce and heartbreak–so they can believe that love and happiness are never out of reach.
Please tell us about the characters in your book?
Mattie Carrigan was born on a ranch and has happily helped run her husband's horse breeding operation–plus raised their twin daughters–for the past nineteen years. When she realizes her marriage is falling apart, she has to dig deep to fight for the things she really cares about.
Lots of my readers have told me how much they love Nat Diamond. For me, he was the hero I wish every woman going through a divorce could have.
As you wrote your protagonist was there anything about them that surprised you?
It's a little thing, but I was surprised to find out that Mattie almost never drinks alcohol. I enjoy a nice glass of wine and had never had a character turn out this way before. It turned out to have it's uses in a few scenes, however, so I was glad she'd convinced me that she didn't drink.
What scene did you most enjoy writing? Why?
I loved so many scenes in this book. Truly it was one of the most enjoyable books I've ever written. But I still smile when I think of the scene I wrote about Mattie having a really bad week. She sort of locks herself in her house and goes crazy. When her neighbor Nat comes to check on her, here is their exchange:
Mattie: "I'm not fit for company. If you really want to help, I could use some tea and a few boxes of tissues."
"Tea?"
She could hear Nat chuckling. Damn him for finding that amusing.
"I hope you haven't been drinking it black. You aren't that far gone, are you?"
"Damn it, Nat. You're annoying."
What scene was the hardest to write? Why?
I found it hard writing the scenes from Mattie daughter Portia's point-of-view. Portia is in her first year of college–far from home and feeling unsure of herself. And then she has to deal with her parents' marriage falling apart. I felt so badly for Portia, it sort of broke my heart writing these scenes.
Who would you cast in the role of your characters if your book was optioned for a movie?
Ah–this is always fun.
I'll have Patrick Dempsey for Nat, please. And Shania Twain for Mattie.
If you could have given your characters one piece of advice before the opening pages of the book, what would it be and why?
I would have warned Mattie that when men are cornered, they act in bad and unpredictable ways.
What are you currently working on? What other releases so you have planned for 2014?
The next book in the Carrigans of the Circle C novels will be Dani Carrigan's. She's the one who went to college and now lives in Seattle where she's a professor of psychology at the University of Washington. In Close to Her Heart, Dani's going to have to deal with some tough issues when she finds out she's pregnant. (This will be released summer/fall of 2014)
I'm also working on a follow up story for a multi-author series called Frost Family & Friends. My book, More Than A Feeling, will be available this March.
Thanks for blogging at HJ!
Giveaway:

An autographed copy of Jane Porter's The Good Daughter, plus a selection of yummy teas. (Cause we all know Mattie loves her tea!)

– offer good for USA and Canada
To enter Giveaway: Please complete the Rafflecopter form and Post a comment to this Q:

In Good Together Wes Bishop–as the spouse who wants to leave the marriage–often does things that seem callous and selfish. Why do you think people who once loved each other, often behave badly at the end of a relationship?
Excerpt
The smell of burnt toast and eggs greeted Mattie as she replaced her boots with a pair of gray canvas slip-ons. After washing up at the stainless steel sink in the mud-room, she headed for the kitchen. Wes was at the island, his head bent over his I-pad as he finished up his breakfast with a cup of coffee.
"Hey. How are things out there?"
Since he hadn't stood to give her a hug, she wrapped her arms around his neck and laid her cheek on the top of his head. Her husband was a small-framed man, but solid muscle. "Want to come out with me when you're finished that coffee? We've got a couple horses that could use some work this morning."
His answer was a sigh. "I'm pretty sore after the weekend." His gaze dropped back to the I-pad which had gone dark. "Not that I have anything to show for my aches and bruises."
"Bad draws?" She had years of practice at saying the right, sympathetic thing. The score in the rodeo ring was only fifty-percent under the cowboy's control. The bulls were assigned by random draws—and not all of them were star performers.
"I guess."
She rinsed out the cup she'd taken with her to the barn, then refilled it. Still lots left in the pot. Both girls had become coffee drinkers after they turned sixteen and were allowed to drink the beverage at home. Mattie no longer needed to make a full pot every morning. But it was one of those habits that was tough to break.
Like cooking too much food and checking the girls' rooms for dirty clothes when it was time to do laundry. And waiting for them to come through the back door after the school bus drove by…
She leaned her back against the counter, sipping the hot coffee and eyeing her husband. He was looking at the I-pad again, as if her presence was nothing but an interruption. That was when she noticed the key was no longer on the counter.
"I found a key on the floor by your jacket this morning."
Wes nodded, head still lowered. "Yeah. Thanks."
"So…what's it for?"
Wes hesitated a moment before answering. He seemed annoyed that she felt it necessary to ask the question and he answered with exaggerated patience. "I crashed with the Wilkinson's this weekend. Peter gave me a key to their guest cabin and I forgot to return it. I'll put it in the mail later today."
A wild impulse rose in her—a desire to take his silly I-Pad and toss it into the garbage. What was he reading on there that was so damn fascinating? After four days apart, was it so unreasonable of her to expect to have a proper conversation with her husband?
Mattie willed herself to be calm. She'd try again, bring up another subject.
"Jake wondered if you'd bought any yearlings?"
"Why would I do that?"
She raised her eyebrows. There was no point telling him they only had twenty-two horses in their stables right now. Wes was gone a lot, but he still made all the business decisions around here—and paid the bills. He was aware that last year they'd barely broken even. And without new clients or horses, they'd be lucky to do as well this year.
"What's going on, Wes?" she asked softly.
He grabbed onto his mug with both of his tough, sun-darkened hands and gazed down into it, his posture sagging with a sort of sadness Mattie had never seen in him before.
"Why won't you look at me?"
He did raise his head then, but only briefly. Getting up from the stool, he went to the far window. The house had been designed open concept with a seamless transition between kitchen and family area. A river-rock fireplace with a heavy walnut mantel grounded the south end of the room. Large paneled windows to the west and north looked out to the pastures and Flathead Lake in the distance.
Mattie set down her mug next to her husband's and went to stand beside him. She'd lived with this view for nineteen years, but never took it for granted. From here you could see almost all of their land. And it was beautiful.
Wes shifted, putting an extra foot between them. "Mattie–I've been thinking it's time to sell."
"What?" This was something they'd never discussed. She wouldn't even have considered it an option. "But—this land is…" She couldn't find the words to go on. She'd been raised to consider land the most important and valuable thing in the world. Her father's ties to the Circle C were blood and marrow deep. And, being married to Wes, she'd come to feel the same way about Bishop Stables, too.
"I'm getting too old to rodeo, but I'm not interested in breeding and training Tennessee Walkers. That was Mom and Dad's thing. Not mine."
She wasn't surprised that he was making this admission. She'd suspected as much for years. "But—what about the girls?" This land was their heritage, their birthright. But then an ugly suspicion rose up in her. Unlike her father who had made no secret of his disappointment in fathering four daughters, Wes had never seemed to care that they had no sons. After the twins were born he'd agreed with her that their family was complete. "Would you be saying this if we had a son?"
"Of course, not. Hell, Mattie, that's not what this is about."
She was relieved to hear that. But only for a second. She was beginning to see that he'd been thinking about this a long time, and by the firm set of his jaw, he'd already made up his mind.
Without any discussion with her.
This was not how their marriage worked. At least, up until now it wasn't.
"But, how will we earn our living? We have four years of college to pay for."
"Only because you pushed the girls to go. I still don't know why. Neither of us went—and we did just fine."
The further education of their daughters had been a no-brainer to her. With Wren, it hadn't been an issue, she'd been excited to go, had already picked out a program at the University of Colorado. Portia, however, had required some persuading.
Mattie had been shocked when Wes sided with Portia, and they had argued privately for over a week. "Let her learn a trade, instead," Wes had said. "She could be a hairdresser or work in one of those nails places. I see them everywhere I go."
Finally he'd backed down and gone silent on the subject, leaving her to persuade her lovely, less academic daughter that secondary education these days was a must.
But all of this had taken place a year ago. She wasn't going to let him pull her back into that argument now.
"Even if the girls could fund college on their own—what about us? How will we support ourselves, not to mention save for our retirement? It's not like we have a big nest egg set aside." Making payments to registered plans had never seemed important. After all, they weren't yet forty.
"The proceeds from the ranch will be enough to take care of the girls." Wes hesitated. "And you."
Mattie stared at him. Finally he was looking at her, too, and his eyes didn't look like Wes's anymore. They were cold and distant as a stranger's.
Understanding hit her like a bullet. She gasped, felt a physical pain explode in her gut. This must be what it's like to die. You're living your life—and suddenly you aren't.
When he didn't say anything, she was forced to put words to the awful thing.
"You want to sell the ranch. A-and you want to leave me."
He moved restlessly from the window, to the sofa, where he straightened a cushion before shifting to the fireplace. Resting one hand on the walnut mantel, he turned back to look at her. "Yeah."
Mattie clasped her arms around her torso, feeling a wintery chill, and also, a sense that this simply couldn't be happening.
It was only last Christmas that she and Wes had sat in this very room talking about their future, once the twins were off to college. One more year of rodeoing, he'd promised her, and then he'd have more time to dedicate to the ranch and more time for her. Maybe they'd take a few trips—see a bit of the world outside the continental U.S.
Was he going through some sort of mid-aged crisis?
"Is this about Dex's accident this spring?"
In May a cowboy had been killed in the rodeo ring in Texas. Dex Cooper had been a bull-rider, competing in the same event as Wes. Mattie had found out about the death on-line, when she was checking for her husband's scores. A video of the accident had even been posted on You-Tube, but she hadn't watched. It appalled her that people filmed these things—and then, rather than deleting them, actually put them on the Internet for other people to view.
Who were these other people who got such thrills out of tragedy?
Reading about the incident had been horrible enough. It was her worst nightmare, of course, that Wes would be mauled by a bull and be terribly injured—or worse.
The fact that it had happened to some other woman's husband this time, didn't make it easier to bear.
But what troubled her even more, was that Wes hadn't called to tell her what had happened. She'd assumed he hadn't wanted to frighten her. But in the past, he'd shared everything with her. The good. And the tough.
When he came home, she could tell the accident had affected him deeply. How could it not? But even then he refused to talk about it, leaving the room if she so much as mentioned Dex Cooper.
That was when Wes's rodeo scores had started dropping.
It was so obvious now, Mattie couldn't believe she hadn't made the connection earlier.
"Dex's death is part of it," Wes agreed. "You know I was planning to quit next year anyway. But that kind of cinched matters for me. And I started wondering what it was all for, anyway. All those years in the rodeo ring. Sure I won some belt buckles and made some money. But for what?"
Finally he was being honest. But why had he waited until it was too late?
"You rodeoed, because you loved it. And the money you earned helped us raise our daughters."
Unconvinced, Wes glanced over the pictures on the mantel. His parents and hers. Their daughters. Their wedding photo. God, they'd been young.
"I understand why you're quitting the rodeo. It's time." Few men continued to compete in their thirties, and even less once they hit forty. "But why sell the ranch? Seems to me that it's the perfect time to be expanding—not getting out."
Wes rubbed his face and sighed. "You don't get it. I'm done, Mat. I'm just…done."
How dared he say that? "What about the rest of us? I'm not done. I love this ranch and I've worked harder at it than anyone. And what about Portia and Wren? If we sell, where are they going to go for Christmas and the summer break? This is their home."
"You don't get it, Mat. You think the girls are going to keep coming back here all the time—well they won't. They'll get a job in the city and they'll meet a guy and we'll be lucky if they visit one week out of the year."
Maybe. Eventually. But there were a lot of years to go before that day. "Aren't you rushing things a little?"
"The twins are eighteen. How much time did you spend going back to the Circle C once you were that age?"
Heat flared over her. "That's not a fair comparison. Those were different days. And Hawksley wasn't the kind of father that you are." Her father had been disapproving and distant—always. He'd never given any sign that he cared whether his daughters came to visit or not. The only ties Mattie felt to the Circle C were to her sisters. The four of them, despite the gaps in their ages—were very close.
"Parents have to step back when their kids are grown. That's just how it is."
He'd never talked like this before. "Our roles change," she agreed, talking slowly, trying to figure out who this man was. She'd always felt that their parenting styles blended perfectly. But looking back now she could see that Wes had connected better with the girls when they were younger. Their adolescent stage had confused him. And maybe he'd pulled back more than she'd realized. "But they still need us."
"Portia and Wren haven't needed me since I taught them to drive."
"Why are you being so literal? You know being part of a family is more than doing jobs for one another. Family provides our emotional bedrock. None of us ever grow out of the need to be loved."
"And I'll never stop loving them," Wes said, his voice subdued once more.
The implication of his words hit her with another ferocious stab of pain.
He'd never stop loving their daughters.
But he had stopped loving her.
Book Info:
Good Together
Book One of the Carrigans of the Circle C series
Mattie's the eldest of Marietta's Carrigan girls. She married rodeo cowboy, Wes, right out of high school and raised twin daughters. But now, in her late thirties, Mattie's wondering who she is: the girls are grown and have flown the nest, and she and Wes feel like strangers. The life she's known is starting to fall apart.
She can't even count on her gorgeous neighbour, Nathaniel, any more. Diamond by name, diamond by nature, Nat was always there for her before, to help put things back together on the ranch. But he's suddenly started avoiding her. Is there something that he needs to tell her?
Book Links:
Author Bio
National bestseller, CJ Carmichael, has published over 35 novels and has twice been nominated for a RITA award. She likes to write stories about romance, family and intrigue, usually in small town or rural settings. She's currently working on the next book in "The Carrigans of the Circle C" trilogy for Tule Publishing, as well the next "Frost Family & Friends" cozy mystery/romance for a multi-author series set in Carol Falls, Vermont.
When it's time to take a break from the computer, she heads to the Rocky Mountains near her home in Calgary where she lives with her partner Michael. She also spends a lot of time in Montana where she and Michael have a cabin on Flathead Lake.
Website | Facebook | Twitter |