Today it is my pleasure to welcome bestselling author Jane Porter to HJ
If you gave one of your characters an opportunity to speak for themselves, what would they say about you?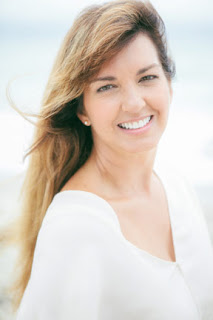 I think it would probably be Sarah Brennan from my new release, The Good Wife, who'd speak up. She's a tough cookie and I put her and her professional ballplayer husband through the wringer! She'd probably yell and scream, calling me a tyrant and a perfectionist for tearing her story apart one too many times to count and for putting her through the heartache! But my Sarah's a soft cookie on the inside and once she vents, she'll probably thank me for giving her and Boone their happy ending and a stronger marriage!
In your opinion, what ingredients are needed to make up a good love story?
Passion, strong emotion, character chemistry and a happily ever after.
Tell us a little about your process. Do you start with an idea? A character? What is the easiest part of writing for you? What's the hardest?
I write every day, at my desk from 9am to 5pm, sometimes maybe a bit longer. When I start a new story, I usually stick to week days but as it gets closer to the deadline, it's seven days a week until the book is done.
I wouldn't necessarily say I have a firm idea when I sit down to write. Sometimes it's just a germ of an idea, sparked by a conversation or a fleeting news headline, or something I heard on the radio or TV. An idea for one novel often gives life to another. A couple of my novels were inspired by an event or a conversation in my life which led to an "aha moment!", a moment where I realized my situation or emotion was universal, that I wasn't the only woman to feel a certain way, or experience that conflict as a woman, mother, wife, sister. I find our lives as women fascinating. We lead such complex and challenging lives, with equally challenging demands. It's a true juggling act, and at times we sacrifice what we want and need to make others happy, or successful, and then there are times when we must learn to put ourselves first. And these are the themes in my novels, because they are the themes of our lives.
The easiest part of writing is that I get to create a world with people and loves and lives that readers love, too. I'm a magician and a storyteller and I believe in the magic of story-telling. We need stories for entertainment, but also, for meaning. Stories can heal hearts and offer hope. I love that. The hardest part of writing for me is the isolation. To write a book, you have to spend a lot of time alone. I can't write well with distractions so it's tough pushing the kids and family away so I can have quiet and concentrate. I've also found that my books now need more time, not less, so that adds to the guilt that I'm always walking away from everyone to work. Fortunately, my family is proud of me, and very supportive. They understand that yes, writing is how I pay my bills, but it's also my passion.
One book you read in the last 6 months that has left a lasting impression and why?
This is a tough one because there are a few that I've read and loved. Joanna Bourne's The Black Hawk. I enjoyed this book because the author has an unequaled talent for writing richly detailed, compelling stories with unforgettable characters and strong themes. It was thoroughly entertaining! I also love to read books by Mary Balogh. I love everything she writes.
Let's talk about your newest release: The Good Wife
If you had to summarize The Good Wife for the readers here ….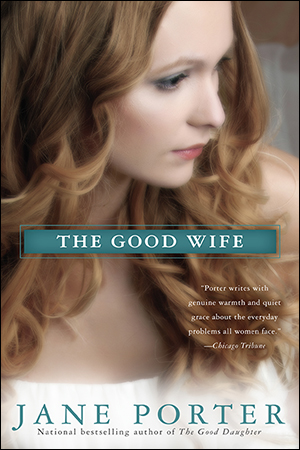 The Good Wife is the third book in the Brennan Sisters series and my favorite by far. I love Sarah. When I wrote the first two books, The Good Woman and The Good Daughter, Sarah was the difficult sister and she carried a lot of relationship baggage. But with each chapter I wrote, I fell in love with her relationship with Boone. Here's the blurb for the story:
Is it possible to love someone too much?
Always considered the beauty of the family, the youngest Brennan sister, Sarah, remains deeply in love with her husband of ten years. Boone Walker, a professional baseball player, travels almost year-round while Sarah stays home and cares for their two children. Her love for her husband is bottomless—so much so that her sisters say it will end up hurting her.
Living apart most of the time makes life difficult, especially since Sarah often wonders whether Boone is sharing his bed with other women on the road, even though he swears he's been true to her since his infidelity three years ago. While she wants to be happy and move forward in her life, Sarah constantly fears that Boone will break his promise. Now with Boone facing yet another career change, tension rises between the two, adding more stress to an already turbulent marriage. Emotionally exhausted, Sarah can't cope with yet another storm. Now, she must either break free from the past and forgive Boone completely, or leave him behind and start anew…
Please tell us about the characters in your book
Boone and Sarah have a very passionate, stormy marriage and they both struggle to keep it from ripping apart. Boone is everything she's ever wanted and loves him deeply. Sarah is a beauty. She's strong and loyal and devoted to her family but her inability to forgive her husband for a mistake he made some years ago, and trust him again is slowly destroying their marriage, and her. Because the lack of trust, and the fear, is eating her alive.
Boone fell for Sarah in an instant loves her madly but his career puts a lot of pressure on their relationship and with another career change imminent, he's not sure their marriage can survive another hurdle.
What scene did you have most fun writing? why?
One of the scenes I really enjoyed writing most was in the Café when Boone tells Lauren that Chris wants her to call him. I hadn't expected Chris and Lauren to take up any real estate in my heart but honestly, the idea of Chris sprouted in my head, I knew there would a strong spark of chemistry between him and Lauren. It was just so much fun, as a writer, to bring these two together through Boone!
"Did you have fun last night?" Boone asked, taking his favorite seat at the counter.
"I did," Lauren said, bringing him his coffee. "You put on quite a show, with that second homerun in the 9th. Had the fans going crazy."
"I got the right pitch at the right time."
Bette walked past, tapped the chair next to Boon with a menu. "You like playing the hero card, don't you?"
"Now I don't know about that," Boone answered, but he was smiling. He was enjoying himself, enjoying the attention. "Everybody was hitting last night."
"That maybe so," Phyllis said, jumping in on the conversation. "But your two homeruns put a lot of those runs on the board."
Boone shook his head. "I just did what I'm paid to do. Hit the ball."
"And how you hit it. Clear out of the park." Bette sighed, dreamy, reliving the moment. "Now that's baseball."
Boone grinned. "Good thing I didn't strike out in the 9th last night, would hate to think what my reception would have been like this morning."
Phyllis waved her hand at him. "Aw, sugar, don't you fret, you would have been fine. Some of us don't care if you play baseball. We just like looking at you 'cause you're handsome." She gave him a naughty smile, and a come hither glance before sashaying away.
"Everyone loves you," Lauren said, struggling not to giggle. "Young ones…old ones…but something tells me, the old ones are the worst."
"The old ones certainly aren't shy about their feelings," he agreed. "But they're often pretty dang funny, and usually very sweet. It's the young ones you have to worry about. They throw themselves at you, and they don't want chit chat or an autograph. They're pretty hard core."
After last night's game, Lauren could see that, and she thought of Boone's wife, at home with the kids.
It couldn't be easy being married to a professional athlete. You'd have to be strong, and confident about your marriage. Good thing Boone was a devoted husband.
Later, when Boone reached for his wallet, Lauren refused. "Today's on me," she said. "My treat for taking care of us last night."
"Want to go tonight?" he asked, sliding from his seat and rising. "It's going to be another beautiful night and another good game. I can put you girls on the list again."
"Karen has to work, and I've got to place orders and do payroll."
"You can come late. I'll make sure they put you in the family section. The wives and girlfriends are all really nice—"
"I appreciate that, but let's leave that section to the wives and girlfriends. They might tolerate outsiders, but I'm sure they don't really want strange women there."
He slid a folded ten dollar bill beneath the edge of his plate. "Chris wants you there, though."
"Who?"
"Chris Steir." He saw her blank look. "Bats right before me. Centerfield. Number seven. Girls think he's pretty good looking."
Lauren wrinkled her nose. "Yuck. No thank you."
Boone's deep laugh rumbled in his chest. "What do you mean, yuck? No thank you?"
"I'm not into that scene. It's not for me."
"What scene?"
"Baseball groupie…being one of those girls that chase players." She saw his expression and hurriedly added. "You're a friend, and I like you, but I'm sorry. I couldn't ever date a baseball player."
"Why don't you like baseball players?"
"I think they're arrogant and spoiled and self-centered—"
"How do you really feel, Lauren?"
She laughed, and blushed. "You did ask."
"I did, and yes, there are players that can be total dicks, but there are nice men in this world, and nice baseball players."
"Perhaps."
"So…you might come tonight?"
"No."
"Chris is going to be crushed."
"Yeah, I bet."
"He wants to meet you."
She rolled her eyes. "Sure he does."
"I'm serious." Boone reached into his pocket and fished out a folded piece of paper. "He wanted me to give this to you."
Lauren took the slip of paper from Boone and opened it. Call me, it said. And underneath the scrawl, was a phone number, and the name Chris.
Lauren looked up at Boone, eyebrows arching higher, incredulous. "This is a joke."
"No."
"He wants me to call him?"
"He likes you."
"He doesn't even know me." She wrinkled her nose. "And where's my name, hmmm?" She waved the slip of paper. "This could be for anyone. He could have a hundred of this all photocopied and ready to go. One for you, little lady, and one for you!"
Boone laughed. "Chris isn't like that."
"How do you know? You've only been with the team what…two weeks? Three?"
"Three."
"Well, I've never met him, but I can tell you, he's not for me." Lauren crumpled the paper and dropped it in Boone's water glass.
Boone grinned. "Should I let him know that you weren't impressed?"
"Tell him—politely—no thank you."
"He really is a good guy—"
"No. Not even remotely interested. But I do hope you'll have a great game."
Who would who cast in the role of hero and Heroine if your book was optioned for a movie?
Fun question! I love making story boards for my books. I used to do it on a bulletin board in my office but now that we have Pinterest, I love making several boards for inspiration. Here's my inspiration board at Pinterest for The Good Wife. http://pinterest.com/thejaneporter/the-good-wife/. When I wrote the story, I was thinking of –
Sam Worthington as Boone Walker
Cat Deeley as Sarah Brennan Walker
Chris Hemsworth as Chris Steir
What are you currently working on? What other releases so you have planned for 2013?
I have a novella scheduled for this Fall with Montana Born Books from Tule Publishing. It's a contemporary romance set in a town called Marietta, Montana and is part of the Copper Mountain Rodeo series. It's the story about Jenny Wright and Colton Thorpe, two kids who grew up in the same neighborhood and left home to pursue their separate goals and dreams. Now they're both back home and Colton makes it very clear his next goal is Jenny Wright and he won't take no for an answer! It's a fun, delicious story and I hope my readers will enjoy it.
As for what I'm working on right now, it's a single title romance about a ranching family, for Montana Born Books, and the first book in the Shanahan Brothers series about rugged, gorgeous cowboys. For those of you who've read y Harlequins, you may remember the Shanahan brothers briefly from Hollywood Husband, Contract Bride. I'm loving every minute of writing and working on this project!
Where can readers get in touch with you?
I love hearing from readers by email (jane@janeporter.com), on my blog (www.janeporter.com/janeblog), on Facebook (https://www.facebook.com/authorjaneporter) or find me on Twitter – @authorjanep.
Thank You for Stopping by HJ!
Giveaway:

signed copy of The Good Wife + $5 Starbucks GC
To enter Giveaway: Please complete the Rafflecopter form and post a comment to this Q:
Could you forgive your partner if they cheated on you or Would Infidelity be a point of no return in your relationship? Why?
Excerpt:
Tampa Bay ended the series with a win, sweeping the Yankees at home. Boone got a home run in the bottom of the 8th that helped Tampa Bay win Sunday's game, and Sarah was so happy to be there in person, to see him round the bases, and then step across home plate. It was just like her early days with Boone, back when it had just been the two of them, dating, and then married and newlyweds.
Sarah hummed as she drove the kids home after the game, feeling good, better than she had in a long time. This is what she needed. Time with her kids, time with Boone, just being a family. She wouldn't think about Boone leaving Tuesday morning either, for a ten day road trip, the first of the season. It was only Sunday night. She still had all of tomorrow.
At home while Brennan and Ella ate their dinner—grilled chicken, broccoli and fresh fruit cups—Sarah took the marinating steaks from the refrigerator and turned the broiler on. She'd prepared the twice baked potatoes before she left for the park, and those were ready to be warmed. Boone loved a big steak after a game, and tonight had been a great game, a big game, especially as contract discussions would begin in another month or so. Everyone had thought he'd be finished with ball by now, but if he continued to hit the way he did today, he could easily play another year. Maybe longer.
He definitely made good money playing ball, and it was still exciting to see him at bat. Boone was gorgeous naked, but there was something undeniably thrilling about him in his team uniform. The shape of his quads, his little butt, the bulge of bicep beneath his jersey. He was tall, big, muscular and he had a huge swing. When he connected with the ball tonight in the 8th inning, he cracked it. You knew just by the sound of it, that it'd be a huge hit, and as the fans surged to their feet, Sarah jumped up, too, holding her breath as her eyes glued to the ball, watching it sail high, out towards centerfield, and then over the fence.
Gone.
The fans erupted into wild cheering and Sarah applauded with them, feeling like that young bride who'd never missed a game, either at home, or away, as when Boone traveled, watched every game on TV, or when that wasn't possible, listened to it on the radio. Boone always called her after each game, too, and back then, they'd talk for hours at night, he in his hotel room, ordering burgers or steaks from room service, and she curled up somewhere comfortable, eager to hear every detail.
She knew all the dirt on the players, too, from who was hitting well, to who was hooking up with groupies. Amused by her questions and endless curiosity, Boone told her virtually everything, which turned out to be too much.
She didn't actually want to know that so many players were players. She didn't want to hear her husband excuse the cheaters and liars behavior, saying it was hard to judge them when they were living in hotel rooms for six months of every year. "How can you defend men who'd knowingly, willingly, hurt their women?"
"You're getting yourself all riled up," he'd say, drawing her onto his lap, and kissing her. "I shouldn't have told you anything."
No, he shouldn't have. Because it just made it all that much worse when she found out he was one of them.
"What's wrong, babe?" Boone asked now, entering the kitchen, and dropping a kiss on her head, dressed once again in the jeans and t-shirt he'd worn to the park earlier this afternoon.
She flashed him a smile as she gave the sautéing mushrooms a stir, hiding her conflicted feelings. Talking about the affair never helped. Boone would just get quiet, and then she'd shut down, and then the tension would be back, as well as isolation. And she didn't want that tonight, didn't want to feel distant or lonely, not when she loved him so much.
Boone came up behind her, standing close, settling his hands on her hips. He peeked over her shoulder and into the small sauce pan, sniffing the butter, wine and garlic. "Smells amazing. I'm starving."
She could feel him, and he was hard. "We'll eat in fifteen minutes or so," she said, sucking in a breath as he rocked against her, making her aware that he wanted her.
"Where are the kids?" he asked, dropping his head to kiss the side of her neck.
Her legs went weak and she caught the edge of the stove for support. "In bed, but hoping to see you." She sounded breathless, and he knew it.
He ran his hand along the outside of her hip, and then over to her belly, his palm flat against her tummy, even as he pressed from behind. "It's good to have you home," he said, moving her long hair away so his lips could travel down her nape, sending shivers of pleasure through her.
"I'm going to burn dinner," she whispered, her mouth drying as he slid his hand up her torso to cup her breast, her nipple tightening, body aching.
"If the kids were asleep I'd take you right here," he said, his teeth scraping her skin, fingers kneading her breast, working her nipple so that she felt close maddeningly aroused.
He knew exactly what he was doing, she thought, head spinning, stars dancing before her eyes. He knew exactly how to turn her on, make her wet, make her come. "I can't concentrate when you're doing that, and these are nice steaks, and they're already under the broiler."
"I'll go see the kids, tuck them in," he said, stepping back, and giving her butt a last rub. "But later, you're all mine. And I'm going to take my time."