Today, HJ is pleased to share with you Tracy Anne Warren new release: 

Happily Bedded Bliss!

From the New York Times bestselling author of The Bedding Proposal comes a seductive new novel about the most devilishly dangerous men in London…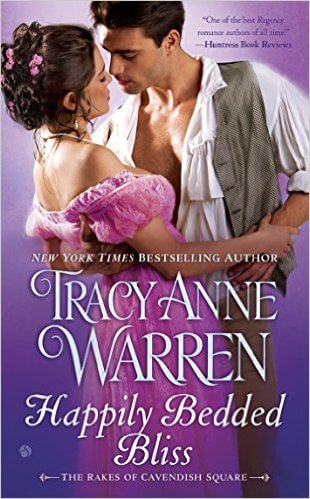 When Lady Esme Byron happens upon a gorgeous naked man sleeping beside a secluded country lake, she can't resist the impulse to sketch him. But when her highly improper drawing is mistakenly revealed at a party, she finds her once-pristine reputation in tatters.

Gabriel, Lord Northcote, may be a notorious rakehell, but he is still stunned to find himself accused of despoiling a duke's sister—especially since he's never set eyes on her. When Esme's six irate brothers demand a hurried trip down the aisle, he has no choice but to comply.

He thinks he can forget about his inconvenient bride but Esme Byron is no ordinary woman and Gabriel is about to learn just how unforgettable she can be.

Enjoy an exclusive excerpt from Happily Bedded Bliss: 
"Quiet," the Duke of Clybourne ordered in a hard, smooth tone that cut through the impending chaos. Once everyone had calmed again, the duke fixed Gabriel with a glacial stare. "I'm going to enjoy making you suffer for your insolence. Now, tell me how you come to know my sister."

"Sister?" Gabriel scowled, racking his brain as he flipped quickly through his extensive list of current and former sexual partners. "Lady Mallory, do you mean?"

"Lady Gresham," Adam Gresham shot back. "And what do you know of my wife, sir? How dare you impugn her reputation when she is an angel and wholly above reproach."

"Yes, so I hear. The lady and I are scarcely even acquainted. I admit that I may have danced with her once, years and years ago. Is she ginger haired?"

"No, she most certainly is not."

Gabriel shrugged. "Well then, there you are. I guess I do not know her, after all."

Gresham made a sound like an angry bear.

"Calm yourself, Adam," Clybourne told his brother-in-law in a low aside. "Mallory is not at issue here, and it's clear he does not know her."

"Then he ought not to have even mentioned her name," Gresham said.

Gabriel briefly lifted his eyes to the ceiling before focusing again on the duke.

Clybourne looked back. "We are speaking of our other sister."

"And what is her name?"

"Lady Esme."

Silence fell, the others clearly waiting for his reaction so they could pounce again.
But he didn't have one. "Sorry, I'm afraid I don't know her either. She's not a ginger, is she, by any chance?"

Cries of outrage erupted.

"Bastard!"

"Blackguard!"

"Liar!"

"Lord Northcote," Edward Byron said in voice so cold it could have frozen the Thames, "you are walking a very fine line. We all know you are lying and that you do know our sister. Tell us how it is you came to meet her and how long this"—the duke briefly closed his eyes as if he were in pain—"liaison has been going on. Was it at Cavendish Square? Did you see her perhaps when she was visiting one of her brothers, or Lady Leopold, and formed an acquaintance?"

Gabriel grew abruptly annoyed, his hands turning to fists at his sides. If there was one thing he disliked, it was being accused of deceit. "As I've told you already, I do not know her. I have never met Lady Esme Byron. I don't even know any women named Esme."

He shot looks at Leo and Lawrence, meeting their eyes. "The pair of you know me, at least a bit. Do you honestly believe I would seduce your sister? Your unwed sister, I presume, since there has been no mention of a cuckolded husband demanding we trade pistol fire at dawn. No, black as my reputation may be, and I in no way dispute the fact that it is every bit as bad as rumor claims, I am not in the habit of pursuing naive young girls."

The twins gave identical frowns and exchanged looks with each other. Their silent debate went on for several tense moments before they returned their gazes to him.

"Very well, if it is as you say," Lawrence stated in the erudite rhythms of a trained barrister, "and you take pains to avoid romantic dealings with innocent young ladies, then why is it our sister happens to have a drawing of you in her sketchbook?"

Gabriel stared. "Does she? How very peculiar."

"A naked drawing!" Lawrence added.

Gabriel took a moment to digest that particular revelation. "Are you certain it's me?"

"Of course it's you," thundered Leo. "You're not all that difficult to recognize."

"Show him," Clybourne ordered.

One of the others came forward, Lord Cade, if he remembered correctly. The man walked with a slight limp, courtesy of an old war wound, he thought. "Here." Cade held open a sketchbook.
Gabriel glanced at the picture, which was surprisingly well-done. "A fine likeness. But the drawing appears to be of a flock of sheep in a field. Although I do agree that they're all naked except for their natural woolly coats."

Cade looked down, scowling heavily. "No, not that one." He flipped to the next page. "This one." He held the book out again.
This time Gabriel saw what they were all talking about as he looked at a drawing in which he was very plainly the subject—and in which he was indisputably naked.
Excerpt. ©Tracy Anne Warren. Posted by arrangement with the publisher. All rights reserved.
Giveaway:

2 Print copies of HAPPILY BEDDED BLISS by Tracy Anne Warren
To enter Giveaway: Please complete the Rafflecopter form and post a comment to this Q:

What did you think of the excerpt spotlighted here? Leave a comment with your thoughts on the book…
Meet the Author: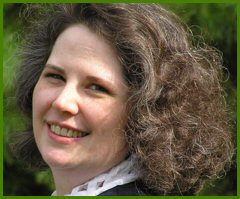 Tracy Anne Warren is a New York Times and USA Today bestselling author of more than a dozen romance novels, including The Bedding Proposal, The Trouble with Princesses, and Her Highness and the Highlander. After working in the corporate world for a number of years, she quit her day job to pursue her first love: writing. She has won numerous industry awards, including Romance Writers of America's RITA Award, the National Readers' Choice Award, and the HOLT Medallion.