Today it is my pleasure to Welcome author
Nicole Blades
to HJ!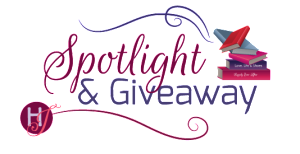 Hi Nicole and welcome to HJ! We're so excited to chat with you about your new release, The Thunder Beneath Us!

Hello, hello! Thanks for including me.

Please summarize the book for the readers here: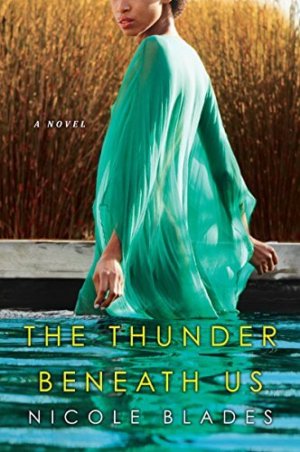 THE THUNDER BENEATH US is about a young woman living a life that seems equal parts flawless and fabulous. But a long buried secret about a tragic childhood accident is threatening to come back to the surface and pull her under for good.

Please share the opening lines of this book:
I'm still looking up at the constellation when I hear the thunder. Only it's not clapping through the blue night skies. It's under our feet.
Bryant goes in first. He was carrying the bag. Swallowed up almost silently, he's gone before the sounds can sync up with the pictures. It takes another set of seconds for me to recognize that the fingers pinching my body, attempting to pierce me, drag at me from the inside, aren't fingers at all. It's the cold in the water, the ice, and it's trying to steal my breath.
Please share a few Fun facts about this book…
Many of Best's favorite things (Golden Girls, ER, tea over coffee) are mine as well. Funny how that happens. Ha!
Protagonist Best Lightburn and her BFF Kendra mention the "Bulgarian Love Lock" in one of their many phone convos. It's a sex position, but it's completely made up. Don't bother Google-ing it!
Many of the magazine coverlines that Best quotes were ripped straight from real magazine stories that I've either worked on or edited.
Please tell us a little about the characters in your book. As you wrote your protagonist was there anything about them that surprised you?
Best Lightburn is stronger than she thinks, and that's the case for nearly all of the women in this book. From Best's mother to her nemesis new boss, these women are not wilting flowers. They are cracked in certain places, yes, and need to work through their individual challenges, but none of them is waiting around for a man to iron things out for them or rescue them from the fires that, oftentimes, they themselves have started.
I don't think anything surprised me about these characters, but I will say that I was somewhat amazed at how real they all felt to me. It truly felt like I knew them as real, breathing beings that I've known for years. I definitely miss spending such up-close, devoted time with them.
If your book was optioned for a movie, what scene would you use for the audition of the main characters and why?
Let's hope it does get optioned! That's the dream. Knocking on wood.
For the audition, I would use the scene where Best and Grant meet up for an extended second date. He's being put up at a fancy hotel for work and invites her to his plush room to hang out with him. The scene is important because, more than the chemistry firing off between them, it's where Best relaxes her stiff-arm stance, settles into her real self a little and starts falling into Grant.
______
When I got to the hotel, Grant answered the door wearing the classic plush bathrobe along with a pair of thick, black-rimmed glasses.
"Are you seriously answering the hotel room door naked?" I said, stepping into the room despite my clear disapproval. "If there's a half-drunk bottle of Jack and some small coke mountain piled on a glass-top table in here…then congratulations on being a total cliché, sir."
Grant smiled, big and crooked. "You don't mince a word, do you?"
"Well, do you blame me? You invite me to your publicist-arranged, studio contract, carrot-on-a-stick thing and then answer the door nude."
"Bathrobe," he said and tightened the sash around his middle like a miffed housewife.
"Fine. Almost nude, in a bathrobe." I stepped in a little farther and scoped the grand suite. Whatever wasn't white was chrome, and the windows were as tall as the walls. It was the picture of luxury and excess, and it was inviting.
"I think once you slip this robe over yourself, you're going to want to be nude—sorry, almost nude too."
"Is that right? Just a complete panty-dropper, huh?"
"Feeling is believing, homie. I even took out my contacts—like my eyes wanted to be on that freedom flow too. Go in there," he said, making an easy motion with his head toward the wide bathroom. "There's another one—it's your size, smaller. I hung it on a hanger behind the door. Just slip it on, even over your clothes, and—you know what? No spoilers. You're your own woman. Go in there. Take responsibility for your life. I'm going to order up some French fries since that's kind of the only way you can really enjoy cocaine and Jack Daniel's. That's what I read in my Hollywood Clichés Handbook," he said, his face straight and staring right at me.
I shook my head and bit back my grin. "All right, then. Let me investigate this overpowering terry cloth."
"Actually, it's bamboo."
I narrowed my eyes at Grant and he broke. His giggle-chuckle pushed its way out and attached its cheerful self to my sleeve. And that was it: the marked moment when this man, with his singular laugh and movie-star chisel and helpless heart, descended into my brain, into my being, and started to build a home there.
What do you want people to take away from reading this book?
I hope readers come away from this story with a stronger sense of compassion for each other. We honestly have no idea what's happening beneath the surface of someone's life. It doesn't matter how spotless it may appear to on Instagram; everyone's working their way through something at some point. This life, it can be rough. That's why it's vital for us to cut each other some slack. Empathy can smooth out the wrinkles on a lot in this life. Compassion is what keeps us afloat.
What are you currently working on? What other releases do you have planned for 2016?
The rest of 2016 is all about bringing the THUNDER, promoting this book and getting this story out there. I also recently finished writing my third novel! It's another story about secrets and family and working through really tangled relationships. I very excited about it and hope folks will sink into this story too. This next one is being published by Kensington again and will be out in November 2017.

Thanks for blogging at HJ!
Giveaway:

Print copy of THE THUNDER BENEAT US by Nicole Blades
To enter Giveaway: Please complete the Rafflecopter form and Post a comment to this Q:

If you found that your closets friend has been lying to you for years about an important, but painful part of their past, would you be able to forgive them?
Excerpt from The Thunder Beneath Us:
It takes four floors before I realize that there's a man in the elevator. He's been standing there since I poured myself in here. My breath gets loud, uneven. I'm reaching for a railing, a wall, anything. That's when he says it. "Take my hand." He says it and I'm instantly in a movie—a thriller or horror story—something with blood on the floor.
"Take my hand." Three words, said simply, with the ease of a man who knows his strength, a man who knows that there's safety within that one uncomplicated action.
Take my hand. His eyes sparkle. Who in real life, besides babies and Aunt Lucille's cancerous cat Telly, has eyes that sparkle?
He inches his cupped palm toward me. Of course it looks soft and firm and capable. The one out-of-place thing about it—the small red line, a paper cut at the base of his index finger—is the only thing I can relate to. It's the one thing assuring me that this man, this whole moment is actual, no figment.
His face finally comes into focus. I've seen him many times before: talking quietly to editors and underlings in the hallways of the important floors, leaning in slightly, an attempt to cut his height down a level. In the main lobby, the lofty, lean figure breezing by the chattering cogs—one arm resting limber with the hand tucked casually into his pants pocket and the other swinging forward and back, back, back, as if waiting for a baton. He's all charm and grace and a thin layer of hubris or aplomb or whatever it is that allows him to walk the long stretch of high-polished marble from the oversized revolving door along the enclosed breezeway and farther still, down to the executive elevator bay without so much as look down at his pristine shoes. I've seen him out front by the curb, sliding—never hurried, always collected, always cool—into a taxi. Once, maybe (but ask me tomorrow and I won't be so sure), I saw him in the cafeteria; the juice line, or maybe it was the sushi kiosk. It never matters when I think back to it. It doesn't matter now. What matters now is that he's real and he's trying to save me.
He's saying something. I can't hear. My brain is locking up. I strain, lean in, but nothing is getting through. It feels like I've pulled a muscle—everywhere. But honestly, no one has any sympathy for me right now. I should know better. This elevator is famous. I have no business on it. People have been crushed, their insides splayed out in color, because of something said, suggested, decided in this wintry, steel box. It's no place for the weak and considerate. But here I am, snotty, sweaty, and in pieces, following his advice—his command—and grabbing for his hand.
"In and out," he says.
Breathing. He's talking about breathing. I smile—or try to curl my lip—because I can hear again.
"Slowly. In and out," he says.
My eyes finally adjust to the room, to the moment, and I notice his mouth first. It's his turn to smile. His lips are full, plump, especially the bottom one. They're not thin, as one expects on a man his age. But then not much about him fits under that column. He's excellent; dapper and slim, not even a hint of paunch can be seen through his now-unbuttoned suit jacket. His hair is mostly gray, but thick and groomed. The lines—around his eyes, his mouth, above his brows—etched into his yacht-tanned face look right and intentional. He smiles again, wider now, and I trust him, instantly. The noise in my brain is quieting to stage whispers.
He's squeezing and stroking my hand with his thumb at once. I try to focus in on his paper cut.
"I'm here. I'm here with you," he says. He nods; small, even nods, as if confirming all of this with me. "This elevator isn't going anywhere. It's the ground floor. We're here. Just keep going, in and out, that's your job. When you catch your breath, get a rhythm, I'm going to open these doors and we're going to walk out of here like everything is okay, because it is." He pushes his suit jacket open further. I can make enough time-place connections to know that it's freezing outside and the man's just wearing a suit. There's a cuff link peeking out from the trim jacket. It looks like a face. A profile. It looks like one of my coins. I feel the flutter return to my temples, my chin is back on quivering. I'm trying to catch the rhythm he mentioned, but it's not working. My ears tingle and too quickly those pins and pricks spread to my jaw, my neck, my chest. Now black clouds are circling, getting bigger, crowding the light. My knees, they're wobbling. Did I accidently lock them? Shit. This is it. I'm going down, and all I can hope is that he's still holding my hand.
_____________

"Hey, hey." He's got me propped up on him. His knees are bent and he's close to my face now. "You're good. You're doing fine. Back to breathing, okay? Watch me, watch my chest. It's rise and let go. Rise, let go."
The nods, they're helping.
I take a deep one and let it go. My breath is hot and tumbles out of my smeared, chapped lips. I do it again and another, slower still, in and out. I get more nods, a soft squeeze to my hand, and finally I'm standing on my own, I've caught a rhythm.
"You don't have a coat," he says as the elevator doors open.
"Right."
"Do you want to go back up to seventeen and grab it?"
"How did you know I'm on seventeen?"
"James magazine, I know," he says.
"Of course you know. You're Nik Steig."
"And you're Best Lightburn. I know that too."
"Yeah. I am. Making this whole elevator meltdown that much more fantastic. This is…mortifying."
"Come on. Leave that in there." He tilts his head toward the closing elevator door. "We're out here now."
Nik Steig does up his jacket buttons as we walk to the main entrance. He pulls out a scarf from a black hat, or some other magical place next to a rabbit, and ties it in that cool, European loop. "So, what now? Heading home?"
Say yes. "No."
He nods. "Do you want go somewhere else?"
Say no. "Yes."
"Well, since you're missing a coat, do you want me to get you a cab? Or my driver, he's circling, we can take where you're going."
Decline. "Yes, thanks. Your driver."
"Good. But we'll need a bit more to go on than yes and no. Hank's going to need actual directions, I'm afraid."
"Actually, I just need to go home. Brooklyn."
"Let's go," he says without a pause, and gestures to the revolving doors. "Wait." He slips off his jacket and scarf. "I know you're Canadian and all, but I can't let you go out like that."
"How do you know…wait, I can't take your jacket."
"Sure you can." He opens it up for me. I should refuse again. I should. "Come on. Hank's probably crawling up to the curb now. Take it. It's nothing. I've got a meeting. I don't need it."
I turn, he helps the jacket over my shoulders and hands me his scarf.
This is not happening. This is not a soap opera. I must have fallen down the elevator shaft, because this is Nikolai Steig and this is not happening.
"Shall we?" he says and tilts his head toward the door.
Just go with him. Say yes. "I'm sorry, Mr. Steig—"
"Nik."
"Nik. I'm sorry, but I just need a minute here alone to just pull my shit together. You have a meeting. You should go ahead. I'll get home all right." I raise my phone to his eye line like an idiot. As if the thin thing holds the salve for all that just went down.
"It's not a problem"—my cell phone's ringing cuts him off—"Listen. Take your call. I'll be in the car with Hank. No rush."
Before I can refuse again, he walks off, and I just watch him glide away. He knows I'm staring at him too.
I press yes on the phone, blindly. "Best here."
"Ms. Lightburn? It's Clark Bauer from Tell Me More. Pleasedonthangup. Please. I'm reaching out because… well, we want to run a proper profile on you. It's nothing bad. We're talking regular story about you, no rumors. It just that…well, I had a few questions for you…about your brothers."
Excerpt. © Reprinted by permission. All rights reserved.

Book Info:
To the world, Best Lightburn is a talented writer rising up the masthead at international style magazine James, girlfriend of a gorgeous up-and-coming actor, and friend to New York City's fabulous. Then there's the other Best, the one who has chosen to recast herself as an only child rather than confront the truth.
Ten years ago, on Christmas Eve, Best and her two older brothers took a shortcut over a frozen lake. When the ice cracked, all three went in. Only Best came out. People said she was lucky, but that kind of luck is nothing but a burden. Because Best knows what she had to do to survive. And after years of covering up the past, her guilt is detonating through every facet of her seemingly charmed life. It's all unraveling so fast: her new boss is undermining and deceitful, her boyfriend is recovering from a breakdown, and a recent investigative story has led to a secret affair with the magazine's wealthy publisher.
Best is quick-witted and headstrong, but how do you find a way to happiness when you're sure you haven't earned it—or embrace a future you feel you don't deserve? Evocative and emotional, The Thunder Beneath Us is a gripping novel about learning to carry loss without breaking, and to heal and forgive—not least of all, ourselves.
Book Links:

Meet the Author: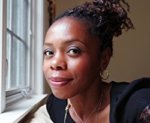 Nicole Blades is a novelist and journalist. Her features and essays have appeared in Cosmopolitan, NYTimes.com, WashingtonPost.com, Health, MarieClaire.com, SELF, BuzzFeed, and BlogHer. Born and raised in Montreal, Nicole now lives in Connecticut with her husband and their son. F
Website | Facebook | Twitter | Instagram |