Today it is my pleasure to Welcome author
Maggie McGinnis
to HJ!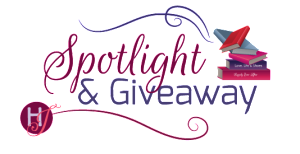 Hi Maggie and welcome to HJ! We're so excited to chat with you about your new release, Heart Like Mine!

Thanks so much for having me!! I'm so excited to share some sneak peeks of HEART LIKE MINE with you!

Please summarize the book for the readers here: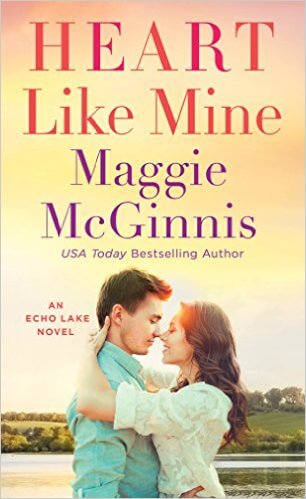 A shy, focused financial analyst is forced to go toe-to-toe with a small-town hospital's Most Eligible Bachelor as she prepares to slice his pediatric budget to shreds, but he's not going to take it lying down. Instead, he challenges her to come work on his floor for a week, and THEN decide whether she thinks there's any fluff in his budget. This wouldn't be a problem, except for the tragedy in Delaney's past that makes her barely able to step off the elevator on the Pediatrics floor. Joshua's got demons, too, but if they can stop sparring for long enough to see that they both have the same goals, maybe they'll realize they can both heal each other.

Please share the opening lines of this book:
The CFO's office smelled of sweat, burnt coffee, and tears. That's all Delaney Blair could think as she sat in the guest chair, awaiting her doom. Six people had sat in this same chair over the past week, and every single one of them had left with an HR escort and the ironic farewell gift of a Mercy Hospital mug and tote bag.
Please share a few Fun facts about this book…
Echo Lake is a fictional lake, but it's heavily based on two of my favorite Vermont lakes: Lake Eden, and Lake Elmore. Both are set in tiny towns and feature crystal waters, creaky camps, and friendly people who are also sometimes creaky.
Maple syrup isn't just a thing you drizzle on pancakes. Up here, it's a religion. It's not spring—it's sugaring season. It's not spring snow—it's sugar snow. And syrup draped over that snow, eaten in a church basement? That's Vermont. I'm not sure there's anywhere else in the country where you can walk into a general store to get your coffee, duct tape, and a broom, and hear, "Good day, George?" "Ayup, sap's-a-runnin'!"
Please tell us about the characters in your book:
Delaney Blair's the daughter of a surgeon, and after a childhood tragedy, she was determined to become a doctor, in some misguided attempt to save other families from going through the very thing that had destroyed her own family. However, when med school didn't pan out, she found another way to have an impact. With her MBA in tow, she's spent the last five years managing budgets, seeking out grants, and helping to keep a struggling hospital from going under. She has a lot to prove—to herself and to a father with a doctor-or-nothing belief system—but no matter how many hours she works, she still feels like she's never quite up to par. She's got no time to date, and she most certainly wouldn't consider a relationship with the sexy-as-hell Dr. Mackenzie, even though her whole body tingles the moment she meets him. She's got ethics, after all. And—you know—no time. So if he'd just stop looking at her with those smoky eyes, it'd be super-helpful.
Joshua Mackenzie has absolutely no personal life, and he's totally okay with that. He's the interim head of Pediatrics at Mercy Hospital, and when he's done working his double-shifts there, he heads to Avery's House—a medical getaway for kids facing serious illnesses—to check on his favorite families. His parents gave up their retirement fund so he could go to med school, but before he graduated, they were killed in a car accident, and now he's left to pick up the pieces while trying to work hard enough to make them proud. He knows he's got no time for a relationship, as evidenced by the ex-girlfriend who—it turns out—kept another guy on the side, so when Delaney comes down the hallway in her 6th floor suit and heels, he has no interest in anything but getting her OFF his floor as soon as possible. No interest at all. But … is that purple lace he sees peekiing through the gap in her blouse buttons?

As you wrote your protagonist was there anything about them that surprised you?


Actually, yes. And I'm proud of them for this, at the same time as it annoyed me to no end. They're both very ethical people, and despite the fact that both of them could have probably jumped into something hot and heavy after meeting just once, they held back, knowing it could be professional suicide. Eventually, they obviously decided it was worth the risk, but it sure took some convincing.

First Kiss…


After lots of zingy, wonderful near misses, here it is:
"How about first kisses? Think those are easier now?" He kept his eyes on the lake, but her face heated like he was staring straight at her.
"I—don't know." She swallowed. "It's been—a while—since I've tried one."
He looked at her then, his eyes skating over her forehead, her eyes, her lips before his left hand came up to caress her cheek.
"Me, too," he finally said, then tipped up her chin, leaning closer as the pad of his thumb traced her lips. "But I'm game to try one if you are."
"Okay," she whispered, but before the word was fully out of her mouth, his lips touched hers gently—a sweet, promising caress. His hand slid through her hair, bracing her head as he deepened the kiss, and she struggled to remember to breathe. As the twilight darkened around them, all she wanted to do was bury herself in the kiss…in him.
No, a first kiss had never felt so…perfect. Joshua was gentle and demanding at the same time, his fingers skating over her skin like he had all night, but couldn't wait to undress her. He pulled her closer, closer as his lips moved to her neck, her collarbone, her earlobe, and his hand inched achingly up her ribs, then back downward.
A long while later, he pulled back, kissing her gently on the nose, and Delaney struggled to catch her breath. Her heart felt like it might launch its way right out from between her ribs, and she knew he must be able to see her pulse hammering in her neck, even though it was almost dark.
When she looked at his face, though, she was relieved to see that she wasn't the only one affected. There was color in his cheeks, and when he brushed her flyaway hair back from her forehead, his smile was genuine.
"That was way better than my first first kiss."
Did any scene have you crying or laughing while writing it?  
Taking on a pediatric hospital setting was risky, in the sense that while lots of miracles happen there, there's also a lot of heartache. The main characters have both suffered indescribable loss, so yes, there are definitely some tough spots in the book, but with a secondary cast full of bossy moms, Italian-spitfire best friends, and colleagues who think they know what's best for both Delaney and Joshua, there are definitely lots of laughs, too.
Here's a quick snippet from a breakfast meeting right after Josh meets Delaney:

"You been up all night again?" Ethan motioned to the coffeepot, and Josh nodded gratefully. "A patient? Or a woman?"
Both.
"I'm pleading the Fifth on that one." He took the coffee. "Thank you."
"Then no offense, but you'd better have a better story before Josie gets down here. She'll never let you get away with pleading out if she thinks there's a woman in the picture."
"There's no—" Josh looked at the clock. "What are you still doing here, anyway? Shouldn't you be at the park?"
"Changing the subject?" Ethan laughed. "There is a woman. Who is she?"
"Who's who?" Josie, clad in a T-shirt and yoga pants, pushed through the French doors that separated the owners' quarters from the main house. She wound her way to the coffeepot, rubbing her eyes as she felt blindly for a mug. "There's a woman?"
Josh sighed. "There's no woman."
Josie sat down at the table, folding her hands around her giant mug. "Where'd you meet her? What's she like? Where does she live? When can we meet her?"
"Seriously, Ethan." Josh pointed at Josie. "Call off your wife."
Josie shrugged. "I'm just mildly curious. Sue me. I just thought maybe you'd had your first date in—how long? Didn't know if we should be celebrating."
"If I say shut up, will you take offense?"
"Totally, yes."
"Shut up, Josie."
She laughed, reaching across the table for Ethan's hand. "There's definitely a woman."
If your book was optioned for a movie, what scene would you use for the audition of the main characters and why?
Oh, what a dream that would be! There are so many scenes I could choose, but this one's from fairly early on, when Delaney's trying to put on a brave face after something really scary happens on the pediatric floor. I love how it shows her fear and her past sneaking through, but even more, how it shows his compassion.
"You okay?" Joshua's voice startled her from the doorway.
She raised her eyes, knowing she must look like she'd just come out a loser in the zombie apocalypse. Words failed her, though. She just held up her hands, looking at them like they belonged to someone else.
"I—think I need to clean up."
He raised his eyebrows, walking quickly toward her. "I think you need to sit down."
"No, I'm fine. I'm—fine. I'm sure I'm fine."
"Delaney, you are deathly white right now. Sit."
He pushed her gently into a chair, then put a warm hand on the back of her neck, urging her head forward.
"Head between your knees."
"I'm not going to keel over."
She was totally going to keel over.
"Yeah, you are. Please just do what I say. I'm a doctor, remember?"
"Okay, okay." Delaney could feel the smile in his words. She let his hand push her head downward, but was surprised when it didn't leave her neck once she was safely in a don't-keel position. Instead, his fingers kneaded slowly, soothingly.
"Take a couple of deep, slow breaths."
His voice was low, soft, calm, like one he'd use with a patient on the edge, and suddenly she felt ridiculous. Here he was in charge of an entire patient floor with thirty patients and ten nurses, and instead of taking care of any of them, he was stuck dealing with an interloper from finance who couldn't handle the sight of blood.
She pushed upward, and he slid his hand away from her neck.
"Easy does it. Take it slow."
"I'm so sorry. You have way more important people to be taking care of right now."
He laughed softly. "Is that what you think?"
"How can I not?" She pointed at the space where the bed had been, then out at the hallway. "Your nurses are scary efficient, by the way."
"Yep. They are." He nodded. "Best in the business. Just not enough of them."
Her eyes skittered around the room, trying not to land again on the empty spot where the little boy's bed had been.
"Delaney." His voice commanded her to look at him, and she couldn't—not.
She took a shaky breath. "Is he going to be okay?"
"They're taking good care of him."
She swallowed, wincing. She'd heard those words before, in another lifetime.
Her voice was quiet when she spoke. "Is that what you're trained to say? You know, so you don't have to answer yes or no?"
"It's the truth."
"But is he?"
Joshua blew out a breath. "I don't know. Is that better? Is that what you want to hear?"
She put her head down, picturing the fear in the little boy's eyes. "No."
"That's why I say the other."
What do you want people to take away from reading this book?
If you could have given your characters one piece of advice before the opening pages of the book, what would it be and why?
I think I would have given them both the same advice: to open their eyes, try to break free of the stranglehold their pasts have on them, and to live in the moment. However, if I'd given them that at the beginning, they
What are you currently working on? What other releases do you have planned for 2016?
I have two books coming out later this year, which is so exciting! SHE'S GOT A WAY, the third book in the Echo Lake series, is coming out in the fall. It features a boarding school dean who gets sent to Camp Echo with her misbehaving students, and a camp director who wants nothing to do with a bunch of rich girls showing up at his wilderness camp—lots of fun, with lots of emotion.
Also this fall, the fourth book in my Whisper Creek series, UNLUCKY IN LOVE, comes out. It's more of a comedic romance that features a woman on a mission to travel the country and pretend she's someone else, and a cowboy who just longs for roots…until he meets this crazy woman who seems to have forgotten who she is.
Two more Whisper Creek books are planned for 2017, along with some other projects that are still on the down-low. It's going to be fun!!

Thanks for blogging at HJ!
Giveaway:

Print copy of HEART LIKE MINE (An Echo Lake Novel) by Maggie McGinnis
To enter Giveaway: Please complete the Rafflecopter form and Post a comment to this Q:

Do you have a favorite romance trope? Friends-to-lovers? Secret babies? Marriage of convenience? Love triangle? I'd love to hear!
Excerpt from Heart Like Mine:
"You're just going to have to go down there, Delaney." Megan propped a hip on Delaney's desk two days later. Delaney envied her assistant's long skirt, gypsy earrings, and long, loose cotton blouse. In college, she'd have topped it off with a head scarf and combat boots, but for the workplace, she'd gone with her standard-issue leather sandals.
Delaney looked down at her own outfit and wondered when she'd turned into a toned-down version of her country club mother. Her neatly ironed blouse was set off by a perfectly matched skirt and jacket, and as she fingered the pearls at her throat, she sighed. Then she let her eyes coast down her calves, down to the Jimmy Choos she'd bought just last month. It was her splurge, her bow to girliness and inappropriate spending, and damn, she loved these shoes.
She really did need to ditch the pearls, though.
"I can't just go down there, Megan." Delaney felt a tingle at the base of her neck, just thinking of walking onto the pediatric floor. No, she definitely couldn't go down there.
"Well, he's obviously not coming to you."
"How can he just ignore my messages like this? It's downright rude."
"Or he's downright busy. Have you seen the bed count on pediatrics this week?"
"No." Delaney cringed. It wasn't the kind of thing she kept track of on a daily basis.
"There is always the possibility that he's not intentionally ignoring you. Just saying."
"I'll check." Delaney clicked into the system that listed current inpatient numbers. When she got to the pediatric floor, her eyes widened. "Holy—"
"Exactly." Megan raised her eyebrows.
"We don't even have that many pediatric beds."
"I know. They had to move a couple of the teenagers up to adult floors to make space."
Delaney clicked back through the past month, and the patient counts went up and down a little bit, but not much.
"I'm just saying—this could be why Dr. Mackenzie hasn't called back." Megan leaned close to Delaney and plucked open her top button. "Which means you, third floor, this afternoon. He's clearly isn't coming to you."
Delaney felt the chills creep down her spine. She had never actually been on Mercy's pediatric floor—had never been on any pediatric floor—not since Parker had died.
"Delaney? You okay?" Megan's brow creased as she studied Delaney's face. "You are six shades of white, girl. Does talking to non-executive-suite people make you this scared?"
"No." Delaney's voice came out in a whisper.
"Oh." Megan's hand flew to her mouth. "Oh, God. I'm sorry." She squeezed her eyes shut. "I'm so sorry. I wasn't thinking."
Delaney nodded slowly. "It's okay. It's been—a long time since he died. Not like you would think of it."
"But I should have. I'm really sorry." Megan tried to look into her eyes, but Delaney's felt all shifty. "Do you want me to go with you?"
"No, Meg. I don't want to go at all."
"But—"
"I know. He's not coming to me." She took a deep breath, blowing it out slowly. Maybe it wouldn't be horrible. Maybe she wouldn't melt into a panic-puddle at the elevator doors. Maybe she wouldn't see Parker everywhere she looked.
Maybe pigs flew.
Excerpt. © Reprinted by permission. All rights reserved.

Book Info:
Delaney Blair loves her job at Echo Lake's Mercy Hospital, where she's developed a reputation for being smart, fair, and driven. When she's assigned to cut funding, she has to temporarily relocate her office, put on borrowed scrubs, and go toe-to-toe with Dr. Joshua Mackenzie, the interim head of the pediatrics department. His killer smile and rock-star body are distractions Delaney could do without, but she's determined to stay focused while she brings his budget into line. It's not working.
Beloved by his colleagues and patients alike, Josh is too busy caring for sick kids to talk numbers with the sexy, stiletto-clad Delaney. Every time they talk business, tensions run high…but so does a powerful attraction neither of them can ignore. When an emergency brings Mercy to its knees, Delaney and Josh must work together to save lives. But can they also find a way into each other's hearts?
Don't miss Heart Like Mine, the second Echo Lake novel from Maggie McGinnis!
Buy Links:  Amazon | B & N | Google Play | iTunes | Kobo
Meet the Author: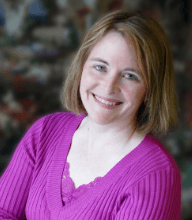 USA Today bestselling author Maggie McGinnis is a Golden Heart Finalist who lives in New England, vastly outnumbered by both children and cats. She writes sweet romances set in Montana and Vermont, and feels extremely fortunate that through her books, she gets to fall in love every single day. She's a sucker for romantic comedies, popcorn, and the perfect green pen, and if she wasn't an author, she'd totally be rocking a Nashville club in her pink cowgirl boots. It's probably good that she embraced the author thing, because her singing skills are better suited to the shower, and really? Pink cowgirl boots?