Today it is my pleasure to Welcome romance author

Shannyn Schroeder

 to HJ! 

Hi Shannyn and welcome to HJ! We're so excited to chat with you about your new release, Her Best Shot!
Pop Culture References – Shannyn Schroeder
Thanks for hosting me today. I'm excited to talk about my Hot & Nerdy trilogy of novellas, the first of which is Her Best Shot.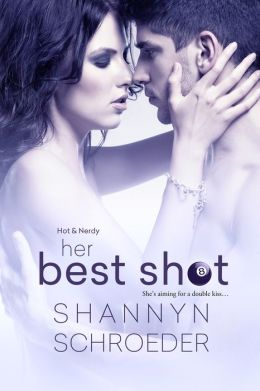 I had a lot of fun writing these novellas mostly because of the heroines. When I came up with the concept for the trilogy, I knew I wanted to write about geeky girls who get the guy. Everyone always thinks about nerdy girls as ugly and lacking in social skills. My heroines prove that stereotype wrong (mostly).
One thing that was a lot of fun in writing the heroines was determining what kind of nerd they were regardless of their focus in college. For me, the nerd factor comes into play with their other interests and pop culture. It started with Layla, who likes to wear math geek T-shirts. The first time the hero, Phin, meets her, her shirt says "Welcome to the Dork Side. We Have Pi." So it's a math joke and a Star Wars reference all in one.
The second novella takes place at a ComicCon type of event, where there is a reference to Browncoats and Firefly. There are also mentions of DefCon, the hacking conference, and computer hacking and video games, in addition to the con stuff like cosplay (dressing up in costume as your favorite characters).
In the third novella, Layla and her friend Felicity trade quotes. Layla uses the tried and true Yoda, "Do or do not. There is no try" when she tells Felicity to go out and have fun on spring break without her. When Layla wishes Felicity good luck, Felicity answers with a Star Trek quote from Spock: "Captain, you make me want to believe in luck."
Throughout writing, I wanted to make the characters dynamic but I tried to keep the pop culture references to a minimum so readers wouldn't be overwhelmed, especially if the reader wasn't familiar with the reference. I'm one of those people that if a reference is made that I don't know, I go look it up. I want to get the joke. Maybe it's the nerd in me.
I was worried though that other readers don't want to do that. They might not care about whether they got the joke. Because of this, I did my best to make my references self-explanatory. I also chose things that are classics and won't likely date my novellas (I hope). But I couldn't imagine a group of nerds without references to nerdy things.
Thanks for blogging at HJ!
Giveaway: 

Digital copy of HER BEST SHOT
To enter Giveaway: Please complete the Rafflecopter form and Post a comment to this Q: 

How do you feel about pop culture references in books you read? Do they pull you out of the story? Do you feel left out if you don't get the joke?
Excerpt:
"You're cranky. Maybe you should've slept in like I did. You could use some beauty sleep," Layla said.
"I was up late trying to figure out how you cheated at cards last night."
"I didn't cheat. I didn't even use my feminine wiles."
"The hell you didn't. You were barely dressed and, every time you moved, your shirt inched higher, revealing a little more thigh, inviting me over."
She snorted. "Just because you have no self-control does not mean I cheated."
When he came to a red light, he turned to her. She bit her lower lip. She was a horrible liar. He didn't even need to comment for her to break.
"Okay, but it wasn't cheating exactly. Yes, I let my shirt ride up, but that was so you wouldn't pay attention to my face. I learned how to count cards to win at blackjack. I simply improvised and studied what cards were being played so I could win."
"Counting cards doesn't work with gin." He stepped on the gas.
"Technically, no, but I created a method on the fly. I don't know if it really worked. It was kind of like I was trying to memorize the cards laid out and figure out the probability of what you held."
"Good thing you aren't going to Vegas. Use your skills for good not evil."
"Like you do?"
"What do you mean? I taught you how to play pool. That was good."
"You only did that because you wanted to fuck me."
He couldn't argue that.
They sat in silence for a few minutes and then the moment he dreaded hit.
"Tell me about being a gypsy."
His grip on the steering wheel tightened. He should've known she'd go there. "What do you want to know?"
"Anything. When someone says the word gypsy to me, I think crazy fortune-teller wearing a colorful headscarf. I don't know anything about the real culture."
He had no idea where to start. He didn't like to talk about that life. "There are a lot of fortune-tellers in my family. The stereotype you're imagining isn't far off base."
"So people are right when they say not to trust a gypsy."
"Definitely. At least in my experience. Gypsies don't trust anyone outside the family." Thankfully, he pulled into the lot for the first pool hall. It was Sunday afternoon, after church, so he hoped to find a few decent games.
"It's got to be kind of exciting though, right? Moving around all the time. To be totally free from responsibility. It's got to be liberating." She jumped out of the truck before he could even form a response.
Liberating? More like suffocating. He had never had a choice where or when they moved. He had never known if someone would be caught and arrested. That concern had amplified once his mother had left. If his dad were to go jail, Phin had worried about what would happen to him. The family would have taken care of him, but he would've lost the few freedoms that his father had given him.
He got out of the truck with his cue and joined Layla on the other side of the vehicle. She slid an arm around his waist and tugged him close. "One more question and then I'll leave you alone. You obviously hate talking about it."
He looked into her eyes, staring at him so openly and honestly. "Go ahead."
"Why did you leave? It had to have been really hard to walk away."
Phin leaned against his truck, breaking contact with her. He ran his fingers through his hair. "There are certain expectations for each member of the family. I wasn't willing to live up to those expectations."
"Every family has expectations. My family expected me to go to a good college and graduate and then get a decent job. They expect I'll settle down, get married, and give them grandchildren. That's life." She tucked her hands into the pockets of jeans that hugged her slender curves.
"I didn't want to get married."
"Oh."
He shoved off the truck, wanting to leave the subject behind them and focus on the game. True to her word, Layla didn't ask another question, but he knew she was dying to. Leaving his family had been his choice. His mother had made sure he had a taste of a regular life, and a taste was all he'd needed. Now he knew how to find it on his own. Layla was proof of that.
Book Info
With college graduation looming, three childhood friends vow to make spring break their last blast of pure fun. But at least one of them didn't count on such incredible heat…
Layla Sharpe is definitely more math ninja than bikini babe, and her future has been calculated with razor precision. Convinced to let loose over spring break, Layla is finally ready to party—until her car breaks down halfway to her destination, leaving her stranded in Georgia with a mouthwateringly hot pool shark. She knows more than enough about angles to learn the game, but this week she wants him to appreciate her curves…
Phin Marks has never met a girl like Layla. She's more Star Wars geek than seductress, and when he offers her a place to stay while her car is in the shop, he's counting on the attraction between them to set the nights ablaze, no strings attached. But every moment he spends with Layla makes it harder to let her go. Can he persuade her to gamble in the most dangerous way possible…on forever?
Buy links:
Kindle — http://www.amazon.com/Her-Best-Shot-Shannyn-Schroeder-ebook/dp/B00JFABYW4/ref=sr_1_5?ie=UTF8&qid=1399387595&sr=8-5&keywords=shannyn+schroeder
Nook — http://www.barnesandnoble.com/w/her-best-shot-shannyn-schroeder/1119105216?ean=9781601833334
iBooks — https://itunes.apple.com/us/book/her-best-shot/id853827357?mt=11
Kobo — http://store.kobobooks.com/en-US/ebook/her-best-shot-1
Meet the Author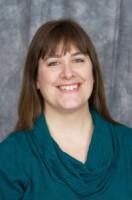 Shannyn Schroeder is the author of the O'Leary series, contemporary romances centered around a large Irish-American family in Chicago and the new Hot & Nerdy series about 3 nerdy friends and their last spring break. When she's not wrangling her three kids or writing, she watches a ton of TV and loves to bake cookies.
Web site — http://www.shannynschroeder.com
Goodreads — https://www.goodreads.com/author/show/6575201.Shannyn_Schroeder
Twitter — https://twitter.com/SSchroeder_
Facebook — https://www.facebook.com/pages/Shannyn-Schroeder/536050196443173