Today it is my pleasure to welcome romance author

Marin Thomas

to HJ!
Sara, thanks for having me in the Spotlight today! I'm excited to share Five Favorite Scenes from Her Secret Cowboy.
If you haven't read the first two books in The Cash Brothers series, The Cowboy Next Door (July 2013) and Twins Under The Christmas Tree (Oct 2013) remain available through Amazon, B&N and other online retailers.
Of course I have too many favorite scenes from this book so I enlisted the help of my fabulous street team—The Cash Brothers' Cowgirl Posse and they've come up with the a list of their favorites. I hope you enjoy the snippets and that they'll entice you to read Her Secret Cowboy (Feb 2014).
About the Book
The Cowboy And The Preacher's Daughter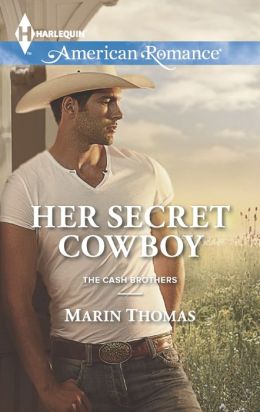 Years ago, Will Cash wasn't interested in being a dad. So Marsha Bugler left town to raise her baby alone. But when her father's health begins to fail, she realizes she needs to return to Arizona—and introduce Will to his boy. Marsha is nervous to face Will not only because she lied, but because she's never stopped thinking about her cowboy crush.
Will is shocked to discover he has a son. And he can hardly believe the changes in Marsha. She's strong, sexy and a Ph.D. while Will's still a part-time cowboy living in a bunkhouse with his brothers. What does he have to offer her and his teenage son? Will has a lot to prove if he's going to get what he wants—the family he never knew he had.
Starting at the end with the happy ever after…
"William Cash!"
The chain saws stopped rumbling and the men stared at Marsha's father.
Will looked over his shoulder. "Yes, sir."
"I was wrong about you," her father said.
"Is that so?"
"Do you love my daughter?"
Will's gaze shifted to Marsha. "Yes, sir, I do."
"And you'll take your duty as Ryan's father seriously?"
"I will."
Her father faced the crowd of workers. "Get busy and clean this place up. We've got a wedding to prepare for today!"
Brothers are known for teasing…
Conway's gaze swung between Will and Marsha and she hoped her mouth wasn't swollen from the kiss Will had given her a short while ago. She'd been so flustered she hadn't touched up her lipstick before entering the hospital.
"Where were you going when Johnny texted you?" Conway asked.
"Ajo," Will said.
Mack pointed to Will's mouth and grinned.
"What?"
"When did you start wearing pink lipstick?" Mack chuckled and the rest of the Cash brothers hooted.
Embarrassed, Marsha felt her face warm.
Gossiping at the local beauty shop…
Just because you're not interfering in Ryan and Will's relationship doesn't mean you stood up for yourself."
"It's more complicated than that." Marsha might as tell the truth since it was only the two of them in the beauty shop. "Will and I…"
Hillary gasped. "Had sex?"
Marsha nodded.
A dreamy expression settled over Hillary's face. "It sounds so romantic…reuniting with your first love. Was it better the second time around?"
Oh, yeah. "The sex was great. Perfect."
"Then what happened?"
"I went home and my father guessed what I'd done…" She fisted her hands beneath the cape, then winced when her nails bit into her palms. "He believes I can do better than Will."
A father and daughter struggle…
"Forgiving you for keeping William a secret is easy, Marsha."
She sensed a but coming.
Her father pressed his lips into a thin line while he considered his words. "But I can't support you pursuing a personal relationship with him."
"Why not?"
"You forget that I'm not only a pastor but I'm also a father, and I believe my daughter deserves better than William Cash."
And we'll end at the beginning…
Slowly Will's eyes focused and he studied the photo. The young man had the same brownish-blond hair as Will's but his eyes weren't brown—they were blue like his mother's.
"Buck!" he shouted. "Get your ass out here right now!"
The farmhouse door opened and his sister stepped outside. "Willie Nelson Cash, don't you dare swear in front of the boys."
"Take the twins inside, Dixie." She must have sensed his dark mood, because she did as he asked without mouthing off. Will stared at the bunkhouse, afraid if he went inside he'd tear the place apart. When Buck came out, the rest of the Cash brothers and their brother-in-law, Gavin, followed.
"What's wrong?" Johnny's blue eyes darkened with concern.
Will ignored his eldest brother—if Johnny had his way he'd take control of the situation like he'd done all through their childhood. This was Will's fight with Buck and no one else's.
GIVEAWAY: Marin will give away a

signed copy of Her Secret Cowboy & a $10 Amazon GC

to one lucky U.S. winner.   
To enter Giveaway: Please complete the Rafflecopter form and post a comment to this Q:

Can you name all six heroes in The Cash Brothers series?

Disclaimer: This Rafflecopter is hosted by the author directly.