Today it is my pleasure to Welcome New York Times Bestselling author
Paige Tyler
to HJ!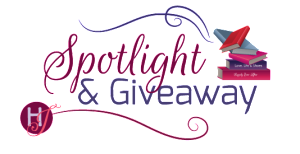 Hi Paige and welcome to HJ! We're so excited to chat with you about your new release, Her Wild Hero (X-OPS 3)!

Hey everyone! So excited to be at Harlequin Junkie today!

Please summarize the book a la Twitter style for the readers here: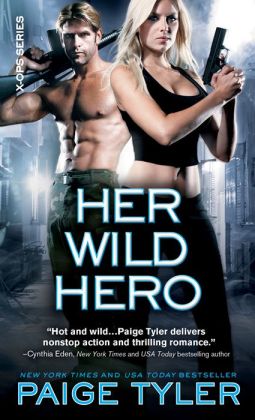 Take one new field operative, add one bear shifter, and mix in the remote Costa Rican jungle, then watch the sparks fly! NY Times bestselling author Paige Tyler's acclaimed #XOPS #HerWildHero "Topnotch!" – RT Reviews "Her Wild Hero is an exciting installment in a truly entertaining series." – Booklist "Does it get any better than this?!" – Fresh Fiction

Please share your favorite line or quote from this book:
He bit back a growl. Damn, he was pathetic. But there was something about Kendra that attracted him like a bear to honey. He might have chuckled at the analogy if it wasn't so damn fitting.
Please share a few FUN facts about this book…
This Book 3 in my X-OPS Series.
Most of the story takes place in the beautiful and remote La Amistad International Park, the lush tropical jungle paradise that straddles the border between Costa Rica and Panama.
You get to see characters from both the Department of Covert Operations (DCO) and Army Special Forces—both 5th and 7th Special Forces Group (SFG).
I wrote this story in about 100 days, most of it over the Christmas and New Year holidays. So when people ask what I did for the holidays, I tell them I was running for my life through the wet and muddy jungles of Costa Rica.
The bad guys in the book—the dreaded man-made shifter variants known as hybrids—are even more terrifying and dangerous than the ones my readers have seen before. They even kept me up at night, and I knew how the book ended!
It took a while to get to the final title for this story—HER WILD HERO. The titles for each book in the X-OPS Series use the format "Her…[adjective]…[noun]" such as "HER PERFECT MATE" for Book 1, and "HER LONE WOLF" for Book 2. We started with a working title of "Her Reluctant Hero" for Book 3, because Declan is sort of a gentle giant type of hero. But that name didn't really grab anybody. Who wants a reluctant hero? It wasn't until I was almost 90% of the way through the book and able to see how the storyline was affecting Declan that my editor and I settled on HER WILD HERO. By the end of the book, it turned out to be the perfect name.
As far as inspiration/song list/influences, I must give credit to P.F. Chang's Spicy Chicken, the ultra-eclectic mix of songs on my iPod, and QVC with the volume turned down—in that order. I couldn't have knocked the story out so quickly or smoothly without all three items.

Please tell us a little about the characters in your book. As you wrote your protagonist was there anything about them that surprised you?
Kendra Carlsen is a behavioral scientist/training officer at the Department of Covert Operations (DCO). She's been working at the DCO for a while and has been itching to get into the field. While she saw a lot of exciting action in Book 1, and got to do some intel work in Book 2, almost all of it was under the radar. Her boss, the director of the DCO, doesn't know she's been doing any of it. After months of nagging, he finally agrees to send her out on a "training" exercise to Costa Rica with one of the DCO field teams. He figures it will be pretty tame and probably convince her she doesn't really want to be in the field.
Kendra will be joining Declan MacBride's team, and thinks that might be a bonus. While Kendra had been seriously crushing on wolf shifter Clayne Buchanan for years, in Book 2 she finally realized that Clayne wasn't her type at all. That's when she opened her eyes and figured out that Declan was really hot and somebody she should be checking out. But why has he suddenly started giving her the cold shoulder?
Declan MacBride is the DCO's one and only bear shifter. The DCO pairs these genetically enhanced humans with military and law enforcement types to conduct all kinds of covert missions. Shifters possess animal traits like claws, fangs, increased speed, strength, and agility, depending on the animal they share DNA with—a bear in Declan's case.
Declan has been secretly in love with training officer Kendra Carlsen since he started working for the super-secret DCO, but has finally given up on the idea that she'll ever even notice him. Then the Director decides to throw her on his team for a couple weeks while they run around the jungles of Costa Rica, and he's sure that's going to suck.

What kind of research did you do for this book?
I had to do tons of research on geography and the local flora and fauna for this Book. I also had to get the terrain right, the weather (cool and rainy for this particular time of the year), the politics of the local area, what kind of military training exercise might be going on (Costa Rica doesn't have a standing military like we think of it) while making sure this didn't turn into a documentary on the jungles of Central America. I also did a lot more research on weapons, helicopters, the Marine Corps, the DEA. I know it sounds endless. How did I get this story done in time again?

The First kiss…
While their first kiss is very chaste, the heat between Kendra and Declan still cranks up a notch!
Before she could stop herself, Kendra leaned over and brushed his cheek with her lips. The kiss was nothing more than a peck, and yet it sent a little quiver through her. Declan stared at her, surprise in his blue eyes. Had he felt it, too?
Was there a scene in this book that was harder to write than others?
For a good portion of the story, Declan and Kendra are running for their lives, but I obviously needed to work in time for romantic connections. That can be a tough balancing act. Here's a little snippet from one of those scenes.
Kendra sighed. "Okay, we have a plan. All we have to do is sneak right through the middle of a valley filled with vicious hybrids, not to mention the regular soldiers they had with them. Then we somehow have to let Tate, Gavin, and Brent know where we are. Once we do that, it's just a simple matter of the five of us fighting our way out of the jungle against a hundred bad guys. Doesn't sound hard at all."

He chuckled. "Exactly. You know what they say—the simplest plans are the best plans. Now get some rest. I'll wake you in a couple of hours to stand watch."

She must have been pretty beat, because she didn't even try to argue with him. Instead, she snuggled closer to his chest and fell asleep.

Declan closed his eyes, carefully listening for the sounds of hybrids sniffing around, but he didn't hear anything. He still couldn't believe they hadn't smelled him and Kendra in the stream. Thank God they had a crappy sense of smell like him.

But at the moment his nose was working just fine.

Unfortunately, the only scent he could pick up was Kendra's. Even sweaty and dirty, she smelled good—too good.
If your book was optioned for a movie, what scene would be absolutely crucial to include and why?
In a movie, the visual is the first thing that grabs you. I would want to show a scene that immediately conveys Declan's instinct urge to protect Kendra. Here's a little snippet of a scene I think does this perfectly.
He heard feet crashing over the jungle floor before the rumble of the initial explosion died down. There were a lot of them, and they were coming fast. Declan's first thought was to run straight toward the force attacking from the north, which was most likely where he'd find their leader. Take him out and the rest of the men would be lost.

But Declan couldn't do what his gut and his training shouted at him to do. He had to protect Kendra and get her the hell out of there.

He jumped up, scooped Kendra into his arms, and ran in the only direction that seemed to be clear to them—south. He hated being herded anywhere, but it was the best option available.

Behind him, he heard Tate, Brent, and Gavin trying to get their ragtag group to work together in an organized retreat. Declan had a pretty good sense of the numbers they were up against. If Tate couldn't make that happen, there was a good possibility no one was going to make it out of this jungle alive.
What do you want people to take away from reading this book?
This story is a prime example of the fact that we sometimes miss the forest for the trees. Kendra has wasted so much time crushing on the man she thought was just right for her that she might have screwed up a chance to be with the man she's actually supposed to be with.

What are you currently working on? What other releases do you have planned for 2015?
I'm a busy little bunny right now! Book 2 of my Special Wolf Alpha Team (SWAT) series—WOLF TROUBLE—comes out August 4th. I'm doing edits for IN THE COMPANY OF WOLVES, Book 3 of my SWAT series (due out in December). I just turned in Book 4 of the X-OPS Series. That releases in January or February. I'm also working on a romantic suspense novella called REKINDLED, Book 1 in my new Dallas Fire & Rescue Series, for a Cowboy Boxed Set that going to be debuted for pre-order at RT in Dallas in May. And I'm writing Book 4 in the SWAT Series!
Thanks for blogging at HJ!
Giveaway:

$10 Amazon Gift Card (US only)
To enter Giveaway: Please complete the Rafflecopter form and Post a comment to this Q:

If you could have traits/abilities from only one animal, which animal would it be? Why?
Excerpt from Her Wild Hero (X-OPS 3):
Being so close to her shouldn't bother him. He'd gotten over his crush on her and moved on. As he stole occasional glances at her, he knew that was a crock of shit. He'd tried; he really had. But since deciding four months ago that enough was enough and it was past time he stop pining for a woman who refused to even acknowledge his existence, he'd been miserable as hell.

He bit back a growl. Damn, he was pathetic. But there was something about Kendra that attracted him like a bear to honey. He might have chuckled at the analogy if it wasn't so damn fitting.

Kendra had already been firmly established with the DCO when he'd shown up seven years ago. Back then, she'd mostly shadowed the training officers and watched—taking notes, making her quiet observations and recommendations directly to the trainers. At the time, Declan had been coming off the disaster that was his relationship with Marissa, so he hadn't been interested in getting involved with any woman. Plus, he'd been consumed with trying to fit in with his team and learn everything they had to teach him. He had no military training to fall back on, so there'd been a lot to learn. By the time he'd gotten his head above water, he already had it bad for the behavioral scientist.

Unfortunately, he couldn't string together two sentences whenever he was around her. He wasn't a Romeo with the ladies by any stretch of the imagination, but he'd never gotten tongue-tied around women—not even his former fiancée. But it wasn't hard to see why Kendra had that effect on him. She was beautiful and smart, made him smile like no other woman ever had, made the camouflage uniform she was wearing look way sexier than it should, and she smelled delicious as hell.

His nose usually wasn't that good—mostly because he never used it—except when it came to Kendra. Then it worked just fine. Sometimes he could pick up her scent from the far side of the DCO training complex. Sitting this close to her now, it was the only thing he could smell, and it was overwhelming. He closed his eyes, hoping to block out her scent, but it was useless.

Her pheromones surrounded him, holding him prisoner and refusing to let go.

He'd tried to catch Kendra's eye for years and fallen flat on his face every time—because she was too busy obsessing over that jerk Clayne Buchanan. It had taken Declan a while, but he finally realized he was wasting his time—and his life—waiting for her and had decided to move on.

And it had been working. He'd gotten to the point where he didn't think about her 24/7, didn't subconsciously sniff the air to catch her scent the minute he drove onto the DCO complex. He'd even dated a few women he'd thought might have had long-term potential. There might not have been that same animal attraction he felt with Kendra, and he'd have to hide his shifter side, but that wasn't too high a price to pay to be normal, right?

Before today he thought he'd been well on his way to forgetting about Kendra and getting on with his so-called life. Then John had decided to send her on this mission and everything Declan thought was in the past came right back and smacked him in the face.

For the first time in forever, he wanted to put his fist through a wall. But as he felt his anger rise again, he realized he wasn't angry at John or Tate or even Kendra. He was mad at himself for being so screwed up that the mere thought of being in the same jungle as the blond-haired, blue-eyed beauty could get him so twisted up in knots.

Damn, he really was pathetic.
Excerpts. © Reprinted by permission. All rights reserved.

Book Info:
Name: Kendra Carlsen
Rank: Trainer, Dept. of Covert Ops
Objective: Get out of the office and into the field
Name: Declan MacBride
Rank: Tracker, Dept. of Covert Ops
Status: Bear Shifter
Objective: Protect Kendra at all costs
The steamy Costa Rican jungle brings out the bear in Declan MacBride when he and new operative Kendra Carlsen are ambushed. In the midst of relying on each other to survive, and fighting his explosive attraction to Kendra, this shifter is about to lose control…
Meet the Author: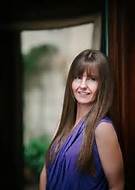 Paige Tyler is a New York Times and USA Today Bestselling Author of sexy, romantic suspense and paranormal romance. She and her very own military hero (also known as her husband) live on the beautiful Florida coast with their adorable fur baby (also known as their dog). Paige graduated with a degree in education, but decided to pursue her passion and write books about hunky alpha males and the kickbutt heroines who fall in love with them.
Website | Facebook | Twitter |