Today it is my pleasure to Welcome author
Carla Swafford
to HJ!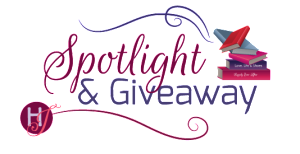 The Brothers of Mayhem series revs up as a headstrong beauty faces off against an outlaw motorcycle club—and falls for the bad boy she never saw coming.
Please summarize the book for the readers here: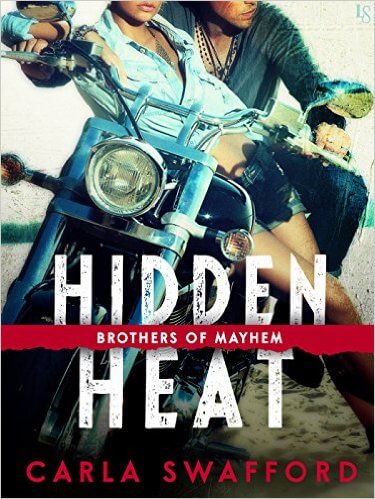 Going retro here because that's how I roll some days. Think of Bill and Ted's Excellent Adventure, and Ted telling you about Hidden Heat.
Check it out, a totally radical babe wants to stop her little bro from joining these bad-ass biker dudes. She struts into their bar and smashes up the place. Then this awesome dude tells her to chill. He's all over the babe, hangs with and helps her out. When the fearless babe finds herself in most heinous trouble, the cool dude decides to claim her as his old lady. No way! Yes, way! Then she finds out the dude is an undercover cop. Excellent! They join forces and become unrivaled partners in bringing down the most odious biker dudes.

Please share the opening lines of this book:
Cassidy Ryder swung the bat, testing the weight and reach, as she marched around the line of motorcycles. Wrinkling her nose, she ignored the sharp pungent smell of marijuana drifting across her path.
Huddled in the shade beneath the building's eaves, men with greasy hair and beards puffed on tightly, rolled joints and eyed her in mild curiosity.
Please share a few Fun facts about this book…
I did a lot of research on this book and the series, but I pulled a few characters from my misbegotten youth.
Sand County, Marystown, and Sand City are fictional. It frees me from worrying if I get a street name correct or not.
This is my first book cover with totally clothed people. HA!
If your book was optioned for a movie, what scene would you use for the audition of the main characters and why?
This scene reveals how Cassidy's bravado is mostly for show, but she's a smart cookie. She knows something isn't clicking when it comes to Thorn. As she will think later in the book,white armor on a bad boy.
Cassidy hugged herself. "I'm sorry, Thorn."
"You have nothing to be sorry about."
"If I hadn't made Stonewall so mad, we wouldn't be here now."
He pulled her back into his arms.
She wanted to soak in his body heat — she'd never been so afraid in her whole life — but she had to be brave. Chill bumps traveled down her spine.
"What are we going to do?" she whispered.
"I'll think of something. I promise you have nothing to worry about."
"Are you real?"
He leaned back, still holding her.
"Pardon?"
"Like that. You don't talk like anyone I know. You have the looks, the tats, the clothes, you ride a bike like you're born to it, you even have the family, but you're too nice."
"Because I didn't fall on you as soon as the door closed?"
"Maybe."
What do you want people to take away from reading this book?
Oh, goodness, so many fun and sexy moments. Mainly, I hope the reader enjoys discovering the love story of a couple, due to their corrupt families, were destined to be bad people. Instead, they knew they didn't have to go down the same path and could change their lives. That they found each other, when they needed each other the most, was a miracle in itself. Was that too deep?
What are you currently working on? What other releases do you have planned for 2016?
I'm writing book number three of the Brothers of Mayhem series. Of course, the first book is HIDDEN HEAT, due out February 16, 2016. Then the second one is FULL HEAT, releasing July 5, 2016; third, NAKED HEAT, November 29, 2016; and last, RAW HEAT, April 18, 2017. They have different heroes and heroines, but the same MC. You can read them out of order, but it's more fun to read as they're written. That way you can see how the characters and the club change.

Thanks for blogging at HJ!
Giveaway:

Ebook: HIDDEN HEAT by Carla Swafford (Via Amazon)
To enter Giveaway: Please complete the Rafflecopter form and Post a comment to this Q:

I have a terrible habit of snacking on bad-for-you food when I'm reading and writing. So the extra pounds. So I try to resist malted milk balls and spiced gum drops. (Never at the same time. I swear!) What's your go-to snack? Don't tell me celery sticks, I'll know you're lying. They're not naughty food unless you're like me and eating them with lots of ranch dressing. Anyway, tell me what you smear on paperbacks or e-readers.
Book Info:
Cassidy Ryder refuses to be intimidated by anyone, even the hell-raising, hard-drinking Brothers of Mayhem. The daughter of their former president, she's not above smashing a few heads to keep her teenage brother safe. But when Cassidy's big mouth gets her in trouble, the only thing that saves her is some quick thinking from the Brothers' bartender. He's commanding and strong, and as smooth as the whiskey he pours: the ultimate temptation for a girl who swore she'd never be a biker's plaything.
But Thorn Savalas is no ordinary biker. He's a cop, and he's worked too hard earning the Brothers' trust to blow his cover over a female—even one who rocks a pair of jeans like Cassidy. The only way to protect her is by claiming she's his old lady. Trouble is, Thorn can't just pretend. He wants Cassidy, and every scorching touch tells him she feels the same. But acting on their hottest fantasies could leave them both exposed . . . even if nothing else has ever felt so real.


Meet the Author: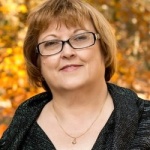 Carla Swafford loves romance novels, action/adventure movies and men, and her books reflect that. She's married to her high school sweetheart and lives in Alabama.
Carla is presently working on her new series for Penguin-Random House/Loveswept.
Be sure to sign up for her newsletter to receive info on giveaways, book cover reveals, etc.
http://www.carlaswafford.com/aboutcarla.html