Today it is my pleasure to Welcome author
Joanne Rock
to HJ!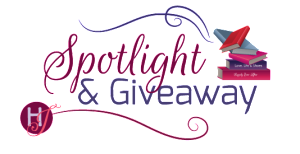 Hi Joanne and welcome to HJ! We're so excited to chat with you about your new release, His Accidental Heir!

So glad to be back!

Please summarize the book for the readers here: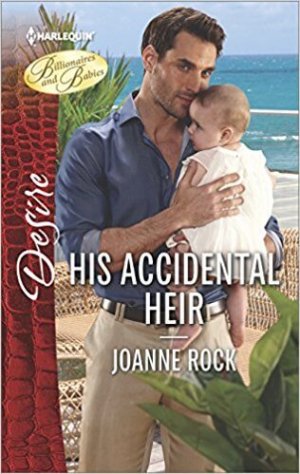 His Accidental Heir is my first Billionaires and Babies story for Harlequin Desire and it's my third McNeill brother hero. Resort owner Cameron McNeill goes "Undercover Boss" as a demanding guest to find out what's going on at his Caribbean hotel, only to find a sexy concierge who fulfills his every request. When he finds out she's inherited a surprise baby, Cameron finds himself wanting to help… and more!

Please share the opening lines of this book:
"Rafe, I need you in the Antilles Suite today." Maresa Delphine handed her younger brother a gallon jug of bubble bath. "I have a guest checking in who needs a hot bath on arrival, but he isn't sure what time he'll get here."
Please share a few Fun facts about this book…
Researching St. Thomas proved so much fun I ended up taking a cyber-vacation while writing.
The hero, Cameron McNeill, is featured in The Magnate's Mail-Order Bride as the brother who proposed to a ballerina the moment he met her. He had his reasons though!
Travelling on a billionaire's budget is incredibly fun.
Please tell us a little about the characters in your book. As you wrote your protagonist was there anything about them that surprised you?
I gave this hero an adorable little show dog as part of his undercover efforts as a "pain in the neck" hotel guest. I had fun watching the hero get attached to the dog.
If your book was optioned for a movie, what scene would you use for the audition of the main characters and why?
I like the tension of the scene where the heroine first meets her brother's child. The hero has a small role– he is a bystander through some of it, but his quick support of the heroine on a day she receives stunning news is something special….
Maresa turned toward the path through the thick undergrowth that led back to the hotel and nearly ran right into Jaden Torries, her ex-fiancé.
"Whoa!" Jaden's one hand reached to steady her, his other curved protectively around a pink bundle he carried. Tall and rangy, her artist ex-boyfriend was thin where Cameron was well-muscled. The round glasses Jaden wore for affectation and not because he needed them were jammed into the thick curls that reached his shoulders. "Maresa. I've been trying to contact you."
He released her, juggling his hold on the small pink parcel he carried. A parcel that wriggled?
"I've been busy." She wanted to pivot away from the man who'd told the whole island he was dumping her before informing her of the fact. But that shifting pink blanket captured her full attention.
A tiny wrinkled hand reached up from the lightweight cotton, the movement followed by the softest sigh imaginable.
Her ex-fiancé was carrying a baby.
"But this is important, Maresa. It's about Isla." He lowered his arm cradling the infant so Maresa could see her better.
Indigo eyes blinked up at her. Short dark hair complimented the baby's medium skin tone. A white cotton headband decorated with rosettes rested above barely there eyebrows. Perfectly formed tiny features were molded into a silent yawn, the tiny hands reaching heavenward as the baby shifted against Jaden.
Something shifted inside Maresa at the same time. A maternal urge she hadn't known she possessed seized her insides and squeezed tight. Once upon a time she had dreamed about having this man's babies. She'd imagined what they would look like. Now, he had sought her out to…taunt her with the life she'd missed out on?
The maternal urge hardened into resentment, but she'd be damned if she'd let him see it.
"Congratulations. Your daughter is lovely, Jaden." She straightened as the large shadow of Cameron Holmes covered them both.
"Is there a problem, Ms. Delphine?" His tone was cool and impersonal, yet in that awkward moment he felt like an ally.
She appreciated his strong presence beside her when she felt that old surge of betrayal. She let Jaden answer since she didn't feel any need to defend the ex who'd called off their wedding via a text message.
"There's no problem. I'm an old friend of Maresa's. Jaden Torries." He extended his free hand to introduce himself.
Mr. Holmes ignored it. Poppy barked at Jaden.
"Then I'm sure you'll respect Maresa's wish to be on her way." Her unlikely rescuer tucked his hand under one arm as easily as he'd plucked his pet from the water earlier.
The warmth of his skin made her want to curl into him just like Poppy had, too.
"Right." Jaden dropped his hand. "Except Rafe's old girlfriend, Trina, left town last night, Maresa. And since Trina's my cousin, she stuck me with the job of delivering Rafe's daughter into your care."
Maresa's feet froze to the spot. She had a vague sense of Cameron leaning closer to her, his hand suddenly at her back. Which was helpful, because she thought for a minute there was a very real chance she was going to faint. Her knees wobbled beneath her.
What do you want people to take away from reading this book?
I want people to be utterly transported by my story. I hope they feel like they've been to St. Thomas and seen the sights, and I hope they close the book feeling a little bit in love, too.

What are you currently working on? What other releases do you have planned for 2017?
I'm writing my sixth McNeill story for Harlequin Desire right now! So excited to continue this series with a new set of brothers from their father's mistress. In 2017, readers can look for
Second Chance Cowboy (August, Tule Publishing)
A Chance Encounter at Christmas (October, Tule Publishing)
Little Secrets: His Pregnant Secretary (December, Harlequin Desire)

Thanks for blogging at HJ!
Giveaway: *

Open US* – a print copy of the first two McNeill books, The Magnate's Mail-Order Bride and TheMagnate's Marriage Merger. *Open INTL* – digital downloads of the first two McNeill books, The Magnate's Mail-Order Bride and TheMagnate's Marriage Merger.
To enter Giveaway: Please complete the Rafflecopter form and Post a comment to this Q:

Let's say your billionaire book boyfriend invited you to rent a place in St. Thomas for the weekend. Would you opt for the cottage in the tropical foliage of the mountains? A bungalow on the beach? A villa on a resort property with all the amenities? Dream big! Tell me what you'd like in your vacation getaway property.
Excerpt from His Accidental Heir:
A moment later, Maresa stepped out of the nursery and shut the door behind her, leaving Isla with Wendy. The cries continued. Poppy paced nervously outside the door.
"I should leave." Worry etched her features. She scraped back her sun-lightened curls behind one ear. "You've been so kind to help me manage my first day of caring for an infant, finding Wendy and the baby supplies, but I really can't impose any longer—"
"You are not anywhere close to an imposition." He didn't want her to leave. "I'm trying to help with Isla because I want to."
Maresa's hands fisted at her side, her whole body rigid. "She's my responsibility."
Her stubborn refusal reminded him of his oldest brother. Quinn never wanted anyone to help him either—a trait Cam respected, even when Quinn became too damn overbearing.
"You've know about her for less than twenty-four hours. Most families get nine months to prepare." He settled a hand on Maresa's shoulder, wanting to ease some of the weight she insisted on putting there.
"That doesn't make her any less my obligation." She folded her arms across her chest in a gesture that hovered between a defensive posture and an effort to hold herself together.
Another shriek from the nursery sent an answering spike of tension through Maresa; he could feel it under his fingertips. He'd have to be some kind of cretin not to respond to that. Still, he dropped his hand before he did something foolish like thread his fingers through her brown hair and soothe away the tension in her neck. Her back.
"Maybe not, but it gives you a damn good reason to accept some help until you get the legalities sorted out and come up with a game plan going forward." He extended his arms to gesture to the villa he'd taken for two weeks. "This place is going to be empty all evening once I head back to the hotel to put the Carib staffers through their paces. Stay put with Isla and the nurse. Have something to eat. Follow up with your lawyer. Poppy and I can sleep at the hotel tonight."
She shook her head. "I can't possibly accept such an offer. Even if you didn't own the company I work for, I couldn't allow you to do that."
"Ethics shouldn't rule out human kindness." Cameron wasn't going to rescind the offer because of some vague notion about what was right or proper. She needed help, damn it.
He drew her into a study down the hallway where indoor palm trees grew in a sunny corner under a series of skylights. Poppy trailed behind them, her collar jingling. Even here, the view of the water and the beach below was breathtaking. It made him want to cliff dive or wind surf. Or kiteboard.
He ground his teeth together on the last one. He hadn't been kiteboarding since the accident that ensured he'd never have children of his own. As if the universe had conspired to make sure he didn't repeat his father's mistakes.
"Is that what this is?" She stared up at him with questioning eyes. Worried. "Kindness? Because to be quite honest, this day has felt like a bit more than that, starting down at the beach this morning."
Starting yesterday for him, actually.
So he couldn't pretend not to know what she meant.
"There may be an underlying dynamic at work, yes. But that doesn't mean I can't offer to do something kind for you on an impossibly hard day." He had that ability, damn it. He wasn't totally self-absorbed. "And it's not just for you. It's for your brother, who might need more time to deal with this. And for Isla, who is clearly unhappy. Why not make their day easier, too?"
Maresa was quiet a long moment.
"What underlying dynamic?" she asked finally.
"It's not obvious?" He turned on his heel, needing a minute to weigh how much he wanted to spell things out. Go on the record. But he did, damn it. He liked this woman. He liked her fearless strength for her family, taking on their problems with more fierceness than she exercised for herself. Who took care of her? "I'm attracted to you."
He wasn't sure what kind of reaction he expected. But if he had to guess, he wouldn't have anticipated an argument.
"No." Her expression didn't change, the unflappable concierge facade in full play. "That's not possible."
There was a flash of fire in her tawny eyes, though. He'd bank on that.
"For all of my shortcomings, I'm pretty damn sure I know what attraction feels like."
"I didn't mean that. It's just—" She closed her eyes for a moment, as if she needed that time in the dark to collect her thoughts. When she opened them again, she took a deep breath. "I don't think I have the mental and emotional wherewithal to figure out what that means right now and what the appropriate response should be." She tipped two fingers to the bridge of her nose and pressed. "I can't afford to make a decision I'll regret. This job is…everything to me. And now I need it more than ever if I'm going to take proper care of Isla and my brother."
"I understand." Now that he'd admitted the attraction, he realized how strong it was, and that rattled him more than a little. He was here for business, not pleasure. "And I'm not acting on those feelings because I don't want to add to the list of things you need to worry about."
"Okay." She eyed him warily. "Thank you."
"So here's what I propose. I'm going to need your help on this project. It's important to me." He couldn't afford trouble at the Carib with so much riding on the Caribbean expansion program. The McNeills had their hands full with their grandfather's failing health and three more heirs on the horizon to vie for the family legacy. "Take a couple of days off from the hotel. Stay here with Isla and get acquainted with her while you prepare your family and plan your next steps. I'll stay at the hotel with Poppy."
"Cam—"
"No arguments." He really needed to leave her be so she could settle in and connect with the baby. He understood the crying and the newness of the situation would upset anyone, especially a woman accustomed to running things smoothly. "You can review those files I showed you earlier in more detail. I'd like your assessment of a variety of hotel personnel."
Finally, she nodded. It felt like a major victory. And no matter what he'd said about ignoring the attraction, he couldn't help but imagine what it would be like to have her agree to other things he wanted from her. Having dinner with him, for instance. Letting him taste her full lips. Feeling her soft curves beneath his palms.
Excerpt. © Reprinted by permission. All rights reserved.

Book Info:
The Boss's Baby Bargain
When resort developer Cameron McNeill goes undercover to root out problems at his prized island property, his first discovery is the irresistible concierge, Maresa Delphine. Her business smarts are vital to his mission. But the struggling single mom could help with his personal mission, too: fulfilling the marriage terms of his grandfather's will.
Maresa is overwhelmed caring for her infant niece and tending to the demands of the resort's sexy mystery guest. When he reveals himself as the owner, she's thrown for a loop. But when he proposes…can she resist his brand of trouble in paradise?
Book Links:


Meet the Author: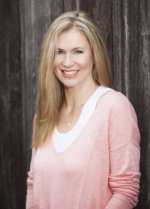 Four-time RITA nominee Joanne Rock has never met a romance sub-genre she didn't like. The author of over eighty books enjoys writing a wide range of stories, most recently focusing on sexy contemporaries and small town family sagas. An optimist by nature and perpetual seeker of silver linings, Joanne finds romance fits her life outlook perfectly–love is worth fighting for. A frequent speaker at regional and national writing conferences she enjoys giving back to the writing community that nurtured and inspired her early career. She has a Masters degree in Literature from the University of Louisville but credits her fiction writing skills to her intensive study with friend and fellow author Catherine Mann. When she's not writing, Joanne enjoys travel, especially to see her favorite sports teams play with her former sports editor husband and three athletic-minded sons.
Website | Facebook | Twitter | Instagram | GoodReads |