Today it is my pleasure to Welcome author
Anna J Stewart
to HJ!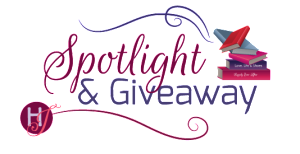 Hi Anna and welcome to HJ! We're so excited to chat with you about your new release, His Christmas Carousel Baby!

Hi, everyone! This place is starting to feel like home. Great to be back with you all.

Tell us about the book with this fun little challenge using the title of the book: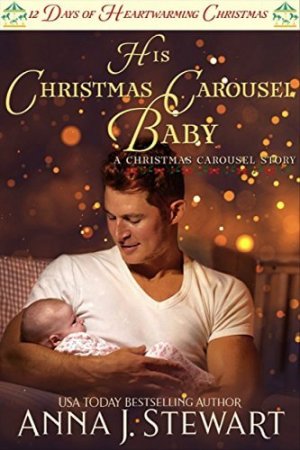 For once, I think I nailed the premise of the book just with the title. That doesn't usually happen. Wally MacIver (the brother of my heroine from last year's Christmas Town, Maine collection) has come back home after a disastrous attempt at a songwriting career in Nashville. He fell hard for his boss, Grayling Stanhope and…well, let's just say she did him wrong. Just as he's getting over having to let go of his dreams and being betrayed by the woman he loved, Grayling turns up in Christmas Town and, yep, you guessed it, she's pregnant.
What's your favorite line(s) from the book?:
"Oh, no. No, no, no." Grayling pulled her car into the only free spot in front of the Pine Tree Inn and RV Park and sagged against the steering wheel. It wasn't possible that her arrival in town would start with her nearly running over Wally MacIver.
Please tell us a little about the characters in your book. What first attracts your Hero to the Heroine and vice versa?
Wally is one of those really good guys. He always does and (mostly) says the right thing. He's reliable and steady and completely unaware of how he comes across in that way. He's an observer by nature and is mostly content with his life, but it's the longing to put his emotions and ideas into songs that drives him. He was also the type of guy who was willing to set aside his own aspirations to stay home and help his sister with the family business, but she pushed him hard out the door…and he took a chance. One that really didn't pay off the way he expected.
Grayling is about as opposite from Wally as possible. She's from England, raised in London and boarding schools and has spent most of her life trying to live up to her father's expectations: to get him to notice her. To get him to love her. In some ways, she's like Wally, in that she doesn't push to pursue her own dreams, but one dream she never expected to come true was having a baby. She'd been told by numerous doctors it wasn't going to be possible, so when she ends up pregnant (and doesn't find out until she's nearly five months along), her life takes detours she never imagined possible…right back to Wally.
As this is a reunion story, we don't actually see them meet for the first time. That said, while Wally definitely found himself attracted at first sight, Grayling actually fell in love with his song-writing first and then when they came face to face, she was in. All in. So much so she was scared to death and as a result, really made some bad decisions. She has a lot of making up to do, a lot of trust to earn back and Wally isn't exactly easy and, well, he makes some mistakes himself. Neither of them is perfect, which is one thing I really like about them. They both make messed-up choices, but as a writer, that's so much fun because then I get to figure out how to fix it.
When you sat down to start this book, what was the biggest challenge you faced? What were you most excited about?
The biggest challenge was probably the fact that this year the Christmas Town collection of stories, 12 DAYS OF HEARTWARMING CHRISTMAS, is 40k words each. In previous years (this is our fifth), the stories have each been 20 – 25k, which means I needed a lot more story and deeper conflict.
What I was most excited about is that I knew what this story was going to be last year. By the time I wrote "the end" on THE CHRISTMAS LIST (Hazel MacIver's story), I knew exactly what was going to happen to Wally and that by this time the following year (this year), he'd be back in Christmas Town with broken dreams and a broken heart. It made sitting down and writing a lot easier knowing that.
The other challenge is what it always is with this collection of stories each year. Making sure we are consistent with the characters, events, and cross-overs between characters (and there are a lot among 12 separate stories!). But we did it. I've read most of them and they're phenomenal. One town, one Christmas, two events (a wedding and a carousel dedication), and lots of happily ever afters, including Wally and Grayling's.
What, in your mind, makes this book stand out?
As I said above, this is the fifth year we've done a collection of Christmas Town stories. The first collection of three sweet novellas, CHRISTMAS, ACTUALLY, was a spur of the moment idea from my friend, author Melinda Curtis. She brought in author Anna Adams and then invited me…hence Christmas Town, and all it's splendor and holiday spirit, was born. We also included a town legend that says a kiss beneath the mistletoe at the town square gazebo means wedding bells in the new year.
Over the next few years, we did boxed collections (A Heartwarming Christmas, A Heartwarming Holiday, and Heartwarming Holiday Wishes–each available for only $.99 for a limited time) and invited a lot of our Harlequin Heartwarming (sweet romance) sisters to contribute stories. Every year Christmas Town expands both with the contributing authors but also the town itself and its characters. But we also include old favorites. You never know who is going to pop up in someone's story, and that's definitely part of the fun. But each story also stands out on its own. Thank goodness because now we'll have 52 of them!
This year's collection features two separate "mini-series". One collection of six stories revolves around the Christmas Eve wedding of John and Lisa (their story, a FREE prequel if you sign up for our newsletter at www.HeartwarmingChristmasTown.com) while the other six deals with the restoration of the carousel. Wally, my hero, is one of the carpenters restoring the animals.
The First Kiss…
Christmas Town stories are sweet romances, so there's not a whole lot of physical intimacy going on. That said…there always has to be a kiss or two, right? Here's their first since reuniting in Christmas Town.
"No matter what else." Grayling's voice hitched with tears. "And now that we're back on civil terms, I need to say this. What's done is done. I betrayed you, betrayed us, and while I know there's no forgetting that, maybe…"

"Maybe I can forgive?" Wally whispered as he pressed his fingers more firmly against her stomach. "Yeah. I'm working on it." Because he didn't trust his voice or his mind, he did the only thing he could think of: he leaned over and kissed her.
If your book was optioned for a movie, what scene would you use for the audition of the main characters and why?
I think it would be the scene where Wally and Grayling meet up again for the first time in Christmas Town. She's just discovered the main inn in town is full up, but she's not letting that deter her from staying so she can tell Wally he's going to be a father. There's so much neither of them is saying and yet it's right there, between them. The tension was really fun to write and I'd love to see that played out on film.
Defeated but undeterred, Grayling pushed back into the night. Keys in hand, she ducked her head against the cold and headed back to her car, trying to reason out how to fit her five-foot-seven height into a car that may as well double as circus clown transportation.

"I guess I wasn't seeing things."

Grayling yelped and jumped. Her feet flew out from under her, and she felt herself falling. She cried out, arms flailing, as a paralyzing fear swept over her.

But she didn't fall. Instead she found herself caught in Wally's arms. Wally's familiar, protective, wonderful arms. He hauled her upright, pushed her legs under her, and stared into her face for an uncomfortable, silent, and perfect moment.

"Hello," she whispered. She cleared her throat and tried again. "Hello, Wally."

"What are you doing here, Grayling?"

His voice was as cold as the ice under her boots. There wasn't any hint of the man she'd fallen in love with, the man whose talents she'd hoped to hone and nurture. The man who had made her think anything and everything was possible. And yet…it was Wally.

Her heart expanded at just the sight of him.

"I took some vacation days," she said, the rehearsed explanation flying out of her mind the second she stared into those amazing, green eyes of his. "The office was pretty much empty, anyway. Everything goes dead around the holidays."

"And you came here?" Wally's eyes narrowed.

"Um." Grayling forced a smile. Did he realize he was still holding her? Still close to her? Still glaring at her. "You spoke so highly of your home. I thought maybe I might see it all firsthand."

"Did you?"

The combination of condescension and skepticism in his voice rang louder than Santa's sleigh bells. "You don't believe me."

"I wouldn't believe you if you told me snow was white." With that, he stepped back and retrieved the paper bag he'd set on the top of her snow-dusted car. "Go home, Grayling."

"I can't. Not yet. Non-refundable ticket." What was one more lie on top of all the others she'd told him? She needed time, probably more than she wanted to admit, to get him to forgive her.
If your hero had a sexy-times play list, what song(s) would have to be on it?
Well, not much sexy-time going on (on the page, LOL), but Wally's one of those old school music fans. He'd go for Eric Clapton or some nice, sedate Johnny Cash. Something that would ignite his imagination and his desire for the right words at the right time.Given Grayling is a record producer, I think she'd probably agree with whatever he chose given it's his songwriting that had her falling for him in the first place.

What do you want people to take away from reading this book?
Aside from the magic of the holiday season and the way the town comes together to pull off the restoration of the town carousel in time for a wedding, I'd like to have conveyed the power of forgiveness. Earning back someone's trust might the most difficult thing we ever have to do and Wally does not give in easily. In fact, it's not until he's faced with losing both Grayling and his child that he comes to realize that in the end, it's love and the love of family, that's the most important thing.
What are you currently working on? What are your up-coming releases?
It's been a super busy year and it's still only October! I just turned in a book for Harlequin Romantic Suspense for their Colton continuity series for 2019. I'm currently writing the sixth book in my Butterfly Harbor series for Heartwarming (and I've got my fingers crossed there will be more). After that, I get to go back to the Honor Bound series for Romantic Suspense and write Jack's story, a character I've been dying to explore ever since he popped up in More Than a Lawman (11/16). I'm calling it my Rear Window story and my heroine is a total hoot! Totally different from anyone else I've written. This one will have a lot of humor in it, I think. But…
I'm super excited about my December release, THE RANCHER'S HOMECOMING. It'll complete The Return of the Blackwell Brothers mini-series from Heartwarming and features a single dad hero, Chance Blackwell, who is brought home to cast the deciding vote on selling the family ranch. Being able to write this series with my four best writing buds, Melinda Curtis, Cari Lynn Webb, Amy Vastine, and Carol Ross, has been one of the best experiences I've had in writing yet. If readers haven't started this series yet, you can get the first three now (THE RANCHER'S TWINS, THE RANCHER'S RESCUE, and THE RANCHER's REDEMPTION) and THE RANCHER'S FAKE FIANCE will be out in November. Trust me, you're going to LOVE the Blackwell Brothers. We sure do!

Thanks for blogging at HJ!
Giveaway:

5 digital copies of Christmas, Actually, the collection of stories that started it all!
To enter Giveaway: Please complete the Rafflecopter form and Post a comment to this Q:

Yes, it's early for the holiday season, but it's my favorite time of year! I can't wait for Thanksgiving so I can start decorating (although I won't have a big tree this year because we have two new kittens in the house, LOL). What's your favorite holiday tradition? If you don't celebrate, what's your favorite part of the season? I have to admit, I love coming in from the cold and having a cup of hot chocolate with a candy cane swizzle. It just makes me happy.
Excerpt from His Christmas Carousel Baby:
Watching Grayling Stanhope step onto his front porch twisted Wally's bruised heart like a candy cane. What was she doing here? He didn't believe for a second she was enticed by his unending pontifications of the town he loved. Women like her weren't attracted to places like this, where communities banded together like they had to refurbish the carousel or plan a last-minute Christmas Eve wedding.

Nope. Women like Grayling should be having tea with the Queen or lording their success over anyone stupid enough to fall to their knees in front of them.

You mean like you did? That internal voice of his really had copped an attitude lately. But he'd yet to find a way to stifle it.

Dinner bag in one arm, he dug out his keys and pushed open the door for her. "It's not much. It's certainly not what you're used to."

"It's charming." He heard no hesitation in her voice, nor did he see anything but wide-eyed wonder as she stomped the snow off her ridiculously high-heeled boots and stepped inside. She turned in a slow circle, that familiar, blood-fizzing smile of hers stretching across her lovely, pink lips. "It's so cozy. Quaint. I like it."

Wally smirked. The entire two-bedroom cottage could fit into that cavern she called a living room in that penthouse apartment she lived in. He flipped on the lights. "I'll get a fire going in a minute. Just…make yourself comfortable." Things would be so much easier if he could be as rude as he wanted. But that would only tempt Aunt Trudy's ghost back from the afterlife to smack him upside the head.

Grayling might have destroyed all his hopes and dreams of a music career, but that didn't mean she deserved to be left out in the cold, literally or figuratively.

"Can I have your keys, please?" He held out his hand after returning from the kitchen.

"Why?" Grayling blinked those baby blues at him, and for an instant he was back in the conference room the first day they'd met. When he'd forgotten everything, including his own name, the second she'd smiled at him.

"I take it you brought a suitcase?" He waggled his fingers. "Come on. We're letting the heat out." He motioned to the front door.

"Sure. Okay. Of course." She handed him the key and tugged the edges of her coat together.
Wally stared at her, trying to decipher the unusual expression on her pretty, round face. The perennial business woman usually oozed confidence and determination, but there was an uncertainty hovering over her, as if she had no idea what she was doing.

Which she probably didn't given she was standing in his miniscule living room in Christmas Town, Maine, and not sauntering through the lobby of some posh, London-centric hotel.

Too wary and weary to even attempt to figure out what was going on in her head, he retrieved her wheeled suitcase, locked up her car which she'd parked behind his truck. He took an extra moment to stare up at the sky, admire the stars, and hope for a night that would pass quickly.
"I've got a couple of extra dinners I can warm up." Wally closed the front door, bolted it, and flicked on the porch light. "Not your usual salad fare, I know, but the meatloaf or pot pie will…Grayling?"

He set her bag down beside the couch. She was still wearing her jacket. Her blonde hair spilled over the silver and gold throw pillows Hazel had insisted he take to spruce the place up. Whatever tension he'd seen on Grayling's face faded beneath the peace of sleep. And she was asleep. Utterly and completely asleep.

"Huh." He sat on the edge of the coffee table and watched her. None of this made any sense. Exactly how did she plan to make things right? Ask him to come back to Nashville? Beg him to write the songs she claimed she'd fallen head over heels for? Plead with him to forgive her for selling him out? "What are you up to?" He reached out his hand, could all but feel the softness of those blond waves beneath his fingertips, but at the last second, he stopped himself.

Whatever her reason for coming out here, it wasn't going to change anything between them. Nothing she could say or do was going to erase what she'd done, the lies she'd told. The mistakes she'd made. What fantasy world was she living in that she actually believed he'd ever trust her again?

It had taken him weeks to get to the point where he could function again, where he could wake up in the morning and not have her be the first thing he thought about. He should have known she'd do something to screw that up.

Because now? Now she'd be the first thing he saw when he woke up in the morning. "Merry Christmas to me."

Tomorrow she'd be gone. If he had to buy her a ticket home and drive her to the airport himself. He didn't want her here. She didn't belong here. Not in Christmas Town and certainly not anywhere near him.

He shrugged out of his jacket, hung it on one of the hooks by the door, and headed into the kitchen to zap his dinner in the microwave. While the meatloaf heated, he got the fire going in the fireplace, then, pushing all thoughts and memories of Grayling aside, gently unzipped and removed her boots, lifted her feet onto the sofa, and draped one of Aunt Trudy's crocheted afghans over her.

He clicked on the lamp beside her, in case she woke up and was disoriented, scribbled a note telling her where the bathroom was, then retrieved his dinner, which he took into his bedroom. And closed the door behind him.
Excerpts. © Reprinted by permission. All rights reserved.


Book Info:
The woman who destroyed his dreams is having his baby!
After spending the last year trying to get his song-writing career off the ground, Wally MacIver is back in Christmas Town for good. His dreams and ambition didn't bring him anything other than betrayal and pain, mainly at the hand of his boss, record executive Grayling Stanhope. So much for thinking their "connection" was anything other than business. But the last thing Wally expects is to run into Grayling again…in Christmas Town!
Grayling fell in love with Wally's songs long before she ever met him. Their attraction and connection was immediate, but divided loyalties and her own insecurities cost her the only man she's ever truly loved. She knows he might never trust her again, but there are some secrets she just can't keep. Somehow, some way, they've got to find a way to move beyond the past: especially now that they're going to have a baby!
Book Links: Amazon | B & N | iTunes | Kobo |


Meet the Author: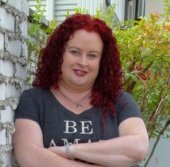 Bestselling author Anna J Stewart was the girl on the playground spinning in circles waiting for her Wonder Woman costume to appear or knotting her hair like Princess Leia. A Stephen King fan from early on, she can't remember a time she wasn't making up stories or had her nose stuck in a book. A past Golden Heart and Daphne DuMaurier Finalist, Anna currently writes sweet to spicy romances for Harlequin, spends her free time at the movies or at fan conventions, cooking and baking, and spends most every night wrangling her two kittens, Rosie and Sherlock, who love dive bombing each other from the bed…and other places. Her house may never be the same.
Website | Facebook | Twitter |