Today it is my pleasure to Welcome author
Sandra Jones
to HJ!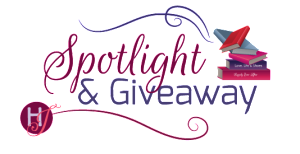 Hi Sandra and welcome to HJ! We're so excited to chat with you about your new release, His Most Wanted!
Please summarize the book for the readers here: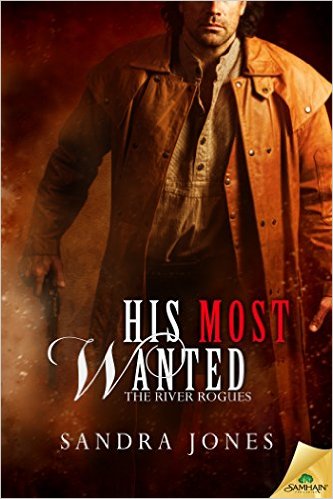 Cora Reilly has invested her life as madam of the Willows Social Club, a successful frontier bordello in the rough town of Fort McNamara. After killing the local sheriff in self-defense, her only option for protecting her ladies from riffraff is to don a disguise and take to the streets, becoming a vigilante in a velvet hood.
Then dangerous gunslinger Kit Wainwright arrives in town and reluctantly accepts the badge. His first assignment as sheriff? To capture the murderer known as Velvet Grace.

Please share the opening lines of this book:
The gun, still warm from shooting the sheriff, fit just right against Cora Lynn Reilly's
ribs, wedged beneath her breasts between her corset and her blouse. Her heart thundered
like a cannonball as she looked for a way to exit the room that wouldn't require going near
the body on the floor, but unfortunately, there wasn't one. The sound of the blast would
likely bring someone upstairs to check on the man, and she couldn't be caught alone with
him.
Please share a few Fun facts about this book…
The working title of the book was Wanted by the Gunslinger. The hero originally first appeared in book one of the River Rogues series, Her Wicked Captain. Readers told me they wanted Kit to have a book of his own, so HIS MOST WANTED is Kit's story. Fort McNamara is loosely based on Fort Smith, Arkansas, home of the infamous Hanging Judge Parker. To research the setting, I visited Fort Smith and toured a historical frontier bordello. I learned a lot about how women of the time lived and survived in a dangerous, male-dominated society.
If your book was optioned for a movie, what scene would you use for the audition of the main characters and why?
Kit is an extreme flirt, so I think his scenes would be a lot of fun to watch on the screen. Cora, by contrast, is a no-nonsense sort of lady. Very straight, takes no bull-crap–so they're often at odds. One exchange I'd like to see is this one where Cora has just met Kit and witnessed his marksmanship:
"I don't want any gunslingers—especially drunk ones—around my girls."

His mouth twisted in a half grin. "I'm not very drunk. I'm still far too sober, and I'm
in need of a bed and a pretty lady to keep me warm. Maybe you could help me with that?"

"Go somewhere else, sir."

He ran a hand through his hair. It fell in dark, shiny waves around his forehead. He
leaned deeper into the doorway, his face hovering over hers so that she could smell the whiskey on his breath, as well as the smoke and leather from his travels. "You'd send me away…in this condition?" he slurred. "I promise, I'm not dangerous. I'll let you hold my gun…"

His cheek dimpled at his words, or perhaps at her reaction. She felt heat surging to her face at his double-entendre.
What do you want people to take away from reading this book?
The River Rogues series is all about the women and men of the American frontier–how rugged their lives were and how they thrived in love and life. Being the bordello's owner, Cora doesn't "entertain" men, but hopefully you'll come away from reading this book with a better understanding for houses of ill-repute and the women who had no better option for survival during those times.
What are you currently working on? What other releases do you have planned for 2015?
I'm currently working on the third yet-to-be-named River Rogues novel, Asa's story. All I can tell you now is that it's set in Vicksburg in the Civil War.

Thanks for blogging at HJ!
Giveaway:

To celebrate the release of HIS MOST WANTED, I'm giving away 2 copies of the print book of the River Rogues book one, HER WICKED CAPTAIN, where we first meet gunslinger Kit. The giveaway is open to US readers only.
To enter Giveaway: Please complete the Rafflecopter form and Post a comment to this Q:

I LOVE traveling to find inspiration for my books! What interesting/inspiring places have you visited that you would like to see turned into a romance novel?
Excerpt from His Most Wanted:
Prologue

The gun, still warm from shooting the sheriff, fit just right against Cora Lynn Reilly's
ribs, wedged beneath her breasts between her corset and her blouse. Her heart thundered
like a cannonball as she looked for a way to exit the room that wouldn't require going near the body on the floor, but unfortunately, there wasn't one. The sound of the blast would likely bring someone upstairs to check on the man, and she couldn't be caught alone with him.

Balancing on her toes to miss the blood spreading across the boards, she stepped over the first booted leg, her skirt spanning Bill Sidlow's bloated thighs. She lifted her hem to avoid dragging her petticoat across the man's torso, now damp and crimson, and set her left foot down with care between his side and his spread-eagle arm.

Don't look, don't look. But morbid curiosity got the better of her. She had to be absolutely
certain the bastard was dead, so she glanced down at Sidlow's face. His sightless eyes stared back at her, familiar enough to make a frisson of terror run down her spine again after he'd cornered her against his apartment wall with demands of sex.

"Shoulda known better," she scolded beneath her breath. But whether she'd directed her
words at the sheriff or herself, she wasn't sure.

He gave no response, his flaccid mouth and sagging jowls glistened with spittle—no
different than in life, she supposed. When he'd visited the club earlier that night, he'd pulled her aside to invite her here to his place for a private word, and even then his breath against her ear had been wet and disgusting.

She'd assumed he wanted to talk about business away from the girls and their customers,
because if he'd wanted to make any advances of a sexual nature, where better than the
Willows, the popular social club she owned on the Row? But she'd been wrong. The sheriff had wanted more than to talk. He'd wanted to take, and that was something Cora wouldn't allow.

Now, one mistake and a bullet later, she had to get out of his apartment fast before
anyone found her here.

Tearing her stare away from the sheriff 's corpse, she set her body in motion for the
door, but the sudden tread of boots on the stairs outside stopped her in her tracks.

"Sheriff? Was that your gun I heard?" Mrs. Murphy, wife of the boarding house owner,
called from a short distance below.

Cora's pulse raced. She scanned the room again. There was a window, but she didn't
recall seeing a way down. She was certain no one else had seen her enter the building. She
couldn't let Mrs. Murphy find her now, for who would believe a bordello madam who'd shot the sheriff with her pearl-handled pistol in his own bedroom?

No way would she allow anyone to hang her for the likes of Bill Sidlow. She'd never shot
anyone else in her life and hadn't even taken her gun out of its case before tonight. The only reason she'd brought the weapon was in case she was accosted by one of the drunks in the streets outside.

Besides, her girls needed her. Especially now that there would be no one to keep the
town's worst ruffians from their doorstep, and God knew, Fort McNamara had its share of those.

She swept another glance around the room for something she could cloak herself
in. The bed was stripped to the sheet, but a long blue velvet drapery hung above the lone
window. It would have to do.

A knock sounded at the door. "Sheriff? You all right?" Mrs. Murphy asked again.

Cora vaulted over the body and yanked the heavy fabric from the rod. Returning to
the door, she swirled the drape around her head and shoulders until she'd fully cocooned
herself, then she waited for a chance to escape.

The door metal rattled. When Mrs. Murphy peeked in, Cora threw her weight against
the wood panel, knocking the woman outside off balance, and then barreled past. She
descended the stairs, running as fast as she could in the tight wind of her drapery cloak.
As she reached the front door of the boarding house, she heard the woman's shriek of
horror at discovering her boarder's remains. "Murder! Help, the sheriff 's been murdered!"

Bursting outside into the darkened street, she kept to the shadows, holding the fabric
closed at her neck as she dodged drunken cowboys looking for good times. She averted her face, praying no one would recognize her until she made it back to the bordello.

One thing she knew for certain, after this night, she had better get used to carrying her
pistol.
Excerpt. © Reprinted by permission. All rights reserved.

Book Info:
It'll take more than a badge to get her to confess her secrets.
Kit Wainwright only meant to stop the thief making off with his beloved uncle's ashes. He wants to hang up his gun, become a law-abiding citizen and leave his violent past behind. But the mayor takes notice of his sharpshooting skills, slaps a badge on his chest and puts him in charge of cleaning up this lawless town. Starting with tracking down the notorious Velvet Grace.
Bordello owner Cora Reilly never meant to become a crusader. But after shooting the last corrupt sheriff in self-defense, she's spent the last few months turning her hastily donned disguise into a local legend to defend the girls in her town from riff-raff.
There's no way Cora can trust the handsome new sheriff. Yet Kit's kisses leave her wanting to open her arms—and her bedroom—to soothe his grief. Even if it brings him too close to the truth that could send her to the gallows.
Warning: Contains a reluctant sheriff with a keen eye for a moving target, and a take-no-crap madam who isn't about to let him get close. Okay, maybe just a little bit closer. Just this once…
Book Links:

Meet the Author: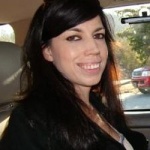 Sandra Jones is a multi-published author of historical romances. A former bookseller and librarian, she's always had her nose in a book.
When not researching or writing her next novel, she enjoys being with family, reading, cooking for her husband, and watching British TV. At home in the South, her house overlooks a river and a farm, where most days you can find her working to the sounds of wildlife and cattle.
Website | Facebook | Twitter |