Today it is my pleasure to Welcome romance author
Amber Leigh Williams
to HJ!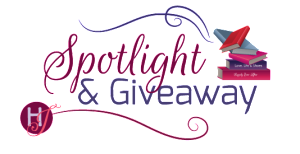 Hi Amber and welcome to HJ! We're so excited to chat with you about your new release, His Rebel Heart!

Thank you, Harlequin Junkies!

Please summarize the book a la Twitter style for the readers here: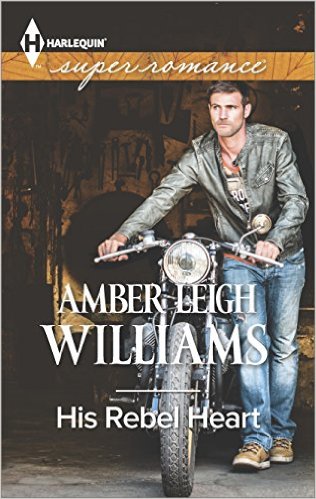 Can a rebel ever change his ways? After eight years of running, James Bracken returns to his hometown, ready to prove he's a changed man. Unfortunately, Adrian Carlton – the woman he left behind – is determined to keep him at arms length despite the raw passion they once felt for each other…for herself as well as for the blue-eyed child they made together.

Please share your favorite line or quote from this book:
Oh, gosh, so many! My favorite lighthearted moment comes from when James accidentally winds up in the crosshairs of Adrian's BB gun. She winds up having to take him to he emergency room due to the…well, delicate placement of the wound….
"There are easier ways to get a man out of his pants. You don't have to snipe them out of trees."

The romantic/sentimental moment of the book I loved the most was this one, also from James…

"I love you. I love all of you. Even that broken piece inside you that I can't seem to reach."
Please share a few FUN facts about this book…
There were so many parts of this book that were difficult to write because it's an emotional story and I love the characters very much. But, as always, there were fun moments, like the incident with the BB gun and James's trip to the emergency room. For research, my husband took me into the woods to practice shooting his BB gun, though he didn't volunteer to be my guinea pig….
I had a LOT of fun with secondary characters in this book. Despite Adrian's insistence that she doesn't want James back in her life, he slowly wins over each and every one of her friends until they're practically in his corner.
The original working title of this book was "Son of a Preacher Man" because it was the leading track on the song list I listened to while writing it. James is in fact the son of the belated town preacher, which I found an interesting contrast to his rebel ways. Music is a big part of this book. A lot of Adrian and James's memories from their romance eight years ago stem from the music and songs they listened to because they were practically teenagers at the time and teens in particular associate relationships with music.
Please tell us a little about the characters in your book. As you wrote your protagonist was there anything about them that surprised you?
Adrian is a guarded character. Not only did James break her heart. She was the victim of an abusive marriage and she's suffered depression. When you meet her at the beginning of HIS REBEL HEART, she's had to fight through a great deal of physical and emotional turmoil as well as single-handedly raise her son, Kyle, and build a successful small business. She sees James's return to Fairhope as the worst possible scenario because she knows if there's anything that can break down the life she's worked so hard to build, it's this man she once loved so completely. James really has his work cut out for him in order to gain her trust as a father and to earn his place in her heart again.
I love the character of James – not just because he's the bearded, tattooed rebel (though that doesn't hurt). I like him because he's proof that people can change and evolve and that they can be a force for good, even after they've made mistakes. He's very human in that regard. I love how learning he's a father upon his return to Fairhope reasserts all of this for him. It gives his life a deeper purpose than he's ever known before. And when he learns how difficult Adrian's life has been since his departure, he does anything and everything he can to assure her that he's home for good and that she can lean on him.

What kind of research did you do for this book?
My husband took me to target practice, which was a learning experience. I've never really handled a weapon. His knowledge of auto mechanics and sports cars was also vastly helpful. Thankfully, he's become quite accustomed to me picking his brain with random research questions through the years….

The First kiss…
It's extremely difficult to choose a favorite first kiss from my books, but this one is really special. It's not technically James and Adrian's first kiss, but it's twice as meaningful and romantic.

Was there a scene in this book that was harder to write than others?
The scenes involving Adrian's ex-husband were hard. She's risen from this horrible marriage, she's gone through therapy and rebuilt her life, but that doesn't change the fact that the thought of her ex-husband on the loose still terrifies her. I had to put myself in her shoes. That was sometimes a little too easy because I have a blue-eyed son too who I would do anything to protect. It's a situation she's been forced into far too many times and one that I had to force her to revisit during the story.
Also the scenes with James and his mother, who he's also trying to earn forgiveness from. I can't give too much away there without spoilers, but there were some heartbreaking moments to write with these two. I came away from several latter ones in tears.

If your book was optioned for a movie, what scene would be absolutely crucial to include and why?
The scene where Adrian realizes that James is back. I felt that her reaction to his return was very real. She's initially shell-shocked and frightened by his reappearance because his departure was the catalyst that brought about the darker moments of her life. It broke her, in a way. And, of course, there's the fact that she and James have a child together that he doesn't know about because he disappeared before she knew she was pregnant. This is the scene that sets everything else in motion….
"How can I help you, miss…"

Trailing off, the man opened the screen door and smiled at her in greeting. One of those long, muscled arms held the door open as he stepped down to the sagging porch. The boards groaned beneath him.

His eyes were blue. But not just any blue. Maybe it was that his face was so tan or his shaggy head of hair and eyebrows were so dark. But no, those eyes were a fierce, wild, familiar shade of blue.

Adrian's lips went numb…as did her legs. The pie tipped over the ends of her fingers and landed facedown on the porch boards with a splat.

That smile was devastating and, again, familiar.

It had been years. Back then, his face had been close-shaved, his hair more kempt. Not one tattoo had marked his body, much less the thick cords of his neck. But there was no way she could have forgotten James Bracken's devil-may-care smile.

Adrian watched the smile slowly fade from his features. They didn't stray to the pie on the ground or to her useless fingers, which were spread between them like a supplicating statue. The mirth in those blue eyes faded, too, as they searched hers, pinging from one to the other and back in a quickening assessment. His mouth fumbled and he braced a hand against the yawning screen door. "Adrian?" he asked, finally, the name launching off his tongue.

It made her jump. Suddenly, she could feel everything again. The blood spinning wildly in her head, dizzying her, before it fled all the way down to her toes and left her cold, hollow except for the panicked rap of her heart.

"I'm right, aren't I?" James asked, shifting his stance toward her as hope blinked to life in his eyes–the Scandinavian blues that were a perfect match for her son's.
What do you want people to take away from reading this book?
I would love if people walked away from this book with both hope that they can mend mistakes they've made in the past and/or that they can forgive those who have made them. People can change, grow, and evolve in equal measure and I think if more people believed in the power of love and forgiveness, the world as a whole could more readily do the same.

What are you currently working on? What other releases do you have planned for 2015?
I just had a baby so thus far I don't have any other releases planned for 2015, but I am working on the final book in my Fairhope series, which will be Roxie (and Byron's!) story. I'm excited about this one, too, so there will definitely be more details to come regarding it soon!
Thanks for blogging at HJ!
Giveaway:

Those who answer today's question in the comments will be entered to win a $25 Amazon Gift Card! Good luck and thanks for reading!
To enter Giveaway: Please complete the Rafflecopter form and Post a comment to this Q:

Do you remember what songs you relate to your first real love and/or relationship? Adrian and James's song is the Red Hot Chili Peppers' "Under the Bridge." My husband and I have a whole album – Incubus's "Morning View."
Excerpt from His Rebel Heart:
"I don't want you to be alone…"

Adrian sighed. "James, I have been alone, for a really long time."

"I'm sorry," he said. "Adrian…I am so, so sorry."

When he drew her into his arms, she was helpless to stop him. She felt his lips come to rest on the top of her head. His arms wrapped around her back, closing her in, tightening.

He simply held her, for what seemed like ages.

A small eternity passed in the space of moments. Memories stirred, whispering to life, ghosts of what had been.

When his lips touched hers, it felt so natural. The simple press of his lips brought her back to life. Her heart fluttered, lifting and soaring.

She should have pushed him away. After everything, she should shove him back, make him leave. Instead, she let the moment stretch, deepen until she felt him brush up against the soul she'd buried from everything and everyone…
Excerpts. © Reprinted by permission. All rights reserved.

Book Info:
Can a rebel ever change his ways?
Being a single mother and successful florist is tough, especially when your next-door neighbor is the man who shattered your heart. Eight years ago, bad boy James Bracken walked away from Adrian Carlton…and their unborn child. Now he's back. And Adrian's desire to protect her son from the truth of his biological father isn't enough to hide the wild blue eyes of father and son, or to keep Adrian from surrendering to the raw passion between her and James. But is he truly the changed man he claims to be? Maybe this time his rebel heart really is home to stay.
Meet the Author: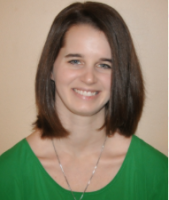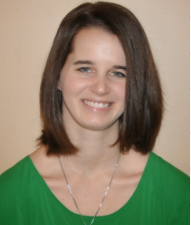 Amber Leigh Williams lives on the Gulf Coast. A southern girl at heart, she loves beach days, the smell of real books, relaxing at her family's lakehouse, and spending time with her husband, Jacob, and their two blue-eyed children. When she's not chasing rambunctious little ones (including two dogs) she can usually be found reading a good romance or cooking up a new dish in her kitchen. She is represented by D4EO Literary Agency.
Website | Facebook | Twitter |