Today it is my pleasure to spotlight the release of 

HIS TO TAKE

 by Shayla Black

New York Times bestselling author Shayla Black invites readers to explore the desires of her Wicked Lovers…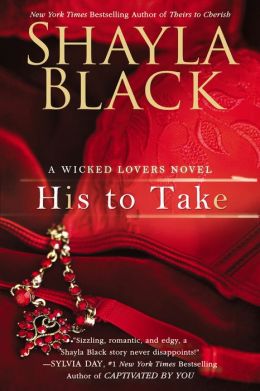 Racing against time, NSA agent Joaquin Muñoz is searching for a little girl who vanished twenty years ago with a dangerous secret. Since Bailey Benson fits the profile, Joaquin abducts the beauty and whisks her to the safety of Club Dominion—before anyone can silence her for good.

At first, Bailey is terrified, but when her kidnapper demands information about her past, she's stunned. Are her horrific visions actually distant memories that imperil all she holds dear? Confined with Joaquin in a place that echoes with moans and breathes passion, he proves himself a fierce protector as well as a sensual Master who's slowly crawling deeper into her head…and her heart. But giving in to him might be the most delicious danger of all.

Because Bailey soon learns that her past isn't the only mystery. Joaquin has a secret of his own—a burning vengeance in his soul. The exposed truth leaves her vulnerable and wondering how much about the man she loves is a lie, how much more is at risk than her heart. And if she can trust him to protect her long enough to learn the truth.

Shayla, What scene did you have the most fun writing? and Why?
I had so much fun writing this scene. Not only did I have the chance to give you a glimpse into Joaquin's thawing heart but also the continuing lives of several beloved characters from the series.

Their crazy antics – in particular, Logan's – had me in stitches. Then some happy tears followed.

Hope you enjoy this fun excerpt from Wicked Lovers, Book 9, His to Take:
The man was surrounded by the family he'd chosen, by respect, devotion. Love. Joaquin listened with increasing discomfort. Blowing out a breath, he realized he had no idea what any of that felt like. In that moment, he wanted to.
He glanced again at Bailey, who looked at all the proceedings with longing on her face. To a girl who had been orphaned twice in her life, no doubt the lure of attachments and people who cared would be attractive. Logically, he knew why she didn't want to have anything to do with him. Hooking up with the guy who kidnapped her when she was running for her life wasn't the best move. But did she also shy away from him because she knew on some instinctual level that he wasn't the kind of man who could give her what she sought?
Gritting his teeth, Joaquin jerked his gaze to Thorpe again, who looked suspiciously moved as he pulled Callie against him with a hard kiss. "This is probably one of the most amazing things you've ever done for me. I'm touched." Then he scowled. "But I'm still going to spank you."
She groaned, and Sean slapped him on the back. "We've got a few gifts for you first."
Tara and Kata both grabbed their presents off a nearby table. London and Morgan followed with theirs and a few from others who'd been unable to attend. The birthday boy opened bottles of finely aged booze, cuff links, driving gloves, and a handmade deerskin flogger.
Axel disappeared, then returned a moment later with a big blow-up doll that looked like a drag queen in tacky lingerie. Painted on the plastic abdomen with red lettering were the words "poke me."
The entire room dissolved in uproarious laughter. Even Joaquin grinned, because there was no way someone as sophisticated and obviously adored as Thorpe would ever resort to sex with an inanimate object, especially such an ugly one. Joaquin's smile became a laugh when he even tried to picture it.
"Going for double or nothing on those spankings, pet?" Thorpe drawled.
"Oh, I gotta have a picture of this." Logan jumped closer, camera in hand.
Before Thorpe could protest, Sean shoved the doll beside his friend, working it right against Thorpe's body. Logan snapped a photo, howling at the image in his viewer.
Thorpe muttered a good-natured threat Sean's way. Callie stepped between them, and they both put their arms around her. He dropped a kiss on her lips. "You're in so much trouble, my sweet brat."
"But I'm your sweet brat," she quipped.
Thanks for blogging at HJ!
Giveaway: 

Print copy of HIS TO TAKE (Wicked Lovers series Book 9)
To enter Giveaway: Please complete the Rafflecopter form and Post a comment to this Q: 

What did you think of the excerpt spotlighted here? Did it hook you in…leave you craving more? 
Meet The Author: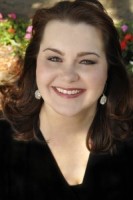 Shayla Black (aka Shelley Bradley) is the New York Times and USA Today bestselling author of over 40 sizzling contemporary, erotic, paranormal, and historical romances produced via traditional, small press, independent, and audio publishing. She lives in Texas with her husband, munchkin, and one very spoiled cat. In her "free" time, she enjoys reality TV, reading and listening to an eclectic blend of music.