Today it is my pleasure to Welcome author
Zoe Forward
to HJ!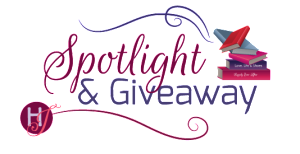 Hi Zoe and welcome to HJ! We're so excited to chat with you about your new release, His Witch To Keep!
I'm so thrilled to be here today!

Please summarize the book for the readers here: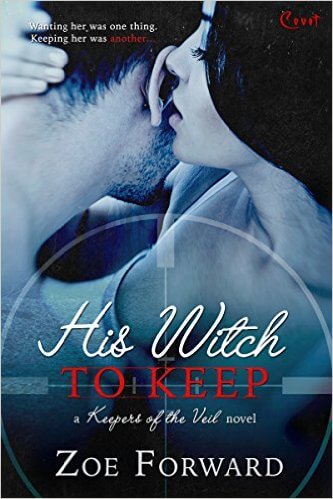 Trusting the international assassin hired to kill her probably wasn't Serenity Danssaert's worst decision. Sleeping with him won the award. Then again, she loses her mind, and her clothes, every time he's in proximity. All her MI6 skills and witch powers fly out the window. With the contracts on her life piling up and her sister kidnapped, Serenity has nowhere left to turn for help.
Alexi Jovec can't offer Serenity the relationship she deserves. As the right hand of the god of the underworld, he isn't allowed long-term with her. But he doesn't want to ignore the riptide of desire building since their one night together. Once more with Serenity might rid her from his system. First, he will clear the threats hanging over her reckless, albeit well-trained, head. But he must keep his heart out of the process.

Please share the opening lines of this book:
This mission needed a special forces unit. Balls, brains and firepower. Not her. Alone.
Please share a few Fun facts about this book…
Have you ever been inspired by a single picture? Something you saw and it clicked? For HIS WITH TO KEEP, I'd love to say I was inspired by a beautiful gallery painting or a breathtaking piece of architecture, but it wasn't. It was an image of Bennedict Cumberbatch. No, I wasn't cyber stalking his fan pages. But I will admit to reading some esoteric facts about the Star Trek Into Darkness movie, because I'm an unabashed super fan. I ran across his in-character picture while writing the first novel in my Keepers of the Veil paranormal romance series. This was him. This was Alexi Jovec personified – super hot-ty hot and mysterious with a twist of internal conflict. He's not exactly good, but also not quite pure evil He's both while struggling to do what he thinks is right. Perfect.
The entire second book came from an angsty, troubled cast pic.
If your book was optioned for a movie, what scene would you use for the audition of the main characters and why?
The opening scene of this book is crucial to get a gist of the characters. Serenity is a badass ex-MI6 witch and he's a supernatural FSB assassin. In the real world no one knows they're magical, but their extra special abilities sure do make them exceptional when on a mission for their country. They're professional enemies who're cursed with an outrageous attraction that might be due to some Greek god meddling. Holy cow, do these two sizzle when in the same room. Here's a clip from this scene:
"What is your game tonight?" he asked in a cool tone. That look on his face—dangerous yet volatile—cried out to every one of her senses. In all the years she'd known him, he'd always been in control. No unnecessary movement. Rarely did he demonstrate outward emotion. Except when naked. And, holy mother, did this man look amazing naked.
"Why are you here?" she asked as an uncomfortable heat spread through her body.
"That's my question for you." His gaze dropped to her mouth, where it settled on the small scar on her upper lip.
Her breath caught. Sensation tingled across her upper lip as if he'd touched the memento left from her long ago one-time torture session with witch hunters. Did I even mean anything to you? Memory of their one night together kept alive a tight need deep in her body, one she'd do anything to shake. And one she'd never admit to him.
What do you want people to take away from reading this book?
There's nothing more romantic than a fated love. But, there can't be passivity about a cosmic force making forever decisions. A fierce character will try to buck that system. No doubt. They've got to want this love, to fight for it and ultimately realize it's right…it works.
In His Witch To Keep, our witchy heroine has to find her fated guy. This isn't optional for her as a Greek goddess descendant with the pressure of passing on her witchy skills. But the Russian assassin and spy who makes her lose her mind whenever in proximity can't be it. By nature of what he is, a death reaper servant to the underworld god Hades, he doesn't get a fated-match girl. He gets no long-term…that's the rule. Both characters are pretty convinced the other is not it…can't be it for, oh, so many reasons. Yet, they're drawn to each other on a level that scorches the pages.
What are you currently working on? What other releases do you have planned for 2016?
I am currently in final edits for the third in the Keepers of the Veil series, which will be released March 2016, Playing the Witch's Game.

Thanks for blogging at HJ!
Giveaway:

2 e-copies of His Witch to Keep (Nook or Kindle)
To enter Giveaway: Please complete the Rafflecopter form and Post a comment to this Q:

What's your take on the fated love theme (love it, hate it, like to see the characters try to buck it…)?
Excerpt from His Witch To Keep:
She wrapped her arms around his neck and pressed her face into his chest again. "Don't leave me."
"You need your healer."
She looked up at him.
His eyes darted to the ceiling. "I can't follow you up
there…for so many reasons."
She cupped the back of his head, pulling his lips to hers.
The minute his warm, soft lips touched her, she groaned. So right. Her tongue tickled along the seam of his lips until he opened. She stroked her tongue against his.
He stumbled to lean against the wall of the elevator and growled in response. Abruptly, he pulled away.
She moaned complaint and tried to pull his head back to her. "Please."
"Get healed first. Then call me. But only call if you are ready to tell me who threatens you and you'll listen to me in order to resolve the situation. You need to go."
She buried her head in his neck, silently begging him not to leave her.
He pulled her tight against him. Hoarsely, he said, "I need for you to do this, ragana. To take care of yourself. One more minute with you here and I…might not let you go.
Excerpt. © Reprinted by permission. All rights reserved.

Book Info:
Wanting her was one thing. Keeping her was another…
Serenity Danssaert was already in way over her head. Not even her MI6 training or her powers as one of the seven Pleiades witches is going to save her sister. Then Alexi Jovec shows up. A secret operative working for unknown forces, he's impossibly sexy and dangerous…and the guy who bailed on Serenity after a red-hot, racy night.
So bonding to him as her destined—the One—is so very wrong.
While Alexi's need to own Serenity—body, soul, and beyond—is nearly unbearable, it's also forbidden. He's the last man who could ever be her destined. Besides, Hades's right-hand man cannot bond with a chosen Pleiades witch. He may be the one man who can protect her, but she can never be his to keep.
Book Links:
Meet the Author:
Zoe Forward is a hopeless romantic who can't decide between paranormal and contemporary romance. So, she writes both. In addition to being a mom to one rambunctious kindergartener and wife to a conservation ecologist who plans to save all the big cats on the planet, she's a small animal veterinarian caring for all the small furries, although there is the occasional hermit crab.
When she's not typing at her laptop she's tying on a karate belt for her son or cleaning up the newest pet mess from the menagerie that occupies her house. She's madly in love with her globe trotting husband of ten years and happiest when he returns to their home base in North Carolina.
Website | Facebook | Twitter |