Today it is my pleasure to Welcome author
April Hunt
to HJ!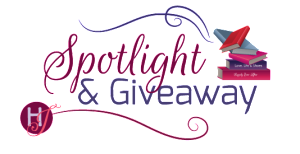 Hi April and welcome to HJ! We're so excited to chat with you about your new release, Holding Fire!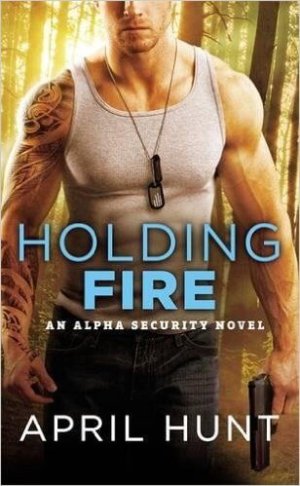 Please summarize the book for the readers here:
Tired of her life being controlled by others, Elle jumps on the rebellion streak bandwagon seventeen years too late, which results in a not so one-night stand with Trey. And at the time, unbeknownst to either of them, she's his next protective detail. Not only has he been charged with protecting her life, but he vows to show her why her no-strings motto isn't going to work for them. With running from bad guys and holding up in a secluded cabin in the dead of winter (with not much in the way of a heat source), they find their own unique way to warm up the cabin…while finding out who's responsible for the treats against her.

Please share a few Fun facts about this book…
I wanted to take a common trope (like one-night stands), and flip it on its side. GASP! This time around, it's the woman who's looking for no-strings and the man who's doing the persuading…
Elle, the heroine, never really had a teenage rebellion streak…kind of like myself. (Just don't tell my husband, he thinks he married a hell-raiser). But Elle's more than making up for it now!
"Elle" had a big of an identity crisis through the course of drafting Holding Fire. Actually, she'd had three different personalities before "Elle" was finally solidified.
Please tell us a little about the characters in your book. As you wrote your protagonist was there anything about them that surprised you?
Trey not quite the typical alpha male. Yes, he's protective and can be an giant-sized blockhead at times, but he also adores his mom and his team mates are his brothers. And he's also man enough to admit when he wants something…and he wants Elle. He hasn't figured out all of life's answers yet, but he knows that he wants her in his future. Elle went through more of a metamorphosis during the drafting phase of Holding Fire. Initially, she was more of a bleeding heart, a bit more vulnerable, and while those traits are still there, she's built on a hefty dose of stubbornness (aka, her adamancy that she and Trey have a no-strings, no emotions-involved fling). It's a bit of a reversal in the stereotypical man-avoiding-commitment with Elle being the hold-out in taking their relationship to the next level, and it was really fun to write.
If your book was optioned for a movie, what scene would you use for the audition of the main characters and why?
Because I can have a bit of a wicked sense of humor, I'd probably say when Trey takes Elle 'ice-skating' on a naturally frozen pond (which isn't as frozen as believed), and Trey plunges into its icy depths. Elle's the one who has to save him for a change, first by pulling him from the freezing water, and then by using her nursing skills to prevent him from developing hypothermia.
Snippet
Everything that happened next, happened in the time span of a finger-snap. The ice beneath Elle's feet shattered. Her left boot dipped into icy water. Trey shouted, his body a huge blur as he lunged in her direction.
Elle didn't have time to register it all before her body was propelled backward, ass sliding on the ice until she hit the pond's rocky edge with a loud thwack. It took a few shaky breaths to restart her heart, and then a couple more to realize she wasn't submerged in freezing water.
Trey. She looked onto the lake and saw nothing except an Alpha-sized hole in the ice and small area of surfacing bubbles.
"No. No, no, no, no." Elle scrambled to her feet, slipping twice. "Trey! Trey!I swear to God. if this is your idea of a joke there'll be no place on this mountain you can hide from me."
Running on pure adrenaline, she dropped to her stomach and belly-crawled back to where Trey had plunged through the ice. She saw the outline of his body immediately. His hand reached for the broken ledge and instead, kept bumping into the underside of the ice shelf.
Elle ripped off her mittens with her teeth and immediately plunged her entire arm into the murky depths and latched onto his coat sleeve. She struggled to plant her feet—and pulled. Trey's two hundred pounds of muscle had her straining, but two hundred pounds of muscle and wet clothes had her cursing a blue streak that would shock a sailor.
What do you want people to take away from reading this book?
That it's impossible to measure a happily ever after because there is no status quo. Everyone's is different, as they should be. Look to your heart, find your dreams, and hold on…regardless of how others may view it. IT'S YOURS!
What are you currently working on? What other releases do you have planned for 2017?
HARD JUSTICE, the third installment in the Alpha Security Series, releases August 29th, and it's going to dive into the world of spunky, pink-haired, tattooed Charlie and equally delicious Vince. I'm super excited for people to hear Charlie's story as we dive back into her past and see how she's become the determined, fiery-tempered first female Alpha Security operative.

Thanks for blogging at HJ!
Giveaway:

Print copy of HOLDING FIRE (Alpha Security) by April Hunt
To enter Giveaway: Please complete the Rafflecopter form and Post a comment to this Q:

Trey's determined to show Elle that they have a future together, but like any male (sorry guys), sometimes goes about it the wrong way…(at least in the beginning.) What could someone do for you to show you the true measure of his / her feelings? For me, like Elle, it's supporting me in whatever decisions that I make, even if they don't necessarily agree.
Excerpt from Holding Fire:
Elle stared, transfixed by the clock behind the airport's claims counter. Each snap of the second-hand took about five years off her life. Being a few weeks shy of her thirtieth birthday, she estimated she had roughly ten-and-a-half seconds until the coroner needed to be called. Twelve, max, with a little bit of luck, but her luck seemed to be in short supply.
Her normal patience was at an all-time low, sucked into a black hole right along with her personal hygiene and her luggage. Twenty total hours in a plane, plus an unscheduled six-hour stop for mechanical repairs, was to blame for the first. The latter two were entirely the fault of the airline.
Behind the counter, the gray-haired hospitality worker never bothered looking up as she called for the next traveler in line. One more person. One more step. The closer Elle got to the cracked, yellow Formica counter of the claims department, the more that surface looked like a goose-feather pillow. To leave or not to leave.
Jeans. Shorts. Granny panties. All cotton, no sexiness. Everything in her suitcase could be easily replaced by her modest paycheck and the nearest discount store. She could call it a loss, go home with Shay, and pass out on her couch for a week.
With a deep sigh, Elle looked around the large, open space. People milled through the airport, bulky suitcases bouncing behind them as they scrambled to their destinations, while others procured blankets and pillows and looked to be settling in for the duration of the night.
On her left, two children tackled the legs of a tall, slender soldier dressed in desert fatigues. Laughing, the woman bent, spreading kisses over every surface of their little cheeks. A smile ghosted over Elle's lips at the sweet sight.
She'd once wanted that. Not only the children, although she couldn't deny being a mother had been high up on her to-do list. But to be missed—to have someone care about you so much that they nearly threw you to the ground because they couldn't wait to have you in their arms.
That's what Elle had dreamed of since she was a little girl…and it was that crushed dream that had sent her thousands of miles away. To say she felt uneasy being back was an understatement.
Elle ignored the faint ache in her chest and watched the happy family walk away. As they disappeared around the corner, a new sensation whittled its way in—a tingle; the one she'd felt the instant she and Shay unloaded from the gate—the one that came with the ardent focus of someone's attention. It took root in the pit of her stomach and didn't let go.
When she'd sensed it earlier, she blamed the paranoia on lack of sleep and inhumane travel hours. But the prickle of awareness came back tenfold, turning her head until she noticed the man leaning against the far wall, reading a newspaper.
Elle did a double take. It wasn't Trey. It couldn't be. She'd left him back in Thailand without so much as her last name, much less her travel itinerary, yet the longer she stared at stranger across the room, the faster her heart galloped.
Worn blue jeans encased his thighs perfectly. Not tight. Not baggy. No doubt if he turned around, the rear would look as impressive as the front. Both his face and his hair were disappointedly half-hidden by a baseball cap and sunglasses, but he had the same strongly chiseled jaw and sexy blonde scruff that made her want to throw every razor known to man straight into the garbage.
Though he never looked away from his paper, the wall lounger's lips twitched, almost as if sensing her visual appraisal. That smirk. Those lips. The stretch of a long-sleeved T over a chest wide enough to land an airplane on. Elle nearly collapsed into an X-rated memory of how lips nearly identical to those of this stranger had pleasurably ripped away all her sensibilities only a scant few days ago.
Standing in the middle of a busy airport definitely wasn't the time to relive her night with Trey. When her turn came up at the counter, she gave herself a mental slap and focused on giving the attendant the information the airline needed to reconnect her with her suitcase. And then with a Have a nice day and her single carry-on, Elle shuffled away to wait for Shay to finish in the bathroom.
She searched her purse for her cell phone and bounced off the chest of another traveler.
"Oh, my God. I'm so sorry." She reflexively reached out to steady to victim.
"Shut it," a low voice snarled.
Oh, hell no. Exhaustion mixed with an insane need to shower off the last day and a half made her head swivel to Mr. Attitude. She looked up. And up. Whoa. He was ridiculously tall.
If she'd had a little bit more sleep she'd probably be able to talk herself out of confronting someone so freaking huge, but she'd had a middle seat, and both Shay and the man to her left had been armrest hogs. Elle was eight hours past polite.
She narrowed her eyes, wishing her glare would make him squirm. "It was an accident. I said I was sorry. There's no need to be a jerk about it."
"Actually, there is." Mr. Attitude clamped a hand around her upper arm and squeezed.
"Ow. Hey, watch it!" She tugged, and he tightened his hold.
He leaned his large body way past her personal boundaries. That was when she saw the scar, half-hidden behind his sunglasses. It looked angrier up close, the skin around his eye socket puckered straight up to his hairline. Cold dread licked up Elle's spine.
Excerpt. © Reprinted by permission. All rights reserved.


Book Info:
MISSION IMPOSSIBLE
Alpha Security operative Trey Hanson is ready to settle down. When he meets a gorgeous blonde in a bar, and the connection between them is off the charts, he thinks he's finally found the one. But after their night together ends in a hail of gunfire and she disappears in the chaos, Trey's reasons for tracking her down are personal . . . until he learns she's his next assignment.
Elle Monroe never expected to see Trey again. The night they shared was incredible, but the last thing she's looking for is a relationship. Now that it's clear she's being targeted, though, she has no choice but to trust this man she barely knows with her life. And Trey's not just determined to keep her safe . . . he's determined to win her heart.


Meet the Author: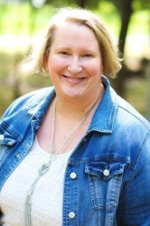 April blames her incurable chocolate addiction on growing up in rural Pennsylvania, way too close to America's chocolate capital, Hershey. She now lives in Virginia with her college sweetheart husband, two young children, and a cat who thinks she's a human-dog hybrid. On those rare occasions she's not donning the cape of her children's personal chauffer, April's either planning, plotting, or writing about her next alpha hero and the woman he never knew he needed, but now can't live without.
To learn more, visit:
AprilHuntBooks.com
Twitter @AprilHuntBooks
Facebook.com/April-Hunt-Books-312919952245260