Today it is my pleasure to Welcome author
Claire McEwen
to HJ!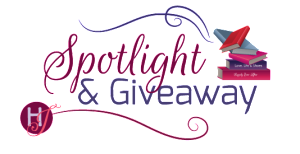 Hi Claire and welcome to HJ! We're so excited to chat with you about your new release, Home Free!

I'm so happy to be at Harlequin Junkie today. I love this blog!

Please summarize the book for the readers here: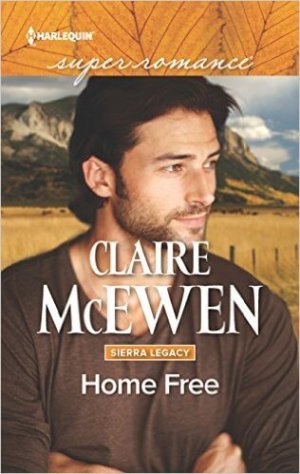 Home Free is the story of Arch Hoffman, a man leaving prison after almost a decade, who meets Mandy Allen, a woman imprisoned by her own fears. Together they find the courage to embrace the world and discover who they are truly meant to be. Home Free is the third book in my Sierra Legacy series, but like all of the books in the series, it can be read on its own.

Please share the opening lines of this book:
When Mandy Allen planned her sister's perfect wedding,she never imagined crying alone in their ranch house kitchen with only the wedding cake for company. But those were definitely tears sliding down her cheeks. And if they didn't stop soon, mascara would strip her face like a zebra's.
Please share a few Fun facts about this book…
I loved researching western wedding cakes and miniature donkeys for this book. But the miniature donkey gave me trouble! I had to rewrite the donkey – wedding cake scene over and over, at least five times before I got the pacing right.
The Harlequin art department got the hero exactly right on the cover. I couldn't believe it when I first saw it. I yelled, "Oh my gosh, that's Arch!" And my husband came running over and yelled, "That's Arch!" And several people who've read the book already have commented that the guy on the cover really IS Arch Hoffman.
Please tell us a little about the characters in your book. As you wrote your protagonist was there anything about them that surprised you?
I had no idea that the hero, Arch, and the heroine, Mandy, were going to be so funny and sweet with each other. They instantly had this amazing chemistry, and as I wrote the first couple of chapters I noticed this happy energy whenever they were around each other. And I kept thinking, "Wait a minute, this is a serious book, about serious stuff." But every time I tried to turn up the angst, one of them would come to the others' rescue and lighten things again. In the end, I just let them be the way they wanted, and I think it turned into a very hopeful, uplifting, romantic story as a result.
If your book was optioned for a movie, what scene would you use for the audition of the main characters and why?
I'd use the scene where Mandy is trying to feed the cattle, but she's terrified of them. She rolls down the window of the truck and a steer sticks his head in and slobbers on her and she falls back into the cab. Then she realizes Arch Hoffman has been watching the entire time. And no way is she going to let him know that she's afraid of cattle!
I'd pick this scene because I think it shows Mandy's dilemma and her determination, and the natural chemistry between her and Arch. And poor Arch is so confused and concerned. Plus it was just so much fun to write!
Here's a snippet:

The familiar self-disgust set in. What was wrong with her? She was born and raised on a ranch. This shouldn't be a big deal.
But it was. It had been for years. Ever since the day her mom died. Tears stung and Mandy swiped at them. When would all the fear stop?
A flicker of motion across the black backs of the cattle caught her eye. Dark hair under a brown cowboy hat. Long legs in faded jeans. Shoulders wide under his padded canvas jacket. Arch Hoffman.
He was standing on the rail of the fence, waving with both arms to get her attention. She rolled down the window. "Hey," she called, knowing that it didn't matter what she said. There was no way she was getting out of this situation without looking like an idiot.
"What's going on?" He shouted the words, but it was still hard to hear him over the indignant mooing. The steers wanted breakfast, and they were confused and frustrated. Well, boys, welcome to the club. She'd been confused and frustrated for years now.
"Not much," she called back in a lame attempt at nonchalance. "What's up with you?"
She could see the confusion on Arch's face even from this distance. He probably hadn't been expecting small talk. "Um, not much. You need a little help there?"
She forced a breezy voice. "I'm okay…just need to get out of this truck and get feeding."
"Oh." He paused for a moment, as if trying to come up with the right words. "It's just that…you fell into the cab."
What do you want people to take away from reading this book?
I want them to get lost in the story and have a wonderful escape. But I also want them to come away feeling hopeful. This book carries a strong message that we can all work to overcome our fears and try to be stronger people. That we are full of imperfections, we make all kinds of mistakes, but we also learn, and grow and change, and we can overcome anything.
What are you currently working on? What other releases do you have planned for 2016?
At the very end of 2016, I have a short story coming out, set in the world of my Sierra Legacy series. It will be free on the Harlequin website as part of their Online Reads feature. I'm also currently working on the fourth book in this series, called His Last Rodeo. It will come out in May of 2017. I won't say too much about it, except that it all centers around a bar that my readers might recognize from this series, The Dusty Saddle. It has been a blast to write and I can't wait to share it with everyone!

Thanks for blogging at HJ!
Giveaway:

Coffee and books go so well together! So I'm giving a way a $5 Starbuck's gift card and signed copies of the previous two books in this series, Wild Horses and Return to Marker Ranch. USA only please!
To enter Giveaway: Please complete the Rafflecopter form and Post a comment to this Q:

In Home Free, Arch and Mandy, have to overcome their fears in order to move forward with their lives. Have you ever done anything that felt really scary? Any skydivers or bungee jumpers out there? Or maybe your risk was a performance or a new job or something in your regular life? We'd love to hear about a time you stepped out of your comfort zone!
Excerpt from Home Free:
I love this scene because I think it shows the deep connection between Mandy and Arch, even before things become really romantic. Arch has been trying to help Mandy overcome her fear of cattle by showing her how each steer has an individual personality.
She couldn't help but tease him a little about his lecture. "I had no idea you were so philosophical about cows."
"I am a man of many talents." His wide smile brought its own warmth. "But seriously, I wonder if in your mind, all horses are associated with the one who threw your mom. And all cows, too, because they're big, like horses."
She stared at him, astounded. Because it didn't actually sound that far-fetched. "How do you know this stuff?"
"I guess I had a lot of time to think in prison. And I had to learn to read people pretty well to get by in there."
He looked at the cattle and Mandy looked at him—the way his shoulders tensed and his jaw clenched every time he spoke of the past. Here he was, helping with her troubles, which must seem so small compared with the ones he'd faced in prison. She tried to lighten his mood. "So now you're translating those amazing people-reading skills into a new career in cattle psychology."
His mouth eased from its grim line. "I guess I am."
"So what about that one?" She pointed to a light brown steer who was standing behind the others, head hanging low.
"He actually could be unwell." Arch tilted his head to get a better look. "Let's check on him in the morning, to see if he's feeling better. Or maybe that's just how he is."
"Because, according to your theory, he might just have a really relaxed personality," Mandy said. "Or slouchy posture."
"Exactly." He flashed a smile with a touch of triumph. "They're individuals. And if you can see them that way, maybe you'll end up liking them. Maybe you will want to give that one a hug."
The idea made her giggle. "Hmm…it's an interesting theory, but I still vote no on the hugging. No matter what their personality, they're still awfully large."
"Yeah, there's really no changing that," Arch said. "They are large."
"Too bad Lone Mountain Ranch isn't in the hamster-raising business. They're just about the right size for me."
His laugh rang out through the cab, good to hear after so much trouble today. "Hamsters are far smaller, but I'm not sure there's much of a market for them."
She could make silly jokes with him for hours, but the day was fading. She took a deep breath. "Okay. I'm going for it. Let's feed them."
He didn't let his surprise show for long. "I'm proud of you, cowgirl. Let's do this."
Mandy jumped out of the cab and walked to the gate. Heart bumping and skipping, pulse going double time. It was just adrenaline. A bunch of old, useless fear. She could ignore it. Arch had taught her how. She wouldn't focus on the fear. Just on what needed to be done.
Arch eased the truck up and hit the horn once. The cattle moved away and Mandy opened the gate, following Arch as he drove through. When she closed it behind her, anxiety sped through her system. She was on the ground, in the pasture, with the cattle. Deep breaths helped stay the panic.
Luckily, these cattle were creatures of habit. They completely ignored her, heading straight for their feeder. She climbed into the back of the truck, pulling on her gloves while Arch drove closer to the big metal rack.
Tossing the hay in was easy. Some of the cattle fussed or pushed at each other, but most just waited patiently, trusting there'd be plenty for all.
And just like that, the cattle were fed and Arch was driving the truck back out of the pasture. He was out of the cab before Mandy had even finished locking the gate. He picked her up and swirled her in a dizzying circle. "You did it!" He set her down and took her hands. "You, Mandy Allen, have earned back your official rancher status today."
Her smile was so wide her cheeks hurt. "Thank you!" She wanted to throw her arms around him and hug her gratitude, but that didn't seem right anymore. He was going to Kit's in a couple of hours. So she squeezed his hands and let go. "I'm so relieved. I never thought I'd be able to do something like that again."
"I knew you could." His smile slowly faded to something more serious. His gaze delving into hers. He brought up a knuckle and swiped it down her cheek, just the slightest touch. "I'm so proud of you, Mandy."
His attention was addictive. She'd only want more if she let this go on. She took a step back. "Well, everyone is fed. And you need to get going… It's getting late."
"Yeah, I've got miles of biking still to do. I'll say one thing for life on parole—I'm in good shape."
She was going to try not to think about that. "It seems like you might be ready for your driving test soon. Let me know if you want me to drive you down to Bishop."
"How'd I get so lucky? To end up with a guardian angel like you?"
She couldn't handle sweet talk. Not tonight, when he'd be spending the evening with someone else. "No angel. Just a friend." She walked to the passenger side of the truck and opened the door. "So drive us back to the barn. Lord knows you can use all the practice you can get."
"Hey! I'm getting better." He slid behind the wheel and nudged her with his elbow. "Watch me as I execute a flawless three-point turn."
Mandy clipped her seat belt on and clung to the handle above the door. "Ready!" she called, covering her eyes with her free hand.
His laugh rolled over her, rich, soothing waves that lapped at her soul. He wasn't hers. He wouldn't be hers. But this thing they had together was precious and life altering. And she was grateful for that.
He turned the truck. It was flawless. But she rolled her eyes and told him his execution was so-so, just to hear him laugh again.
Excerpt. © Reprinted by permission. All rights reserved.

Book Info:
His first taste of freedom was only the beginning…
Arch Hoffman has paid for his crimes. All he wants is to come home to rural California and start over. He's not looking to be a hero when he rescues a wedding cake from hitting the dirt at the ranch next door. But culinary artist Mandy Allen's irresistible smile makes him glad to save the day—and thankful that they're neighbors.
Mandy's just the distraction Arch needs. Her sweet voice quiets the memories that threaten his chance to be a better man, and he's determined to help her confront her fears. But the past is its own prison, and even love might not be enough to set them free.
Book Links:


Meet the Author: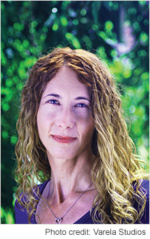 Claire McEwen lives by the ocean in Northern California with her family and a scruffy, mischievous terrier. She loves writing stories where strong heroes and heroines take big, emotional journeys to find their happily-ever-afters. When not dreaming up new books, she can be found digging in her garden with a lot of enthusiasm but, unfortunately, no green thumb. She loves discovering flea-market treasures, walking on the beach, dancing, traveling and reading, of course!
Website | Facebook | Twitter | Instagram | GoodReads |