Today it is my pleasure to welcome New York Times & USA Today Bestselling Author
Brenda Novak
to HJ
Blog Tour Day–Lucky 7.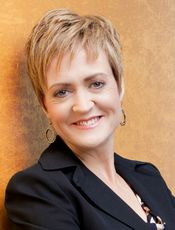 Only you don't need luck! All you need in order to win a Whiskey Creek fan pack is an eagle eye and a little bit of diligence. By now you should have found SIX gold mining related items (since Whiskey Creek is located in gold country 🙂 ), one for each of my previous stops. You should also have noted the name of the character that was most prominently featured in each of the past posts. A perfect score wins the prize* so follow me through the whole 10-stop tour and claim yours! (If you're starting late, you can get instructions at www.brendanovak.com, where you will also find the scorecard you can update and save each day.)
Today I'm going to introduce you to Aaron Amos. He and his four brothers are some of my favorite heroes of all time. They are rugged and sexy self-made men who are just one step away from being dangerous (years ago the townspeople nicknamed these troublemakers the Fearsome Five but they've grown up a bit since then). Aaron is not part of the core group of friends on which I've built the series so far, but after featuring his sexy older brother, Dylan, in WHEN SNOW FALLS, I was getting so much reader mail about him that I just had tell his story.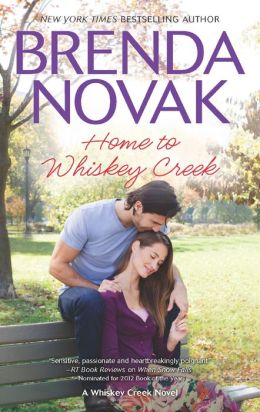 Aaron's had a bit of a rough past, and he's still got quite a chip on his shoulder, but somehow that only adds to his appeal. Poor Presley (Cheyenne's sister, also from WHEN SNOW FALLS) has been head over heels in love with him for years. But she's never had much luck in love—in much of anything, to be honest—and she already knows from past experience that he doesn't return her feelings. That was part of the reason she left town two years ago. She wanted to get away from him, start over and allow her heart time to heal. Now that she's heard he'll be moving away in a few months to start his own franchise of Amos Auto Body, the body shop he owns with his brothers, she feels as if it's finally safe to return. She's made peace with her past, overcome the behaviors that were an outcropping of her difficult childhood, and is all set to continue building in a positive direction by opening her own yoga studio where she can be close to Cheyenne, her sister, who is her only family.
There's just one catch. Aaron isn't quite gone yet. He may even be changing his mind about going. She keeps bumping into him, and all the things she thought had changed haven't changed at all. She wants him more than ever. But she can't fall back in his arms or his bed. She's come too far to backslide now. Besides, there's a secret she's been guarding—a secret she'll do anything to protect.
This books isn't available for pre-order just yet. COME HOME TO ME will be released in April 2014, but I just wanted to give you a little sneak preview of what will be coming up. 🙂 So if you haven't started the series, give it a try so you'll be all ready for Presley and Aaron's tender story.
So far, the Whiskey Creek series goes like this:
WHEN WE TOUCH (Digital prequel novella) – http://amzn.to/16TGR2W
Book #1 – WHEN LIGHTNING STRIKES – http://amzn.to/19czE4e
Book #2 – WHEN SNOW FALLS – http://amzn.to/1b4ETEE
Book #3 – WHEN SUMMER COMES – http://amzn.to/13QA8Vo
Book #4 – HOME TO WHISKEY CREEK – http://amzn.to/12YZvEh
Book #5 – TAKE ME HOME FOR CHRISTMAS (To be released October 29, 2013) –  http://amzn.to/13whgzi
Book #6 – COME HOME TO ME (To be released April 2014—not yet available for pre-order)
With many more on the way!
Follow me on https://www.facebook.com/BrendaNovakAuthor?ref=br_tf, and visit my website at www.brendanovak.com to join my mailing list and enter my drawing for an amazing 7-night stay at a luxurious resort OR an iPad!
HJ Exclusive Giveaway:

print copy of Home to Whiskey Creek
To enter Giveaway: Please complete the Rafflecopter form and post a comment to this Question:
Have you read any of the books listed above in the Whiskey Creek series, if so do you have a favorite book or character? 
Back Cover:
Sometimes home is the refuge you need—and sometimes it isn't….
Adelaide Davies, who's been living in Sacramento, returns to Whiskey Creek, the place she once called home. She's there to take care of her aging grandmother and to help with Gran's restaurant, Just Like Mom's. But Adelaide isn't happy to be back. There are too many people here she'd rather avoid, people who were involved in that terrible June night fifteen years ago.
Ever since the graduation party that changed her life, she's wanted to go to the police and make sure the boys responsible—men now—are punished. But she can't, not without revealing an even darker secret. So it's better to pretend….
Noah Rackham, popular, attractive, successful, is shocked when Adelaide won't have anything to do with him. He has no idea that his very presence reminds her of something she'd rather forget. He only knows that he's finally met a woman he could love.
Buy Links: HOME TO WHISKEY CREEK:
Amazon:  http://amzn.to/12YZvEh  B&N: http://bit.ly/1brz58m
Blog Tour Details:
Follow the directions in each of Brenda's posts along the tour. Keep track of your answers because at the end of the tour, you'll be asked to submit them. Perfect "Character Mining Score Cards" will get a fabulous Whiskey Creek package! Full Tour Giveaway details can be found at http://brendanovak.com (as well as the "Character Mining Score Cards") This contest is open to all US & Canada residents of the age of majority. Please see full Terms & Conditions at http://events.litconnect.com/virtual-book-tour-home-to-whiskey-creek-by-brenda-novak/
Blog tour prize consists of a mug from Black Gold Coffee (fictional coffee shop in my series where the group of friends who people these stories meet every Friday), a black Amos Auto Body T-shirt (Dylan's fictional auto body shop), a free digital download of WHEN WE TOUCH (the prequel novella that kicks off the series), and autographed Whiskey Creek poster and autographed cover cards for all the Whiskey Creek books released so far!