Today it is my pleasure to Welcome romance author
Stacy Henrie
to HJ!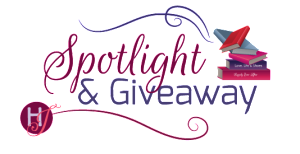 Hi Stacy, welcome 🙂
If you were written about in the newspaper, on the front page what would the headline say? Why?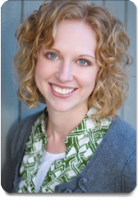 Romance Author Brings to Life Lesser Known Piece of WWI History
The German-American experience during WWI is such an untold story—there aren't many books, fiction or nonfiction, that detail what these people went through because of their ancestral ties to Germany. I initially thought having my heroine fall in love with a German-American farmer during the Great War would provide good conflict, but it wasn't until I started researching, that I realized how much persecution and harassment these people went through—and it wasn't isolated to one part of the country either. It was everywhere.
Would you rather… visit the world 100 years into the past or 100 years into the future? Why?
Hands down, 100 years in the past! I would love to be able to see and experience life during the First World War, not just read about it. Even the trenches and battlefields in France would be interesting, though I'd be sure to stay out of shellfire range.
Let's talk about your newest release: Hope at Dawn
If you had to summarize the book for the readers here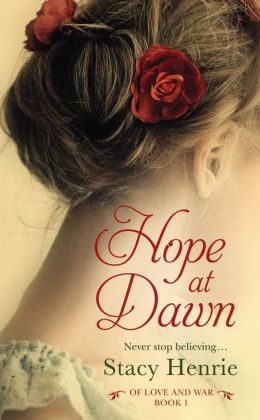 Livy Campbell hopes to escape the effects of the Great War and the havoc it's wreaked on her life and dreams already. But after accepting a teaching post in a small town with predominantly German-American citizens, she quickly finds herself embroiled in a different kind of battle—one pitting neighbors and townspeople against each other. Her plight and feelings are complicated further when she falls in love with German-American farmer Friedrick Wagner.
Please tell us about the characters in your book?
As the third of seven children, Livy longs to be on her own. She had to leave college early to help on the farm after her older brothers left to fight in France, so she jumps at the teaching job Friedrick mentions at their first meeting. She adores art and dancing and is as loyal as Friedrick. As she comes to know and respect the German-American families she encounters, and begins to fall in love with Friedrick, she has a tough choice to make about where her loyalties lie.
Friedrick is extremely devoted and protective of his family, even when it means standing silent amidst the injustice to his German-American people to keep those he loves safe. He received a farm deferment because his father is dying and he experiences a lot of regret at not being able to go fight like others his age. When he meets and falls for Livy, his natural tendency to protect extends to her, too. He's especially torn when his relationship with her puts her at risk of suspicion and possible harm. She's the only one who sees him as more than just American or German.
As you wrote your protagonist was there anything about them that surprised you?
Livy turned out to be more forthright than I initially pictured—she isn't one to stuff her emotions down deep or tip-toe around an issue. Friedrick's physical prowess took me a bit by surprise. He's tall and well-built, but he's also very adept at dancing and has no problem getting down and playing with his siblings on their level.
What scene did you most enjoy writing? Why?
One of my favorite scenes to write was the scene when Friedrick challenges Livy to join him and the school kids in their baseball game. The two of them have already gone dancing together at this point, so there's a greater physical awareness of each other. Plus it's a fun, light moment in the middle of the growing storm around them.
"Sometime today, Friedrick," she called, swinging the bat in front of her. He grinned. She positioned the bat near her shoulder and stared him down. The purse of her lips and the furrow in her brow made her look all the more attractive. Friedrick narrowed his eyes and threw the ball. Livy swung but missed.
"Strike one," he announced.
Livy frowned and lifted the bat again. Friedrick pitched the ball. This time the bat and ball connected with a loud thwack. The ball sailed over Friedrick's head toward left field.
"Don't let her reach home," he hollered to his team as he turned to face those in the outfield.
Out of the corner of his eye, he saw Livy sprinting to first base. Harlan and another boy ran after the ball, but they were moving too slowly. Livy reached second. She threw Friedrick a smug smile as she raced to third.
"Here you go, Friedrick." Harlan tossed him the ball, which he easily caught between his hands. He spun around and found Livy rounding third base.
"Oh, no you don't." He ran forward to beat her to home plate. If Livy noticed him coming, she didn't show it. She ran as fast as her long skirt would allow, but Friedrick moved a hair faster.
He met up with her just before she could touch home plate. To avoid a collision, he gripped the ball in one hand and wrapped his free arm around Livy's small waist. She laughed as he twisted her close to keep them both from toppling to the ground.
As their momentum slowed, he glanced down. She stared up at him, her lips parted as she tried to catch her breath. The noise around them faded into a dull roar, as it had when they'd danced the other night. Nothing else mattered but him and Livy and this moment. The yearning to kiss her was overpowering. He lowered his chin, so his forehead nearly touched hers. Her eyes widened, but she didn't move away.
He lifted his hand to cradle her face and realized he still held the baseball. Livy's gaze dropped to it as well. Wriggling out of his hold, she planted her foot on the coat.
"Home run," she said in a breathless voice.
What scene was the hardest to write? Why?
One of the more difficult scenes to write was actually near the beginning of the book, when the vigilance committee demands Friedrick's family buys another liberty bond. I wanted to show Friedrick's strength and his protectiveness for his family, even when he must give in to the demands in order to save them.
"You might not be able to fight, son, but you can surely buy liberty bonds."
"I bought a fifty-dollar bond last fall. Paid for it in full that day." Friedrick stuck out his chin in pride. No one could accuse his family of slacking in their effort to fund the war.
"Times like these call for another demonstration of loyalty." Joe brought his face so close to Friedrick's he could smell the chewing tobacco resting inside Joe's cheek. "So what's it gonna be? You going to be the proud owner of a hundred-dollar bond, as part of our great country's third loan drive?"
The outrageous sum hit Friedrick like a punch to the gut. His family didn't have extra money to throw at bonds. His father's costly medicine and frequent doctor visits had drained them of nearly all their savings.
"And if we decline, respectfully?" Friedrick said with intended sarcasm.
Joe examined the rope in his other hand. "I'll put it to you real simple. You buy a bond tonight, or you can try this rope on for size. You choose, son."
Had things deteriorated so quickly for the German-Americans in Hilden that Friedrick must buy more bonds or risk his life? Rage burned hot through his veins at the injustice. He was being treated as an enemy, when he was as loyal and American as these men watching and waiting for his response. Would they have been any less insistent of his family if he'd been fighting overseas?
He pushed such a question from his mind—it was futile. He hadn't been allowed to fight, at least not on the battlefields of France, but that didn't mean the war had passed his family by. Friedrick was beginning to see there were battles here, too. Not between trained soldiers, but between townspeople and neighbors. While he couldn't protect his country, he would protect his family. Even if it mean buying a bond with their remaining savings to satisfy these men and keep them from coming back.
Friedrick schooled his voice once again to hide his fury, though he took great pleasure from being able to look down his nose at Joe. "I'll get the money," he ground out between clenched teeth.
Who would you cast in the role of your characters if your book was optioned for a movie?
Chris Evans would play Friedrick, and Louise Dylan would play Livy.
If you could have given your characters one piece of advice before the opening pages of the book, what would it be and why?
Livy's father tries to give her some advice before she begins teaching, but he's interrupted before he can finish. I would give her that advice right off – pay attention to people's hearts and desires, rather than on their ethnicity or outward personality. For Friedrick, I would tell him he's doing a fantastic job caring for his family and he's needed more with them than overseas as a soldier.
What are you currently working on? What other releases so you have planned for 2014?
I'm working on a Christmas novella that features a secondary character from HOPE AT DAWN, Book 1 in my Of Love and War series. That will release the end of November, then HOPE RISING, Book 2, comes out mid-December.
Where can readers get in touch with you?
I can be reached through my website – www.stacyhenrie.com – or on my author page on Facebook – https://www.facebook.com/pages/Stacy-Henrie-Author/137610353020822.
Thanks for blogging at HJ!
Giveaway:

2 print copies of HOPE AT DAWN.
To enter Giveaway: Please complete the Rafflecopter form and Post a comment to this Q:

What do you know about the German-American experience during WWI? Have you read any books that deal with this slice of history?
Excerpt
Friedrick lifted his hands into dance position, but Livy hesitated. The energetic tension in the dance hall had transformed to something elegant and romantic. The other two dances with Friedrick had been lively and fun, not intimate like the waltz.
"Change your mind?" The teasing challenge in his blue eyes was unmistakable, though he lowered his arms to his sides.
Livy took a quick breath and tilted her chin upward. "No. I like to waltz."
"Good." The word was hardly audible, but Livy heard it just the same and his confident tone produced a strange thrill in her stomach. She stepped into his arms, and they joined the other couples spinning about the room.
Waltzing with Friedrick was nothing like swaying to the music with Robert or even doing the fox-trot. He held her closer but in a way that made her feel completely safe and cherished. She felt a heightened awareness of him in every sense. His firm touch on her back, the masculine scent of his shaving soap, the pleasure of his laughter in her ears.
Livy's pulse danced its own chaotic rhythm, completely out of sync with the fluid dance steps. Not for the first time, she contemplated what it would be like if he kissed her, what it would be like if they were to dance like this all night.
Afraid he'd read the longing on her face, Livy kept her chin lowered, her eyes trained on his shoulder. She shouldn't be thinking such things about Friedrick. She'd only ended things with Robert right before coming to Hilden, and then there was the whole dilemma of Friedrick being German-American. They couldn't be more than friends, no matter how much she secretly wished for something different.
Book Info:
IN A TIME OF WAR, LOVE IS THE INSPIRATION.
With her brothers away fighting the Great War overseas, Livy Campbell desperately wants to help her family. Her chance comes when she meets a handsome stranger who lands her a job as a teacher in a place far from her parents' farm. But the war casts a long shadow over the German-American town that Livy now calls home-and the darkness will test everything she thought she knew about family and love . . .
More than anything, Friedrick Wagner wants to be part of his adopted country's struggle for peace. But when the bitter animosity between Germans and Americans soon turns citizens against newcomers, friend against friend, he will do whatever it takes to protect Livy from the hysteria that grips their town. As tragedy-and dark secrets from the past-threaten their future, Friedrick and Livy have one chance to stand up for what's right . . . and one chance to fight for their love.
Author Bio
Stacy Henrie has always had an avid appetite for history, fiction and chocolate. She earned her B.A. in public relations from Brigham Young University and worked in communications before turning her attentions to raising a family and writing inspirational historical romances. Wife of an entrepreneur husband and a stay-at-home mom to three, Stacy loves the chance to live out history through her fictional characters, while enjoying the modern conveniences of life in the 21st century. In addition to author, she is a reader, a road trip enthusiast and a novice interior decorator.www.stacyhenrie.com