Today it is my pleasure to Welcome author
Laura Drewry
to HJ!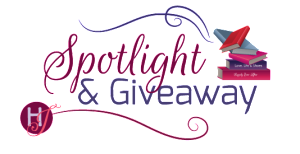 From USA Today bestselling author Laura Drewry comes a warm and witty new Friends First novel— How Forever Feels is a sweet tale about the one that got away . . . and the one that came back.

Thank you so much for inviting me to the Harlequin Junkie Spotlight – it's been great! ☺

Please summarize the book for the readers here: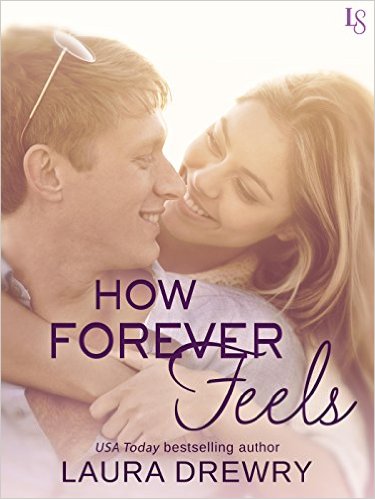 HOW FOREVER FEELS is the last book in my Friends First series and it's the story of Jack and Maya who came close once a few years back and then. . .not so much.
Jack knew Maya was the one for him the first time he met her but gave up his chance with her when he stepped aside for his best friend, Will. Maya thought she'd found forever with Will but ended up getting burned, an experience that's left her wondering if she can trust herself to know what forever even means. But then Jack comes back into her life and it doesn't take long for her to realize he was the forever she let slip through her fingers.
Neither one of them can hide how they feel for long, but Jack and Will are like brothers and history has shown over and over that Jack would never do anything to betray that trust.
It's a story of divided loyalties, of knowing where you belong but unable to get there without destroying something you've spent your whole life building.

Please share the opening lines of this book:
"From the guy in the grey T-shirt at the end of the bar." Grinning, Shelley set a white frothy drink, complete with a pineapple wedge and tiny blue parasol, in front of Maya then moved on to her next table.
With scarcely a glance at the Piña Colada, Maya and all three of her friends immediately craned their necks towards the bar.
Please share a few Fun facts about this book…
The building that houses Jayne's bookstore and the apartment upstairs where Maya lives is based on the bookstore I owned for a few years. Oh, how I loved that place!
I first heard Kenny Chesney's song 'How Forever Feels' sixteen or seventeen years ago and immediately wanted to write a story around that idea, but knew I'd have to wait until the right characters came along. It just took them a while to show up is all. ☺
The Gum Wall is a real thing in Seattle. Disgusting and yet fascinating all at the same time, I have pictures of it on my HFF Pinterest board. https://www.pinterest.com/ldrewry/
If your book was optioned for a movie, what scene would you use for the audition of the main characters and why?
I think I'd choose the scene where Jack, Maya and Will are all together for the first time since Maya and Will got divorced because it gives the reader a quick snapshot of how they see and feel about each other. Here's a snippet:
"Well isn't this cozy." Nodding slowly, Will turned to Jack who'd come in behind him. "My best friend and my wife cuddling up in a hotel room."
"Ex-wife." Jack had already moved around Will so he stood between them. "And don't be a dick."
"Ha!" Will barked. "I'm not the one being a dick here, bro."
She probably shouldn't have snorted right then, but surely to God he was kidding, wasn't he?
"We weren't doing anything." Jack lifted his hands slightly, palms out. "I ran into Snip out in the parking lot; we were going to go grab a bite."
Maya could have kissed him for not mentioning the fact she was there because she'd been stood up.
Will stuffed his hands deep in his pockets and just kept looking between them with those accusing blue eyes, which was rich considering of the three of them, he was the only one who'd done anything wrong.
Maya refused to cower, refused to let him think for one single second she had any reason to feel guilty, because she didn't. Neither did Jack, but he obviously wasn't comfortable, so with a low sigh, Maya eased Pete's chin off her leg and pushed herself up.
"It's none of his business what I'm doing here, Jack." She never took her eyes off Will as she spoke. "He's the last person on earth who gets to judge me about anything."
That wiped a shade of smugness off Will's stupid face.
"Unlike him," she went on. "I'm not going to make you feel like you need to explain anything or choose which one of us stays and which one goes. That's his game, not mine."
"Maya." When Jack reached out to stop her, she shrugged him off, but as she did she dragged her glare away from Will and gave Jack a smile.
"Don't worry about it," she said, squeezing his hand as she walked by. "I'll see you later."
She'd just stepped around them when she heard Jack curse quietly behind her.
"Hang on, Snip."
She pulled open the door but hesitated when he stepped up behind her, his huge frame completely blocking Will from her view.
His jaw tightened a little as he wrapped his hand around the edge of the door above his head and looked down at her. "I'm sorry."
"You've got nothing to be sorry for," she said. "Don't worry about it."
His eyes softened a little until it looked as though the green and brown had melted together. "Are we still on for Sunday?"
"Of course." She didn't know why it took her so long to blink, to stop staring at him that way, as if she'd never seen his eyes do that before, because of course she had. The only difference was that this time something inside her melted, too. "I'll pick you up around four-ish."
"Sounds good."
"Great." A second ago she couldn't blink at all and now she couldn't stop. "See you then."
As she turned to go, Jack's hand curled around her elbow, gently tugging her back so he could lean down and press a soft kiss against her cheek.
"G'night, Snip."
What do you want people to take away from reading this book?
I guess I'd like readers to walk away from HOW FOREVER FEELS with the idea that love is an amazing thing and even when our hearts have been shattered and we don't think we have the capacity to ever love again, we do.
The ability to love – and to love deeply – is an amazing thing and it's something the world could use a lot more of.
What are you currently working on? What other releases do you have planned for 2015?
I'm working on a new series now called Fishing for Trouble that follows the lives of the three O'Donnell brothers who own and operate The Buoys, a fishing lodge on the west coast of British Columbia. The first book, OFF THE HOOK, is due out in January 2016.

Thanks for blogging at HJ!
Giveaway:

eBook: HOW FOREVER FEELS by Laura Drewry (Via Amz / BN)
To enter Giveaway: Please complete the Rafflecopter form and Post a comment to this Q:

Is there a line or a scene from a book that really stands out to you, that you still remember even though it may have been years since you read it? Funny, sad, brilliant, it doesn't matter. One that sticks in my brain is the opening line from Nora Roberts's book Montana Sky: "Being dead didn't make Jack Mercy less of a son of a bitch."
I love that line!
Book Info:
Maya McKay's heart is as big as Jack Rhodes's shoulders are broad. Their chemistry is out of control, but it could never work between them because Jack is more than just best friends with her cheating ex-husband—they're like brothers. Maya, the sensitive, practical florist, has given up on love and is ready to settle for like. But now that Jack's around again, he's stirring up old feelings—and turning Maya's fantasies into irresistible reality.
Jack blew his chance with Maya years ago when he stepped aside for his best friend, Will, and he's still kicking himself about it. Maya was promised forever once before, and she got burned. But when Jack realizes that second chances aren't going to fall out of the sky, he seizes the moment—and the woman he's always loved—to show her how forever truly feels.


Meet the Author: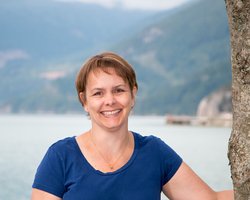 USA Today Bestselling Author Laura Drewry had been scribbling things for years before she decided to seriously sit down and write. It helped that she and her husband had just moved 700 km away from their families, it was the dead of winter and she was about 49 months pregnant with their second child, all of which gave her the excuse she needed to hunker down and get at it.
Her books have been described as "delightful," "clever," and "smart, sassy and refreshingly different."
After spending eight years in the Canadian north, Laura now lives back home in southwestern British Columbia with her husband, three sons, a turtle named Sheldon and an extremely energetic German Shepherd. She loves old tattered books, good movies, and when someone else cooks dinner.
Connect:
Email: laura@lauradrewry.com
My website: www.lauradrewry.com
Facebook: www.facebook.com/LauraDrewryAuthor
Twitter: https://twitter.com/lauradrewry
Pinterest: https://www.pinterest.com/ldrewry/
Instagram: https://instagram.com/lauraleedrewry/