Today, HJ is pleased to share with you

Katie Ruggle's

new release: 

In Her Sights

Five bounty-hunting sisters Deep in the heart of the Rockies Fighting to save each other …and the men who steal their hearts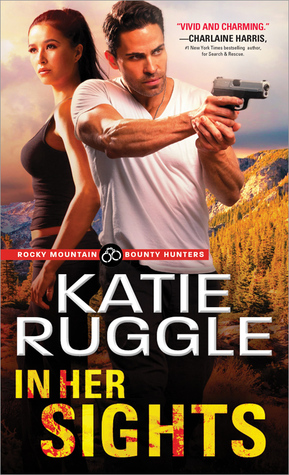 Bounty hunter Molly Pax fought hard for everything she has, turning the bail recovery business she shares with her sisters into an unqualified success. So when their sticky-fingered mother jumps bail and puts the childhood home up as collateral, Molly's horrified. To make matters worse, every two-bit criminal in the Rockies now sees her family's misfortune as their next big break.
She needs help, stat.
Enter rival bounty hunter John Carmondy: six feet of pure trouble, with a cocky grin to match. John's the most cheerfully, annoyingly gorgeous frenemy Molly's ever had the pleasure of defeating…and he may be her only hope of making it out of this mess alive.
Please share your favorite scene from In Her Sights: 
Thank you for having me! This is one of my favorite bits of In Her Sights, the first book in my Rocky Mountain Bounty Hunters series. I love how Molly and John banter as they work together to track down a slippery skip. Enjoy!
"I still like plan number five the best," John complained as he parked in the grocery-store lot a block from Mother Tick's house.
"Four and a half," Molly corrected, not for the first time. "It has huge gaping holes in it. So much could go wrong."
"I think that's why I like it; there's so much room for improvisation."
Giving him a look, she opened her door. "Improvisation is fine when a plan goes sideways, but it's better to at least start out with a solid plan…like plan number two."
"You just want to be pretend-married to me."
"Yeah, that's it," she said dryly as she stretched and tried to surreptitiously check out the house. "I made that very wish when I blew out the candles on my cake at my last birthday. I wish more than anything that I could pretend to be married to Carmondy." As he walked over to join her, she gave him a poke in the side. It must've been a ticklish spot, because he jumped and swatted her finger away. "Doofus. Why would anyone wish that?"
His expression showed exaggerated offense. "I, for one, would love to be fake-married to you."
Even though she knew he was teasing, and she'd just been playing along, his words took her off guard. She went quiet for a beat, too flustered to respond.
"Pax?"
"Sorry." She shook off the strange moment, silently commanding her feelings to knock it off and quit being weird. Grabbing on to the first excuse she could think of, she stared at Tick's mother's house. "Thought I saw something move. So…plan two, then?"
"Fine." Although he grumbled, it was good-natured, and she knew his complaints were more to get her wound up than because he had any serious objections. "Just to make your birthday wish come true."
Inwardly, she felt that strange little swoop of her stomach, similar to how it felt on an airplane during turbulence, but she managed to keep her composure. "I'll be forever grateful," she said absently, checking out the area around the house as her mind concentrated on what she needed to do. Her focus was blown to bits when his huge hand grabbed hers.
"What?" she said, staring down at their linked fingers. His mitt was so big that hers had almost completely disappeared. "What?" If she hadn't been so thrown off, she would've been embarrassed by her confused response.
"Ready, Wife?" he asked. The way he gently squeezed her hand and smiled crookedly at her made it hard to remember that he was just playacting.
She was forced to clear her throat before she could get any words out. "Never call me that again, or I'll have to hurt you. And yes, I'm ready."
By his snort, he wasn't at all bothered by her threat. They strolled toward the house, and Molly tried to keep her expression guileless even as she scanned the area for Sonny—or any possible threats. Her heart rate picked up again, although this time it was at the thought of Tick's mom's house exploding in a ball of flame.
"Okay?" John asked as if he was able to hear her heart accelerate…or maybe her fingers were digging into his hand so tightly it had become painful.
She made an effort to loosen her grip. "Yeah. Just hoping we don't get blown up." Her mind flashed to the events of the previous night. "Again."
With a wince, he gave her hand a reassuring squeeze, even as he said something that wasn't reassuring at all. "Just remember to run if you think a bomb might go off."
"If I think a bomb might go off?" Realizing that she'd gotten a bit loud, she lowered her voice to a hiss. "How am I supposed to tell if a bomb's about to explode? A ticking clock like in a cartoon?"
He actually grinned at that. "Ah, the old ticking clock. It makes it so easy to identify a bomb. It even tells you how much time you have to run."
There were a lot of things she would've liked to say in response to that, but they'd reached the front yard, so she stayed quiet and forced a smile instead. As they climbed the worn steps to the front door, she let out a deep breath and focused on what they were doing. She could argue nonsense with John later. Right now, they had a bail jumper to catch.
He pounded on the door, and she shot him a warning look, even as she sighed in exasperation.
"What?" he asked softly.
"Why not just shout police while you're at it?" she muttered, keeping her gaze on the closed front door.
"Because that would be dumb, Pax."
"You know what's dumb, Carmondy?" Her voice was rising again. "Your cop knock."
"Cop knock?" He examined his meaty fist. "I do not have a cop knock."
"Yes, you do. It's more cop-knocky than a regular cop's knock. It's like you slammed an entire ham against the door multiple times."
Giving a dramatic gasp, he held his fist to his chest. "That's so not true. A ham hitting the door would make a wet, fleshy sound." His dimple flashed.
She threw up her hands, even as she made sure to keep her voice low. "Sonny probably took off through a back window when he heard that cop knock of yours."
"Back window?" Dropping his melodramatic posture, he cocked his head with true interest. "Why not the back door?"
"There is no back door."
"How do you know that?" There was no doubt in his tone, just curiosity, and it gave Molly a warm, mushy feeling inside to know that he trusted that she was right.
"Norah found the house floor plan online. The landlord posted them when he was advertising the place before Mother Tick rented it."
"Huh. When did you talk to Norah?"
"I texted her while you were in the shower." The door cracked open, and Molly prepared to chase if it was Sonny and he decided to run, but the person standing on the other side of the small opening was a woman in her fifties who, from what Molly could tell, did not look inclined toward sprinting. "Hello!"
"Can I help you?" The woman seemed a little suspicious, but not immediately hostile. Molly could work with that.
She widened her smile and gave her words a breathy, bubbly quality. "I'm so sorry to bother you, but I'm Molly, and this is my husband, John. We're from Denver, but we're thinking about buying that church, and I wanted to get the opinion of someone who was really part of the neighborhood, you know?"
The woman—Mother Tick, Molly assumed—blinked several times, even as she opened the door a little wider.
Excerpt. ©Katie Ruggle. Posted by arrangement with the publisher. All rights reserved.

Giveaway:

Print copy of In Her Sights (Rocky Mountain Bounty Hunters series) by Katie Ruggle
To enter Giveaway: Please complete the Rafflecopter form and post a comment to this Q: In In Her Sights, Molly and her four sisters run a bounty-hunting business together. Would you enjoy working with your family members, or is that a little too much closeness?
Meet the Author:
A graduate of the Police Academy, Katie is a self-proclaimed forensics nerd. A fan of anything that makes her feel like a bad-ass, she has trained in Krav Maga, boxing, and gymnastics, has lived in an off-grid, solar- and wind-powered house in the Rocky Mountains, rides horses, trains her three dogs, and travels to warm places to scuba dive. She has received 4 Amazon Best Books of the Month and an Amazon Best Book of the Year. Run to Ground, the first book in her Rocky Mountain K9 Unit series, is a 2017 RT Book Reviews Reviewers' Choice Award nominee. Connect with Katie at http://katieruggle.com/, https://www.facebook.com/katierugglebooks, or on Twitter and Instagram @KatieRuggle

Purchase Links:
Amazon: https://amzn.to/2GfYh7f
B&N: http://bit.ly/2E21tkN
Apple: https://apple.co/2Doz9Hy
Kobo: http://bit.ly/2uk9SdL
Indiebound: http://bit.ly/2I2u913