Today it is my pleasure to welcome author 

Maggie Robinson

 to HJ!
Hi Maggie, welcome to HJ!
What would you say are the defining characteristic of your novels?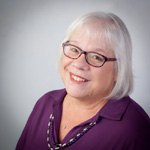 A reviewer categorized them as having "humor, heat and heart," and I'm sticking with that!
5 things HJ readers should know about you?
a. I live on a lake at the end of a dirt road in the middle of the woods in Maine, yet TJ Maxx is only 10 minutes away. A perfect world!
b. I'm both an early and late bloomer. I graduated from college at 19, but didn't start writing until I was "a woman of a certain age."
c. I have 4 grown kids and 4 grandkids.
d. My husband and I love to travel, and usually go to England at least once a year. We just came back from a transatlantic cruise on the Queen Mary 2 and are going on the Queen Victoria around the coast of Spain in December. I don't know how I'll justify it in terms of research, but I'm going to try!
e. I have a border collie mix named Fitz who is running circles around my life.
What is your favorite trope to read, one you will never get tire off?
I LOVE marriage of convenience stories. Really, any "opposites attract" story has my name on it.
Let's talk about your newest release: IN THE HEART OF A HIGHLANDER
If you had to summarize In The Heart Of A Highlander for the readers here…
Heroine Mary Evensong has been masquerading as a seventy-year-old woman to keep her aunt's unusual employment agency afloat. She gets the chance to tear off her gray wig and masquerade as an heiress when the hero Lord Alec Raeburn hires her to trap his enemy and avenge the death of his wife.
Please tell us about the characters in your book.
Mary is independent, wise beyond her years, level-headed. But once she sees Alec in his kilt, she longs for a bit of adventure. Alec is haunted by a personal failure, but is in every other respect an alpha male with a well-deserved notorious reputation.
What scene did you have the most fun writing? Why?
The story takes place in a hydropathic spa in the Highlands. Alec sneaks into the room where Mary is about to be massaged to talk to her. When Mary discovers that the hands that have been such heaven on her shoulders belong to Alec, much mayhem ensues.
Alec was less than impressed with the Forsyth Palace Hotel. Yes, the building was magnificent, the food fresh, delivered daily, and well-prepared, the beds angel-soft. The spa staff, however, left a great deal to be desired, and it was not only Josef Bauer who concerned him.
It had not taken much to bribe the beefy bath attendant. Good Lord, he could be anyone come to murder Mary Arden. His reputation should have given the masseuse pause, but his pound notes overcame her scruples. Alec should not be where he was right now, in a windowless room lit only by a fragrant candle, the door shut and locked. He should not be anywhere near Mary, who lay facedown, naked, and helpless on a treatment table. True, most of her was wrapped in a warmed linen sheet, her back still pink from its scalding bath. Her auburn hair was swept up, damp ringlets clinging to her slender neck, and it was all Alec could do not to bend over and bite her like a vampire.
What scene was the hardest to write? Why?
Mary has always wanted to learn to drive, and gets the opportunity when Alec is injured. I did a ton of research on early cars, but it really was like reading a foreign language. I don't think I'm smart enough to have been able to drive in the early 20th century–I would have needed a chauffeur, LOL. This scene is probably loaded with errors!
He held on to the bonnet. "I already checked everything before Bauer knocked me out. The radiator's full, and the petrol cock is open. The hand brake is on—you'll have to release it so we can back out." Alec slid into the passenger seat and tried to steady himself without knocking into any levers.
"What should I do first?" Mary asked, looking anxious.
"You'll have to turn the crank a few times. Keep your thumb under the handle—we wouldn't want you to lose it if the car backfires. Then switch on the magneto." Mary looked at him blankly. His hand wavered in its general direction. "See? It's in the A position, which means it's off. As soon as the engine turns, move it to the M angle."
Mary made a few less-than-robust assaults on the starting handle. Miraculously, the engine sputtered to life, and she hopped into the car. Alec pointed to the various knobs and gauges, all the while sounding very much like he'd committed the driving manual to memory, which he had. Every car manufacturer did things their own way—there was no uniformity in the fledgling industry whatsoever. While Alec had mastered his Pegasus, other car models were complete mysteries to him.
"Ease back on the throttle . . . close the carburetor choke . . ." He went on, gently chiding her when she was too tentative. They had rolled backward out of the stable and were perilously close to smashing into the trees. "Brake!" He reached over and helped her shift gears, wincing.
"I can do it!"
"Of course you can." Her hands were riveted to the steering wheel. She was as white as parchment, each golden freckle standing out across the bridge of her nose. Maybe his best strategy was to pass out and wake up at Raeburn Court and not witness her terror, for her terror was contagious.
Who would you cast in the role of your characters if your book was optioned for a movie?
Isla Fisher would be a good Mary. Dylan McDermott for Alec.
What are you currently working on? What other releases do you have planned for 2013 into 2014?
I'm working on another Ladies Unlaced book for my Edwardian-set series. The hero is a virgin, which is a first time for me as well. 🙂 I hope to self-pub my first crack at a contemporary Christmas love story soon. The hero is a viscount though–can't stray too far from my roots.
Where can readers get in touch with you?
My website: http://www.maggierobinson.net
Facebook: https://www.facebook.com/maggie.robinson.165
Twitter: @MaggieLRobinson
E-mail: Maggie@maggierobinson.net
Giveaway:

print copy of IN THE HEART OF A HIGHLANDER
To enter Giveaway: Please complete the Rafflecopter form and post a comment to this Q:

Most historical romances take place in Regency and Victorian times. Are you willing to move into the 20th century to the Edwardian era (1901-1910)? Why?
Excerpt
Alec left Mary in the bath, dressed quickly, and went downstairs to the library. He was not going to dwell upon what had just happened, and what he hoped would happen again. And again.
And maybe again before he put her on the train Tuesday morning.
Or Wednesday.
He should be angry at Mary Evensong. Furious. She and her aunt had tricked him—hell, they'd tricked the entire ton for four years. Imagine, sending a little slip of a girl into the lion's den like the Burleigh house with an unloaded gun, washing society's dirty laundry as well as matching mistress with maid and bride with groom. The Evensong Agency did it all, and did it well.
And sweet blushing Mary had been at the heart of it all.
Well, perhaps she wasn't so sweet. Alec had felt the laceration of her tart tongue. But not, he reflected, quite where he wanted it now.