Today it is my pleasure to Welcome author
Joss Wood
to HJ!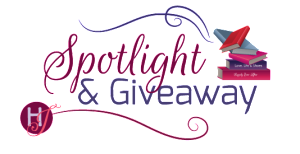 Hi Joss and welcome to HJ! We're so excited to chat with you about your new release, Inescapable!

Thanks for having me !

Please summarize the book a la Twitter style for the readers here: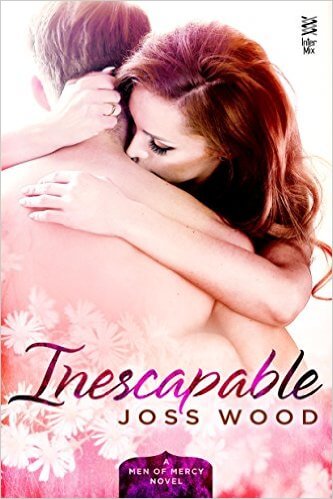 Kai and Flick's plan for a quick fling falls to the wayside (just like their torn-off clothing), leaving them wondering if they can keep their hands—and their hearts—to themselves…

Please share the opening lines of this book:
TessG: Flick darling, please do something about Rufus. He's gorgeous but I really can't deal with the way he expresses his love for you, especially at two in the morning. Oh, and get well soon, Ms Gina. Hope to see you up and about soon!

HankPriceCheatedOnMe: For sale: 14 KT white gold engagement ring, size 7. Call Mickey at 555-672. Selling it because Hank Price is a cheating bastard who can't keep his zipper closed!

Sawyer'sFutureWife: Waiting in the wings .
Please share a few Fun facts about this book…
My fictional town of Mercy has a cross dresser.
I am cheating on Kai with Flick's brother, Jack. Something about this very minor character has grabbed me and won't let me go. He really wants his own story.
Rufus, Flick's dog, is the biggest flirt and philanderer in mercy. (And that's saying a lot since there are a couple of very accomplished flirts in Mercy.)
I have a fascination with chefs and bakers…possibly because I have the baking skills of a wet noodle.
This book simply wrote itself…all I was the person taking dictation.
What first attracts your Hero to the Heroine and vice versa?
I wanted to explore the facets of a woman who knows, and admits to making mistakes with the opposite sex, who needs to nurture but needs a little nurturing herself. I wanted to explore how she comes into herself, to the realization that she is okay, a little screwed up but basically fine.
Kai was more complex character, someone with a very dark past. I wanted a man who dealt with some very tough circumstances and who has to learn to forgive himself for some of the tough choices he made to survive.

Using just 5 words, how would you describe Hero and Heroine's love affair?
Combustible, sparky, irresistible, complex, crazy. Destined.

The First Kiss…
"And, God, you have a spectacular mouth."
She did? She'd always thought she looked like Daffy Duck.
He dropped his head and she watched, mesmerized, as he closed the space between them. They were so close now that they could taste each others breath. His eyelashes were dark and stubby and up close she could see a faint scar bisecting his left eyebrow. He'd conquered and then shattered her personal space. She just needed to pull in a deep breath and her breasts would be pushing into his hard pecs, and a small tilt of her head and their lips would collide.Yet he just kept one hand in her hair and his eyes on her mouth.
It seemed to take forever for his mouth to touch hers. She expected dominance and a show of masculine strength, but his lips moved graciously, sensuously against hers. Flick couldn't help her eyes closing, couldn't stop her hands from reaching out to touch his warm chest, her bare thigh from moving between his legs. He nibbled and played with her mouth, licking her bottom lip with his tongue before giving it a gentle nibble. It was a perfect kiss, sweet and sexy, and Flick sighed her appreciation.
That slight parting of her lips was all that was needed for all hell to break loose. Flick felt his free arm band around her and he enveloped her; mouth, hand, his amazingly hard body. She wasn't sure where she started and he ended. Her breasts were flattened by his hard chest, and through the fabric of her shirt her puckered nipples pushed against his skin. His erection, strong, hard, and delicious, was perfectly placed against her, and she couldn't stop her hips from tilting to get closer, needing to drag her aching core against him. .From a place far away Flick felt a fist tighten in her hair as he held her head in place, his tongue sweeping into her mouth, tangling with hers. He tasted of mint and coffee and sun and sex.
Wishing that he would use his hands to touch her breasts, to give her nipples the attention they desired, to cup her between her legs, she moaned into his mouth, rotating her hips in invitation. Instead she felt the leather of the hand strap of Rufus's leash as he lifted his other hand to cradle her cheek.
God, he'd made her damp from nothing more than some body contact and a hot kiss. Flick couldn't wait to find out what else he could do with that mouth.
Without revealing too much, what is your favorite scene in the book?
One of my favorite scenes is when Flick hears that Kai is back in Mercy after they split up. Mercy is gossip central and her love life has been the town's chief source of entertainment for a while…
Jack just smiled. "But—"
She was done. She was over this. Over being talked about, gossiped about, feeling like her love life was a slide for the residents of Mercy to dissect under their collective microscope. She'd had more than enough.
Flick stomped over to a knife block and yanked out a thin, wicked-looking boning knife and gripped it in a tight fist. "I'm done."
"Where the hell are you going with that knife?" Jack demanded. "Stop waving it around;,you'll hurt yourself."
"I'm a chef, idiot! I know more about knives than you do, so unless you want to get hurt, get the hell out of my way." Sure, she was being dramatic, but if her customers wanted drama, they were going to get it. She'd give them something to talk about in their old age. . . .
Remember the time that Aunt Flick—, you know,she's the batty spinster with all the animals—, went nuts in the bakery? Oh, it must've been forty, fifty years ago . . .
Flick pushed her hair off her face with her free hand and walked to the swing door, banging it open with the palm of her hand. The tables were all full and, thanks to the red mist in front of her eyes, her vision was blurry.
"Listen up!" she shouted and the noise dropped. The rumble of voices faded away until the silence was absolute.
Apparently she stood just there, hair a mess, no makeup, waving this wicked knife around . . .
"What's going on?" Pippa asked as she walked down the stairs from her office.
"My sister is losing her shit," Jack said from somewhere behind her. No doubt Moses was there too and the rest of her staff. Well, in for a pound and all that.
Flick spun around and pointed the knife at her brother. He was still a few yards from her so she waved it around to make her point. "Shut up! And listen up!"
Jack just smirked at her and folded his arms across his chest. The bastard was enjoying this. Maybe she should stab him, just a little prick . . .
Rumor has it that she tried to stab her brother. I think his name was Jack. He married that showgirl. Or was she a stripper?
Whoa, that was a step too far, even for someone as incandescently furious as she was. Besides, with Jack's training he'd have the knife off her before it came anywhere near his skin and that would be embarrassing. Best not to try and stab him.
"You got something to say, Princess? Because you have our attention." Jack's amusement was thick and she felt her temper bubble up again.
"Right! Yeah, I have something to say."
"Can't wait,"Jack said.
If your book was optioned for a movie, what scene would be absolutely crucial to include?
Flick realizes that her one night stand is staying in Mercy…that was not the plan!
So why was he still here?
Flick sucked in her breath as she turned around to watch the subject of their conversation winding his way through the tables to Sawyer's side at the far end of the bar. God, look at him, all strength and control and don't-mess-with-me attitude. He wore jeans and a plain white button-down shirt with the sleeves rolled up to his elbows, revealing tanned forearms corded with muscles and raised veins. A high-tech watch circled his left wrist.
He was the ultimate bad boy, she reminded herself. But not in the flirty, mischievous, funny way her romance novels usually described. He was arrogant, super confident, and she knew that he didn't give a damn what anyone thought of him. Rough, tough, dangerous, hard-ass. He was a bad boy on steroids.
And she wanted to do him, right here, right now, right on the bar. She barely suppressed a moan.
Crap, she was in so much trouble.
Pippa jammed her elbow into her ribs. "Did you just whimper?"
"No!" Flick yelped and although there was no way he could've heard her from across the room, Kai turned his head to look at her. His golden eyes clashed with hers and Flick felt all the air being sucked out of the room. She tried to haul some in but there was none.
"Breathe, you idiot."
Pippa slapped her between the shoulder blades and, startled out of her trance, Flick pulled in a desperately needed breath. Dragging her gaze from Kai's face, she blinked at Pippa. "What the hell? That hurt!"
"So would falling flat on your face when you pass out," Pippa hissed. "I thought you said that he was leaving."
Flick glared at Kai's back. "That was Plan A. The good plan."
"What's the bad Plan B?" Pippa cocked her head.
"I'm going to pretend that yesterday didn't happen and go back to my original plan of avoiding men."
Pippa's laughter rang out loud and true. "Yeah, don't know if that's going to work, 'cause he looks like he wants to eat you up in one big gulp and you look like you'll let him, so . . . good luck with that."
She needed more than luck, Flick thought. She needed a damned miracle.
Readers should read this book …
Because its fun! Because I laughed and cried my way through it so I hope you will too.
What are you currently working on? What other releases do you have planned for 2016?
In August, the second book in my from Maverick To Married trilogy from Harlequin Desire will be released. This is Kade's story , the second of my very hot ex-hockey players.
In December, the second in my Men of Mercy books, Undaunted, will be released and this Axl's story. Axl is hot and dangerous and spooky but Reagan, the best female Caswallawn operative is more than a match for him.
Thanks for blogging at HJ!
Giveaway:

I'm giving away 3 digital copies of INESCAPABLE (Men of Mercy Novel)
To enter Giveaway: Please complete the Rafflecopter form and Post a comment to this Q: Tell me about your ideal hero! Copy, fill in and paste in the comment section.
I would like to read a story about a hero who is a (insert profession) and can't fall in love because he thinks he (surprise me!)
Excerpt from Inescapable:
"It is. But now I'm thinking that I maybe bit off more than I can chew. Your lunch reminded me that catering is damn hard work."
"Hard work never killed anyone." Kai followed her to the table and dropped into a chair, stretching his legs out and crossing his ankles. He put his hand to his mouth and smothered a yawn. His eyes dropped to the black screen of the laptop and he cocked his head. "Here's an idea—you need the laptop to be up and running in order to do work."
Busted.
"So, actually, you were sitting here and brooding."
Brooding made her sound sad and bitter. Which she sorta, kinda was but there was no way she was going to admit that to him. "I was thinking."
"Brooding."Kai's eyes flicked across her face.""Dark rings under your eyes, taut mouth, tension in your neck." He linked his hands behind his head. "Definitely brooding. Want to talk about it?"
Flick had to smile. "I can't quite see you in the role of agony aunt, Manning."
"I'm not normally, but I've just done a session with Tally so I'm in the zone."He sighed, dropped his hands, and rocked his chair back so that he was balanced on the two back legs. "You're wound tighter than a spring and you need to let go. It's either talking or sex . . . I can either listen or take you to bed."
Flick felt the throb between her legs and the butterflies in her stomach went crazy. Yeah, bed would be a fantastic distraction, and she was tempted . . .
But it would just be another way of running away from her problems, of procrastinating. Gina and her craziness would still be there when she left Kai's bed. She'd be physically satisfied but mentally she would be even more fried. Because she was done with using men as a panacea for her wounds, as a distraction . . .
She could justify sleeping with Kai once, but she couldn't do it again. But, damn, she still wanted him. "I'd like to, but I can't."
Kai's mouth quirked. "Yeah, I figured."
Astute man. Or maybe it was because Flick had the opposite of a poker face—she had a "shout-it-out-in-six-foot-neon-letters" face.She'd never been able to disguise her emotions, let alone keep secrets. Hence her current Gina-related problem. She rested her forearms on top of her closed laptop and frowned.
Kai didn't say anything. He seemed to know that silence was a more powerful inducement than an appeal to talk.
Excerpts. © Reprinted by permission. All rights reserved.
Book Info:
Best friends Kai, Sawyer, and Axl worked hard to make Caswallawn Security the booming success that it is. As for love, marriage, and commitment, those are way down on their priority list…
Kai Manning is unhappy that Caswallawn is making Mercy, Virginia, its permanent headquarters—he doesn't understand this quaint, crazy town, and he doesn't want to settle down, period. A rough childhood made him fiercely independent, and he's determined to rely on nothing and no one. So the moment he lays eyes on Flick, he knows he's in trouble…
Local baker Felicity "Flick" Sturgiss is not looking for a man. She's done giving her all to relationships that give nothing back. But Kai is undeniably hot. He may look like bad news, but he's not going to be in town for long, and she's dealing with a lot right now—she deserves to have some fun.
When a family emergency calls Sawyer away, Kai must remain in Mercy to hold down the fort. Now, Kai and Flick's plan for a quick fling falls to the wayside (just like their torn-off clothing), leaving them wondering if they can keep their hands—and their hearts—to themselves…
Book Links:

Meet the Author: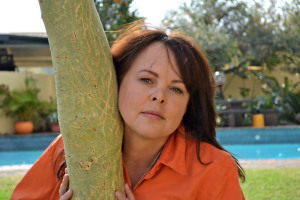 Joss Wood's passion for putting black letters on a white screen is only matched by her love of books and traveling (especially to the wild places of Southern Africa) and, possibly, by her hatred of ironing and making school lunches.
Joss has written over eighteen book for Harlequin. She also writes for Tule Publishers as well as for Penguin Intermix.
After a career in business lobbying and local economic development, Joss now writes full time. She lives in Kwazulu- Natal, South Africa with her husband and two teenage children surrounded by family, friends, animals and a ridiculous amount of books.
Joss is a member of the RWA (Romance Writers of America) and ROSA (Romance Writers of South Africa.)
Website | Facebook | Twitter |