Today it is my pleasure to spotlight 

Choc Lit's

December releases!

About Choc Lit:
Established in 2009, Choc Lit is an independent publisher, specialising in quality women's fiction with romantic content.
Not surprisingly, we believe that the enjoyment of a good read is enhanced by the taste of chocolate!
We have won 11 awards in our genre, including the 2012 and 2013 Publisher of the Year and the 2012 Romantic Novel of the Year. We have had an additional 10 novels shortlisted for awards.
Choc Lit novels are distributed world-wide and available in both eBook and paperback formats from most stores.

Never Marry a Politician by Sarah Waights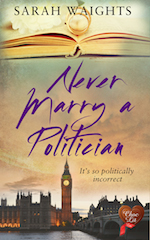 A politician's wife struggles to toe the party line then her ex, a dirt-digging journalist, turns up and she battles to keep her life and her marriage on the rails.
Fun Facts about Never Marry a Politician:
Runner up in the 2014 Good Housekeeping Novel Writing competition- flagged as 'a witty comedy' and 'one to watch'.
Reviews include: 'Laugh out loud funny from the first line' Jemima Forrester, Orion.
People think the 'Felicity Wainwright's How to Run the Perfect Household' quotes (which appear in the novel) are from a real book. They aren't.
I offered to include my MP in the acknowledgements but he modestly declined. Actually, he said; "Oh dear God, please tell me you won't".
Readers have likened the book and main character to Helen Fielding's Bridget Jones — high praise because I'm a massive Fielding fan.
Author Sarah Waights
Wrote first book at five followed by a gap of several decades. Lives in Sussex village with husband, children and various other pets. Works in public relations, journalism, lobbying and charity sector whilst taking an anthropological interest in friends and neighbours as inspiration for future novels.
Twitter @SarahWaights
Buying Links – Amazon US: http://goo.gl/FRzBsg
Amazon UK: http://goo.gl/xVKUjF
How I Wonder What You Are by Jane Lovering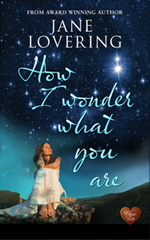 Author and abandoned fiancée Molly and borderline phobic astrophysicist Phinn get together to investigate mysterious lights in the sky over the North York Moors.
Fun Facts about How I Wonder What You Are:
Molly's horse Stan is based on our own family pony Jack, who was a saint compared to Stan, but shared a lot of the 'built like a hall table' qualities.
'Riverdale' is based on an amalgam of two locations on the North York Moors, Rosedale Abbey and Sinnington, both places I love, even in March and loving anywhere on the Moors in March is a tall order.
The constantly-cursed unavailability of a mobile phone signal in the story isn't just a convenient literary device, huge chunks of the Moors are dead-zones for mobiles. You're better off shouting loudly.
I had to have help with the astrophysics elements of the book, because I don't know much about astrophysics, I'm all about the quantum.
About Jane Lovering:
Jane Lovering writes books to avoid doing housework. Likes kittens, hates artichokes, is ambivalent about potatoes.
Twitter @janelovering
Buying Links – Amazon US: goo.gl/o5kkfJ
Amazon UK: http://goo.gl/OW8l0m
You Think You Know Me by Clare Chase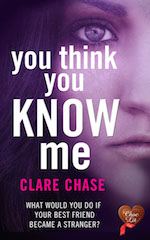 You Think You Know Me is an arts world murder mystery set in the run-up to Christmas: secrets, passion and intrigue in London and the Lakes.
Fun Facts about You Think You Know Me:
The opening of You Think You Know Me was shortlisted for Novelicious' Undiscovered competition.
Crime statistics value the theft of art and antiques at around £300m a year in the UK, second only to drug dealing. It's big business.
Damien Hirst's wealth is estimated at £215m.
Mobile coverage in the Lakes is way below the national average; it's an isolated place for a heroine to run into trouble …
About Clare Chase:
Clare Chase writes fast-paced romantic mysteries. She once ran a prison reading group, and is fascinated by what makes people tick. Twitter @ClareChase_
Buying Links – Amazon US: goo.gl/AUX2Ib
Amazon UK: goo.gl/YQzWcq
Cross Stitch by Amanda James: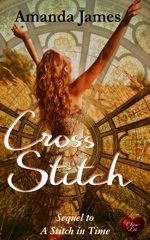 In this sequel to A Stitch in Time, on her wedding day, Sarah Yates is whisked back in time to a country that is on the cusp of war, and into the company of the bad-tempered Veronica Ratchet. Could things get any worse for Sarah? Um …Yes, yes they could.
Fun Facts about Cross Stitch:
I had no idea what to call the strange woman that Sarah meets in 1939. I knew she had to be spiky and cross, and then from out of the blue a memory of the nurse from One Flew Over the Cuckoo's Nest popped up. Veronica is nowhere near as horrible as nurse Ratchet, but it seemed like the perfect name.
I have always been in awe of the people involved in the Civil Rights Movement on both sides of the pond. I was really glad to be able to send Sarah back in time to Alabama to see what it was like then.
I had particular fun writing about 1979. I'll say no more than that …
About Amanda James:
Amanda James has written since she was eight. She has five books published, one set in her beloved Cornwall where she now lives with her husband and two cats. Amanda likes walking the cliff paths, paddling in the ocean and singing. Not all at the same time of course, that would be a bit tricky.
Twitter:@ajkames61
Cora's Christmas Kiss by Alison May: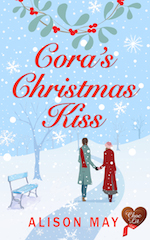 Cora and Liam both think they've had the worst year imaginable. Now they're thrown together with only a Santa suit and a fake red nose to hide behind. Can they face telling each other the truth about their years from hell? And if they do, might it mean a merry Christmas for them both after all?
Fun Facts about Cora's Christmas Kiss:
I picture Liam, the hero of the story, as looking just like Chris Hemsworth, who People magazine reckon is the sexiest man alive right now. They won't get any argument from me about that!
Cora herself first appeared, as Sean's ex, in Holly's Christmas Kiss. I reckon the hero's ex-wife tends to get a bit of an unfair press in romantic fiction, so this is a chance to see her from a different point of view.
For a long time, and for a spectacularly Christmassy reason, Liam and Cora don't know what the other one looks like. I've always loved plays and stories where the characters where masks – I like the idea that nobody is quite what they seem.
There's a character in the story who's only ever referred to as Fake Alan. I still don't know why, or what his real name might be. I'm very much open to suggestions to @MsAlisonMay on twitter.
About Alison May:
Alison May is a novelist, short story writer and creative writing tutor. She lives in Worcester with one husband, no kids, and no pets. There were goldfish once. It ended badly.
Twitter @MsAlisonMay
Buying Links – Amazon US: http://goo.gl/af9sch
Amazon UK: goo.gl/6YnY7X
Thanks for blogging at HJ!
Giveaway: 

Ebook copies of the books spotlighted here.
To enter Giveaway: Please complete the Rafflecopter form and Post a comment to this Q:
What do you think of the books spotlighted above?