Today it is my pleasure to welcome
 New York Times and USA Today bestselling author
Jill Shalvis
to HJ!
Jill Welcome to HJ! It's such a pleasure to have you here today
Let's get started,  5 Random facts about you?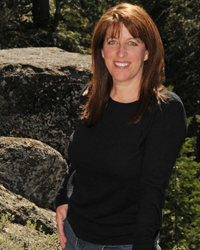 I'm wearing donkey slippers right this minute. I would rather handwrite my books than type except that I can't read my own handwriting. I have the appetite of a 12 year old boy. I have a talent at turning the whites pink every time I do laundry. And I hate to drink coffee but love the scent.
What would you say are the defining characteristic of your Novels?
That a Happily Ever After is just as important as air. ☺
What is your favorite trope to read, one you will never get tired of?
Friends to lovers.
If you were a heroine in a book, your character would be – The girl next door, the damsel in distress, Kick-butt take charge heroine or the aloof ice queen and why?
Oh how I wish I could be a kick butt take charge heroine but the reality is that I'm the girl next door who probably needs saving.
What are you currently reading?
Myself, unfortunately. I'm reading the uncorrected proofs of Always On My Mind so it can go to press. ☺
If you had to summarize It Had To Be You for the readers here ….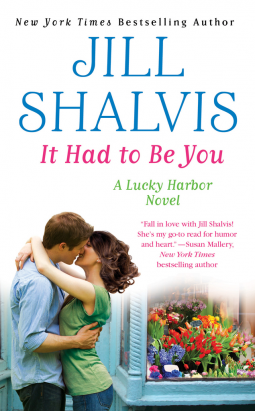 We've got hot and sexy Lt. Detective Luke Hanover, and he's having a hell of a bad time. After a high profile case goes very bad, he heads to Lucky Harbor to lick his wounds. Instead, he finds a half dressed brunette bombshell talking to herself in his house… Things get a lot stranger. And hotter.
Please tell us about the characters in your book
Hot Alpha Guy a little tired and cynical on life. Strong heroine temporarily down on her luck. Add them together, stir, and you get a combustible love story.
What scene did you have most fun writing? why?
The scene where Ali is wrongly accused of a crime and taken to the police station. Actually my fave scene comes right after that when Luke picks her up
She did her best to appear as though she hadn't just been sitting in an interrogation room for hours being questioned about a crime she hadn't committed. But as it turned out, the pretense was far too much for her overloaded emotions, and she closed her eyes, trying to disappear into the seat. If she disappeared, then he couldn't see her fall apart.
"You okay?" he asked.
Her throat tightened further, and she shook her head. Nope. Not okay. Not even close. "Don't," she said.
"Don't what?"
"Don't be nice to me right now. I'll lose it."
With surprising gentleness, he pushed the hair from her face, then clicked open her seatbelt.

It was all the invitation she was going to get, and all the invitation she needed. Turning to him, she burrowed in as steady, strong arms closed around her. He stroked a hand down her back, and she pressed her face into the crook of his neck, soaking in the warm comfort he offered.
It was the safest and most secure she'd felt in far too long and she wasn't sure she was going to be able to let go.
"Ali."
Afraid he was going to pull away before she was done soaking him in, she squirmed a little closer. "Please not yet."
He tightened his grip. "It's okay. I've got you."
Thank God. For just this one second, someone had her.
What are you currently working on? What other releases so you have planned for 2013?
In It Had To Be You we meet Sexy firefighter Jack Harper, who is the hero's childhood bff. Jack gets his story in Always On My Mind this September.
Where can readers get in touch with you?
www.jillshalvis.com/blog and/or www.facebook.com/jillshalvis and/or www.twitter.com/jillshalvis
Giveaway:
2 print copies of IT HAD TO BE YOU
To enter giveaway: Please complete the Rafflecopter form and post a comment to this Q:
If you've read any of the books in the Lucky Harbor series you know all about Lucille and her Facebook page….do you have an opinion on her antics? Good /Bad? Share 🙂
About the book:
Ali Winters is not having a good day. Her boyfriend left her, everyone in town thinks she's a thief, and now she's about to be kicked out of her home. Her only shot at keeping a roof over her head and clearing her name is to beg for help from a police detective who's as sexy as he is stern….
After a high-profile case goes wrong, Luke Hanover returns to his hometown for some peace and quiet. Instead he finds a bombshell brunette in a heap of trouble. As he helps Ali put her world back together, the pieces of Luke's own life finally seem to fall into place. Is this the start of a sizzling fling? Or are Luke and Ali on the brink of something big in a little town called Lucky Harbor?
Excerpt:
Lieutenant Detective Luke Hanover had been away from the San Francisco Police Department for exactly one day of his three week leave and already he'd lost his edge, walking into his grandma's Lucky Harbor beach house to find a B&E perp standing in the kitchen.

She sure as hell was the prettiest petty thief he'd ever come across, at least from the back since she was wearing nothing but a white lace bra and a tiny scrap of matching white lace panties.

"You have some nerve you… you ratfink bastard," she snapped into her cell phone, waving her free hand for emphasis, her long, wildly wavy brown hair flying around her head as she moved.

And that wasn't all that moved. She was a bombshell, all sweet, womanly curves, barely contained in her undies.

"I want you to know," she went on furiously, still not seeing Luke, "there's no way in hell I'm accepting your break-up message. You hear me, Teddy? I'm not accepting it because I'm breaking up with you. And while we're at it, who even does that? Who breaks up with someone by text? I'll tell you who, Teddy, a real jerk, that's who– Hello? Dammit!"

Pulling the phone from her ear, she stared at the screen and then punched a few keys before whipping it back up to her ear. "Your voice mail cut me off before I finished," she said. "You having sex in your office while I was in the building? Totally cliché. But not telling me that you weren't planning to resign the lease? That's just rotten to the core, Teddy. And don't bother calling me back on this. Oh, wait, that's right, you don't call – you text!" She punched the "off" button on her phone and tossed it to the counter, hands on hips, steam coming out her ears. Then she thunked her forehead against the refrigerator a few times before going stock still, her head pressed to the cool, steel door.

Had she knocked herself out? Luke wondered.

"It's just one bad day," she whispered, still in the perfect position for him to pat her down for weapons.

Not that she was carrying – well, except for that lethal bod.

"Just one really rotten, badass day," she repeated softly, and Luke had to disagree.

"Not from where I'm standing," he said.
About the Author:
New York Times Bestselling author Jill Shalvis wrote RESCUE MY HEART and FOREVER AND A DAY, along with many other romance novels including her acclaimed Lucky Harbor series. The Rita winner and 3-time National Readers Choice winner makes her home near Lake Tahoe. Visit her website at http://www.jillshalvis.com for a complete book list and daily blog, and http://www.facebook.com/jillshalvis for other news.